Mr NQN never fails to surprise me. Occasionally something will come out of his mouth that will make me wonder if I know him at all. A package arrived the other day from the Queen Victoria Building and in it contained items from their latest retailers including Adriano Zumbo, Haigh's, T2 and Bon Bon Chocolates and along with these were a voucher for two to try the new afternoon tea at The Palace.
Knowing of Mr NQN's curmudgeonly attitude to dainty little morsels of food, I nevertheless asked him if he would like to come along. "It might be better if you ask someone else," he replied. So I asked my dear friend Belinda.
Mr NQN piped up again. "I can come. It might be nice."
I shook my phone because I wasn't sure if I was reading things correctly. There's no sarcasm option ticked in the message (but wouldn't that be handy?) but there he was, my voraciously hungry husband wanting to come along to fluffy scones, dainty finger sandwiches and cakes. It turned out that he was hoping for a "date" with just the two of us. At that point I think my jaw dropped on the floor. Picking up my jaw, I apologise profusely to Belinda and make a booking for the two of us and yesterday on Sunday afternoon we make our way to the Queen Victoria Building to partake of The Palace's Afternoon tea.
The Palace is Sydney's latest high tea establishment by Manuel and Gwen Spinola who also own The Tea Room (also in the QVB), Gunner's Barracks, Sergeants Mess and Dunbar House. It is located on the first floor of the Queen Victoria Building near the centre of the building. The Palace seating extends out from the main room (which is more palace-like) to the more casual surrounds of the outside area where there are plenty of tables and chairs. Newly opened, they serve all of their food on a mix of stunning Royal Albert Festival 1950s and Wedgwood Harlequin fine bone china.
The menu at The Palace has a range of cafe style breakfasts, salads and meals but the item that looks the most popular is the afternoon tea and we see stand after stand being brought out. There are also sandwiches, snacks and a Devonshire tea for those that aren't as hungry. We choose our tea from the extensive tea menu. The teas are by Harney & Sons and I go for a chocolate tea while Mr NQN chooses the spicy cinnamon. The traditional afternoon tea is $38 per person and there is also a few choices including gluten free, sparkling wine or champagne as well.
They set down the plates and before long our teas and three tier stand arrive. I must admit that I'm quietly very pleased by the china, both patterns are favourites of mine and I think pretty china certainly adds a lot to the appearance of an afternoon tea. The chocolate tea is very good and distinct with chocolate flavour. I try a little of Mr NQN's spicy cinnamon tea which is warming and aromatic.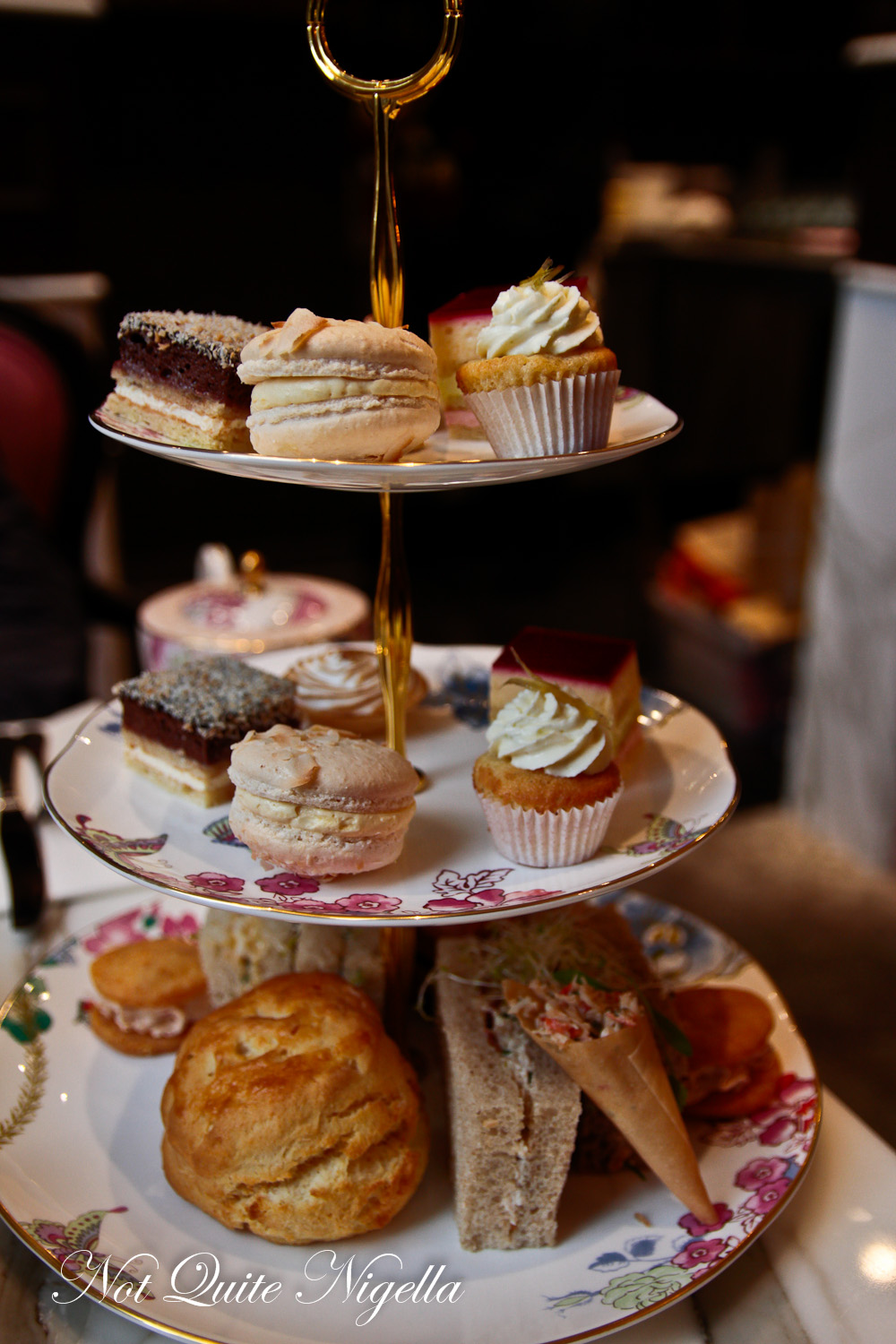 They explain the tiers to us and the first two tiers are made up of the sweet cakes while the bottom tier holds the scones and the crustless finger sandwiches. I start with a sandwich and it's the egg salad which is served on white bread. It's soft and delicious but alas there is only one so we share this. Same with the tuna sandwich, it too is very good but there is only one. I do think that they should really give one of each because sometimes you both like the same sandwich and may not want to share. There are two chicken caesar sandwiches and this is filled with a flavoursome mix of chicken, bacon and mayonnaise. The bread on the chicken sandwiches is a little crusted over on one side.
Also on this tier are crab coronets which are filled with delicious seasoned crab meat. The coronet itself is a little wet from the crab filling but Mr NQN loves these. The other savoury morsel is a fantastic little cheese shortbread sandwich filled with a creamy, tangy red capsicum filling.
See the Tea Room's Scone Recipe here
I move onto the scones because I love the scones at The Tea Room and they were even kind enough to share the scone recipe with me. These are the same scones served warm and the clotted cream and seedless raspberry jam is a perfect match to the scone. There is a plain and a fruited scone and we both love the latter but happily devour both. There is just one scone per person which is fine because they're both very large scones but again, if both of you like the same scone, you have to share or perhaps request the one you like.
Having my fill of the savouries I move onto the sweet layer. I start with a lemon meringue tart which is all sharp lemon eggy goodness with a fantastically thin pastry layer encasing the filling. The next bite is a coconut dusted lamington cake which is rich and dense but never dry. Then there is the white chocolate, raspberry and basil sponge and mousse layer cake which draws you back from a sweet overload with a bit of savoury basil. The last two are a tiny vanilla cupcake topped with lemon sour cream icing and a coconut macaron sandwiched together with a sweet passionfruit icing that takes you away to the tropics. Never mind the rainy day that we look onto outside!
And because Dear Reader we prefer to pay our own way, I would love to pass on the gift voucher for two to enjoy high tea at The Palace onto one of you! For a chance to win, all you have to do is tell me what item you enjoy the most at afternoon tea and why! Is it the scones, sandwiches, sweets or tea? The competition ends at midnight, the 30th of April, 2014! Simply add your answer as a comment to the story. You can enter this competition once daily and it is open to anyone within Australia but transport to and from the venue is the winner's responsibility (I could drive you but you may regret that ;)). The voucher expires on April 1, 2015.
The winner is Heather from NSW
Good luck!
Love,
Lorraine
xxx
This meal was independently paid for.
The Palace Tea Room
Level 1, Shop 20-22, Queen Victoria Building, 455 George St, Sydney NSW 2000
Tel: +61 (02) 9283 2222
www.thepalacetearoom.com.au
Open 7 days from 8amto 5pm and 8pm Thursday evenings