Afternoon tea or high tea as we in Australia tend to tend to call it, is one of life's great pleasures. It offers a pause in the middle of the afternoon for a dainty sandwich or a sweet morsel and a restorative cup of tea. The newest afternoon tea in Sydney is at Passiontree Velvet in Macquarie Centre where they have a range of four different types of afternoon tea. And you can win an afternoon tea for two!
"I'll come pick you up, we can go on an adventure!" I said to my hairdresser Elly @maxbrennerswife. I mean adventure might be a mild overstatement but when you drive across the bridge in Sydney well it is taking your life into your own hands. Luckily it's a gorgeously warm Autumn day when I pick Elly up from her place and we make our way across the city snaking across tunnels and changing lanes until we get to Macquarie Centre. You see I wanted to check out a new afternoon tea place and Elly just happens to love afternoon tea.
Passiontree Velvet already has a presence in Queensland with three branches there. Macquarie Centre is the first Sydney branch and they specialise in macarons, cakes and eclairs and afternoon tea. It's in the middle of the food court and it is very subtly signposted. Like really subtly signposted with just one sign slightly to the left. There is an enormous counter that displays the baked good on offer. All are made in their kitchen in the Western Suburbs and delivered every 1-2 days.
Diners can order a choice of sweets like Belgian waffles and savouries but they recommend booking for afternoon tea to avoid disappointment. I had booked online (there isn't a phone currently) and I received an email letting me know that my booking had been accepted and that they only hold tables for 15 minutes. Which today on a week day doesn't seem to be a problem but come the weekends, we'd imagine that it is more of an issue. But we figure that even if we are early, there's always H&M to check out. It's good to have options amiright? ;)
Arriving on time (because we got lost), we take a seat on a banquette and the staff explain the afternoon tea to us. There are four kinds on offer: Devonshire tea ($13.50 per person), Duchess Full high tea at $34.95 per person, the Chocolatier's high tea $32.95 per person and the Teddy Bear's picnic for kids at $9.95 per child. There is no minimum number for an afternoon tea so we order one Duchess and one Chocolatier high tea.
Each afternoon tea includes a drink of your choice and there are a range of Harney & Sons teas, hot drinks and cold drinks. Elly goes for a refreshing raspberry iced tea I go for a couverture chocolate hot chocolate. Service is very friendly from all of the staff and before long the drinks arrive. Elly's tea is lightly sweetened and comes with fresh strawberries and blueberries which is a nice touch. My hot chocolate arrives and comes with a thick head of foam and is undeniably rich.
Duchess afternoon tea $34.95
Shortly afterwards, they bring out the long oval stands. The savoury layers are the same for both teas so we start with those. There is a cucumber sandwich, an egg sandwich, a ham sandwich and a tuna salad one. The tuna and egg ones are my favourite although there is an ever so slight amount of crusting over on the bread (I'm really particular about that). There's also folded smoked salmon on a crisp cracker with mascarpone and I really like this little tidbit.
I next try the remainder of the Duchess high tea. The scone is deliciously warm and come with a strawberry jam and thick cream. We both enjoy the scone. The cakes are smaller versions of the larger cakes on offer. The Plaisir is two layers of mousse - dark chocolate and vanilla on a vanilla sponge base with a glossy jellied glaze on top.
The white chocolate and raspberry mousse has a layer of raspberry coulis gel alternating between white chocolate mousse layers. The salted caramel chocolate tart is a crisp rectangular shell with the dominant flavour being salted caramel over chocolate while the lemon meringue tart is a delicious crunchy tart shell filled with a smooth and tart lemon curd and a dollop of meringue.
Chocolatier's high tea $32.95
Onto the chocolatier's high tea and there are two type of truffles: a butter truffle and a cinnamon truffle. These are nice but I prefer the individual chocolates that come in three flavours: Earl Grey which is very floral, basil and vanilla. These are all true to flavour with a very nice thin shell to them.
To finish off the top layer is a chocolate feuilletine crunch which is what I always wished chocolate crackles tasted like along with a chocolate macaron. This is light and sweet. We can barely finish all of the food and when I suggest that Elly take some home for her boyfriend Sebastian she says, "What? He gets enough! I'll buy him something don't worry."
Caramel mille feuille $8.95
I have to admit that when I ordered the food I did a low and slow walk past the pastry cabinet and a gorgeous slice of man I mean cake caught my eye. It was the mille feuille because ever since I tried Pierre Herme's 2000 Feuilles I've loved it when the pastry is baked dark (I am so obsessed I gave a recipe for my version in my book). So we try one of these. There's a choice of two: vanilla and caramel. We go for caramel. The three layers of pastry are quite thick and dense. They're filled with a salted caramel cream and a strip of thick salted caramel. They need more cream and it needs to extend out to the edges because it tastes quite dry otherwise although the pastry is at least very crispy and caramelised. The beauty of a truly well made mille feuille lies in the collapse of the crunchy pastry layers against the thick, billowing cream.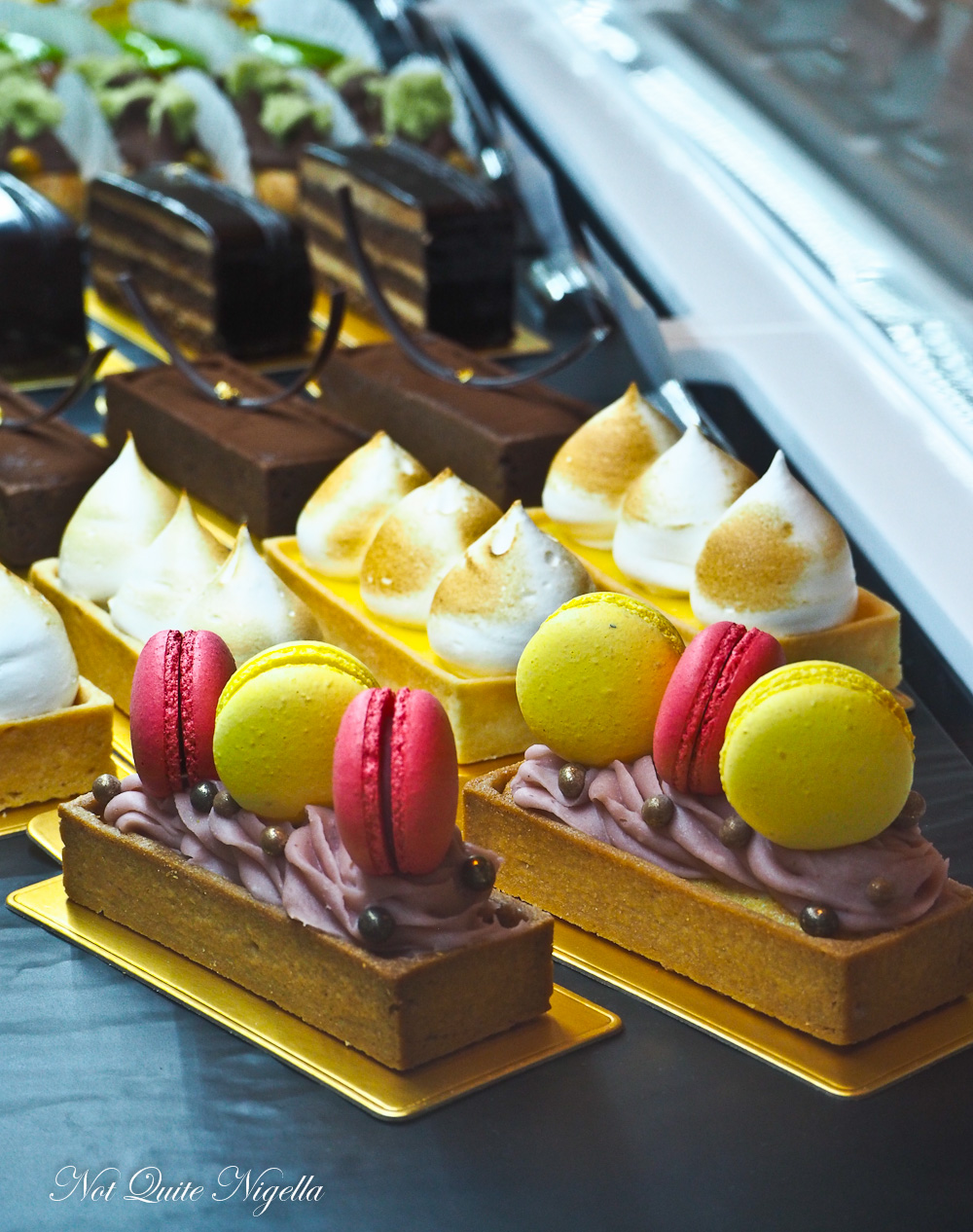 For good measure, we buy some cakes to take home. The banana cake alas whilst it looks fantastic, is really just a banana sponge with a lot of cream and I can barely taste the banana in the sponge at all which is disappointing. Better however is the Berry Macaron Tart a crisp tart with a filling of almond frangipane and a strawberry white chocolate layer. There are two strawberry macarons and a lemon macaron on top. Elly reports that she and Sebastian liked the eclair and the chocolate cake.
And because I didn't use the voucher that was sent to me, I am offering it to you Dear Reader! For a chance to win this $75 voucher for afternoon tea for two, all you have to do is tell me what your favourite item from this post was! The competition ends at midnight, the 24th of May, 2015! Simply add your answer as a comment to the story. You can enter this competition once daily and it is open to anyone within Australia.
The winner is: Alison R. of NSW!!
These afternoon teas were independently paid for.
Passiontree Velvet
Macquarie Centre, Corner Herring and Waterloo Rods, North Ryde, NSW
http://www.passiontreevelvet.com/