Last year I did a story where I interviewed six people with interesting jobs to find out what they ate for a living. Call it a typical question for the food obsessed. It was such a hit and I enjoyed researching it so much that I decided to do it again!
The six people that I've chosen come from a wide range of industries and with jobs that take them out of the norm and beyond. Have you ever wondered whether people in fashion eat carbs? Or whether flight attendants share the same economy food that passengers eat? Do police eat donuts and drink coffee? Here is what a flight attendant, opera soprano, police detective, fashion designer, construction worker and retired couple eat for lunch. And before you scroll down further, can you match the person to their lunch?
Leona Edmiston, Fashion Designer, Waterloo
I once attended a fashion week event where a single tray of sushi made the rounds. Not one person ate a piece and their reward was no doubt a slender frame. But are all fashion folk like this? Designer Leona Edmiston's lunch may be a surprise for some.
From Mondays to Thursdays Leona takes a box of steamed carrots, cauliflower, snow peas and broccoli from home (sans butter and seasoning) for lunch. Fridays however is her treat weekday lunch and she orders in a filled baguette with corned beef, pickles, salad and a mustard sauce from Cantina Verde. She unwraps the baguette with an excited "Oooh!". She doesn't just pick at the insides but she eats the whole thing, bread and all.
After lunch or in the mid afternoon slump hour she also has a coffee flavoured yogurt. "Coffee is my favourite flavouring," she says. "I try and be good at lunchtime and then I treat myself with coffee ice cream at night. It's a balance between good and treats. Food is one of the great joys in life," says Leona.
Troy Warner, 47 years old, In Flight Customer Service Manager, Qantas
The job of a flight attendant requires a certain level of fitness and no matter which country he might be in, 47 year old Troy Warner works out at the gym every day to maintain his fitness. "In 15 years, I have only eaten three crew meals," Troy says. He shows me a crew breakfast meal and it's a mixture of sausages, bacon, potato wedges, grilled tomato, fruit salad, muffin and yogurt.
The lunch he passed up
But because there is so much food made for each flight, he opts for a healthier option with fruit salad, muesli, a freshly brewed coffee and a croissant. "It's the same as what I would eat at home," he explains.
Troy remembers days gone by where staff were able to help themselves to first class food. "We would be eating caviar by the handful with oysters and smoked salmon," he says but today it's less luxurious.
The lunch he ate
So what is the secret to a flight attendant being able to endure long flights and variable time zones? They have a minimum of 36 hours between each flight. Troy's tips are also get plenty of sunshine if you can and exercise. Crew beds also allow them to sleep when they want on a proper mattress and completely recline. Flight attendants are also at an advantage as they can eat when and what they want.
Watson Undercover Police Officer, NSW Police Force, Granville
Most people's impressions of what police officers eat are borne of stereotypes and a long diet of American television shows. What police officers eat in Australia is quite different and much of it is price point based. And unlike general perception, police officers do not get free McDonalds but the food is put on an account.
Undercover police officer Watson brings me to Anar Charcoal Chicken in Croydon Park. His career in the force started seven years ago as a uniformed officer and he is now an undercover detective based in the Inner West (hence there is no photograph). Watson prefers to eat local food and eats here at Anar three times a week. Sometimes, he will come back here at dinner time with his partner.
Watson's chicken meal consists of two quarters of charcoal chicken, a stack of fresh Lebanese bread pieces, a side of hummus, garlic dip and pickles. He peels a bread quarter open and fills it with the dips, chicken and pickles. He tries to keep it healthy. Not all police officers are as interested in food as Watson is. Also police officers are not given a gym membership or any sort of fitness regimen and it is up to the individual officer to pursue fitness.
The most important thing is that the food is fast and can be taken away. Meals are often interrupted with the crackle of a radio. When he was a uniformed officer, Watson says that almost all meals were stopped halfway as they would be called out on emergencies. He used to take muesli bars and trail mix for these times.
Jenny & George, 80's, retired, Earlwood
Jenny and George are two octogenarians that show that it's possible to eat well no matter what your age. Their biggest meal of their day is lunch. Every day it is something different and ranges from chicken oregano, baked perch with herbs (Plaki) or beans. Sunday's lunch is when the big roasts come out and they can range from leg of lamb to chicken. Lunch is followed by a nap between the hours of 2-5pm and dinner is usually a simple soup with yogurt eaten at 7:30pm (although Jenny tells me that it would be at 9pm if they were in Greece).
Today's lunch is Youvarlakia a northern Greek rice meatball soup finished with egg and lemon. Jenny beats the eggs with two forks just as her mother did as she didn't have a whisk while George pours the lemon and broth in a thin stream. George then sets the table placing down plates of his enormous home cured kalamata olives, feta and kasseri cheese. Jenny then rolls the rest of the seasoned pork and beef mince mix into balls and dusts these in flour and fries them to make rissoles. There is sliced sourdough bread on the table and the soup is ladled out and they share their table with their son David, former owner and chef of Xanthi restaurant who is having a day off.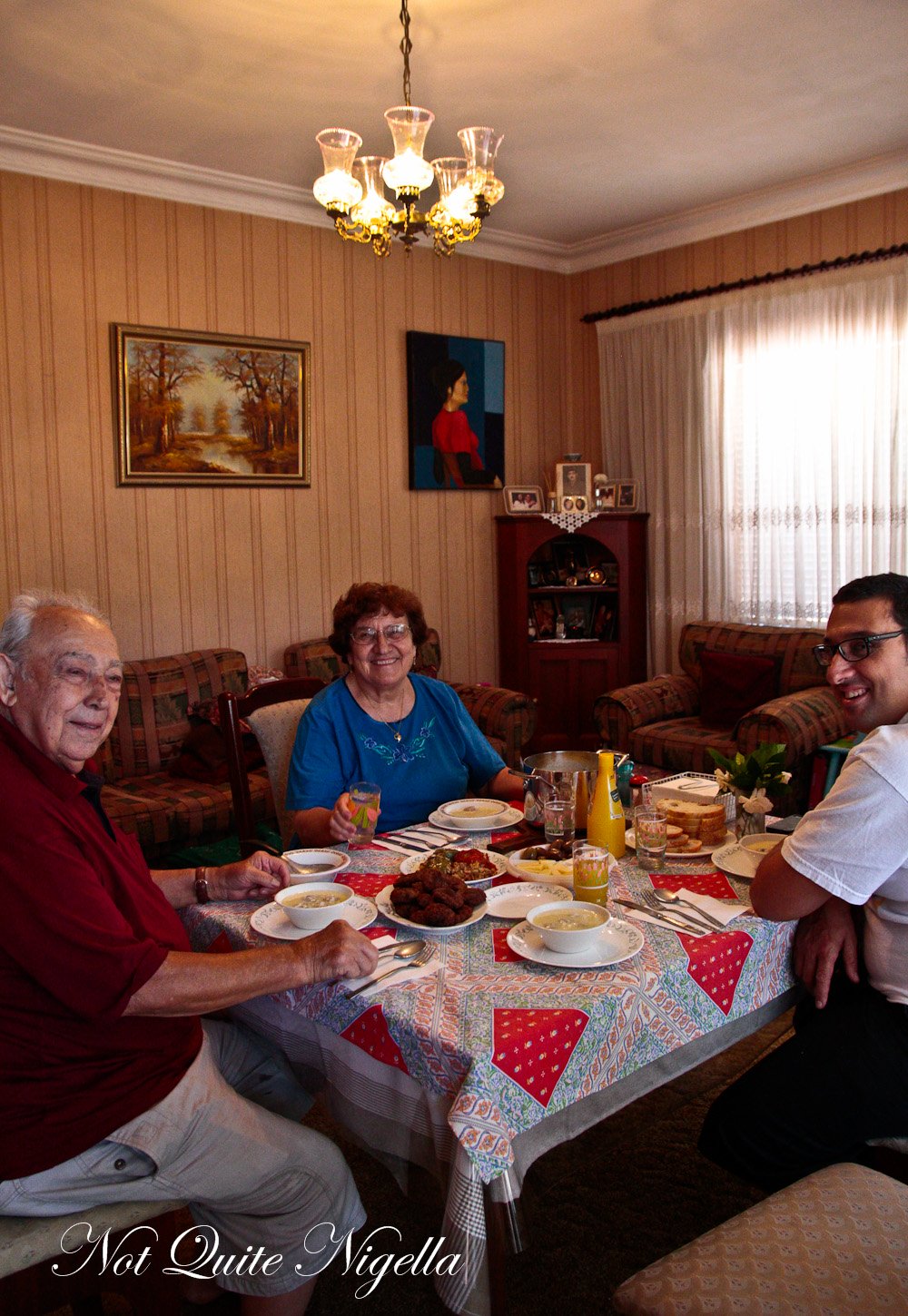 Jenny fans herself once she has finished lunch. "You have dessert no?" before adding with a serious tone, "Nobody leaves my house hungry."
Nicole Car, 28, Opera Singer with Opera Australia, Sydney Opera House
While most people understand dancers and athletes eat a specific diet for their job, many might not know that opera singers also treat their body as a finely tuned instrument. It's not just the vocal cords that are important but overall fitness. Long gone are the days where pleasantly plump divas ruled the opera stage. Today, young, talented sopranos like Melbourne born Nicole Car grace the stage.
"There was a perception up until the early 2000's that opera singers needed to be massive to have the energy to get through a performance but now we're so aware of fitness and keeping healthy. That helps you out on a stage more than being big. We're kind of running a marathon for the whole show," Nicole explains.
She performs two to three times a week and her voice needs to be in perfect condition as opera singers aren't miked and their voice has to carry a great distance. She is currently playing the role of Tatyana in Eugene Onegin and will be singing Donna Elvira in Don Giovanni.
"Dairy is a big no no because you tend to get phlegm. Normally before a show you tend to have something light and high in protein with a little bit of carb to give you energy but nothing too carby so that you get too tired," she says. Nicole eats two meals a day and she breaks for lunch at around 5pm a few hours before she takes to the stage. For a snack she keeps nuts as a standby and a treat can be a little dark chocolate. And during interval she may have a muesli bar and a cup of herbal tea.
Apart from dairy, other things that are off limits are caffeinated and alcoholic drinks as these dry out the vocal cords. "The hardest thing is that I really, really love Asian food and I cannot have anything too spicy. The singer's curse is reflux which can burn the vocal cords and then you can't sing," Nicole explains.
Her lunch is a chicken salad made up of salad leaves, sliced pear and chicken with a vinaigrette dressing and no drink. It is eaten in her harbour view dressing room. Nicole is a big fan of fine dining and if she could do anything, "I would go somewhere like an island retreat and no-one else and just sit and eat and drink the whole week and come back really fat!"
Sebastian Duarte, 27, Construction Worker, Sydney CBD
I follow 27 year old crane crew worker Sebastian up the stairs to the break room of the George Street, Sydney construction site where his fellow construction workers are having lunch. Due to the early hour of their start at 6:30am the first lunch break (aka "smoko") occurs at 10am with a second at 1pm and today they are finishing the day at 8pm.
Sebastian and his colleagues collect their various lunches from the pie warmer that keeps the food warm. Almost all of them bring lunch from home. "If we bought our smoko from the shops it would cost us $60 a day," Sebastian explains. Saturdays is however one day that they dub "bacon and egg roll day" and they buy these in as a treat after Friday night drinks.
His lunch is usually prepared by his girlfriend Elly and today it is a chicken and corn soup made on the stove top and simmered for four hours. Another container has four corn and zucchini fritters and there is also a salad with home made dressing, iced cupcake and a nut slice. Everything is home made and his colleagues all take out containers of home made leftovers from their Eskys and backpacks.
During the day Sebastian drinks about four litres of water from his refillable container nicknamed "Wilson." "I try to be as healthy as I can but I have a sweet tooth" he admits and he and his team mate Brendan keep a stash of chocolate for a 5:30-6pm slump - usually some family sized blocks of fruit and nut chocolate. There isn't any trading of lunches but he and Brendan sometimes offer a taste of each other's lunch.
Brendan drinks energy drinks and Sebastian shakes his head. "I try and tell him that there's more energy in a green apple than a can of V," he says holding up an apple to make his point.
So tell me Dear Reader, Could you match the person to their lunch? What is your job and what did you have for lunch today? And what other jobs would you like to see profiled?