Good morning Dear Readers! Your eyes are not deceiving you but To Market To Market is back just in time for Christmas! This is where I feature products that I have been sent that I love (and only ones that I love) and you get the chance to win them to try them for yourself! This edition is a special one for Christmas and I'm sure you'll love these fantastic goodies as much as I do!
Photo credit: Jeff Sheldon
Tea Forté
Regular readers will know that I am a tea lover. For me there is no better way to get through the slack dread of an afternoon working than with a cup of tea and a biscuit. I was in a lovely hotel when I first discovered Tea Forté organic teas. These are the cleverest designed tea bags featuring a pyramid infuser so they stand up in your cup and don't go all floppy. Plus they are very cute indeed. The organic range comes in four varieties: English Breakfast, Earl Grey, Jasmine Green and Ginger Lemongrass (herbal). I've given these away as gifts as they are so beautifully boxed and presented!
Thanks to Tea Forté, two lucky Not Quite Nigella readers will receive a Tea Forté Organics Ribbon Box (containing 20 infusers), and the Wooden Café Cup Box!
Pie Society
I must admit that it was great timing when I received my Pie Society order. It was pouring down with rain, I had arrived home late and hadn't prepared anything to make and I was hungry. I also had a wolf (Mr NQN) coming home in an hour and I had a lot of work to catch up on. That's where my pie from Pie Society came in. The family size pies are hand made in Sydney in small batches using an all butter pastry and the best quality filling. The pie flavours range from Beef Bourguignon, Minty Lamb, Mushroom & Goat's Cheese, Smoky & Spicy Pork and Chicken, Leek and Thyme. The meat is all free range while the beef is grass fed. Even more special is that they come in a gorgeous resuable red and white enamel pie dish! Emma also sells delicious brownies studded with raspberries for dessert and mushy peas on the side. Everything is delivered frozen so that you can cook it at your leisure. It's also a great gift for someone!
Thanks to Pie Society, three lucky Sydney metro based Not Quite Nigella readers will receive a box with a family size pie of their choice and six fruit mince tarts!
The Aromatherapy Company
I think that if I had to do Christmas shopping for 90% of people that I know, I could easily buy just this range and be done with it. The Aromatherapy Company is a New Zealand based and produced range of delicious body care products. Their newest range called "Therapy Kitchen" is for food lovers with the aroma of lemongrass, lime and bergamot. In their products they use high quality essential oils and are free from parabens, fragrance, sodium laurel sulphates and mineral oils. They also smell fantastic. The hand cream is silky and divine and the soap I have to say is brilliant with tiny grains of pumice to scrub off oils and residues. Also, although it looks expensive, it is reasonably priced!
Thanks to The Aromatherapy Company, one lucky Not Quite Nigella reader will receive a box with Natural Chef's Tin Candle, Chef's Hand Cream, Chef's Room Spray, Soap Bar & Nail Brush, Natural Chef's Candle, Chef's Diffusion Set, Hand Lotion, Hand Wash and Votive Candle Set!
Lewis Road Creamery
I sometimes get asked what ingredient I couldn't live without and invariably I will say butter. And whenever I bake items, I exclusively use New Zealand butter. It has a very high fat content which means that it is perfect for baking. Or eating. Okay eating is really my main priority here :P Lewis Road is a small, independent butter producer that makes butter making the priority rather than a side product of milk production. Owner Peter Cullinan first created the butters with a 1920's butter bible, a butter churn and a determination to create the world's best butter. The cows are fed on pasture 12 months a year and they use organic milk from the farm and churn it in small batches. The salted butter is flavoured with sea salt flakes and then rolled resulting in a velvety texture. It is available in both salted and unsalted butter in Sydney and Melbourne for the moment.
Thanks to Lewis Road Creamery, ten lucky Sydney metro based Not Quite Nigella readers will receive a block of salted and unsalted Lewis Road Creamery butter!
Fine Fettle
I'm not actually allowed to go grocery shopping on an empty stomach. It's a rule from Mr NQN. I turn from a normalish person to someone that tears food from shelves and fills a shopping trolley with food. I first came across Fine Fettle Foods snacks in the supermarket. I was hungry and we walked past a healthy snack aisle and opened up a pack (yes I paid for it ;) ). I tried the spicy capsicum crackers that are made up of fruit and vegetables that are flattened to make a really tasty snack. After that I went back and bought more and more. Fine Fettle's snack range doesn't contain anything that you and I wouldn't use (no preservatives, oil, sugar, GMOs, artificial ingredients or gluten) and are dried at 45-48°C rather than fried. Because they are all natural they are great for feeding to everyone (I'm sure kids wouldn't even notice the veg) and vegans, vegetarians and celiacs can eat them too! They come in 18g snack packs or 80s share packs. I'm thinking Christmas family gathering here with all of my "special eaters".
Thanks to Fine Fettle, six lucky Not Quite Nigella readers will receive a box with carrot, spicy capsicum, beetroot, apple, zucchini and tomato and four "dried fruit and nothing more" packs!
Cake Box™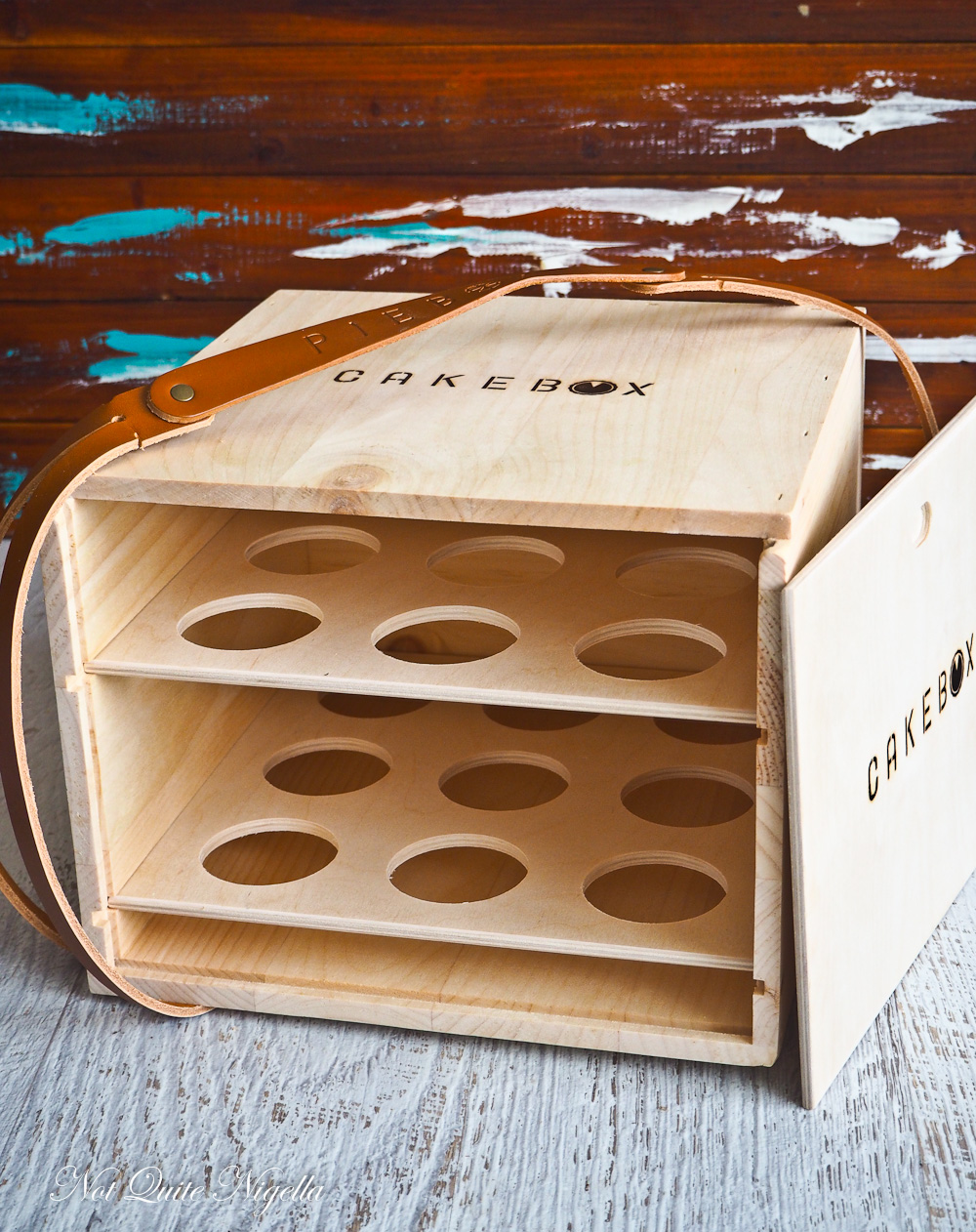 'Tis the season for entertaining and seeing friends and if you are like me, there are always bring a plate dinners involved over the Christmas holidays. And if you find it hard to find clever ways to transport cakes and cupcakes then I've got something gorgeous and practical for you! CakeBox™ (and PieBox™) are newly available in Australia and are rustically gorgeous ways to transport cakes, cupcakes and pies. Each box is handcrafted in the USA from North American pine. CakeBox can accommodate round layer cakes or 18 cupcakes and is sold with an optional leather handle. Adrienne Blumthal first created the PieBox™ when at pastry school and shortly after the CakeBox™ followed. And now they are available in our shores at BOXD for $109 for the CakeBox™ and $79 for the PieBox™!
Thanks to CakeBox™, two lucky Not Quite Nigella readers will receive a cake box with leather strap!
Sonoma Baking Company
We are absolutely spoilt for choice with fantastic bakeries in Sydney and one of the very best is Sonoma Baking Company with locations all over Sydney. Each of their hand crafted loaves starts with organic flour from Gunnedah, filtered water, sourdough starter and sea salt. They started in 1997 Bellata, North-West NSW wanting to do one thing: bake Italian style wood fired bread. Fast forward 17 years later there are stores dotted around Sydney as well as being stocked at many retail outlets. Their Miche, an enormous boule almost 2 kilos in weight is their signature loaf and is exclusive to Sonoma stores. For Christmas, there is a range of items from Panforte, Christmas cookies and Panettone! The Panettone is made using a sourdough starter which is unusual with Panettone which means that the production process takes 48 hours and it is completely free of preservatives and contains fruit soaked in Grand Marnier.
Thanks to Sonoma Baking Company, five lucky Sydney metro based Not Quite Nigella readers will receive a miche loaf and a Panettone!
So Dear Readers, please leave a comment as to which item you would like to try and why and you could be receiving it in the mail just in time for Christmas! The competition closes at midnight 14th December AEST! Thanks again to these generous brands Tea Forté, Pie Society, The Aromatherapy Company, Lewis Road Creamery, Fine Fettle, Cake Box™ and Sonoma Baking Company for providing the fantastic prizes!
Lots of love,
Lorraine
xxx
The winners are:
Tea Forte:
Gillian G.
Sharon T.
Cake Box:
Annie R.
Jodie E.
The Aromatherapy Company:
Margo R.
Fine Fettle:
Heather N.
Erin W.
Kayoko O.
Ben W.
Hannah A.
Sharon W.
Lewis Road Creamery:
Diane S.
Krystle Y.
Rosemary S.
Alexandria W.
Melissa B.
Belinda T.
Jenny H.
Carly P.
Shelly P.
Anastasia C.
Pie Society: Wendy D.
Kate Julie C.
Sonoma Baking Company:
Kelvin P.
Stephanie W.
Mel M.
Stefanie L.
This post was sponsored by these brands