So what do you eat for lunch typically? For the past few years I've done a story where we explore people in different jobs and look at what they eat for lunch. I'm forever looking at what other people are eating so it's a good excuse to take a peek. Today's list has a list of six women from all walks of life and ages that have opened up their lunchboxes.
From an Olympic athlete to a socialite to a lawyer, driver, high school student and asylum seeker, these six women show me what and why they eat the things that they do. All of this is just in time for International Women's Day today, the Tuesday March 8, 2016.
Jess Trengove, Olympic Athlete, Marathon Runner, Melbourne
"I think you'll find a lot of runners have a real passion for food," says 27 year old Olympian and marathon runner Jessica Trengove. It is the day before a competitive run and we are in Rose Bay Diner with her and two runner friends. She surveys the menu and declines the offer of chocolate babka. For an athlete before a race particularly, what she eats is very important. It also changes according to whether it is the day of the race or before the race.
She is deciding between two things: the beetroot salad or the soup of the day. She and her friends discuss the nutritional benefits of beetroot and "vasodilation" (widening of blood vessels) and how mint turns nitrates into nitrites. It's serious business for athletes whose performance can be affected by the fuel that they put in their system. A discussion on any sort of food will yield a list of pros and cons and they're well versed in neural responses, different types of protein and the protein count of many foods. She has worked with a dietitian through the South Australian Sports Institute since the end of 2012.
Jessica settles on a pumpkin and carrot soup with a side of bread. "I love really good bread," she says and she has this along with water and a coffee. Things change on the day of a race. "If I have a morning race I generally eat some cereal like Weetbix or oats with a banana a couple of hours before-hand and maybe a coffee. When the race is in the afternoon I have either a banana pancake with some yoghurt or a similar breakfast to above in the morning. I then have a vegie-based Turkish roll or wrap for lunch & snack on rice crackers or toast with honey! The main thing is to try & keep to easily-digestible & lower fibre foods that won't cause you to feel full or uncomfortable in the guts come race time." Before races she avoids dairy for 1-2 hours before a race because she says that it can "churn up the stomach".
And do atheletes ever indulge? Milk chocolate is a strong temptation for Jess and they often send each other photos of food. She will have a glass of red wine (one only) even up to the day before a race and a Gin & Tonic can also slip in. The post race meal is also something that they often look forward to. "The thing that I crave is sweet potato wedges and a good quality pub burger," she says.
Alyson C., Lady Who Lunches, Darling Island Sydney
Forget the Real Housewives of Melbourne, Scottish born Alyson is a bone fide lady who lunches. Married for seven years to her Australian entrepreneur husband they live by the waterfront of Sydney Harbour on Darling Island. If she isn't at her luxury apartment she is at one of the couple's numerous properties around the world or checking in on her racehorse Lady Louboutin (named after her favourite shoe brand-she is one of the brand's biggest customers in Australia).
Despite the fact that her conversation is peppered with sentences like "My husband surprised me by buying a restaurant the other day..." she is down to earth. One of her favourite restaurants is one just across from her apartment - Flying Fish. Her most regular dining companion is her best friend Geraldine, GM of Louboutin-the two struck up a friendship borne of the mutual love of shoes.
Alyson prefers sitting in the more casual Little Fish bar area rather than the restaurant. Some nights she has been known to take her pup Hamish along and the bar accommodates him. Lunch for the two always starts with a martini. "I'm dry and Geraldine's dirty," guffaws Alyson and then moves onto oysters and sashimi. This is then followed by crab tacos and soft shell crab hand rolls. "What ever type of cuisine I'm having I always make sure I have salad or veggies & avoid the bread. When I'm dining out again I try & be healthy and not over indulge too much, I rarely have dessert as I prefer my calories to come as a martini!!" she says.
JY L., Senior Associate at a Law Firm, Sydney CBD
Lawyer JY works in Sydney's CBD. When she isn't bringing her lunch to work she catches up with other friends at nearby eateries about once a week. She has her favourite places around the area to suit every food craving and once she finds a dish that she loves, she will often return for that dish. "There's been a number of new food places in my area (near Circular Quay) so it's been really great not to have to pick between Maccas and white tablecloth service."
Her lunch today is at Bowery Lane on O'Connell Street from the kiosk section. There is a choice of roast pork with crackling and wagyu brisket. The pork wins out easily and she gets three slices edged with a ring of crisp crackling and fat as well as a side salad of red cabbage, goat's cheese and greens.
"I probably never really skip lunch because eating is one of the priorities in my life (laughs), but lunch can get delayed - to manage that possibility or probability, I try to make sure I'm eating at multiple times during the day so if I get caught out with a sudden urgent deadline, at least I'll have eaten fairly recently! Also, I keep a stash of food in my office...".
"I have an elastic waist band dress back at the office too," confides JY as she tucks into her lunch.
Nabila Ola, Uber X Driver, Sydney
For Nabila, a 27 year old Uber X driver, fitness and serenity are as integral as the food in her daily lunch routine. She is as far from the stereotypical image of a driver as possible. Her day starts early - at 6am where she works until 10am. She then takes a break and works until 12noon. Her lunch routine is the same every day. She drives to Mosman to pick up a sushi roll (always a California roll) and then drives to Mosman Bay Marina. During the week it is very quiet and she usually has the place to herself. "You need time out too," she says. "I'll just sit here for 10 minutes because you're driving out on the road all the time I don't want it to be boring or feel like it's a job." It's usually really quiet, like nothing's happening and there are no cars and it's peaceful."
The key to her job is flexibility as she is an actress, singer, travel blogger and makeup artist. She is also aware that she is unusual for her job. The other aim of her work is to help her save money to go travelling overseas. "I was working in a job full time and earning really good money a corporate job and it was amazing but it wasn't fulfilling."
And what are her plans? "I have just signed to a record publishing label. Hopefully at the end of the year next year we're putting it towards the radio...That's my dream." She looks out to the view. "It's great to clear you mind and start fresh. I sometimes get really angry people in my car. They're just angry to begin with."
Taryn, High School Student, 15, Sydney North West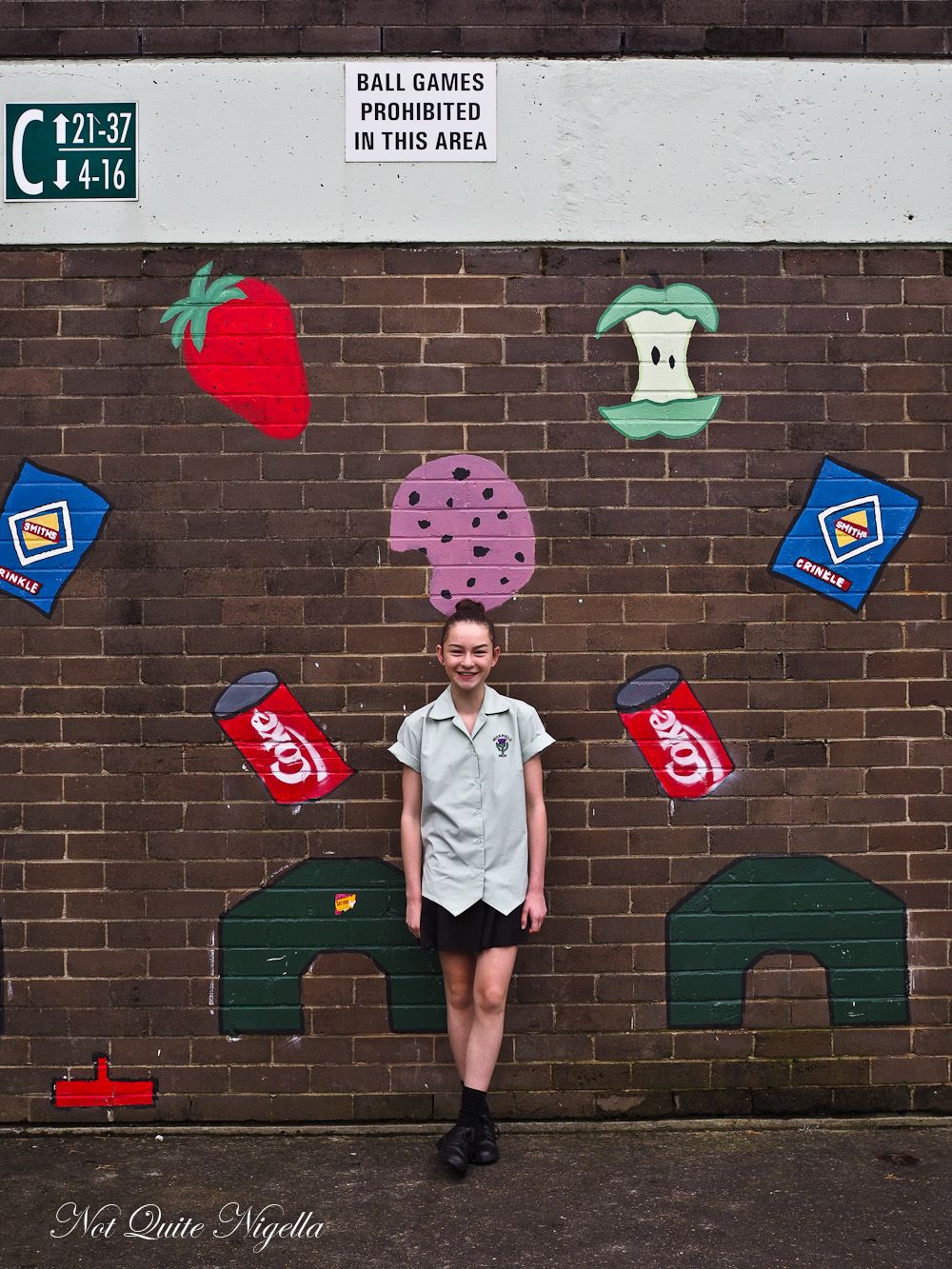 15 year old high school student Taryn makes her lunch every day. "I choose my own lunch. I used to have Vegemite sandwiches every day in primary school and then I decided one day that I was sick of it and I started making salad sandwiches and salads." However she is clear that it is not based on the notion of dieting. "I just really like salad." Leftovers are a big thing. Often it ends up in my lunch if dad doesn't steal it first," laughing. Other days could be spaghetti bolognese and on Mondays she makes a drink bottle of strawberry and cream iced tea to take to school.
Stir fries are her favourite leftover lunch and her favourite salad is a couscous, pumpkin, vermicelli noodle, spinach, tomato, lemon juice and chickpea salad. "I like getting something fresh in my body otherwise I feel really bloated and just lazy. I feel refreshed," which helps at school. She and her group of 5-6 friends have lunch together and they sometimes swap meals and parts of their lunch.
She is in her sixth year ice skating which she does 3-4 times a week. "I eat a lot afterwards, a lot..." she says smiling.
Asylum Seekers, Newtown
At Newtown's Asylum Resource Centre, lunch is not just an opportunity to eat, but it's also a chance to socialise. Because of very strict privacy reasons, I can't show you the faces or names of any of the clients but from Monday to Friday, volunteer teams take turns making lunch for those that drop into the centre, either to see their case worker, a doctor or merely to have a chat or use the internet or computer.
The food served here is mostly vegetarian fare and halal in order to cater for the diverse range of client backgrounds. It is served at 12:30pm and is a mixture of breads, sometimes soup or pasta and sweets. Today OzHarvest has dropped off a large tray of white peaches and nectarines. These are a favourite on this hot summer's day and disappear rapidly as fast as we can wash and put them out. Some clients fill takeaway boxes and bags with food to take home with them. They may visit a few times a week or once a week so this helps to supplement their groceries. One client is excited and shows us the crab and fish caught at Port Kembla and prepared at home with pride - it's not unlike a restaurant.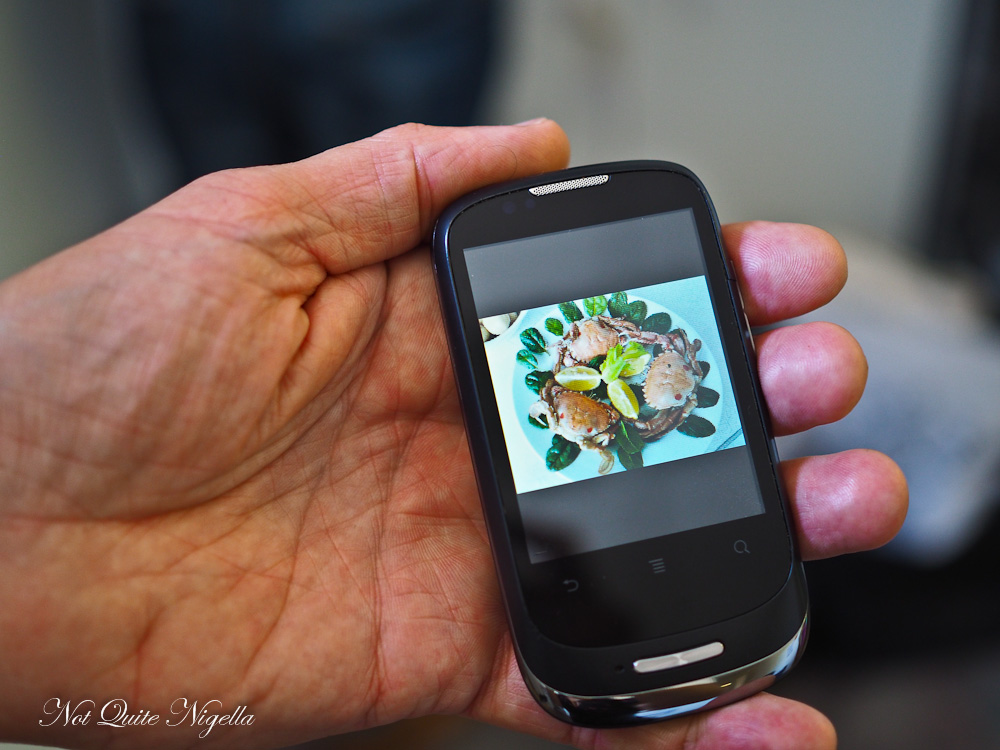 There is also a food store where each person can take a bagful of groceries once a week. The most sought after items are basmati rice and spices while toiletries like hand wash and soaps are also in high demand. Every client is polite and they clean and return their own plates and cutlery and take the time to say thank you. Some chat with others while others relax and take advantage of the books and equipment at the centre. When the centre closes at 4pm they make their way across Sydney to their respective homes.
So tell me Dear Reader, what are you eating for lunch today? Whose lunch most closely resembles what you have? What sort of food did you eat during high school? And did you find one lunch particularly interesting?
If you would like to donate to the Asylum Resource Centre, you can drop off supplies to them at 43 Bedford Street, Newtown or volunteer for lunches by calling them on (02) 9078 1900. The centre is closed on weekends and operates from 9am-4pm and relies mostly on donations.