Dear Reader, can you believe that it's Celia's In My Kitchen time again? I feel as though I just put up last month's items and then another month rolls around. We're officially in the second half of the year. Can you hear the dramatic drum music? Before you know it, Christmas will be around...
This month I've got a few things from Hawaii to show you. The first items are from Kauai where we went a little nuts at a shop called the Kauai Nut Roasters. I don't know about you but I love samples. I know that whenever I visit markets and sometimes see market stalls where nobody is buying anything it can be because they don't have any samples. At this nut roasters, you can try every single item. And we sort of did. We bought all of these fabulous nuts including ones in a maple bacon flavour, salted toffee, pineapple & plum and spiced butter rum as well as this crunchy gorgeous sesame, flax and almond butter. Which I've been eating by the spoonful.
Also while in Kauai we bought this macadamia nut oil with kauai herbs (which I have yet to break open) and we were also given some flavoured salts made with Pacific sea salt and Hawaiian sea salt, that distinctive orange sea salt. I love the sound of the hot lava salt which has activated charcoal, garlic and hickory flavouring and the garlic guava one sounds so intriguing! The mead is also made on Kauai and comes in a variety of flavours-the most popular being the pineapple guava mead. I'm thinking this would be perfect for cold nights at home. Or when I am feeling particularly medieval. Perhaps I'll get started on Game of Thrones while drinking this mead.
Continuing on the nut theme, when we reached Oahu my friend @melissa808 brought me some goodies including a delicious looking papaya jam and a coconut peanut butter. I cannot tell you how much I loved this coconut peanut butter. I selfishly hid the whole jar and ate it by myself. Mr NQN had no idea of its existence until now - that's how much I loved it. I will be trying to make a version of this myself. We also tried some Hawaii grown chocolate and it's really dark, slightly waxy and quite interesting.
You'd also find a jar of these pickled capsicums that I saw on Kylie's fab blog Town Mouse Country Mouse. Lately I've seen some great capsicums or peppers at the market and I particularly like red, orange and yellow ones as they're sweeter than green ones. Grabbing four heavy, crisp specimens I took them home to make this sweet tangy pickle, perfect for a ploughman's lunch or a cheese platter. They're incredibly easy and just require a bit of patience at the beginning. Apart from that, they're endlessly versatile and come one week later I promise that these will be no longer in my kitchen as they will have been happily consumed!
So tell me Dear Reader, are you into pickling and preserving? And did you buy anything interesting this month?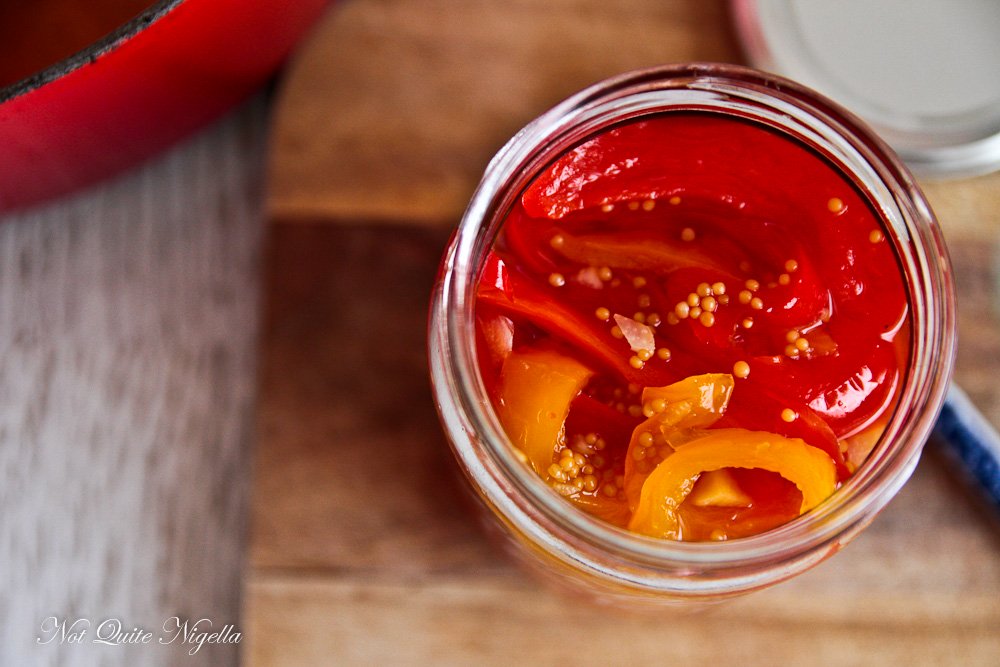 DID YOU MAKE THIS RECIPE? Share your creations by tagging @notquitenigella on Instagram with the hashtag #notquitenigella
Pickled Capsicums
4 capsicums (I used 2 red and 2 yellow)
3 tablespoons salt
1 cup white vinegar
3/4 cup sugar
2 cloves garlic, peeled and diced
1 inch piece pf ginger, peeled and diced
2 teaspoons yellow mustard seeds
Step 1 - Deseed capscicums and slice thinly. Mix with 3 tablespoons salt and cover allow to sit overnight in fridge. The salt draws out any excess water.
Step 2 - Wash and drain capsicum slices and then add the vinegar, sugar, garlic, ginger and mustard seeds to a pot and bring to a boil. Simmer for 1 hour.