This Italian red capsicum or pepper "peperoni" dish is a wonderful side dish and antipasti that is delicious served hot, warm, lukewarm or cold. Called either Peperoni con la Mollica (mollica means the centre of the bread aka breadcrumbs) or Peperoni alla Lecesse (peppers from Lecce) it is a classic dish from the Salento farming heritage that is both easy to prepare and wholesome. Simply sauté the peppers in a pan, then add vinegar and sugar to create a sweet and sour flavour. To finish, garnish with capers, crispy breadcrumbs, parmesan and parsley for a truly wonderful dish! If you enjoy red capsicum or peppers this is a pushy recipe!
In Salento (a southern Apulian region) they call this dish "piparussi muddhricati" (Puglian dialect for Peperoni con Mollica) which means peppers and breadcrumbs and across Puglia it is often used as a sandwich filling. I go through stages were I love capsicum and must have it and then go without eating it for months. My favourite capsicums or peppers are the sweeter ones like the red and yellow that become almost candy sweet after roasting and I rarely or never buy green unless a recipe specifies it. This dish is often made with a trio of capsicums with red, yellow and green.
Capsicums are one of those vegetables that have really skyrocketed in price in Australia. A trio of said capsicums can often cost $9 from the supermarket. As it was, I found a pack of perfect, if smallish capsicums when I was looking for some ripe figs at an independent fruit and vegetable store. They weighed half a kilo and were an absolute steal at $1.99 (I think perhaps because they were small in comparison).
There are so many ways to slice up capsicum but I like this way the best. You cut the top off and then slice down the sides of the main body and remove the seeds. Then just place the capsicum inside side up and slice thinly. Then flip the top of the capsicum inside side up and slice that too avoiding the seeds. That way you use up all of the good bits of capsicum.
I mentioned before that we were having dinner at a neighbour's house. Rita is Greek and Paolo is Italian and they are both retired but very active socially. It would be three couples: Paolo & Rita, neighbours Tony & Brian and Mr NQN and I. Each couple would be making one course each- I was doing the antipasti, Rita and Paolo were making the main and Tony and Brian were making dessert. Rita and Paolo made involtini and I made some Apulian antipasti as Paolo is from Puglia. I served these peppers along with an antipasti spread of burrata and fennel jam, Pugliese focaccia, grilled zucchini and asparagus and Ortiz anchovies.
We had a wonderful meal with great company and it was almost midnight by the time that we left. The next morning Mr NQN left to take the dogs for a walk while I slept in. When he came back he said to me, "So what are the symptoms of COVID?".
He and I both stared at each other. He had been into the office from Wednesday to Friday and on Friday he went to a big awards ceremony with a lot of people that he said seemed a little dicey. So off he went to do a PCR test because RAT tests aren't that reliable (he did a RAT test and it was negative). After the test we separated dividing the house into two. We had had enough close calls in the past and had already agreed that whoever had COVID would get the upstairs bedroom and bathroom and the other person would get the bottom level of the house and sleep on the couch and have a bathroom to themselves. I was so grateful that our renovations were finished because it would be so difficult to isolate with the one bathroom. And that night Mr NQN got the bad news that he had finally, after years of dodging it with his naturally introverted personality, he had finally gotten COVID.
We let everyone else know as soon as we knew and felt terrible. On that Saturday at the dinner he hadn't felt sick at all but luckily nobody else got sick. At the moment he isn't eating much only fruit and juice and I leave these for him on the stairs for him to collect. Monica and Marco delivered soup and fruit to us and Tony offered to get our groceries for us which was so lovely of them. As for Teddy and Milo, they are thoroughly confused by it all and they are still sleeping on the bed so I have to be careful not to snuggle them which is very hard especially with Milo being such a cuddle bunny. One day we'll try to explain COVID to him!
So tell me Dear Reader, have you managed to elude the dreaded COVID? And if you have had it, what was your experience like?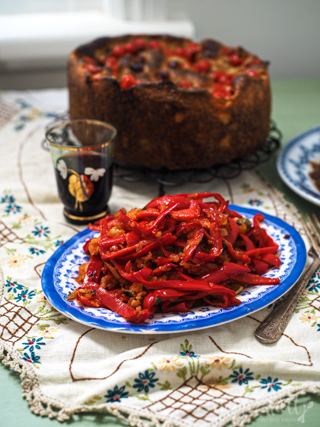 Did you make this recipe?
Share your creations by tagging @notquitenigella on Instagram with the hashtag #notquitenigella
Italian Peperoni With Breadcrumbs
An Original Recipe by Lorraine Elliott
Preparation time: 15 minutes
Cooking time: 20 minutes
Serves: 6-8 as antipasti
100ml/3.5ozs extra virgin olive oil
1 medium onion
3 garlic cloves, peeled and sliced
200g/7ozs cherry or whole tomatoes, halved or chopped
500g/1.1lbs red capsicums, trimmed and seeds removed and cut intro strips
2 tablespoons baby capers, chopped
2 tablespoons red wine
30g/1oz breadcrumbs
30g/1oz grated parmesan or pecorino cheese
2 sprigs parsley, leaves only, chopped
2 tablespoons sherry or red wine vinegar
3-4 teaspoons sugar (to taste)
Salt and pepper
Step 1 - Heat a quarter of the oil in a large frying pan and sauté the onions on medium heat until softened. Add garlic and sauté for 1 minute. Then add the tomatoes and sauté for a couple of minutes. Then increase the heat to medium high and add the sliced capsicums adding more oil when needed. Sauté it for 15 minutes turning during this time so that the heat is distributed. Note: You can also add some water to the pan instead of oil towards the end if you don't want to use a lot of oil. Add the capers and red wine and allow the wine to evaporate.
Step 2 - Mix the breadcrumbs, cheese and parsley together and then scatter on top of the capsicums. Then add the sherry vinegar and sugar. Season with salt and pepper and toss. Serve at room temperature.