I think a lot can be said about the way that people roll their rice paper rolls. There we were: Belinda, her daughter Mia, Nick, Mr NQN and me at Eunhasu in Strathfield on a Saturday evening. Our reason for visiting was a dinner of wollamsam. Many of you are no doubt familiar with Vietnamese rice paper rolls. Wollamsum is these rolls, done Korean style.
We were to meet at Strathfield station. It was a chaotic Saturday night - trains weren't running and there were hundreds of people in queues to get to Vivid in the city. A fire engine drove past, drivers scattered like ants and people drove every which way and there was gridlock everywhere you turned. We were the last to arrive and Nick made the most of his waiting time by approaching people and asking them where they thought the best wollamsum was. They pointed him in the direction of Eunhasu.
Mr NQN and I rush in breathless as they bring out the big platters. Nick and Belinda have ordered the wollamsam for four and our mouths fall open as the two enormous plates hit the table (note to self, order half next time). Korean wollamsam is similar to Vietnamese rice paper rolls but the Vietnamese version is more pared down.
The Korean style incorporates myriad ingredients including tinned pineapple pieces, avocado, beef slices, crab stick slices, bean sprouts, cucumber, tomato, mint, coriander, lettuce, alfalfa sprouts, mushroom, egg omelette and onion. The sauce is a particularly sweet, garlicky spicy sauce made with pineapple juice, hot chilli, coriander stalks, coriander, garlic and fish sauce.
There's two packs of rice paper and two large bowls with warm water. You dip the papers in the water and fill the papers to your heart's content. When I look around I notice the difference in everyone's rolls. Mr NQN and Nick both fill theirs up as much as possible. Nick can't even get his shut.
By some miracle Mr NQN gets his shut and creates interesting shapes like spaceships. Nick looks over at Mr NQN's enormous rolls, "Mate I've usually got your back but that's not a roll!".
Belinda on the other hand goes from a "supermodel" serve with small bits of spring onion and vegetables that causes Nick to guffaw "It looks like a used condom!". And then she switches gears to make the largest roll possible.
I try stuffing mine with my favourite bits from the plate. To me it's lettuce, avocado, onion, mint coriander, onion, egg omelette and the beef and crab stick. I wish that the meat would have been some freshly barbecued meat or heated rather than thinly sliced cold beef. I.just.can't. with the pineapple and pass my pineapple version to Mr NQN.
11 year old Mia is challenging Nick to a count. Skinny as a rake but confident that she can eat plenty she beats Nick by a) folding much neater rolls and b)eating one more roll than him. She also makes the neatest looking rolls of the whole table.
As much as I love the rolls, it's cold so I feel the need for some warmth so we order a couple of dishes from the menu. The beef ribs have a thinnish soup to them that has a distinctly sweet element to it, not unlike sweet soya sauce chicken. It comes with a bowl of delicious white rice and red beans.
The grilled mackerel is one of those delicious oily and strong flavoured fish. Here it is simply grilled. The texture of the fish is buttery and the purple rice accompanies this too.
Nick sits back spent, having consumed six rolls while Mia wraps her seventh. Belinda finishes just three, and me four while Mr NQN (who admittedly had just cycled 60kms that day) downs an enormous ten rolls. Surprisingly Mr NQN's plate is spotlessly clean.
There's no dessert here so we follow Nick through the still busy queues of people in this city outside of the CBD and head to Noggi frozen yogurt for dessert. Service is enthusiastic and friendly and I try a taste of the taro frozen yogurt before settling on an apple pie and a raspberry biscuit frozen yogurt. We take a seat in the flourescent white walled room that changes colour. The apple pie is scooped from an apple crumble dish and is on the sweet side (which is what I am after) with the frozen yogurt giving a good level of tart contrast. The raspberry biscuit isn't bad, it's tangier and the digestive biscuits are broken into larger chunks.
We discuss the rolls eaten earlier. "Do you want to know the secret?" Mr NQN asks Nick. "You make them structurally sound," he says grinning cheekily.
So tell me Dear Reader, do you like cook your own or roll your own food?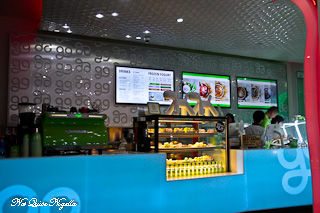 Eunhasu
33 Everton Rd, Strathfield, NSW 2135
Tel: +61 (02) 9745 6917
Noggi
2/2 Albert Rd, Strathfield NSW 2135 Tel: +61 (02) 9807 4177