I was told in no uncertain terms by my friend Celia that I had to try Myeongdong Korean restaurant in North Strathfield. Not only were they famous for the Korean pork bone soup and prawn croquettes but their banchan or complimentary entrees are legendary.
It's a quick meal for Monica and I. She swings by early in the morning for me at 11:20am and we head to Strathfield. The reason for the early start is the avoid the queues that form outside Myeongdong Korean, located at the Bakehouse Quarter North Strathfield dining precinct.
Because of COVID there is a dining limit of one hour. That necessitated a bit of research and we come bearing a list of items that we need to order. By the time we get there and park in the nearby car park it's noon and there's no queue (phew!).
On the way to our table Monica spies the chicken and cheese "Are we getting that? That looks so good," she sees craning her neck and breathing in the smells. Both our stomachs are growling from our early morning workouts.
"Please move to this table. You need to move to a bigger table," says our waitress genuflecting and showing her hands hostess-style towards a massive table. You see we've ordered enough for four but there's never any waste as we will take the leftovers home to our other halves to eat for dinner (and they're happy that way).
The banchan arrive and there are 13 of them. There's kim chi, tofu strips, potato cubes, two types of seaweed, konjac jelly, bean sprouts, spinach, tomatoes in sweet vinegar, Japchae noodles, braised eggplant, yellow radish pickles and white pickled radish cubes. And they're all fantastic, each with its own flavour and textures. I particularly like the Japchae, kimchi, yellow radish and tofu strips.
The rest of the food arrives quickly. One of my favourite things are the shrimp potato croquettes. Firstly they're a HUGE serve, and secondly they're generous in prawn. There's more prawn than potato and it's just perfectly crunchy on the outside and soft and melting on the inside. I love dipping the croquettes in the sweet, mild yellow mustard given.
This is Monica's pick and it's tender pieces of lightly spicy saucy chicken thigh, onion and plenty of melted cheese on top. I'd love this inside a sandwich.
I had read that this is a favourite item here. The seafood pancake is fine although a bit soggy and quite oily and I do think that they do other things a bit better.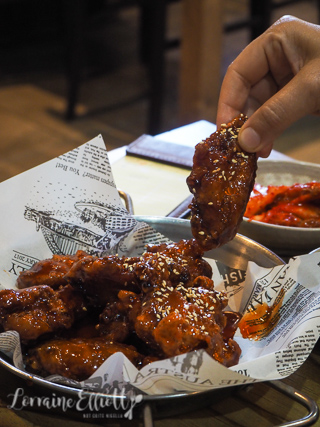 The spicy chicken wings are sweet and crunchy even under all of that sauce. They're not very spicy at all so I'd recommend asking for some of their gochujang chilli bean sauce to dip them in.
My other favourite dish is the spicy pork bone soup. This is the smaller size and there are three hulking pork bones in it with soft meat on them. You do have to love getting into gnawing on bones and if you make the effort you will be rewarded with tender pork meat and a gorgeously spicy soup. This is the dish that everyone orders and I can see why.
We look at the clock and it has been 50 minutes and yet we haven't felt rushed at all. We ask for some takeaway containers ($1 each) and then skedaddle to get some work done at home!
So tell me Dear Reader, what do you think of the 1 hour dining rule? Do you have a favourite banchan dish?
This meal was independently paid for.
Myeongdong Korean Restaurant
2/1 George St, North Strathfield NSW 2137 Open 7 days 10am–11pm Phone: (02) 9746 8746