Lima, the capital of Peru is replete with gastronomic eating opportunities. From the street carts that deliver snacks and refreshments with a difference, unique Chinese Peruvian cuisine, markets that sell fruit you've never seen before to high end restaurants that deliver the freshest ceviche and scallops. There's something for every foodie!
"It doesn't rain in Lima, ever," says our guide Eva nodding sagely before continuing, "There's mist but it never ever becomes rain." It's the sort of statement that I feel should not be delivered as a casual remark while waiting for the car. But something to declare proudly for those from countries that experience a lot of rain.
I've landed in Lima after two flights, one long one short. It's about 8am Sydney time and the mist isn't present today. Eva tsks at the overcast day that obscures the view of the Andes mountains. I'm here on a reccy trip to make sure that everything is perfect for our September inaugural Experiential Traveller food tour (Dear Reader, there are a couple of spots left!).
"You are a queen here," says Atemporal's Hotelito's manager Ricardo. In his American accented English he reminds me of a version of hotel manager Barney from Pretty Woman-deferential, kind and the kind of man who might know where to buy a ruby and diamond necklace from at short notice. He shows me the hotel which means "Passing of time". It was build in 1945 as a house but has now been transformed into a stunning boutique hotel. I am welcomed by another staff member Julio who asks if I would like a welcome drink of pineapple juice, mint and coconut water. I don't mind if I do.
The hotel has 9 rooms and for our September tour we have booked out the majority of rooms. It is located in the upmarket Miraflores district and is well situated within easy walking distance to the Huaca Pucllana pyramid, an ancient ruin.
Guests can take one of the hotel's bikes to ride around or there is also a hotel car and driver that can give you a tour. Guests also have complimentary use of a wifi pocket device to take use while out and about so that they are never out of touch while the hotel has complimentary wifi. And after a day of sightseeing, at 5:30-7:30pm guests are offered a "welcome back" drink with nibblies.
So what is the room like? Each room is different. Mine is A or room 1 right on the ground floor. It's outfitted nicely with whimsical touches-you know the sort that you know a designer has had a hand in but it is still warm and inviting.
There's a queen sized bed and to the right is a television. Normally I never switch this on but Ricardo tells me that there is Netflix there and the selection in Peru is great-there's even the new Twin Peaks and I picture myself falling asleep to some Twin Peaks weirdness or House of Cards scheming.
The bathroom is cleverly hidden behind a sliding mirror. There is a separate toilet and sink with soft luxe towels and cotton pads and cotton tips. To the right is a granite shower with a monsoon shower head and soft fluffy towels. I wash away the two flights and emerge feeling human again.
Dinner tonight is at a uniquely Peruvian restaurant. Correction: a uniquely Peruvian Chinese restaurant. Madame Tusan is by venerated Peruvian chef Gastón Acurio. Madam Tusan (tusán meaning Chinese Peruvians) highlights Peru's history with Chinese coolies or labourers who came to Peru in the 19th century to work as slaves.
Peru has the largest Chinese population in Latin America. It is actually a mix of many cultures: Chinese and Japanese as well as African (the latter seen through creole food and the music with bossanova and music halls). Our guide Nellida tells us that Chinese food is beloved by Peruvians-many eating it once a week. Peruvians enjoy fried won tons, fried rice and Inka kola (a very sweet creaming or bubblegum flavoured soda).
At Madam Tusan they create Peruvian Chinese food (along with Chinese classics). But there's no point in flying almost 8,000 miles to eat what you could eat at home so instead we order the key fusion dishes. Sticky buns are shaped like pumpkins which hold a key to what is contained inside them-a Peruvian pumpkin and beef. These are mouth wateringly good.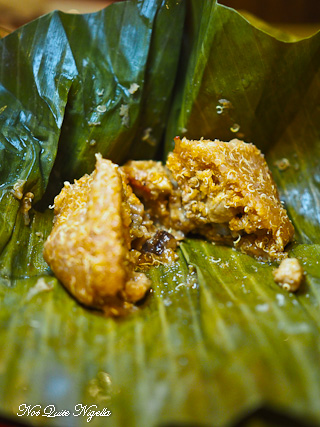 "Sandwiches" are puffy buns filled with delicious barbecued pork while the zongzi leaf wrapped dumplings are filled with quinoa and chicken instead of rice. These are called "rice tamales" and they are utterly delicious.
Banana fried rice
And there are at least half a dozen choices for fried rice. One version is given a uniquely Peruvian twist with banana-yes banana! It tastes like banana and yet it tastes really good, that is if you can wrap your mind around the idea of banana fried rice.
Almond stuffed prawns with orange sauce
Almond stuffed prawns get the Peruvian touch through their love of citrus with a spiced orange sauce. Even the sauces have a Peruvian touch-hoi sin is given heat through rocoto chilli sauce, the chilli and ginger sauce is made with Peruvian chillies.
Desserts are also a highlight. The Copon Lychee is a wobbly Rubenesque beauty with frozen yogurt, fruit and topped with a fluffy Pisco sour foam (I dare you to stop at one spoonful). Flan de Coco is a wonderfully smooth baked flan with rice pudding milk custard and ginger ice cream. And spring rolls are filled with chocolate and banana with a light cream dipping sauce.
I go to sleep eager to wake up the next morning. Of course the best laid plans never go correctly. I had ordered a breakfast tray in my room at 8am but I had slept through my alarm (for the first time ever) and I have to get ready in record time. All ideas of a leisurely breakfast are dashed as I gulp tea and quickly nibble on bread, ham and cheese and their fantastic toasted granola.
For our September tour we have a chef guide taking us around Lima to give us a full history of the food there. Our chef Gonsalo picks us up from the hotel. He is a font of information and as we drive through Sanaisdro he points out the ancient olive trees which would have been watered from Andes River Rimac's channels.
He tells us about the famous drink Pisco. It was named after a flying bird called a pisco and the first historical mention of pisco was in the 1617 will of Juan Manuel "el. Griego" the Greek. It is made in the same way as Grappa.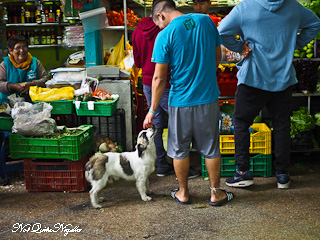 Originally Pisco sours were made as a small drink. Ice was used for chilling while shaking and then they reused the ice and they needed to make the drink small in order to keep it chilled. Now with the advent of blenders the drink has become larger in quantity (at the Grand Hotel Bolivar they have a Cathedral or supersized Pisco Sour). Gonsalo explains, "We have a saying here. One Pisco Sour is fun, two is a party and three is a scandal," and he pauses, "And four? I don't remember," he says laughing.
Another food very commonly associated with Peru is the potato. Peru has an astounding 3,700 varieties of potatoes-there's even a "Centre of investigation of potatoes." When the Spanish invaded, they were impressed by the native Peruvians as they were lean, had good teeth, no grey hair and a strong constitution. They attributed this to the humble potato. "The more purple the potato the better for you," was the saying.
We pass by street stalls selling breakfast provisions. For 2 soles or less than a dollar you can get something for breakfast be it a sandwich (called triple sandwich with three fillings) or pork crackling snacks. We try a quinoa drink made with orange and quince. It's delicious and slightly thickened from the quince.
We visit Surjillo markets, a real local's market for a wander around. People are eating breakfast minestrone while sipping starfruit and passionfruit juices-fresh juices are plentiful here and can be had for just 6 soles or just over $2AUD each.
Gonsalo explains to us all of the ingredients found and how they're used. Fruit is incredible here with the variety and quality of fruit. What looks like a cucumber is actually an avocado and it has an avocado flavour which sounds silly until you realise that it has been missing in avocadoes.
One of my highlights was when we stop at a fruit stall. Gonsalo asks us to point to any fruit we want to try. We feel like kids in a candy store. "What's that?" we ask him repeatedly and he cuts open fruit for us to try.
Pepino
We try pepino which is like apple, cucumber and honeydew. He slices open two types of passionfruit, one sour and one delectably sweet. Then he opens a camu camu, from the passionfruit family that tastes like tamarillo.
Lucuma
There's a bright pink beetroot coloured fruit called "Tuna" that tastes like guava. And there's also lucuma, a fluffy bright orange fruit that is popularly used in ice cream and shakes. The fruit itself has a uniquely velvety texture.
And the yellow skinned dragonfruit is the sweetest, tastiest dragonfruit that I've ever eaten in my life.
He also shows us Chillon clay pots, spoons and other household kitchen tools. He points out a woman who specialises in Asian ingredients, another with cheese and another who sells a large range of spices. We try the long and thin Ica pecans.
Peru also has a strong herb culture with various ailments being cured by various herbs. San Pedro is a hallucinogen that you can buy here but this may mean a walkabout for a few days. Superfoods are easily found here-a big packet of red maca is just 10soles (or around $3-4AUD).
Gonsalo stops at a cheese store and we try some cheeses. There's Humavo smoked cheese, Parila from Arequipa which is fermented and salty and the Dambo cajamarca from North Central Peru.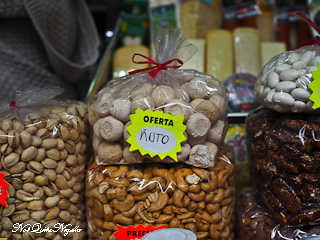 We nibble on Nuto, a meringue crossed with a biscuit made from yuca root. Anything that we see he buys for us to try. It's the most fun you can ever have in a market and we are making this tasting an integral part of our tour.
The food most commonly associated with Peru is of course ceviche and traditionally Cevicherias were only open during the day because that was when the freshest fish was available. Nowadays with refrigeration it isn't strictly necessary anymore but our destination for lunch is only open for lunch. Le Mercado is said to have the best ceviche in all of Peru.
It's a convivial upmarket restaurant with an almost tropical setting courtesy of the greenery and outdoor atmosphere. Service is welcoming and we order a few different dishes to try.
The ceviche menu is long and although we want to try them all (which we will for the September tour) but for today we try three dishes. They bring a bowl of potato chips and aji sauce.
Nikkei tiradito
The Nikkei tiradito is all about fresh Japanese flavours. With the freshest sliced tuna, chilli, avocado and wasabi cream with sesame and soy it's delightfully fresh and well balanced.
Black Scallops Mancoreno
Black scallops aren't common items so we decide to order them. Gonsalo explains that once they open the shell the liquid that comes out is black which imparts the colour in the liquid but the tiny scallops are also black. This ceviche is sublime. A perfect balance of flavours the fresh white and black scallops are tender and fresh and there are kernels of enormous white corn that are juicy and sweet.
Parrillero
"Ceviche isn't a dish it's a technique," says Gonsalo. "It could be fish, shrimp, avocado or even chicken," he explains. Have you ever tried a hot ceviche? We are intrigued by this idea so we have to order it. The hot ceviche comes out on a sizzling plate with prawns and cubes of Robalo fish with yuca chips, aji mochero and leche di tigre or tiger's milk sauce that they pour on the table. Tiger's milk is made up of yellow chilli sauce with fish broth and lime juice.
We stop by and take a gawk at Casa de Aliaga, the oldest Colonial mansion in Peru and the oldest house in the Americas. 18 generations of Aliagas have lived here and it is the setting where we will hold a private dinner for our tour guests in September.
It's a stunning gothic mansion built in the 16th century with plenty of nooks and crannies to explore. They tell us that it once had 72 bedrooms - there's even their own chapel for church services and baptisms.
Peruvians, being agriculturists (the Incans were accomplished farmers) are superstitious people. At Larco museum, a privately owned museum that is perhaps one of the most beautiful museums, they show just how superstitious they are. They believe in Pachamama or Mother Earth.
Traditionally they believe that the earth has three layers-the middle earth where we live, the upper earth or the sky and the underearth or the underground. The upper earth was represented by a bird (commonly an owl), the middle earth a cat and the lower earth a snake. This is also called the Andean trilogy.
We can control the upper and lower with what we do and in the past elaborate ceremonies took place to encourage the upper and lower earth to work together. Tribal leaders adorned themselves in gold and silver and performed ceremonies to encourage harvest.
And the symbolism of all three elements is found in ancient artifcats across different tribes all over Peru and Incan culture. The Larco museum also has a gorgeous cafe as well as an erotic sculpture collection that is worth seeing (you may giggle). It's almost too much to take in on the second day!
And next? Dinner at two of the top restaurants in the world: Central and Maido!
So tell me Dear Reader, have you ever visited Peru? Have you ever tried much Peruvian food? And have you ever seen that fruit before?
Come and join us on our September tour! There are just a couple of places left! Take a peek at the full itinerary, dates and prices here! Can't make it in September but still want to book a tour? No problems, you can also book a modified itinerary and explore Peru yourselves with luxe hotels and all transfers included. Just send us an email on info@experientialtraveller.com or on the website for a quote.
All meals and accommodation were paid for independently.