Esterházy Torte is a Hungarian torte invented by Budapest confectioners in the 19th century. It is a beautiful layered torte made up of several layers of dacquoise sandwiched with an egg custard and nut buttercream. It is a labour of love with each layer individually baked but like some complicated cakes, it is not without its advantages. It actually proves better after time so you can make this several days ahead of when you want to eat it and it will only improve with time.
A couple of weeks ago I wrote about my friend Belinda's experiences on the dating app Tinder. It was soon after that Mr NQN invited his friend The Wizard out to a whisky bar with us and within about 30 minutes of him sitting down, we were eagerly peppering him with questions about his own experiences on the app. For research purposes you see because of course we had to see the other side from a straight male's perspective.
The Wizard goes out on average between 5-7 times a week on Tinder dates. They're usually just for drinks - dinner or a meal would be too much of a time commitment. He pays for the drinks (it must cost him a fortune, have you seen the prices of cocktails in Sydney?) and he prefers not to have too much conversation beforehand in case there is nothing to speak about face to face. There were some interesting differences too between The Wizard and Belinda's experiences. While Belinda operates in fear of being murdered by a Tinder date, he doesn't. But he did say that there was the one woman who scared him a little. As soon as they sat down she asked him if he had personal insurance (no, she didn't sell it and wouldn't tell him why she was asking) and kept asking him about his personal insurance coverage until he fled the date with a distinct feeling of the creeps.
The Wizard even let us swipe left and right for him (swipes signal yes or no to see if there is a match). And this was where it got interesting. You see while men post lots of photos of them with guns, naked, psychotic or just poorly done selfies, women have an entirely different selfie game altogether. While their selfies are better quality, they're often posing in large groups of women where you really can't figure out who the actual woman is until perhaps the last photo of six. We wondered about the psychology of it all. What did it mean? Do the other women distract, detract from or attract men?
Alas the Wizard is still on the Tinder roundabout after several years and many drinks. But then again he is a man of layers. Layers are good of course and especially when it comes to cake. Although I've never been to Hungary, I've eaten a lot of Hungarian food and baked a few of their cakes and food. It is without exception delicious. Some of their cakes are rich and layered like this Esterhazy cake. It is a cake named after diplomat and Prince Paul III Anton Esterházy de Galántha of the Esterházy dynasty. It was created in the late 19th century and consists of five layers of dacquoise sandwiched with a rich buttercream. It originally used almonds and walnuts but the version that we were making this month for Daring Bakers uses hazelnuts.
Vanessa and Clem Cox from Australian Gourmet Hazelnuts
I was rather delighted by the sound of the hazelnut version especially as I had been given some gorgeous hazelnuts from Australian Gourmet Hazelnuts in Mudgee. Vanessa and Clem Cox have been growing hazelnuts since they bought their first trees in 1997. The Tokolyi Brownfield Cosford hazelnuts that they grow were originally brought to Australia by Imre Tokolyi, a Hungarian immigrant who baked continental biscuits. He also germinated seedlings that would suit local conditions best and this variety resulted. So it felt entirely suitable to use these in a Hungarian torte.
Hazelnuts on the tree
I won't lie, this cake is not a casual stroll in the park. It wasn't helped by the fact that I did this on an almost 40C degree day. I was beside myself by the end of it but as cake often does, a bite of this wonderful cake allowed me to forget recently passed traumas baking it. The cake is superb and rich in the wonderful toasted hazelnut aroma. Better still, it is a cake that actually suits being made ahead of time and it can be enjoyed for 7 days. As time goes on it becomes even better. It's best served in thin slices with a cup of coffee or tea. And I'm sure if you invited a date over for this, it would at least end with a very happy guest!
So tell me Dear Reader, how is your selfie game? And would you be nervous if someone kept asking you if you had personal insurance? Have you ever tried Esterhazy torte and what is your favourite nut?
DID YOU MAKE THIS RECIPE? Share your creations by tagging @notquitenigella on Instagram with the hashtag #notquitenigella
The Esterházy Cake
Blog-checking lines: For the month of January Jelena from A Kingdom for a Cake invited us to start this year with a dreamy celebration cake. She challenged us to make the Esterhazy cake a.k.a the Hungarian dream.
Hazelnut sponge layers
12 large egg whites
1 cup plus 1 tablespoon (9 oz) (250 gm) caster (superfine) sugar
2 tablespoons (2/3 oz) (20 gm) vanilla sugar
2½ cups (9 oz) (250 gm) ground hazelnuts, toasted*
2/3 cup (2¾ oz) (80 gm) plain (all purpose) flour
Hazelnut cream
12 large egg yolks
1 cup plus 1 tablespoon (9 oz) (250 gm) caster (superfine) sugar
2 tablespoons (2/3 oz) (20 gm) vanilla sugar
1 -1/3 cups (10½ oz) (300 gm) butter at room temperature
1½ cups (5-1/3 oz)(150 gm) ground hazelnuts, toasted*
Jam glaze
2-3 tablespoons (45 ml) (1-2/3 oz) (45 gm) apricot jam
1 teaspoon (5 ml) water
White Icing
2½ to 3¼ cups (10-2/3 to 14 oz) (300-400 gm) icing (powdered) (confectioners') sugar
2 teaspoons (10 ml) sunflower oil
3-4 teaspoons (15-20 ml) lemon juice
around 4 tablespoons (60 ml) hot water
Chocolate Decoration
¼ cup (1¾ oz) (50 gm) dark chocolate
1 teaspoon (5 ml) oil
¾ cup (3½ oz) (100 gm) roughly chopped hazelnuts, toasted*
Directions:
*To toast hazelnuts, bake in a 180C/350F oven until fragrant. This can take from 10-15 minutes but watch them as they can burn quickly. When they are golden they are ready. Allow to cool. Toasting the hazelnuts is a vital process to giving the cake flavour. I found even pre toasted nuts lose flavour and it is best to give them a little toasting in the oven until fragrant. If you are using almonds, do not toast them. To grind, use a nut grinder or a food processor in short pulses so that it doesn't become like a nut butter.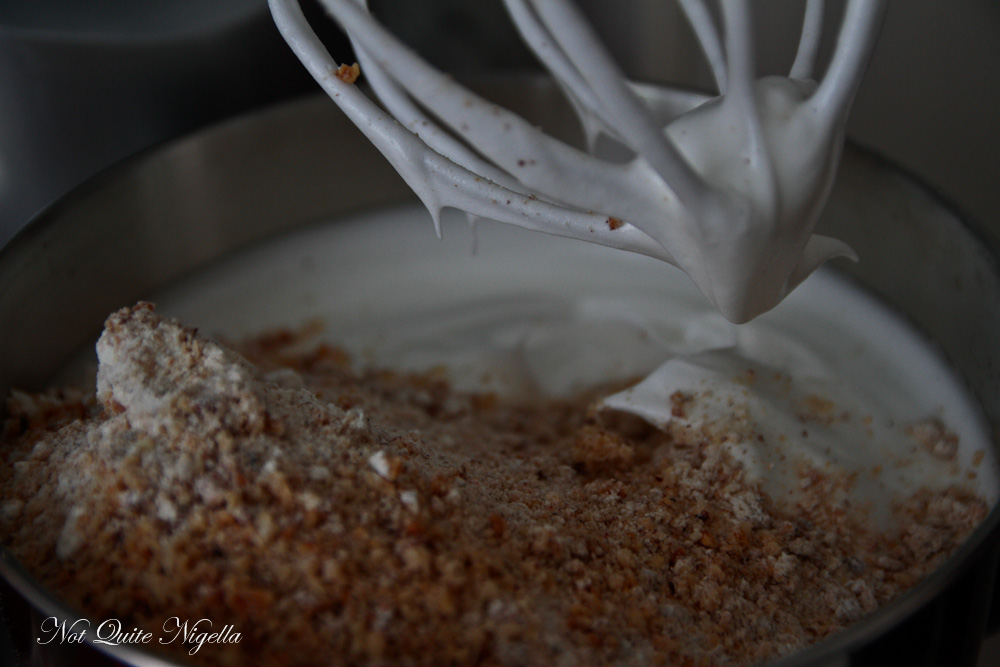 Step 1 - Hazelnut Dacquoise layers. With an electric mixer beat the egg whites while gradually adding the sugar and vanilla sugar for about 5 minutes until stiff peaks form. Turn the mixer to the lowest speed and add in the hazelnuts mixed with the flour and beat until just combined.
Step 2 - Cut baking paper into five squares large enough to draw a circle of 10 inch (25cm) in diameter on the squares. Turn the paper over and place one piece onto an up-side down oven tray and delicately spoon inside the circle one-fifth of the beaten egg white mixture. Smooth with an angled spatula. If you have a 10 inch (25cm) diameter spring form pan with a removable bottom just cut out five pieces of baking paper to fit the bottom and spoon the mixture in the pan.
Step 3 - Place the tray into an preheated moderate 325°F/160°C/gas mark 3 oven and bake for 14 minutes. It will look soft but that is how we want them. Your finger should not stick to the layer when you touch it.
Step 4 - Take the layer out together with the paper and place on an even surface. Cool the oven tray and repeat with the next 4 layers. It is important that the up-side down oven tray is cool when you start to bake the layers. Place all the layers next to each other.
Step 5 - Hazelnut filling. Whisk the egg yolks and sugar in a bowl and then place in a double boiler or a heat proof bowl that fits snugly over a pot of simmering water (making sure that the water doesn't touch the bottom of the bowl). Cook for 14-15 minutes. Stir every 2-3 minutes for a short while with a wooden spoon always scraping the sides and the bottom. Stir constantly, near the end. You want it to become thick and creamy. Let the filling cool completely.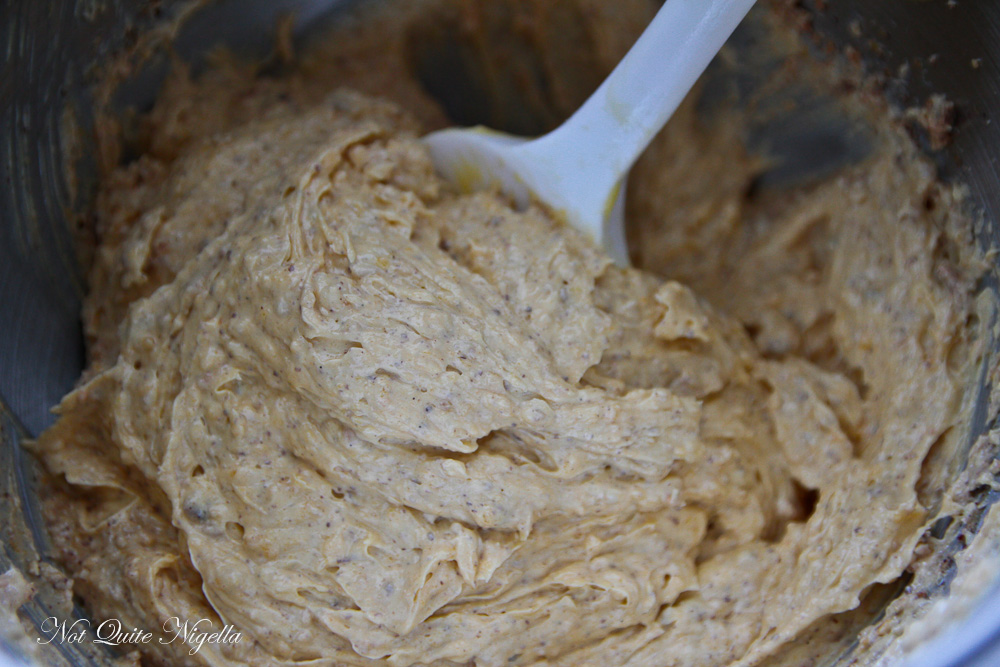 Step 6 - Whisk the cooked yolks for 30 seconds with an electric mixer. Then whisk the room temperature butter for 2 minutes until light and fluffy then add in the cooked yolks. Add in the ground hazelnuts and whisk again until combined. Set aside 1/2 cup of the filling to spread around the torte at the end. Divide the rest of the filling into 4 bowls.
Step 7 - Line a cake swivel plate with baking paper. Place one dacquoise disc on it and spread with one quantity of the buttercream, then repeat with the other layers but leave the top layer without any buttercream. Place some baking paper over the torte. Press a bit with your hands to even it out, put another tray over the torte and now place something heavy on the top to allow the torte to level up. A pan half-filled with water will be fine. Place the whole torte with the pot in the fridge for one hour.
Step 8 - Jam glaze. Heat the apricot jam and water on the stove. Remove the top baking paper from the torte and spread the jam on top of it. We want a very thin layer, just barely covering the torte. Place the torte back in the fridge for 30 minutes for the jam to cool. When the 30 minutes is up, spread the 2 tablespoons of reserved hazelnut filling around the cake.
Step 9 - White icing. By hand mix the powdered icing sugar, oil, lemon juice while adding teaspoon by teaspoon of hot water until the mixture is creamy, but not runny. Mix vigorously for a couple of minutes. With a hot wet large knife quickly spread the icing over the apricot layer. Tip: it is a bit uneven just turn on the hair dryer and heat the icing so it will smooth out a bit.
Step 10 - Decoration. Before starting with the icing have the chocolate ready since it needs to go onto the soft icing in order to get the web.Melt the chocolate with a teaspoon of oil, place in a pipping bag, or a plastic bag with a cut in the corner that will act as the tip.
Step 11 - Draw four concentric circles onto the cake, then with a knife (not the sharp side) or a wooden skewer run six (6) lines at 30 degree angle to the cake to get the decoration. Each line should be in a different direction. One running away from you and the next one running to you. Press the remaining crushed hazelnuts around the cake to complete the decoration.
Let rest in the fridge for at least 24 hours before tasting. This cake that gets better as times goes by. It can be enjoyed for up to 7 days.