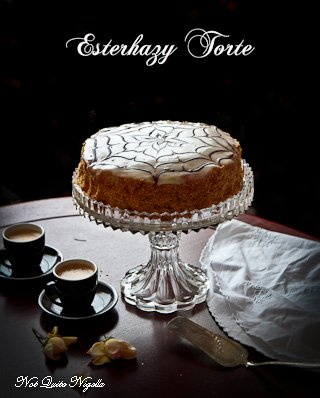 Esterházy Torte is a Hungarian torte invented by Budapest confectioners in the 19th century. It is a beautiful layered torte made up of several layers of dacquoise sandwiched with an egg custard and nut buttercream. It is a labour of love with each layer individually baked but like some complicated cakes, it is not without its advantages. It actually proves better after time so you can make this several days ahead of when you want to eat it and it will only improve with time.
A couple of weeks ago I wrote about my friend Belinda's experiences on the dating app Tinder. It was soon after that Mr NQN invited his friend The Wizard out to a whisky bar with us and within about 30 minutes of him sitting down, we were eagerly peppering him with questions about his own experiences on the app. For research purposes you see because of course we had to see the other side from a straight male's perspective.
The Wizard goes out on average between 5-7 times a week on Tinder dates. They're usually just for drinks - dinner or a meal would be too much of a time commitment. He pays for the drinks (it must cost him a fortune, have you seen the prices of cocktails in Sydney?) and he prefers not to have too much conversation beforehand in case there is nothing to speak about face to face. There were some interesting differences too between The Wizard and Belinda's experiences. While Belinda operates in fear of being murdered by a Tinder date, he doesn't. But he did say that there was the one woman who scared him a little. As soon as they sat down she asked him if he had personal insurance (no, she didn't sell it and wouldn't tell him why she was asking) and kept asking him about his personal insurance coverage until he fled the date with a distinct feeling of the creeps.
The Wizard even let us swipe left and right for him (swipes signal yes or no to see if there is a match). And this was where it got interesting. You see while men post lots of photos of them with guns, naked, psychotic or just poorly done selfies, women have an entirely different selfie game altogether. While their selfies are better quality, they're often posing in large groups of women where you really can't figure out who the actual woman is until perhaps the last photo of six. We wondered about the psychology of it all. What did it mean? Do the other women distract, detract from or attract men?
Alas the Wizard is still on the Tinder roundabout after several years and many drinks. But then again he is a man of layers. Layers are good of course and especially when it comes to cake. Although I've never been to Hungary, I've eaten a lot of Hungarian food and baked a few of their cakes and food. It is without exception delicious. Some of their cakes are rich and layered like this Esterhazy cake. It is a cake named after diplomat and Prince Paul III Anton Esterházy de Galántha of the Esterházy dynasty. It was created in the late 19th century and consists of five layers of dacquoise sandwiched with a rich buttercream. It originally used almonds and walnuts but the version that we were making this month for Daring Bakers uses hazelnuts.
I was rather delighted by the sound of the hazelnut version especially as I had been given some gorgeous hazelnuts from Australian Gourmet Hazelnuts in Mudgee. Vanessa and Clem Cox have been growing hazelnuts since they bought their first trees in 1997. The Tokolyi Brownfield Cosford hazelnuts that they grow were originally brought to Australia by Imre Tokolyi, a Hungarian immigrant who baked continental biscuits. He also germinated seedlings that would suit local conditions best and this variety resulted. So it felt entirely suitable to use these in a Hungarian torte.
I won't lie, this cake is not a casual stroll in the park. It wasn't helped by the fact that I did this on an almost 40C degree day. I was beside myself by the end of it but as cake often does, a bite of this wonderful cake allowed me to forget recently passed traumas baking it. The cake is superb and rich in the wonderful toasted hazelnut aroma. Better still, it is a cake that actually suits being made ahead of time and it can be enjoyed for 7 days. As time goes on it becomes even better. It's best served in thin slices with a cup of coffee or tea. And I'm sure if you invited a date over for this, it would at least end with a very happy guest!
So tell me Dear Reader, how is your selfie game? And would you be nervous if someone kept asking you if you had personal insurance? Have you ever tried Esterhazy torte and what is your favourite nut?
The Esterházy Cake