A couple of weeks ago, I travelled in the footsteps of other writers like Matthew Evans, Marion Grasby, Dominique Rizzo and Karen Reyment and taught writing workshops in regional areas of Queensland. It was a fun four days driving around and each writing workshop was preceded with a question and answer session between me and a moderator from the Queensland Writer's Centre. It was actually supposed to be an author talk but the idea of standing at a lectern filled me with dread. An idea of a q&a which was more like a conversation was much easier and more natural for me. This was followed by morning tea (very important! ;) ) and a writing exercise.
It was wonderful to meet readers face to face and there were some like blogger Marcella who I have known for years so it felt like catching up with friends.  The morning tea portion at each event varied but the morning tea at Charter's Towers stunned and delighted me. The chefs from Burge's Food Works had actually cooked ten recipes from the blog including the Armenian Nutmeg cake, broccoli cake, sticky orange, vodka and chilli cake, asparagus and quail egg vols au vent, lemon polenta cakes and the four bean dip! I was rendered speechless for the first time in my life at the amount of effort that they had gone to and I was even more delighted when everyone enjoyed the food.
For many of the events, discussion centered around getting a book published as there were many budding and wannabe authors. What I did tell them was that unlike blogging, having your book published requires an inordinate amount of patience. An example was my book, which was originally supposed to have come out this year. Very recently I received the news that it was now going to be released in April 2013 in time for next mother's day!
I'm a naturally impatient person so you may have heard my cries of frustration all the way around the other side of the world. The world of book publishing is so different from the world of blog publishing where a simple push of the button makes something live. There was talk about releasing it in July-September this year prior to the Christmas rush but my publisher said that she loved it too much not to give it the best start to life as possible.
So I consoled myself with cake. Not just any cake but a really joyous, colourful concoction. A chocolate sponge filled with jam and cream, much like the cake I would have asked for as a child, and then coated in whipped cream and hundreds and thousands. You can really use any sort of cake (although you might want to steer clear of splitting a heavy cake as cutting it will push out the cream and decorations) and the sprinkles are surprisingly easy and don't take that long to do. Unlike, say the whole book publishing process! ;)
Dear Readers, I have to say thank you for your patience with the book, I know it sounds like a long time coming and I hope that you will think that it is worth it in the end! So tell me Dear Reader, do you have any questions about the publishing process and do you have a book in you? I will try and answer your questions in a separate post!
Sprinkle Cake
Makes a tall 10cm diameter chocolate sponge cake, for a regular, larger sized cake, double the recipe
Ingredients:
2 duck eggs (medium sized 420g are fine) or 5 large chicken eggs at room temperature
1/3 cup caster/superfine sugar
A little butter and flour to grease the tins
2 sponge tins or 2 springform tines in the same size
250ml/1 cup of pure cream
Step 1 - Arrange oven rack so that it sits in the centre of the oven. Preheat oven to 180C/350F. Grease 2 x 10cm/4 inch round pans with butter and sift flour over butter and shake out excess flour. Whisk eggs and sugar on a medium high setting (I used setting #6 on the Kitchenaid) for about 8 minutes until it has turned very pale and very thick and has increased in volume to at least 3 times its original volume.
Step 2 - Meanwhile, sift the flour and cocoa powder three times. Each time, do it at a bit of a height and tap the side of the sieve with the heel of your hand or use your wrist to shake it back and forth (rather than pressing down on the flour with a spoon).
Step 3 - When the egg mixture is ready, ensure that the oven is at the correct temperature. Have everything ready as the timing is crucial now. Sift the flour into the mixture and then fold the mixture underneath. This helps to avoid the lumps. Use the up, down and under folding motion (do not stir). It folds easily and should be able to be incorporated easily. Quickly spoon it into the tins and bake in the centre row of the oven and bake for 15-20 minutes. It should spring back slightly when touched and the edges should pull back from the tin.
Step 4 - Cool in the tins for 5 minutes and then remove from the tin gently and cool on a wire rack. You can wrap these in cling wrap once cool and decorate it the next day.
Step 5 - Slice off the tops of the sponges to create an even cake. Spread the centre of the bottom cake with jam.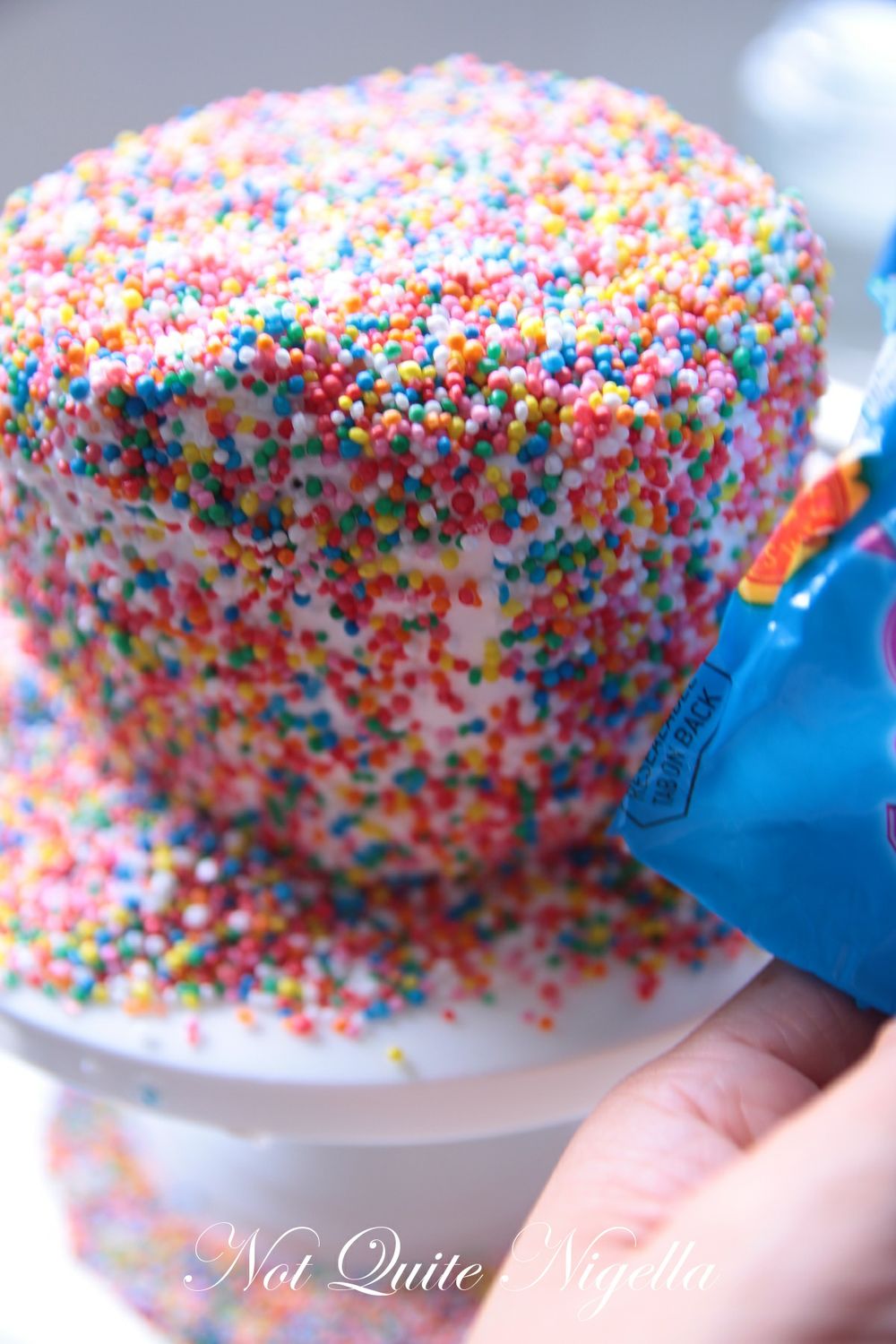 Sorry for the blurry pic, it's quite hard to photograph it and do the action
Step 6 - Whip the cream until it reaches firm peaks and spread some in the centre of the cake on top of the jam. Then, using an angled spatula, spread the cream around the outside of the cake. Smooth the sides. Then place the cake on its stand in a large bowl to catch the sprinkles. Sprinkle the hundreds and thousands on top and around the sides pushing them gently in with your fingers as you are raining them down. Use a length of ribbon to cover up any less than perfect bits on the bottom if you have them. Chill until serving.