An expansive retreat located on the Gold Coast Hinterland just over 1 hour's plane ride from Sydney, O'Reilly's Rainforest Retreat offers a luxury experience for couples, families and groups. The rainforest provides a range of experiences from Segway to walking tours and bird spotting while the retreat itself houses a spa that uses the O'Reilly Vineyard's wines in some of their treatments.
It's amazing how a break can be the antidote to modern stresses. It was 4:55pm on a Friday and we had just landed at Gold Coast's Coolongatta airport. An email slipped in just as I was getting ready to switch to "break" mode and it was not good news. Very bad news in fact. My much anticipated weekend was suddenly dampened with a dark cloud.
Mr NQN was driving and I was in the passenger seat mostly quiet except for an occasional terse interjection about the email. Then out of the corner of my eye I saw a sign. "Stock ahead" meaning that cows might be on the road. "Ha!" I said under my breath. Then a big brown cow appeared, then a sign that said Lamington National Park appeared and a kangaroo hopped across the road. "Look at us!" they said to me, "Come on forget your troubles come on get happy!".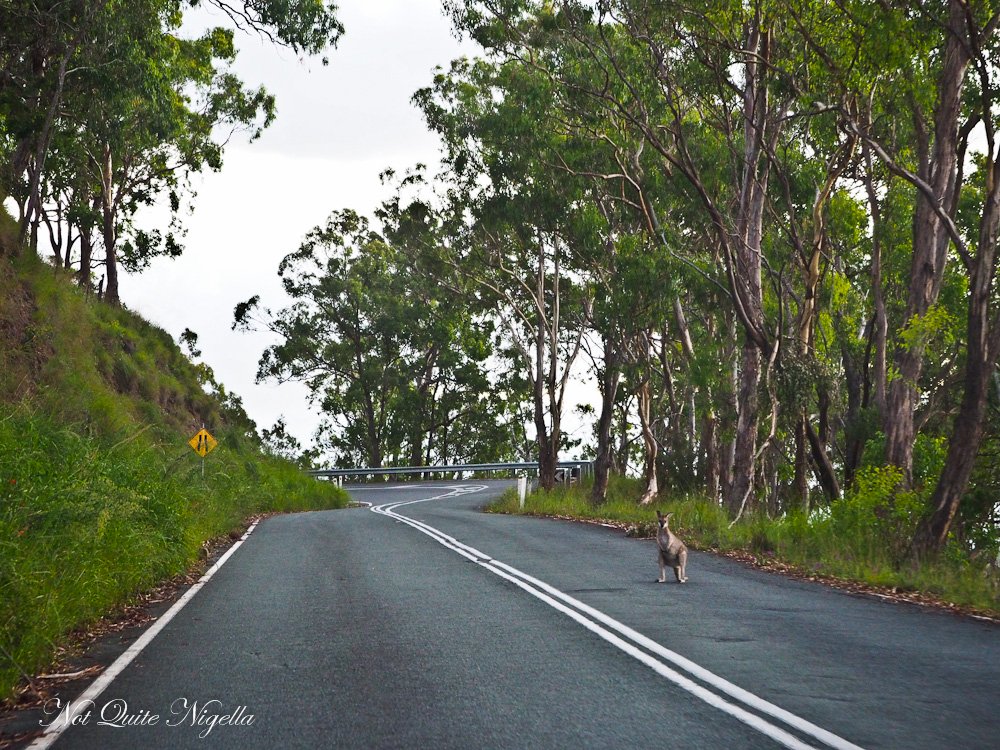 By the time we neared O'Reilly's Rainforest Retreat, I was spellbound, irritations pushed to the back of my mind as I marvelled at the Dunns ghost gums and hoop pine trees that formed an almost fairytale like canopy on each side of the road. The endlessly winding road seems to be so convoluted at times that I wondered if we weren't driving upside down it was so twisted but I was so enthralled by the magic of the drive that had tiny wallabies popping up on the sides of roads, deep dark passages and light filled moments that when we arrived the bad mood was the furthest thing from my mind.
The O'Reilly family first set foot on the land back in 1911 with the idea of establishing dairy farms. They were isolated when the land became National Park but they carved out a track that allowed them access down the side of the mountain. Visitors began using this track as early as 1914.
They naturally needed accommodation and as they started to arrive in increasing numbers, a guest house was opened in 1926. Mains power wasn't connected until 1967 and 1978 saw a radio telephone link replacing the Duck Creek party line. Now a third generation of O'Reilly's runs and operates the retreat.
It's just after 7pm and we quickly check into our private villa #12, a five minute drive away from the main reception area. The villas are spacious with undercover parking and we park the car outside and let ourselves in. The lounge room is large and open plan and each villa is built to make the most of the views with plenty of floor to ceiling windows.
There is a comfortable lounge, a roomy kitchen with gas burners, fridge and freezer, a dining table and a comfortable sun bed nook to cosy up in. Outside is a well sized deck with a barbecue, dining table for eight and a jacuzzi. There are two types of accommodation at O'Reilly's - villa and retreat rooms. The latter are older style motel style rooms and from all reports the villas are definitely the pick and offer a completely different experience.
The bedroom features a king bed and closet but this is quite plain as is the bathroom with a shower. There are larger sized shampoo, conditioner, body lotion and shower gel but any other amenities will need to be brought. There is reserve cycle air conditioning in both the bedroom and living room as it gets a little colder here due to the altitude. There is supposed to be internet although this isn't working during our weekend here.
We only have time for a quick change and a super quick bite to eat before we make our way to the Glow worm tour. Dinner at the main restaurant is a la carte and as it is a bit chilly this evening, all I want is a bowl of soup. I choose the red lentil, tomato and bacon soup that comes with a big slice of lightly toasted bread. It is just what I want, healthy but with just enough flavour from the bacon to make it satisfying rather than virtuous.
Mr NQN goes for the soft beef cheeks with mash. They're not bad, they could be a bit softer and a tad more seasoned. It comes with a side of roasted root vegetables. We eat quickly not wanting to hold up the rest of the tour group.
We look at the time. We have just enough time to join the glow worm tour but on our way out of the restaurant, the friendly restaurant manager Jade suggests that if we want, he can send desserts to our room. It's a deal! At this moment if you had asked me about that irksome email I would have answered "What email?"
After spraying my legs with Aerogard (leeches, urgh!) we join the Glow worm tour group led by guides Justin and Martin. We board a rainforest bus and make our way through the darkest of night. There are no lights here except the van's headlights and we alight at a clearing. Two pairs of wallaby eyes flash in the near distance. We follow Justin through the bush for a 10 minute walk on a cleared path. He has extremely good night vision and spots a tiny frog on a leaf, possums in the tree and spiders. He explains the stinging tree, so named because its heart shaped leaves feature tiny hairs that act like shards of glass. The effects of the stinging can last for a period of several months.
Suddenly one person at the head of the pack emits a "wow" and I look to my left at a clearing. I have seen glow worms before but never outside, only within caves at Waitomo in New Zealand. We take a seat and turn off our torches. The light sensitive glow worm is not actually a worm but the larvae of a small fly. The larvae live in tubes and rest during the day and feed at night. They will live like this as larvae for 4-11 months. They do not not attract many predators and each evening, they glow steadily through a process called bioluminescence i.e. light from a living organism.
Like a starry sky
In the glow worms' case bioluminescence is the result of a chemical reaction between a pigment, enzyme and oxygen. When the wind picks up the leaves shake making the lights reverberate gently. The colour of a glow worm's light is green blue. A cluster of glow worm strands is called a snare that traps smaller insects for the larvae to feed on. These creatures are said to predate dinosaurs.
After the larvae become flies, they live for a mere 2 days for female flies and 4-6 days for males. The sex life of a fly is interesting with the act going on for up to 2 days. We sit back and watch and listen. All I can think about it how tranquil and gorgeous the setting is. And how much I smell of Aerogard...
Back at the villa, we do a leech check (phew none!) before settling in for a serve of warm sticky date pudding with butterscotch sauce and ice cream and chocolate shards.
The next morning is an early rise for Mr NQN. He is booked in on the early morning bird walk. Lamington National Park is said to be the home of many bird species and the early morning guided walks allow guests to become familiar with them. The group is large, perhaps erring a little on too large but he enjoys the walk and bird spotting.
I'm excited because at 9am, we have a Segway tour booked. This will be my first time using a Segway and I had been warned that it was slightly challenging and for the well uncoordinated like me, this makes me a little nervous. There are two other people on the tour and they seem just as nervous of a Segway as I.
The first hour is all about getting familiar with it - these all terrain versions run upwards of $11,000 and are ideal for the conditions that we will be going on. Our guide Sonny has us practice going forwards, backwards and turning on the spot as well as obstacle drills and going at speed (a maximum of 9kms/h).
It's actually a brilliant invention and it is super responsive and intuitive and before long, I'm speeding along (speeding being a comparative concept at a maximum of 9 kms/h) with a big grin on my face. The all terrain wheels allow it to go over puddles, sticks, through shallow creeks and over bumpy, rocky and steep hills without ever feeling as though you are going to lose control or tip off balance.
It is even possible to stop midway down a steep hill - to do this lean back on your heels and sit into a gentle squat and that is all you need. I have to admit that I'm a convert and will seek them out wherever I go because you cover a lot of terrain without getting tired at all. Mr NQN calls them "walking for lazy people," and I happily concur.
Towards the end of the Segway tour we park them by a tree, remove the control (so that it can't be stolen) and strap the small, round controls to our wrists. There's a short bush walk - it's not particularly challenging and the reward is three scenic stops. The first is looking at Moran Falls, the second is the opposite view and the third has us coming out on top of Moran Falls where there are bushes of watercress and crayfish can often be spotted in the mountain streams.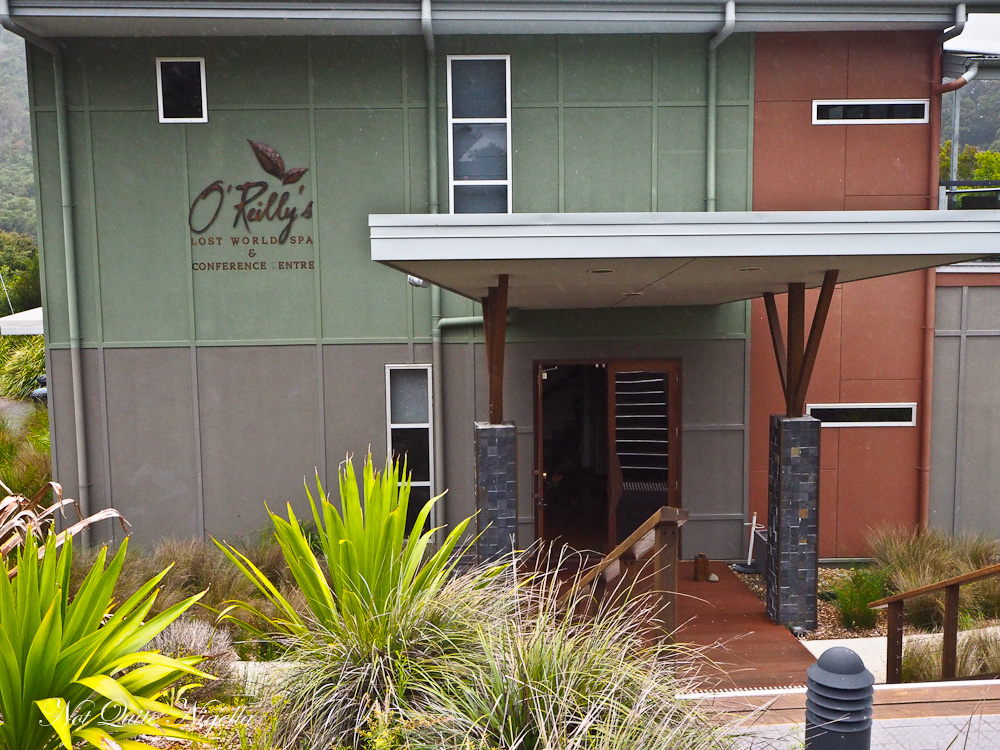 We hand our Segways back and drop our things off at our villa and take the 2 minute walk to The Lost World Spa. The spa is luxurious and welcoming. We are booked in for a antioxidant rich Vinotherapy treatment using some of the wine from the O'Reilly's vineyard.
But first things first, a light lunch is served in the relaxation room which we feast upon while wearing our white robes. There are finger sandwiches with cheese and alfalfa and chicken and mustard as well as croissants, chocolate dipped strawberries, fresh fruit, lemon possett and vanilla cream pots and chocolate and walnut cake. We eat eagerly as if we hadn't eaten in days. Who says that Segways aren't exercise? Actually my trainer Nina said that it didn't count. Party killer. :(
Spa therapists Pania and Lauren let us know that our hot tub is ready. It's a large Japanese style wooden tub into which they pour half a bottle of O'Reilly's red wine in and a measure of essential oils. We are given about 30 minutes in which to relax in the tub and use the steam room before they return. The bath is wonderfully relaxing and the perfect size for two.
After 30 minutes they start the next phase of the treatment on the heated beds. They apply a body scrub part and when this dries, they add a rich oil and then cocoon us up in the blankets while a head massage is administered. By this time, both Mr NQN and I are falling asleep in great long swoony patches waking ourselves up every now and then and wondering where we are. They wake us up gently and we are then shown to the dual showers where we wash off the scrub and return to the beds that have been freshly made.
Then we have the last blissful hour of the 3.5 hour treatment, the massage portion. We emerge completely limp, smiling and relaxed and thankfully it's a short walk to our villa.
At 5pm there is a knock at our door. Guide Justin is back and he is ready to transport us for pre dinner canapes at Luke's Farm. In 1911 eight young O'Reilly men moved to the Macpherson Ranges to start their career in dairy farming. Luke was one of the first O'Reilly's to live on the land and two O'Reillys owned the adjacent properties that we are now visiting.
In those days properties had to have a working interest like a farm and a dwelling. The O'Reillys got around the dwelling rule by building a shack that sat across the dividing line effectively satisfying the dwelling rule but costing them less money than having two separate dwellings.
The retreat's 4WD ambles along, past the black Angus cows. These are babies and look at us through the light drizzle, moving aside slowly. The private property is also hired out for weddings and once you reach Luke's Bluff you can see why. There are views of Mount Lindesay, Mount Warning and Mount Barney. Justin points out Ding Bing Falls to the right. "Do you hear the bellbirds?" Justin asks and we hear the gentle ever-present ping of the bellbirds down in the valley below. He explains that nearby Ding Bing Falls is actually named after the native word for the sound that the bellbirds make, a melodic "ding bing" sound.
Napa and Rajava, two staff members of O'Reilly's greet us with glasses of sparkling and a delicious platter of canapes. There are six morsels generously portioned and the favourites are smoked salmon and the mushroom and cheese crepe. We contemplate the stunning view and hear a bit more about the history of the area to the faint sound of bellbirds before making our way back to the vehicle.
But our adventure on Luke's Farm isn't quite over yet. Because thanks to Justin's eagle eyed vision, he makes a rare sighting of a koala very high up in a tree. Usually they're hard to spot as they are rare and sit very high up, concealed by the leaves and other trees but this one is clear as day. It regards us for a minute before shifting and snuggling its face under a fuzzy curled arm and settling in for a nap. But there are still more surprises for us coming up. Stay tuned for the rest of the day at O'Reilly's!
So tell me Dear Reader, have you ever seen a koala in the wild? How do you get away from any stresses? When you get some bad news do you tend to stew over it or do you do something to put yourself in a better mood?
NQN and Mr NQN stayed as guests of O'Reilly's Rainforest Retreat.
O'Reilly's Rainforest Retreat
Lamington National Park Road, Canungra QLD 4275
Phone:1800 688 722
http://www.oreillys.com.au/