One of the most popular new restaurants in Brisbane with plenty of buzz is Hellenika. Booked up for Friday and Saturday until March 2019, it combines a pool side Greek Island vibe and a menu focused on Greek style seafood.
If Hellenika sounds familiar, you may have heard of the Hellenika Gold Coast on Nobby's Beach that has been operating since 2010. The menus for the two are similar but not identical and the Gold Coast restaurateur and owner Simon Gloftis is in the house tonight. The Hellenika in Brisbane is on the first floor of The Calile Hotel in Fortitude Valley. The pick for seating is the terrace area near the pool where you can watch sunset. I'm meeting my lovely Brisbane based blogger friend Sherry for dinner.
Service from the pink jacketed waiters is friendly although our waiter seems a bit determined to keep us on a diet and have us order less than we wanted. And while there are classics like Greek salad, dolmades and eggplant moussaka, the other dishes appeal to us a bit more.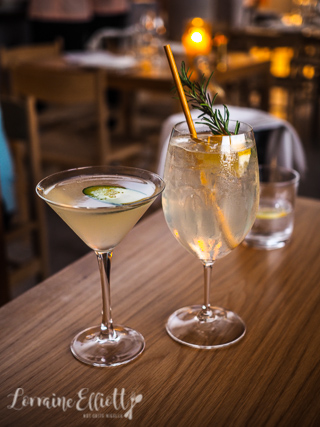 We start with cocktails because even though it's a Monday night it feels like a Friday night with the buzzy crowd. The Ari Onassis is my choice with Mastiha, Tanqueray, elderflower, lemon and cucumber while Sherry goes for the gimlet. I love my cocktail for its refreshing quality with just the right amount of sweetness.
Our amuse bouche is a cup of warm fish soup, with an appealing creamy texture.
The dip comes out first with enormous spongy, fat bread slices. It's a wonderful dip with small chunks of soft feta interspersed with the creamy red pepper dip. The bread is also very good and they offer to replace it but we reluctantly decline as we are mindful not to fill us up on it.
We were recommended the saganaki cheese which actually goes well with the pepper dip. It's a wedge of grilled kefalograviera cheese and a wedge of lemon and just lovely in its simplicity.
For the mains Sherry and I put all of our eggs in one basket so to speak and order the Murray Cod with caramelised onions. We were hopeful for this not only because we bypassed other dishes that we wanted but also because it was $100. Thankfully it is superb. The fish is served whole and is perfectly cooked. The tomato based sweet caramelised onions are generous on top and we have no order regrets at all. In fact I want to make something similar at home just so I can eat it again.
To pair with the fish, we went with the marouli, a baby gem lettuce with green onions and kefalotiri cheese and a lemony dressing. I would have loved a tad more cheese as the first few bites are super lemony but once you get the pieces of lettuce with more cheese and onions it's a good accompaniment to the fish.
Because seafood is the main focus at the Hellenika we tried another seafood dish. The orzo pasta with Fraser Coast spanner crab is tasty and lemony. The sort of dish you want to eat in summer or Brisbane's heat.
We saved some room for dessert because there were quite a few options. We were recommended the halva ice cream and they explain that they make the halva in house. It's a scoop of vanilla ice cream topped with shaved halva. It's glorious in its sesame nuttiness and the perfect level of sweetness.
One of my favourite Greek desserts is the bougatsa which is a semolina custard filled baked filo pastry. This one is gorgeous. Served warm with a generous dusting of cinnamon sugar and warm lemon syrup, it's hard to stop at a few bites. And I envy Sherry somewhat because it's much easier for her to come back here than me!
So tell me Dear Reader, are you ever discouraged from ordering too much by waitstaff? Do you usually order one big thing or prefer to spread out your dishes in case you don't like the one big thing?
Hellenika
1st Floor, The Calile Hotel
48 James St, Fortitude Valley QLD 4006
Open 7 days 6:30am–12am
Phone: (07) 3252 2060
hellenika.com.au/