Looking for a sustainable holiday option that doesn't sacrifice luxury or comfort? Beechmont Estate might be just what you're looking for. This eco-friendly lodge is located in the heart of Queensland's Scenic Rim, surrounded by lush forests, rolling hills and crystal-clear streams. Their award-winning restaurant The Paddock sources all of its ingredients from the Scenic Rim region and grows many of their garnishes in its own kitchen garden. Come and take a closer look at this retreat.
The greeting is entirely unexpected and yet completely fitting. The wallaby turns its head towards us and then stands stock still. When we get a bit closer it bounds away to where its mate stands. Then a riot of kookaburras sound, their hearty laughter echoing above. A cow moos in response. There's definitely no city vibes here at Beechmont Estate.
Beechmont Estate is a 74 acre estate located in town of the same name. Perched between Lamington Plateau and Tamborine Mountain it is around a one hour drive from Coolangatta airport. However 1 hour makes a big difference and in that time we go from the glittery, busy Gold Coast to the pure pastoral land of the Scenic Rim. Most of the guests are drawn here for the hiking and the gastronomic offer.
Beechmont sits at 600 metres above sea level with temperatures around 8-10 degrees cooler than on the Gold Coast. The estate sits on a privately owned wagyu farm (hence the greeting from the cows) and polo field. Prior to that it was a dilapidated dairy farm. It is now part of the Northern Escape Collection, a collective of Queensland based boutique lodges with a focus on sustainability.
Beechwood Estate was formerly known as Hazelwood Estate that originally opened in 2021 but earlier this year it rebranded to Beechmont Estate. The former owners Andrew and Claire Northcott installed solar panels that supply 71% of the estate's power consumption and planted over 6,000 trees.
All of the accommmodation here are free standing cabins dotted across the lawns. Each is angled so that you get some privacy (unless you want to spend time on the balcony). Ours is #4 the northern-most king cabin. The north east facing cabins are simple and spotlessly clean with nice touches. The cabin footprint is snug at 40 square metres including the balcony and in each one there's a fireplace, airconditioning and fan. There's a mini bar and tea and coffee making facilities. Complimentary water and Loco Love Cosmic Coffee Creme with Cordyceps chocolate sit by the bed.
The bathroom is adjacent to the bed with a shower and it is stocked with Salus toiletries. We did find the light and exhaust fan extremely noisy (every time we would turn the light on we'd say that we were about to take off such was the noise). Internet is fast and free for unlimited devices and there are handy charge points by each side of the bed.
When we slide the doors open to the deck there are our wallaby friends, this time two of them observing us cautiously. We take a seat on the outdoor deck and enjoy the warmth of the afternoon sun with cool, hinterland breeze.
Most of the activities centre around the main homestead, past the big barn doors. That's where The Paddock restaurant serves breakfast, lunch and dinner.
At 4.30pm each day executive chef Simon Furley takes guests on a tour of the kitchen garden and explains the intiatives behind what drives the menu. Simon lives on the property with his family and hails from Bath, England. When he was 16 years old he wanted to travel the world on someone else's paycheck and he figured the best way to do it was by being a chef. He worked at restaurants in Bath including Bath's only Michelin starred restaurant Olive Tree where he started washing dishes working his way up.
In 2015 Simon traded life as a private chef cooking on superyachts in Monaco for a Russian oligarch for greener pastures - literally. He answered an ad for Homage at Spicer's Hidden Vale where he worked his way up to Head Chef. When it came to the idea for The Paddock he pitched the idea to the then owners to create the kitchen garden delivering hyper local food with minimal wastage.
Simon's food style is contemporary Australian that he describes as "intuitive cooking" that is based on the produce that he can get at the time. He works with the vegetables first and designs dishes around these rather than starting with the protein.
The Paddock restaurant is very popular for lunch with around half of the guests coming from Brisbane and all over the region, some arriving by helicopter. All of the produce used here is from the Scenic Rim and all of the animals are brought in whole and broken down here. They're also making inroads to making their own cheese here too.
Simon walks us through the raised garden beds explaining that most of the seeds were given to them from the farmers that supply them with produce. The chefs are also the gardeners. "It's not really planned," he says showing us the planter of sorrel dwarfed by the huge, growing tendrils of pumpkin leaves. These were grown accidentally as they used compost that contained pumpkin seeds. By the end of the season they will end up with around two hundred kilos of pumpkin.
Simon explains that because the Scenic Rim was once a volcanic hotspot, the soil is so incredibly fertile that it takes a fraction of the time to grow anything. Olive trees that would usually take 6 years to grow to size take 1.5 years. Other plants like horseradish save them quite a sum of money. Their horseradish plant has a 5 foot winding vine root underneath it that they can help themselves to which would usually cost $300 a kilo.
The pretty pale pink roses are made into rose vinegar or dipped in pancake batter and deep fried. They grow nasturtiums that they pair with steak for a peppery flavour. They use parsley as a ph balancer - if a sauce is too bitter they add some parsley in and then take it out and it neutralises the bitterness.
There are large jugs in each garden bed because in rainy season brings out the slugs. They fill these with beer that attracts the slugs and they can't get out. The slugs are then fed to the ducks at a nearby farm.
Cinnamon and Lemon Myrtle are used for sorbet. Citronella is used for a pre-dessert pate de fruits while they grow lavender for the nearby bees on neighbouring properties and use it for serving.
"If it's not from here, it's not on here," says Simon before heading back to the kitchen to get ready for dinner service.
Mr NQN and I take a seat in the dining room of The Paddock restaurant. There is an indoor and an outdoor area available but since it's chilly this evening we are sitting inside. There is a choice of a tasting menu for $130, two courses for $95 or three courses for $115. Service from all of the waitstaff is really delightful and welcoming.
Amuse Bouche
Our meal starts off with a very tasty bite. It's a mushroom donut puff with Sarabah Estate cheddar and a citronella scented honey. It's so delicious and utterly moreish that after my first bite I take small bites.
Soured carrots, smoked fish, whey
It's hard to choose an entree because they all sound incredible but the waitstaff help us choose. The unassuming "soured carrots" end up being my favourite course of the whole night. The carrots are innoculated with the same mould culture as brie cheese and aged that gives them a sour flavour. They are then prepared several different ways with raw shaved carrot, a whey carrot puree and a carrot bearnaise. It is then paired with smoked cobia, a sustainable fish caught from Rocky Point Aquaculture. This dish is sublime and original and we find ourselves scraping the bottom of the bowl for the last licks.
Beef Fat Crumpet, chilli beef, coal mayo
The beef fat crumpet is half a crumpet paired with a 9-10 rated wagyu rib sirloin tartare. It is mixed with coal mayonnaise, local radishes cured intercostal rendered down. It's rich and intense and I particularly love the beef fat crumpet for its unique flavour.
Bread Course
The bread and butter changes every day and today's is a house baked whole-wheat rosemary sourdough with a moreish whipped butter with lemon and society garlic. The name society garlic comes from the fact that it gives you the garlic flavour without garlic breath so it was good for "polite society".
Fish Kiev, roasted bone sauce, winter salad
The fish for the kiev is also a cobia fish served golden crumbed and crunchy. They pour the rich fish bone sauce and winter greens at the table. Make sure to save some bread for this because the sauce is perfect for mopping up with it. Special mention must be made for the perfect wine matching between this dish and the Craggy Range Sauvignon Blanc. The lovely and enthusiastic bar staff are happy to match any courses to wine.
Dry Aged Beef, BBQ rib, beef ketchup
I always love beef rib and dry aged beef so I had a suspicion that I would love this dish. The beef rib is given sweetness from the house made beef ketchup and the soft, melting fillet is draped in a thin slice of dry aged beef. To the side is a beetroot ribbon salad with dabs of the house ketchup and creme fraiche, a perfect foil for the richness of the beef.
Sweet and Sour Potatoes $15
The potatoes are an extra side dish and not strictly necessary because there is so much food in the 3 course menu but they're so absolutely necessary too. The sweet potatoes are served crunchy at the ends in a very generous bowl of crème fraîche.
Cheese from down the road, crackers, chutney
It's not often that you see Queensland cheeses on offer in Sydney so I was curious to try the Sarabah Estate cheeses. There's a brie, cheddar and an ash brie with candied cabbage, lily pily jam and smoked apples with their lavosh made from bread offcuts and mushrooms. The cheddar is my favourite although the brie has a nice, soft texture and mild mushroomy aroma to it.
Blackened Finger lime, baked cream, Kiku's ginger
Mr NQN is absolutely smitten by the baked cream which is a play on cheesecake. It is with some Sarabah Estate brie in the baked cream and is topped with with blackened finger limes and ginger that comes from breakfast chef Kiku's garden. The finger limes and ginger give the rich silky cream a nice juxtaposition.
On weekends breakfasts finish a tad early for this late riser at 9.30am but they're worth setting the alarm for. We walk up to the dining room at 9:20am past all of the early birds that have finished breakfast. Today's breakfast chef is actually the dessert chef Alex so it's no surprise that the sweets are stellar. We start with coffee and tea and some delicious house made granola with yogurt panna cotta cubes and local passion fruit which is utterly delicious.
The main comes out share style and comprises of toast with ethererally light whipped butter. There's also bacon, scrambled eggs and sorrel but my absolute favourite is the mushrooms. There are sliced mushrooms made with carrot top pesto that are so moreish I think I ate the whole serve and then tempura'd whole button mushrooms on top sprinkled with local Towri cheese.
After breakfast we head out to explore the area a bit. We stop by Canungra town for some browsing before visiting the Mountain View Alpaca Farm. Visitors can book an alpaca experience where they can feed and walk around an alpaca for either 30 or 60 minutes. Our alpaca is Chico, a hand raised alpaca who is known for being cheeky. He does what he wants and is only interested in behaving if you have food in your hand (complete Teddy Elliott vibes). I recommend getting one alpaca for two people as getting the food out of the bag and holding a hungry alpaca can be a challenge. After that we go for a short 1.2km walk in Binna Burra.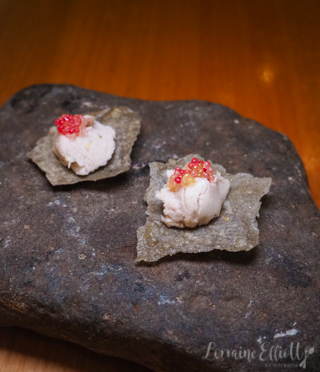 Dinner that evening features a tasting Paddock menu. There's no written menu for this and it has five courses for $130. We start with a Cobia skin cracker with smoked cobia pâté topped with local finger limes.
Black Radish and Cobia
The next course also features cobia. This time the cobia is cured in sherry and served with egg yolk cured in a yabby sauce with ginger and then wrapped in gossamer thin slices of black radish so that it resembles a rose. This is a beautiful course and I only wish I had some bread for the sauce left on the plate (the bread course comes out around halfway).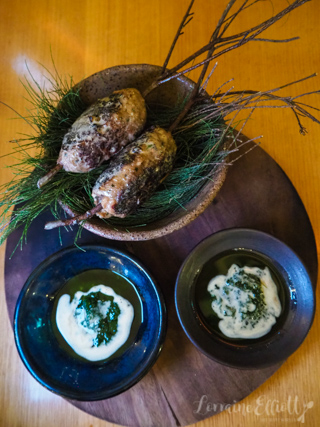 Pork Mince Skewers
Then comes one of the most delicious and fun courses, the pork mince skewers served on a stick. They use local pork mince and the liver and then skewer and cook it over pine. It is then paired with a sauce made with society garlic, turnip emulsion and fermented honey. After a couple of bites nibbling on it from the stick we remove it and dunk it into the delectable sauce to get as much of the sauce as possible.
Bread
Today's bread is a whole wheat sourdough with whipped butter flavoured with local yabbies and lemon myrtle.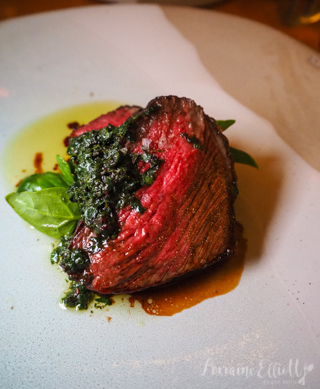 Wagyu Rump Cap
It's time for the main and it's a score 9 rump cap steak that has been aged for 2 weeks in the fridge just near the bar. It's served with a carrot and turnip chimichurri and a bone reduction. It's perfectly cooked and perfectly matched with the sauces.
Cauliflower Cheese
It also comes with two sides to share: a pimped up cauliflower cheese with macadamia cream plus a really interesting locally produced cheese called "EWE+3" that is a collaboration between farmers using sheep, cow, goat and camel milk. It's so delicious and we love getting to try all of these Queensland cheeses that they proudly feature.
Pak Choy
There's also a large pak choy split in half and served with a house made XO sauce and a garden emulsion aka a herb mayonnaise. I'm a little obsessed with these sauces and even drag some pieces of steak through them along with some bread that I've reserved for just this purpose.
Citronella Geranium Gel with Lime Sugar
The pre-dessert course comes from the garden which we had just seen the day before on our tour. It's a citronella geranium pate de fruits rolled in lime sugar. The aroma is very citronella-Mr NQN loves it but it's a bit triggering to me and all I think is mosquitoes.
Sunflower seed gelato and rhubarb compote
The dessert course is a two parter with a quennelle of sunflower seed gelato with Kiku's ginger candied and a separate bowl of rhubarb compote and barley crumble. They recommend tipping the rhubarb on top of the gelato and eating it together. It's a wonderful combination of flavours and textures to finish the meal.
Petit Fours
But there's just one final bite to end the night. It's a Metisto chocolate from Toowoomba served as a tiny pine cone with pine come cypress pine gel inside.
The next morning it is time to depart but not before another hearty breakfast of eggs, sausages, toast & whipped butter house made ketchup, sweet potato hash and petite slices of carrot cake.
So tell me Dear Reader, what did you think of the food on offer here? Do you travel for food or activities?
NQN and Mr NQN stayed as guests of Beechmont Estate but all opinions remain her own.
Beechmont Estate
422 Binna Burra Road, Beechmont QLD, 4211
+61 (0)7 4777 7377
https://beechmontestate.com.au/