*This is part 2 of our adventures at O'Reilly's Rainforest Retreat in the Gold Coast Hinterland. The last installment saw us viewing glow worms late at night, climbing on a 4WD Segway and sighting a koala in the bush. But what was the food like there? It turns out that they had quite a surprise for us in store from a 4 course meal prepared by the chef in our villa to one of the prettiest picnic settings! *
I don't know about you Dear Reader, but I've never seen a koala in the wild before and after we saw a koala high up in a tree, I was so excited that I was on somewhat on a high. But when we returned to the villa I opened the door to find another surprise: O'Reilly's Executive Chef Mus Anesrif busy preparing our five course degustation meal in our own villa. I cannot tell you how much I love the concept of eating so well without having to put on heels.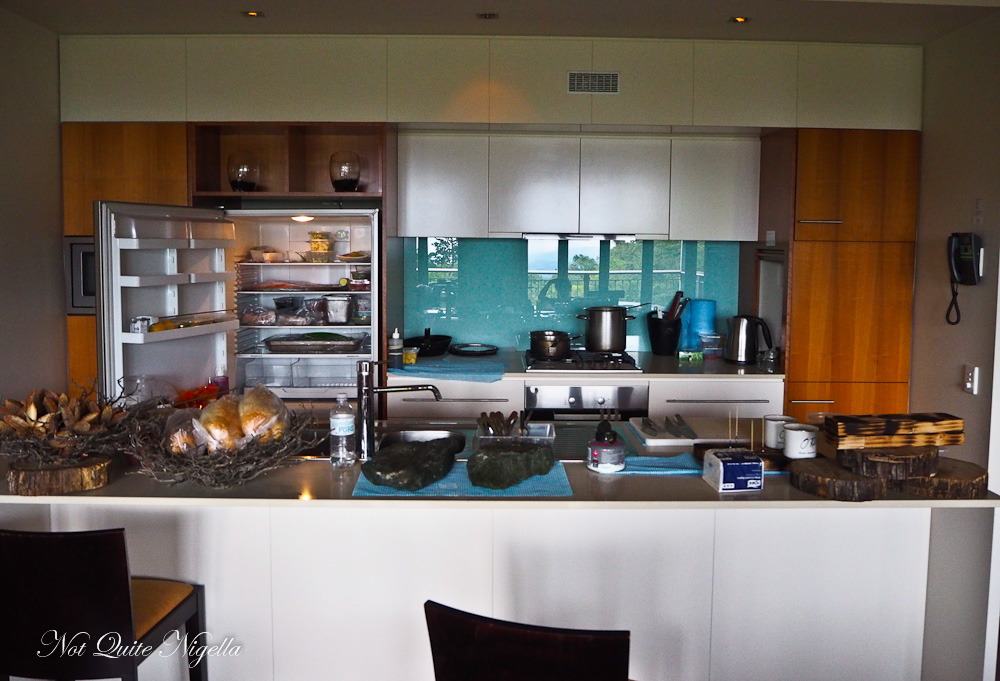 While I get changed, restaurant Manager Jade sets the table. Jade pours us a glass of O'Reilly's Platypus Play 2013 Semillon Sauvignon Blanc while chef Mus explains the menu to us. He is happy to answer any questions and it's fun to get to watch him at work.
Originally from Morocco he has worked all over the world from Singapore, Saudi Arabia and China. Jade has also worked as a flight attendant and the two make a good team. As you can imagine, situations like this only really work if the guests and staff get on well because there are no other guests. Mus starts the evening off with a platter of dips and freshly toasted bread. All of their breads are made in house as they try to buy in as little as possible. There are also olives, caper berries and pepper dews alongside these.
Roasted red capsicum soup
Just before serving the soup Mus adds a disc of parmesan wafer on top and a spoonful of goats cheese to enrich it. The roasted red capsicum soup has an intense sweetness and creaminess. It comes with two slices of toasted house made bread.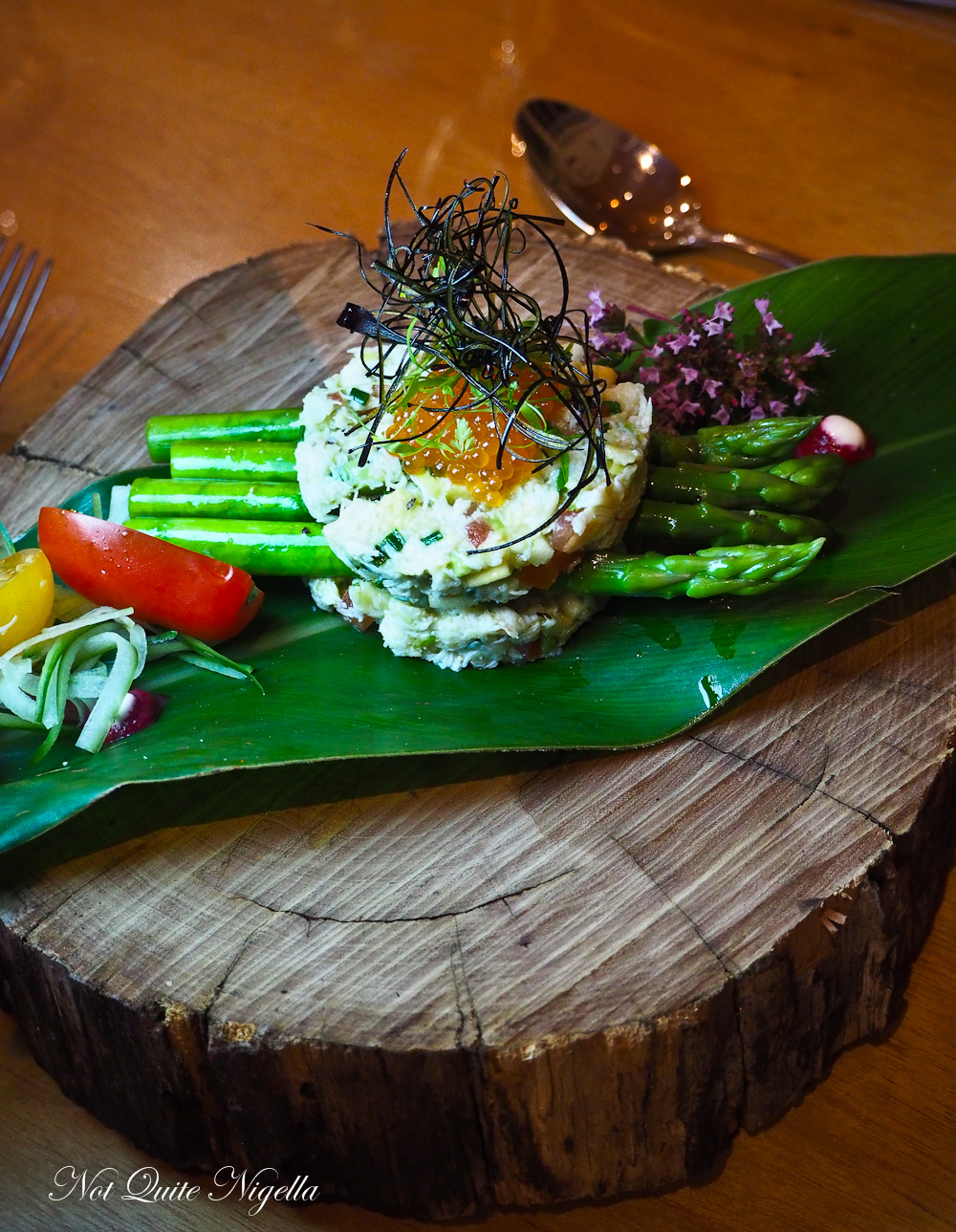 Poached asparagus, Fraser Island spanner crab, zucchini chiffande, Huon-Tas caviar, eggplant skin crisp
The next course is beautifully presented on a wood plate which is all part of the theme in this rainforest retreat. It is made up of perfectly poached asparagus, a tian of Fraser Island spanner crab topped with pearls of Huon-Tas caviar and a crispy eggplant skin tendrils. To the side is a zucchini chiffonade.
Pork caul rolled and twice cooked corned beef
Chef Mus decides to divide the following dish into two. The first course is a pork caul wrapped corned beef that has been cooked and then sous-vided. He adds some small beef and port gels that give the corned beef an intensity and sweetness and the consomme that it sits in is lovely and light.
Pepper berry scented king prawns and mussels
My favorite dish however is the perfectly cooked king prawns, rolled in native pepperberries and tender black mussels. It's this perfectly cooked seafood that I can't help but finish even at the end of a day with so much delicious food.
The dessert plate is a four parter served on rocks and features many native Australian ingredients. It is a lemon myrtle pannacotta with pistachio praline; chocolate cake with macadamia brittle; mountain pepper infused mango gel and a small glass of "modern pavlova" with fruit brunoise and torched Italian meringue. There is so much food that it is hard to finish it all but that doesn't stop Mr NQN and when I look up, his dessert plate is almost finished.
Dessert plate
Mus and Jade pack up quickly but not before Jade suggests a dip in the jacuzzi on the deck outside. He leaves the wines and runs the jacuzzi for us and before we know it, they whole set up is packed up and we're alone and skinny dipping in the jacuzzi with only the bush babies watching.
The next morning we are awoken to the sunshine streaming into the room and the sound of whip birds giving their distinctive full bodied calls. There's a knock on the door. It's a delivery of a breakfast hamper all to be eaten in the comfort of our room. Mr NQN wolfs down the yogurt, bircher, fruit and two croissants (I'm pretty sure he doesn't have worms but I can't be sure considering how much he had eaten the night before too). That leaves me with the scones, pain au chocolat and a country style peach and vanilla jam.
There are many bushwalks and the most well known is the Treetops walk that starts just near the main reception area. And if you know me you'll know that the term bush walk fills me with slight alarm but I promise that this one isn't challenging. It is a quick walk on a boardwalk and nine suspended bridges about 15 metres above the ground. There is also a 30 metre high lookout up a ladder but there is a queue for this so we continue on. Also because I'm afraid of heights and I don't want to freak out halfway up a ladder! ;)
The suspended bridges are not for the extremely acrophobic (I'm mildly and it was fine for me). It's worth doing this short walk to see the various flora that you generally only see at a distance like the towering palms.
Around 10am we check out but not before Mr NQN shows me one very interesting nest. The Bower Bird is one of those intriguing creatures where the males of the species build nests to attract female birds. However the only colour that the Bower Bird collects is a bright blue because as Mr NQN says, "That's what bower chicks like!". Before humans came along and deposited bottle tops this would have meant that Bower Birds would collect blue feathers and flowers but of course now that is a different matter altogether with lots of pen tops and plastic bottle tops.
We drive back towards the Gold Coast towards Canungra. The road is winding and twisty but this morning there are many more people headed up for a day trip and there are a few close calls with the narrow roads and oncoming cars. After a 45 minute drive back towards the Gold Coast (admittedly punctuated with bursts of swearing!) we reach O'Reilly's Canungra Vineyards-just in time for a glass of wine to settle the serves.
The 2011 floods took out much of the vineyards and their entire Shiraz vines so at the moment they supplement with non estate grapes, while other grapes are grown in Stanthorpe. There's an extensive range of whites and reds and they also export some of the Shiraz to China.
There's also one organic white and an organic red as well as a very light but sweet Moscatos which are popular with their clientele. It's a popular place to stop by, buy some bottles and picnic - there are lots of couples and large groups that have ordered picnic baskets either as part of a package with O'Reilly's Rainforest Retreat or separately. We take our picnic basket with us to the lawn by the creek.
It's a generously portioned picnic basket with fresh baguettes, salami, roast beef, roast turkey, smoked salmon, roasted vegetables, feta, pickles, salads, cold fried chicken and for dessert there's a cheese platter. We are in no rush to go anywhere as we feast on the delicious little morsels and rest under the shade provided by the enormous trees while we watch the creek flow. Mr NQN points out a cork floating down the creek and then the little turtles that bob their heads up from the water. Life is truly greater than fiction could ever hope to be. And when I think back to the troublesome email or a couple of days before I have to remind myself of the details. Email? What email?
So tell me Dear Reader, would you prefer to have a meal prepared in your villa or would you rather go out for dinner? And are you much of a bushwalker?
NQN and Mr NQN stayed as guests of O'Reilly's Rainforest Retreat.
O'Reilly's Rainforest Retreat
Lamington National Park Road, Canungra QLD 4275
Phone:1800 688 722
http://www.oreillys.com.au/