"People's reactions to opera the first time they see it is very dramatic; they either love it or they hate it. If they love it, they will always love it. If they don't, they may learn to appreciate it, but it will never become part of their soul," Edward Lewis, in Pretty Woman.
I do love starting a post with a Pretty Woman quote! So Summer has turned into Autumn in Sydney but the shifting weather shows signs of both seasons. An enormous 18 metre high 15 tonne head of Nefertiti looms over the harbour for Verdi's four act opera Aida. The left eye from the face has been removed which some say symbolises the war torn circumstances in which we find the protaganists. For the fourth year in a row, Sydney's picturesque harbour will be playing host to a Handa Opera (named after benefactor Dr Haruhisa Handa).
These operas are performed on one of the world's most beautiful outdoor stages. 3,001 people will shuffle into the seats, pray for no rain and watch the opera on a convertible stage. It is no small operation - it takes 150 staff four months to transform the Fleet Steps into an outdoor opera stage. The orchestra led by Brian Castles-Onion and the pit is hidden underneath the stage along with dressing rooms, prop stores and stage technicians.
Canny opera goers like us (listen to me carry on, I've only been to this twice! ;)) start to arrive at 5pm because there is no better way to start an evening than with something to eat and drink with that harbour view. Even though I've lived here for most of my life, I never get sick of it. Each year the operas combine the theme of the opera and food together. Fresh Catering has been the catering partner for all four years and when we meet Executive Chef Geoff Haviland he tells us about his time travelling and working in the Middle East and North Africa and how he used these experiences to plan the menu. From 2006-2010 he lived and worked in Syria, Lebanon, Dubai, Saudi Arabia, Jordan, Oman, Tunisia and Morocco.
Spicy lamb sausage, cumin laban roll $15
There are several choices available for diners from a very quick bite at the Qantas Garden Bar where you can order Ras el Hanout spiced nuts or felafel pita pockets. A very popular item is the spicy lamb merguez sausage with harissa and oregano on a soft brioche bun. On top is harissa relish with a zucchini sumac slaw dressed with laban (a drained yogurt, less thick than labne). Sure it's not what you'd consider traditional opera fare but it's one of the best selling items.
Food at the Northern and Southern Terrace is the same and the only difference is with the view. If you like crowds and are feeling social the more popular end is the Northern end as this affords diners with more of a water view. Food here is self serve and you can pull up a chair and eat at a table right in front of the water and graze on mezze or more substantial meals. As we head there, a camel wrangler walks past with a camel bedecked in their costume. Yes there are camels as part of the show including an adorable baby camel - cute!
Crispy Calamari, burnt eggplant and tabbouleh $15
Prices start at $8 although this is more for things like nuts and olives. The prices for mains hover around the $25 mark which isn't inexpensive but they are complete main meals. The calamari comes out as a meal in one with a side of baba ghanoush dip and a tabouli salad. The calamari is crunchy, freshly cooked and tender inside and it is very good value.
Chermoula Rubbed Salmon with Moghrabieh Salad $26
The salmon is perfectly cooked and not in the slightest bit dry inside. The chermoula spice rub on the outside is fantastic (note to self, ask for recipe!), there are dabs of tarator (a garlic whipped dip), nigella seeds and a great chickpea and couscous salad with fresh mint and tomatoes.
Moroccan Spiced Lamb Shank tagine $24
The lamb shanks are very tender. These are slow cooked off site and then brought to the kitchens here as they require such a long cooking time in huge vats (and could you imagine if the electricity went out here while cooking these?). The spiced lentil rice is a fantastic accompaniment.
Above the Northern Terrace is the Platinum Club which is their upmarket sit down full service restaurant. And this year there are two options: a middle eastern buffet or a three course a la carte menu. The buffet is half the price at $110 per person while the 3 course meal is $220, not inexpensive by any means. I know what your next question might be. Is it worth the $220? Well that probably depends on how much you drink as it also includes all drinks in the price (sparkling wine, red and white wine all by Tyrrell's and Peroni beers and soft drinks). But if you don't, the terraces and the cantinas are you best bet as they are more budget friendly.
The prize table is along the front railing by the water view but you can't specify a table when you book. Our table is at the back near the elevator which is quite noisy as it goes up and down and we get aroma of the deep fryer which is unfortunate. The crowd here is a bit older and not as mixed as the crowd in the other eating areas and as a result, the menu is a bit "safer".
In case you were wondering, the buffet selection is eaten in the Platinum bar area and includes arbequina olives, orange & chilli preserved lemon Queen olives, kalamata olives, harissa, Arabian pickles, merguez sausage soll, lamb fatayer pastries, spinach & cheese fatayer, manoushi with zata'ar, cured salmon, stuffed vine leaves, hummus, lamb ouzi with Persian rice, pumpkin & haloumi bisteeya pie, many salads, assorted Baklava, pistachio & fig Cheesecake, Turkish delight and a cheese Selection.
Caramelised Chickpea Puree with Botargo and Grilled Bread
As for us, we're dining a la carte with the three course meal. The entrees come out and they are mezze plates with a series of dips. There are slices of grilled bread, crudites, enormous pitted olives, and stuffed vine leaves. I like the sweet currant salad and the salmon dip in particular. The vine leaves are a bit cold and hard and could be softer in texture.
Caramelised Chickpea Puree with Sumac and Grilled Bread
Although both entree mezze look almost identical, this dip has sumac sprinkled on top rather than shaved botargo. The rest of the accompaniments are all the same. And try as we might, it's such a generous portion that it is hard to finish. Especially because we had tried the food at the terraces first and also because opera dresses are unforgiving ;)
12 Hour Slow Cooked Lamb Shoulder, Maple Glazed Carrots, Date Puree & Pistachio Dukkah
It's the luscious slow cooked lamb shoulder that has both of us reaching back time and time again with our forks. The meltingly soft meat is accompanied by maple glazed carrots, a divinely smooth date puree, pomegrante arils, spinach cream puree and a pistachio dukkah.
Roasted Sumac Organic Chicken, Parsnip Crème, Golden Raisins & Tarator Sauce
After all of the spices and full flavours of the lamb, the chicken pales a little in comparison. It's a safe dish and I do like the accompaniments that it comes with but the pick of the two mains is definitely the lamb. But then again I don't often order chicken breast if given a choice from a full menu.
Selection of Cheese, Onion Jam, Charcoal Lavosh and Pickled Radish in Rosewater
We keep watching the time and by now it is 7pm, just half an hour until the show starts. There are two desserts to choose from. The first is a cheese selection with Tarago River triple cream brie, fior de latte gorgonzola and a Maffra cloth cheddar. These are accompanied with a sweet onion jam, dates, Turkish apricots, charcoal lavosh and other crackers and pickled radishes in rosewater. The man at the table behind us asks the waiter, "Are these crackers mouldy?" about the charcoal crackers. They are grey but they didn't strike us as moldy looking :)
Caramelised Fig Pavlova, Lemon Mascarpone and Halva Parfait
It's lucky that our dresses are so tight so that we don't fight over the pavlova. It comes with a crispy perfectly round shell, a soft, fluffy interior with a light lemon mascarpone, a divinely rich, intense halva parfait, fresh fig, strawberries, pistachios and a saffron sauce. There are a lot of elements but it's fun customising each bite.
"Ding ding ding!!" We hear the familiar tones of an impending show and we make our way to our seats. This production of Aida isn't subtle but it is spectacular with the stage designed by Gale Edwards. Subtitles appear at the bottom of the stage to guide people throughout the story sung in Italian.
Do you know the story about Aida Dear Reader? No? Don't worry I didn't before either so here's a little summary. First performed in the Khedivial Opera House in Cairo in 1871, the story of Aida is one about the battle between Egypt and Ethiopia and the people behind it as told through a love story involving three people. Radamès, the Egyptian hero is in love with Aida, a slave girl and unbeknownst to him, an Ethiopian princess. She is the handmaiden to Princess Amneris who is in love with Radamès. Amneris begins to suspect that Radamès harbours feeling for Aida. Which just goes to show you that love triangles are as old as the pyramids!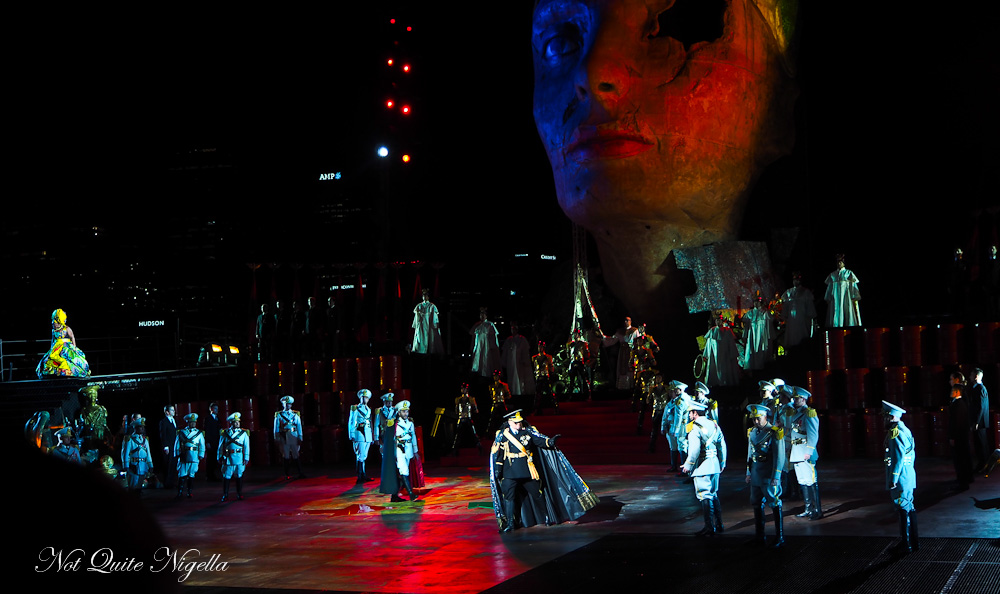 Houston born soprano Latonia Moore as Aida is wonderful with her voice at times delicate and other times plaintive then powerful. Mezzo soprano Milijana Nikolic as Princess Amneris has an almost effortless beauty to her voice and she imbues a real sympathy towards her character for she too is in love and her heart is breaking. And Walter Fraccaro as Radamès is defiant and powerful but resolute when committing treason against his country but it is really the battle between the two women that I found to be the biggest highlight. There is a little hiccup with the sound towards the end of act 1 - it's nice to know that even at this level, someone can accidentally trip on a wire! ;) I kid, I have no idea what happened.
During interval we make our way to the very top level of the three tier building to the Northern Cantina because I saw a dessert that caught my eye earlier. It's a pistachio and fig cheesecake topped with apricot orange blossom jam, chopped dried apricots, cranberries, figs and pistachios. We also try a delicious chocolate and cardamom brownie generously filled with walnuts. Admittedly they are both on the pricey side given that they are self serve products in plastic trays eaten with plastic cutlery. We also try a little snack of the lamb fatayer pastries with a cumin laban sauce. These come three to a serve and are good little snacks. Not that we needed any.
Chocolate & cardamom brownie $8 and fig and pistachio cheesecake $10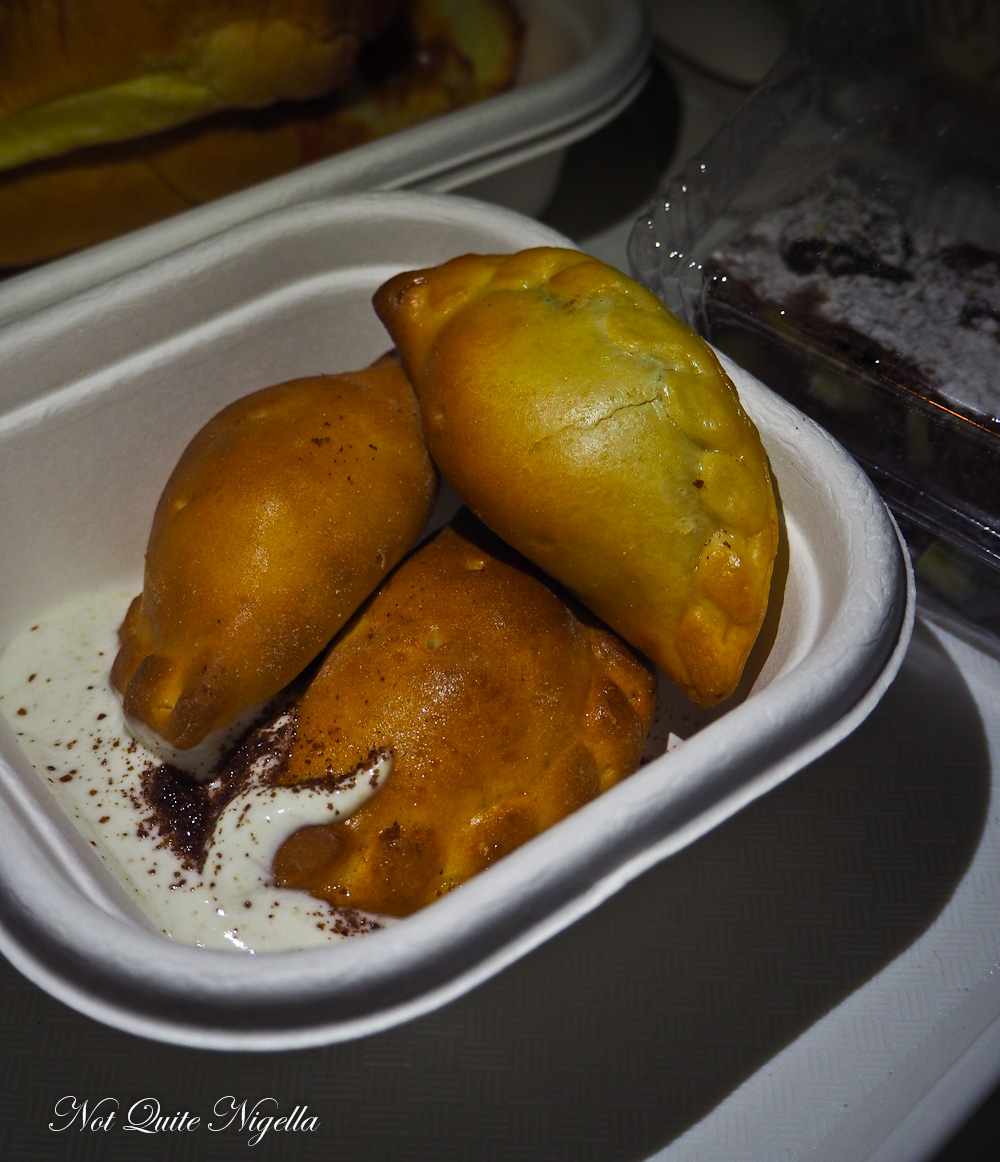 Lamb fatayer and cumin laban $12 for 3
The shorter second act returns after a 30 minute interval. It's almost subdued, particularly after the first act with the resplendent "Triumphal March". I don't want to spoil the ending but it is fittingly tragic, as opera tends to be. The biggest applause is of course for Latonia Moore as Aida. As we leave, I always find it interesting to listen to the opinions of the audience as we file out slowly. From what we can hear some are enthralled, some are confused by the costumes (the man behind us was saying constantly "I don't get it!") and the interpretation while others simply adore it. As for me, I loved it but then again, I'm a drama queen (or so Mr NQN tells me).
So tell me Dear Reader, do you enjoy the opera? Do you know the story of Aida? And where would you be most likely to dine here if given the choice?
NQN and Belinda attended as guests of Fresh Catering
Aida Handa Opera on Sydney Harbour
https://opera.org.au/whatson/events/aida-sydney
The Aida season runs from March 27 – April 26, 2015