Around 4pm one gloomy Tuesday afternoon I looked out the window and saw drops of rain. They had been streaming down steadily all day. I turned to Mr NQN who was on holidays and asked, "So what do people do when they have tickets for an outdoor opera and it's raining?"
It's an event I look forward to every year. For the fifth year running Sydney Harbour has played host to an outdoor opera performed by Opera Australia with the sparkling harbour as a spectacular backdrop. It's an exceptional event with lavish costumes and sets and is a step towards modernising opera - the only dress code is "comfort".
This year's opera is Turandot (pronounced Turando with a silent last 't' by the composer), a Puccini opera. With a total cast size of 78, the numbers are quite impressive. 1000 metres of specially loomed crinkle organza is used to costume the performers. They don 187 hats and headdresses, 46 wigs and 30 sets of facial hair. In the background 300 members of the crew work on site for each performance and 150 people help build the stage and venue in a period of 22 days.
But still looms the question: what do you do if it is raining? We walk through the gates with our umbrella which we know that we can't use during the performance. It's still sprinkling as we walk to dinner. There are several dining options on site and your choice depends on what you're looking for.
If you want a high view, head to one of the terraces which are usually the busiest areas. There are also the Northern Cantina at ground level as well as the sparkling and oyster bars. All of the food is done by Fresh Catering and is made daily. Chef Geoff Haviland tells us that the chicken in the drunken chicken that we are eating arrived at just 3pm that afternoon.
The Platinum Club is the top end experience at the opera and there are two options: a sit down three course meal with wines for $235 that starts at 5:30pm or a buffet for $125 a person that starts at 6pm. All of the food is themed for the opera itself. In 2014 it was Japanese with Madama Butterfly, and is 2015 it was a Middle Eastern feast for Aida. This year it is Chinese for Turandot and there's the aroma of five spice in the air.
We take a seat at a table and look outside worriedly. It is still sprinkling lightly. There are rain ponchos for sale but we still don't relish sitting in the rain.
But a glass of sparkling wine is offered and this serves as a welcome distraction.
Autumn Awakening Tasting Platter
Our entrees arrive and there is a choice of two: an Autumn awakening tasting plate with a meat and a vegetarian version. The meat version includes spicy shrimp rillettes with garlic chives and Szechuan cucumber relish; drunken chicken with goji berries and scallion; duck salad with XO Dressing; braised aubergine with fragrant sauce and an open wonton of Asian slaw with miso ranch dressing and peanut sambal. I like the variety of flavours and tastes in this plate and the spiciness of the prawn rillettes.
Vegetarian Autumn Awakening tasting platter
However rather surprisingly, we end up preferring the vegetarian version. This has some of the same components like braised aubergine with fragrant sauce and the open wonton of Asian slaw with miso ranch dressing and peanut sambal. There is also a crispy fried rice ball with tofu and shiitake mushrooms and celery & egg shreds with miso dressing. The only item I don't go for is the spring onion pancake which is dry and cold (without the chilli oil it is said to come with) and should come hot and crispy.
They wines are poured generously and we are asked many times during the evening if we would like more wine or a top up.
Braised Wagyu Beef Shortrib
There's a little wait before our mains arrive. All guests of the Platinum Club are asked to arrive at 5:30pm so that they can fit in the three courses before the start of the opera at 7:30pm. There are three main choices on offer: a beef dish, a fish dish and a vegetarian. We try the first two. The braised wagyu beef is aromatic and soft and served with a rice paper roll, wolfberries, Chinese greens and crispy pork scratchings dusted with five spice powder. The beef is off the bone and cooked in an aromatic master stock and then cooled overnight and then sous vide for 16 hours so that it is beautifully tender and soft.
Steamed Barramundi on Lobster Fried Rice with Snake Beans & Black Bean Butter Sauce
But I only have eyes for the barramundi. The fish itself is beautifully tender and luscious with a black bean cream sauce. I always worry that when things are catered off site that sometimes this can mean that meats are dry but not in this case. The snake beans are a little firm but the lobster fried rice are fantastic-I think I could have eaten a whole plate of just the rice alone.
Green Tea Pavlova with Cumquat Curd, Black Sesame Cream & Lychee Salad
It's around 7pm when dessert is served. A little earlier would be nice to avoid the crush at the restrooms in the last ten minutes. There are two selections: a green tea pavlova which is light in green tea but has a crisp outer and a fluffy interior. It comes with a cumquat curd, black sesame cream and a lychee salad. It's good when you get a bit of everything in it but the lychee salad is really one single lychee and a few more would have been perfect.
A Selection of Premium Local Cheeses Served with Crackers, Lavoche
There is also a cheese plate. Oh how I've missed cheese having been overseas for the past two weeks! They are three types of cheese on the platter today. They are Maffra Cloth Aged Cheddar from Victoria, Binnorie Brie from the Hunter Valley and Bangalow Blue from Byron Bay served with caramelised onion served with fig, dried apricots and three types of crackers and lavosh. We brush off the crumbs and use the facilities before making our way to our seats. Mr NQN checks the radar and it looks like the rain has disappeared completely for the rest of the evening-hooray!!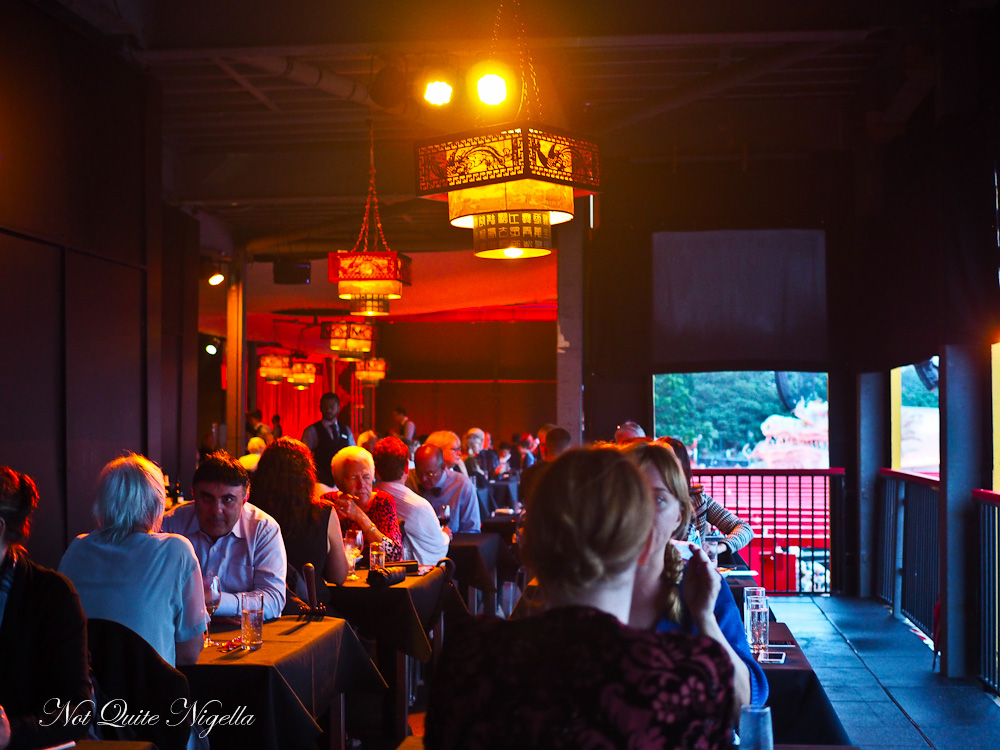 It's time for Turandot. As a story I have to admit that it isn't my favourite opera. The storyline isn't really grounded in reality but then again opera is life x drama to the nth degree. But operas like Madama Butterfly are relatable - it's a story that many can understand.
But with Turandot I found myself puzzling as to why the mysterious prince Calaf would fall in love with an imperious princess (Turandot) who beheads all of her suitors when they are unable to answer her three riddles. His main reason for falling in love with the brutal princess is her beauty but I also didn't quite understand how he managed to forcefully woo her.
Dragana Radakovic is a powerhouse as Turandot and fits the haughty bill from the moment she is carried in her open sedan chair onto the stage. Her next entrance, quite late in the piece is atop an 18 metre pagoda (whose opening worringly shakes a little as it goes up and down).
Her voice is a contrast to the delicate, mellifluous yet still powerful voice of Hyeseoung Kwon as the slave girl Liù who wins the audience over with her heroism and emotional performance. Turandot is the icy princess to the end and even the sudden change in heart comes too late to make an emotional attachment to her. Chinese director Chen Shi-Zheng has interpreted Puccini's vision but with his own perspective. The opera was not performed in China until 1996 as it was considered unflattering and filled with stereotypes of Asian women.
Interval is a little over an hour into the opera and we retreat back to the Platinum Club for high tea. It's not what we are expecting - it's all sweets and there is no tea offered. The Hong Kong custard tart is more a Portuguese custard tart (not that I'm complaining, I like those) and the green tea and maple caramel macaron are good as is the fruit cake.
But I'm not really taken with the red bean jelly that is dry and not sweet at all or the black sesame cream, also not sweet. And the mango and sago pudding in a jar is not creamy or luscious enough or sweet. This is a new item on the menu but I think it perhaps needs some reworking and at $60 per person it isn't inexpensive. But it was designed so that not everything was too sweet on it.
The announcement tolls for us to take our seats again. Turandot has a magnificent aria up its sleeve, one that it is well known for. Nessun Dorma or "None shall sleep" comes at the beginning of the second act performed by Riccardo Massi as Prince Calaf. Made famous by Luciano Pavarotti I must admit that I love turning it up when I am driving because it is one of those pieces of music that makes you feel so alive. It is also gratifyingly repeated at the very end with the chorus singing. And there are also fireworks too.
Turnadot was Puccini's last opera and was incomplete at the time of his death from a heart attack. Another composer Franco Alfano finished the opera and his ending is what plays out at the Handa Opera. And I get the feeling that whoever or whatever controls the weather might also be an opera lover. The rain stopped an hour before show time and it remained dry afterwards.
So tell me Dear Reader, do you have a favourite opera? Would you still attend an outdoor movie or opera if it were raining? Do you have a favourite opera or aria? And what do you think of Nessun Dorma?
NQN and Mr NQN attended as guests of Fresh Catering but all opinions remain her own
Turnadot
Fleet Steps, Mrs Macquarie's Chair, Sydney from March 24 – April 24, 2016 https://opera.org.au/whatson/events/operaonsydneyharbour Parking: Domain Carpark is the closest apart from street parking. Shuttle buses operate from the Domain to Mrs Macquarie's Chair and back.