Opera is meant to be dramatic. From the soaring peaks to the booming deep, the voice of an opera singer plays on a mortal like a master playing an instrument until the audience shivers in response and limb hairs rise. It's a point not lost on Mr NQN's colleague's wife who so enthralled by the performance on stage of Puccini's Madama Butterfly that she steadfastly refuses to clap for tenor Georgy Vasiliev who plays the role of B.F. Pinkerton. "I'm not clapping for him, he's a bastard!" she cries aloud passionately, speaking of the role rather than the opera singer.
Garden Bar
Opera is generally not supposed to be modern and it's not meant to have a backdrop as scene stealing as Sydney Harbour's. For the third year, the Fleet Steps and Mrs Macquarie's Chair is hosting a Handa Opera and this year it is Madama Butterfly. The production which is in the same location as the Moonlight Cinema, makes use of the harbour setting as a glittery backdrop and imbues this with moments where you whisper to each other "Is this part of the act?" For many, the Handa operas are the first time for opera goers and there is a real mix of ages and dress.
Garden Bar
With each opera production there has been food to match. There are five food options in total provided by Fresh Catering and all of them open at 5pm on show nights. All food options are Japanese themed including noodles, pizzas and burger at the Garden Bar or Southern Terrace to an upscale restaurant experience in the Platinum Club.
Southern Terrace
The first thing to greet you as you pass under the Japanese Torii gate is the Garden Bar that serves noodles and coffee. This is the only place open after the show. We continue through to the Southern Terrace that offers a chicken katsu burger, sushi rolls and pizza.
Platinum Club, Northern Cantina and Northern Terrace
View enthusiasts head through to the Northern Side. This is where a huge three storey purpose built structure offers diners three choices. On the bottom level is the Northern Cantina. Their share plates are extremely popular with theatre goers.
Platinum Club
The second level holds the Platinum Club. For $250 diners receive a pre-performance three course meal and drinks. For $50 diners can also get access to the club during the 30 minute interval for snacks and drinks. Throughout the entire space, there are also roaming champagne and oyster bars, gelato carts and mobile chocolate vendors.
As it's a Saturday we made our way here leisurely as we want to make the most of our time in front of the harbour. We take a seat at the Northern Cantina. A prize table is of course one right along the foreshore with the Opera House and Harbour Bridge right opposite.
Salted Edamame $8
With our bubbles (a Tyrell's Pinot Noir Chardonnay Brut) we pop some salted edamame. They're the perfect snack to eat while mesmerised by the view.
Popcorn Shrimp, Spicy Garlic Sauce $16
The popcorn shrimp comes as small balls of shrimp or prawns with a light batter coating and a drizzle of creamy garlic mayonnaise on top. They're quite addictive and I like that they are mostly shrimp over coating.
Teriyaki Sticky Beef Ribs $18
My favourite dish is the beef ribs. I saw these while trawling through the menu online and I am a little obsessed with beef ribs. These are enormous and although you can eat them with a fork and knife we're told most people just make like a Flintstone and pick an enormous rib up and eat it straight. The meat is gorgeously soft but the edges have a nice crispiness to them too.
Bbq Miso Salmon on Braised Mushrooms Noodles $26
The bbq miso salmon is well cooked and still moist inside and there's a side of wasabi mayonnaise too. Alas the noodles are very soft and overcooked. They're flavoured with pickled ginger and black sesame seeds. The salmon is on the pricey side given the size.
Crispy White Cut Chicken Chop Salad $18
I wasn't sure what to expect from the chop salad but the chicken is quite dry and there's a lot of rice in this salad over vegetables. I think I was hoping for more vegetables than rice.
Just for good measure we take a walk around to the Northern Terrace. It's clearly the most popular place to be seated at and many buy food from the Northern Cantina below and eat it upstairs with a 180 degree third level view.
Chicken Katsu Burger $16
We try a few of their offerings including a katsu burger which looks impossible to eat at first. The chicken katsu isn't coated in panko crumbs, instead it's like a giant crispy chicken karaage fillet with pickles, mayonnaise, tomato and lettuce on a sweet, soft sesame coated bun. And yes I ate every bite of my half.
Miso Prawn Pizza $18
I like my pizza bases really thin and this was thicker than I usually like. The miso prawn topping is pleasant enough but out of the two Northern Terrace offerings, I much prefer the burger. The pizza is also on the small side.
Macaron Box $12
Dessert at the Northern Terrace comes in easy to transport to your seat boxes. Lucky because we've just been given the 15 minute announcement. The macarons are spot on theme and come in three flavours: green tea, cherry blossom and sesame.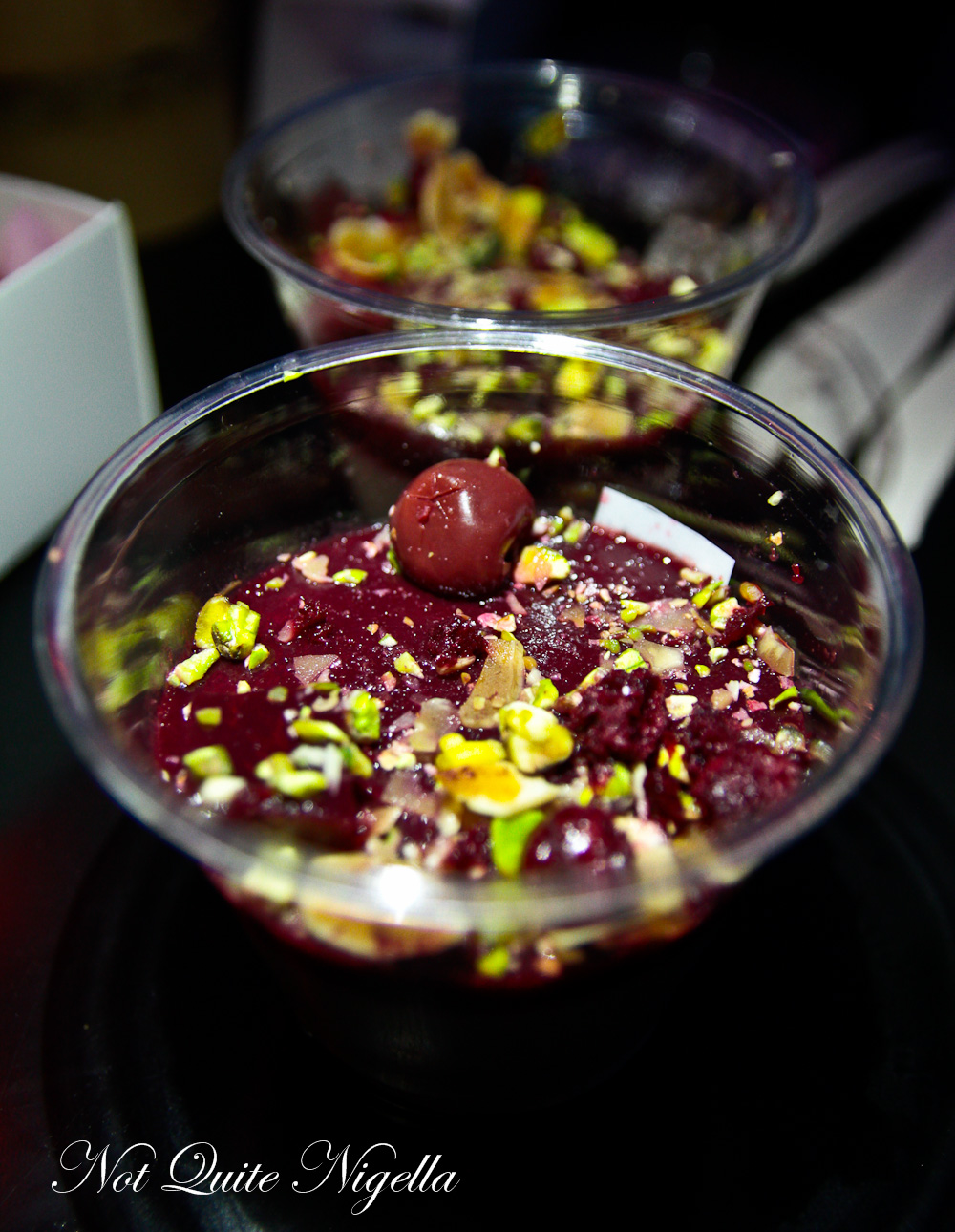 Cherry Blossom Parfait $10
The cherry blossom parfait is a light, moussey sour cherry and pistachio dessert that is just the right level of sweetness.
Chocolate and Walnut Brownie $8
The chocolate brownie is thickly studded with crunchy walnuts and is soft and delectably rich. It is topped with tart freeze dried raspberries and a chocolate mirror glaze.
Cheese with Candied Fruits $18
Being a cheese fiend, I was delighted by the cheese plate which had a brie and cheddar as well as a delicious candied pear, muscatels, black grapes and a spicy fig and fruit bread and crackers on the side.
We take these to our seats and watch as a white uniformed surveyor measures the grass on stage. "Is he part of it?" the man next to me asks his wife. A catering van drives past eliciting giggles. Yes they are both part of the drama and the poignant story of Madame Butterfly unfolds before our very eyes.
Soprano Hiromi Omura takes the lead role of the delicate Butterfly or Cio-Cio-San of Nagasaki,a role that she has played extensively across the world. It's defintely worth getting a seat from which you can see the subtitles unless of course you can speak Italian.
We make our way during interval to the Platinum Club, where only a few days before actor Gerard Butler had spent some time (making his way up in the private elevator for Platinum Club guests only). From the bar section you can watch as they make changes to the set. It is cocktail party style here with canapes brought around by waitstaff and an offering of drinks.
The Crispy Panko Rice Balls go down a treat even though we've had plenty of food. The sushi is also good as is the sandwiches. For dessert there are more macarons. We roll back to our seat for the act two, the final act. The set has changed to become Butterfly's house and Pinkerton is yet to visit her after an absence of three years. The first half of the second act concludes with Omura's extraordinary rendition of "Un bel dì" or "One beautiful day". Butterfly, upon hearing his ship's horn waits for him on the roof and well... I don't want to give away what happens exactly.
During the final 15 minutes, the clouds open up and sprinkle rain down adding more drama to the evening. People shuffle around and shrug on coats and jackets never removing their eyes from the stage. Tears roll as Butterfly hands over her son Sorrow to Pinkerton's American wife. The stage lights turn red and the opera concludes. The cast come out for the bows and the thrall of the opera mean that some even boo for the Vasiliev for playing Pinkerton but the loudest cheers are for the heroine Omura. The night belongs to Butterfly.
So tell me Dear Reader, have you ever attended the opera? Do you have a favourite opera? And would you prefer to see one on the harbour or at the Opera House?
NQN and Mr NQN attended Madama Butterfly as a guest of Opera Australia and Fresh Catering
Madama Butterfly
Fleet Steps, Mrs Macquarie's Chair, Sydney from March 21 – April 13, 2014
https://opera.org.au/whatson/events/operaonsydneyharbour
Parking: Domain Carpark is the closest apart from street parking. Shuttle buses operate from the Domain to Mrs Macquarie's Chair and back.