Spiced at Barangaroo is an Indian restaurant at Barangaroo. There's a range of Indian classics as well as a good vegetarian selection of food. Pair that with a water view, a large outdoor covered terrace dining area and the ability to book for a busy night and it was the perfect place for a pre-Christmas dinner with friends.
The request came from Queen Viv for our annual pre-Christmas catch up and I was on the hunt for a restaurant with outdoor seating where we could book for Friday night right before Christmas. We landed at Spiced at Barangaroo, the city outpost of the original Billu's at Harris Park.
So there I was, sitting at the table at 7:30pm on a festive Friday night and it is busy with almost all tables full (the pic above is from the end of the night). All through the streets people were merry and celebrating. Mr NQN had dropped me off because I'm wearing impossible heels and he's thoughtful that way. I watched the time tick away. After 20 minutes I got a call from Miss America who was sitting in the passenger's seat of Queen Viv's car. He was slightly alarmed, "We're stuck in traffic and it's not moving and all of the parking stations are full!" he said and I could picture the exact place where they were crawling along at a snail's pace. Smiling staff members stop by and ask me if I want a drink and I say that I'll wait. After 30 minutes Mr NQN turns up and after an hour Queen Viv and Miss America breathlessly arrive. "I need a champagne!" says Queen Viv whose nerves have been shot by the last hour.
By now I've had time to study the menu intensely but we take recommendations from our waiter. Truthfully some of the staff are a bit lost - Queen Viv's champagne has come and gone three times as each time it has been a different wine (perhaps people don't order champagne much here) but our French Tunisian waiter is excellent and gets the food and drink flowing and before long we've forgotten about the whole parking incident.
Signature G & G $17, Mango Lassi $8
Mr NQN has their signature cocktail the G&G made with Ophir spiced Gin, dash of fresh lime juice and topped with ginger ale. He loves gin based cocktails and ginger ale so he really enjoys this. I am tempted by their dirty version of a mango lassi with Old Monk rum and Baileys but go for the non alcoholic version.
Onion Bhaji $12
I love onion bhajis or anything made with fried onion really. These come four to a serve and are fritters of onion, shallot and chickpea batter. They're freshly fried and delicious. They come with a tangy tamarind sauce but I really enjoy these on their own.
Papdi Chaat $12
Chaat are a category of savoury snacks in Indian cuisine that are serves as hors-d'œuvres or street food snacks. When trying to describe Papdi Chaat to Queen Viv and Miss America I just said that it was a range of flavours and textures on a plate. The base is Papdi or crispy fried flour crackers paired with chickpeas, potatoes, pomegranate seeds, chutneys, yogurt and coriander on the top. It's immensely satisfying in that it gives you so much texture and flavour that all works together.
Bhel Puri $12
Bhel Puri is also a chaat in a similar vein as papdi chaat but made with toasted rice puffs as a base with onion, ginger, green chilli and coriander and a few types of chutney. Out of the two I prefer the papdi chaat as it stays crunchy a bit longer as this wasn't as crunchy when we got to eat it.
Spicy Okra $21
I had read that the food takes a while to arrive but it's well timed (mercifully so, as we are ravenous) and we aren't waiting long before the mains hit the table. We have three curries in total, two vegetarian and one seafood. The spicy okra is pan-fried with tomato, onion, garlic, ginger and spices. It's good and the okra is cut up into bite sized pieces and isn't slimy in texture at all (not that that bothers me).
Eggplant Masala $21
We really enjoy the eggplant masala with pieces of eggplant that are deep fried and then cooked with tomato, onion, garlic and masala spices. The eggplant is nice and sticky and we all really enjoy the texture and flavour of this curry.
Prawn Malabari $31
However our favourite curry is the prawn malabari. It has large, peeled prawns cooked with chilli, mustard seeds, spices, onion, tamarind & coconut for a creamy, rich curry that is perfect for this chilly summer evening. The prawns are cooked until succulent and we adore that creamy, spicy sauce.
Vegetarian Biryani $28
Normally I would have gone for chicken biryani as I love it so much but we were persuaded to go with the vegetarian version which is actually quite nice (although a part of me wishes that we had ordered chicken). The rice with is served with coconut, raisins, fresh coriander, dried shallots, carrots, cauliflower and broccoli with cucumber raita on the side.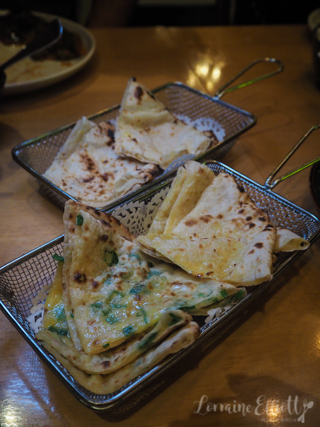 Garlic & cheese, cheese & shallot, sweet naan $8
I'm responsible for the three naan situation and if there is ever an excessive amount of bread on the table you can bet I'm usually the cause. I enjoy all three of the naans although the filling is quite thin in these and the naans themselves are quite thin. Still it doesn't stop me from devouring all of these and the sweet naan goes particularly well with the eggplant masala curry and prawn curry.
Gulab Jamun with Pistachio Kulfi $12
We just have room for one dessert and we decided to try one that combined two desserts so we could get a taste of both. The gulab jamun is sweet but mostly tastes of the oil that it is fried in. The pistachio kulfi is delicious, sweet and smooth with a light pistachio flavour to it. And the parking drama is long forgotten in place of Christmas cheer.
So tell me Dear Reader, what is the latest you have ever arrived for a dinner? Is bookability important to you?
This meal was independently paid for.
Spiced at Barangaroo
Shop 7, 33 Barangaroo Avenue, Barangaroo, New South Wales
Tue-Sun: 12pm – 3:30pm; Last Order-02:45pm
Tue-Sun: 5pm-10pm: Last Order -08:45pm