An Indian restaurant on Darling Street in Rozelle, Nithik's Kitchen specialises in regional Indian food with a focus on celebration and street food. You can find dishes that you won't often see at other Indian restaurants here such as Samuthiram, Tai pongal kara kolumbu and Lagaan ke kofti (savoury balls filled with lychees).
I was out at dinner when I received a phone call from my friend Queen Viv. "I'm at Nithik's Kitchen and they don't have your reservation," she said with a slightly concerned tone in her voice.
"You're at Nithik's Kitchen NOW?" I asked flicking through a mental calender. "We're having dinner next Friday night," I answered, slightly confused and wondering if I had mixed up the times.
"Never mind," Queen Viv said and after a little conversation, I felt for my daffy but lovely friend who had turned up 6 days early for our reservation. We later discovered that it wasn't her daffiness but a combination of being busy and Miss America's who had accidentally given her the wrong date. 6 days later we all meet on the correct date.
Nithik's Kitchen is on Darling Street in Rozelle. Run by Preeti & Vikram from Chettinad, it specialises in regional Indian cooking with an emphasis on celebration and street food items. Named so because they used to cook the same food in their home kitchen, they named it after their son Nithik. We are sitting by the open window with busy Darling Street outside. The menu looks tempting and it's hard to narrow it down to a few choices.
Masala dosa $13
Ever since I used to order these at lunch back in the good (or bad ;)) old advertising days, I've loved these South Indian dosas. It's a thin, crispy rice and lentil pancake with a pot of potato curry accompanied by sambar coconut chutney, a tomato and onion based chutney and "gun powder" aka not actual gunpowder but dahl lentils mixed with coconut, curry leaves, tamarind and a range of spices that is toasted and finely ground. I particularly like the potato curry and the light green coconut chutney. We all rip a piece of the thin dosa and dip and scoop it into the various condiments.
Samuthiram $18.90
The Samutiram hails from southern coastal regions. It's pieces of blue swimmer crab meat with a single Eral Thoku (dried shrimp coated with toasted onion) served in pathiri or a rice flour pancake. It is coated in a coconut sauce with a dab of Bengalese shrimp paste which overwhelms the flavour of the crab. There also isn't much crab in this and it's a rather meagre portion particularly for the price.
There's a bit of a kerfuffle with plates. The dinner plates that they give us are clearly too big for the table once they bring out the mains so we ask for the smaller entree plates so that the food can actually fit on the table. Whilst service until then had been smooth and friendly, a nervous and possibly new waiter brings us three sets of plates before we get the small entree plates back.
Jaradaloo goat curry $22.50
This is Miss America's first time trying goat and it is a fantastic version of goat curry. Sweet and creamy it is a Parsey delicacy with sweetness from slices of dried apricots. There are plenty of chunks of goat on the bone slowly cooked in onion, tomato, cumin & malt vinegar reduction.
Urulai pattani kozhi kuruma $21
The chicken curry is cooked in coconut flavoured cashew, poppy and green chilli sauce with small chunks of potato and green peas. It's a mild flavoured chicken curry that would be an absolute crowd pleaser.
Tai pongal kara kolumbu $18
I liked the sound of this dish as it is a festival dish that we don't often see on a menu. It is usually prepared for pongal which is a harvesting festival in South India (as well as Thailand). This is a mix of nine vegetables simmered in spicy sweet tangy sauce served in a bucket. Next to this is palpongal or smashed rice which is like a rice pudding with a slightly soured cream flavour to it. You are to mix a teaspoon of this with the curry.
Lagaan ke kofti $18
We are interested in trying this as we've never really had lychees in Indian cuisine. It comes as two large dumplings made of cottage cheese and potato. In the centre is a seedless lychee, dried fruit and Koya (similar to ricotta cheese) and it comes in a rich tomato and cashew gravy. It's rich and satisfying and there are cheese strings as you lift it to your mouth.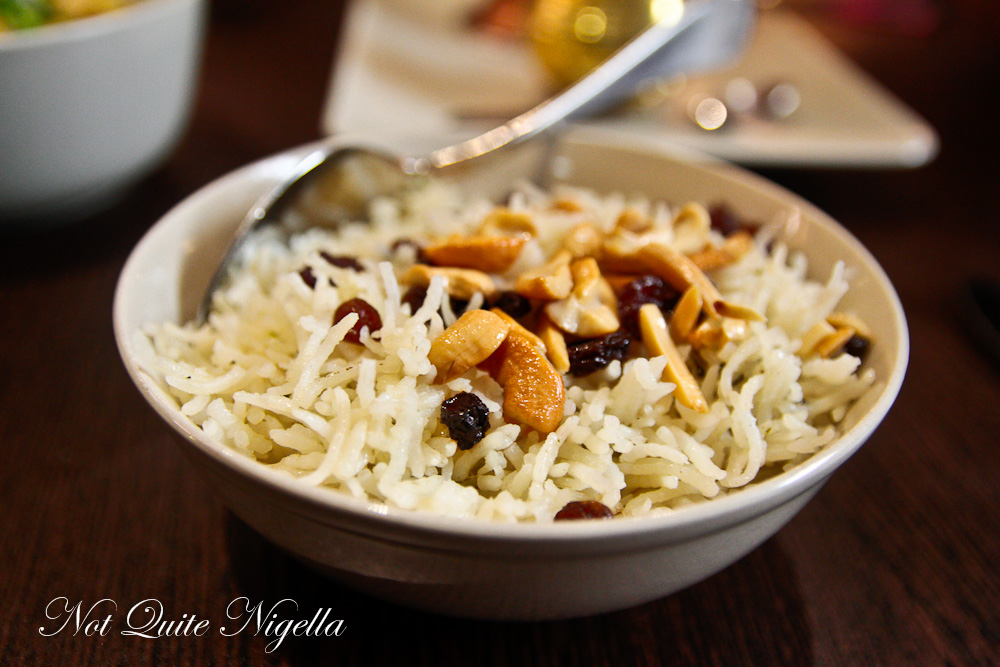 Kashmiri pulav $3.5
There was a bit of concern from staff that we weren't ordering enough rice or breads but we just wanted a taste of these. And we figure why have regular rice when you can have rice with cashews and dried fruit? It's a nice complement to the curries the sultanas adding an appealing sweetness, especially against the spicy curries.
Peshwari paratha $4 and Veechu Parotha $3
I love peshwari naan and paratha is the thinner version. It has a little sweet coconut filling to this but I must admit that I prefer a peshwari naan because there is more filling. The Veechu parotha is a flakey layered bread similar to a roti.
Dessert platter $22
Usually you get all three desserts for the dessert platter but they are out of one curiously named "Orange???" (sic) which is said to be a multi flavoured kulfi ice cream dessert that resembles an orange. We end up getting the remaining two desserts. The Pazha Payasam is a rice pudding that is a traditional Chettinad wedding dessert. There is a lot of diced apple and papaya in it which takes away from the creamy texture and mildly comforting texture of a rice pudding. We all preferred the spoonfuls of carrot halwa, the super sweet finely grated carrot simmered in ghee, milk, cardamom and sugar.
So tell me Dear Reader, have you ever mixed up dates and turned up somewhere on the wrong date? Have you ever tried any dishes like this before? Do you have a favourite dish you order when you eat Indian food?
This meal was independently paid for.
Nithik's Kitchen
679 Darling St, Rozelle NSW 2039
Tel: +61 (02) 8084 8921
Tuesday to Friday & Sunday Lunch: 12pm - 3pm. Dinner: 6pm - 10:30pm
Saturday - 6:00pm - 10:30pm
Monday - Closed
http://nithikskitchen.com.au/