Recco Lab is an Italian eatery specialising in one rather special type of focaccia. Forget fat, pillowy focaccia (which is heavenly in itself). In Recco in the Ligurian region of Italy, their focaccia is the polar opposite with paper thin, pastry like layers of crisp pizza dough sandwich an oozy Italian stracchino cheese filling. And at Rozelle's Recco Lab, there are five focaccias di Recco to choose from!
Dear Reader, do you ever have eating soulmates? The people that almost read your mind when you're looking at a menu and want to order the same thing? Monica is one of my eating soul mates. When we sat down to have a look at the menu at Recco Lab we honed in on exactly the same things.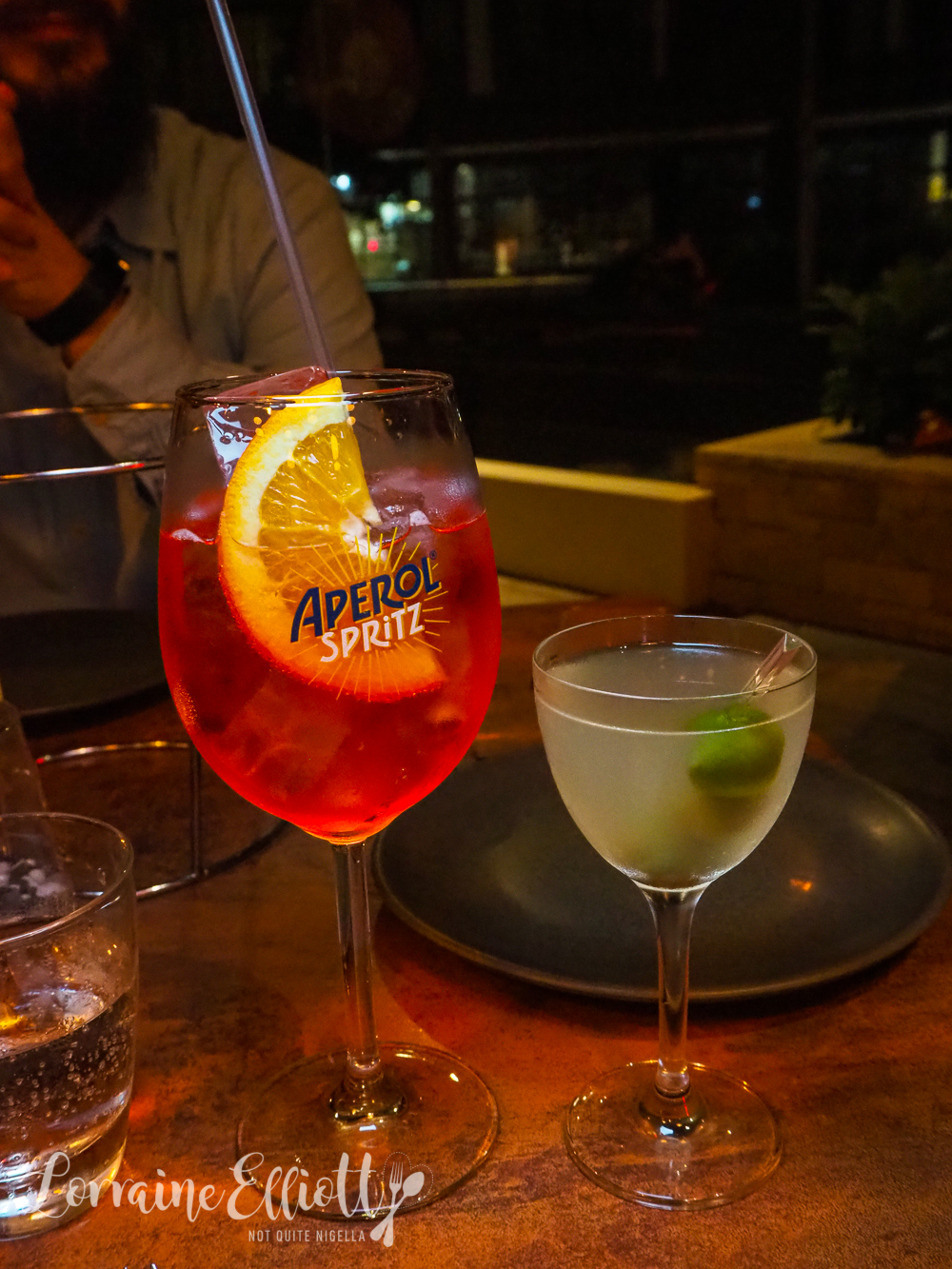 Located on Terry Street in Rozelle there is a outdoor astro turfed lined tables as well as indoor tables in two rooms, a colourful front room and the back room with the bar. There is also an enormous kitchen space where people can watch them rolling the dough. Monica and Marco are already waiting for us in the back room and we start with cocktails. It's a fabulous Aperol Spritz for me and a martini for Monica.
Salmoriglio $21
Our two entrees are as different as night and day. The Salmoriglio is all about fresh flavours with raw citrus marinated kingfish slices topped with shaved fennel and pomegranate arils.
Frittura $23
While the Frittura is lightly battered calamari, prawns and thinly sliced zucchini with aioli and lemon on the side. "Let's keep the aioli," I say to Monica and she tells me that I was reading her mind because she dips her pizza crusts in it. Eating soul mates I tell you.
Classico Focaccia di Recco $23
The two focaccias come out. The first is the classico with a melted layer of stracchino cheese on the inside barely contained by the crisp, thin dough. It's artfully thin, ridiculously so, and at first I think I'm eating a crisp pastry over a pizza. The classico is the version that really gives you an appreciation for how thin the dough is because of its simplicity. I just add a little chilli oil to give it some pep.
Molto Buona Focaccia di Recco $29
They recommended this focaccia made with the same melty stracchino cheese with prosciutto San Daniele and truffle paste. I have to admit I slightly prefer this one because of the additional flavours and textures but I'm also glad that we ordered both so we could compare. The focaccia di Recco prompts a good natured debate with Monica (from Emilia Romagna) and Marco (who is from Venice) about which region has the best food. There's a lot of passionate arguing and during this the waiter is consulted about his opinion.
Suina pizza $24
Just for good measure we order a pizza because the meat mains while they sounded good didn't quite excite us to the dizzying heights that carbs and cheese does. We went for the Suina (pig or swine) which is a tomato based pizza with fior de latte, pork sausage, ham and pancetta. It's definitely a version of a meat lover's or pork lover's pizza except better. And yep those crusts are delicious dipped in the aioli.
Insalata $12
The salad is a nice reprieve because we needed it after carb loading. It's mixed leaves with avocado, cherry tomatoes and an olive oil dressing. It could use a bit more avocado and some vinegar as the dressing is just oil.
Bietole $12
I love sauteed greens and it always feels like you're being a bit more balanced when you have them with pizza. The bietole are bitter greens sauté with chilli, garlic & olive oil. You can taste the delicious olive oil in these greens and the chilli is quite mild so I add a bit of chilli oil to these.
Sgroppino $17 and Vov $7
The dessert menu has a range of desserts, gelato as well as dessert cocktails including one of my favourites: sgroppino made with lemon sorbet and prosecco so I have to order one of these. "Vov!!" cries Monica happily and orders a shot of this bringing back memories of this retro style egg zabaglione liqueur.
Cremoso gianduja $15
The cremoso gianduja is served in a glass with a thick layer of gianduja (chocolate hazelnut) ganache, salted pistachio gelato on top and amaretti biscuits. It's perfectly nice and quite a rich dessert.
Torta di Ricotta e Pere $16
But I only had eyes for the ricotta and pear tart. It's a cake with hazelnut dacquoise top and base with a cinnamon ricotta and cream filling with almond brittle and white chocolate ganache and pears. I ended up sampling quite a bit of this but had to stop because it was getting embarrassing. But then I realised that I was with my eating soulmates and that they would understand.
So tell me Dear Reader, do you eat your pizza crusts? Do you dip them in anything? And have you ever tried this style of focaccia? Do you have an eating soulmate or soulmates?
Recco Lab
Shop a4/120 Terry St, Rozelle NSW 2039
Monday closed
Tuesday 7am–10pm
Wednesday, Thursday, Sunday 7am–4pm, 5:30–10pm
Friday 7am–4pm, 5:30–11pm
Saturday 7am–4pm, 5:30–11pm
reccolab.com.au
Phone: (02) 9555 1706