The latest restaurant from the restaurateur that brought you Apollo and Cho Cho San, Subcontinental serves food from the Indian, Sri Lankan and Nepal region. Located on Hunt Street in Surry Hills, it occupies the space left by Shortgrain. There is no butter chicken, instead the menu is filled with items such as cashew nut and cardamom duck curry, tandoori spatchcock or raw kingfish, ajwain, carrot and radish salad. Save room for the "treacle and curds" dessert.
"I LOVE booths..." I say to Queen Viv.
She look back at me alarm written on her face. "Sorry? What?" she exclaims?
"I love big booths" I say.
"Boobs?" she asks, shocked. Can you see why we are friends? Queen Viv is zany and brilliant. And occasionally quite daffy too.
We are sitting in a booth at Subcontinental, the newest venture from Sam Christie of Cho Cho San and Appollo. The four week old restaurant occupies the former space of Shortgrain. Head chef Victor Chung is himself from Kolkata and his menu references dishes from around India, Nepal and Sri Lanka.
There is little in common with your local Indian restaurant - for example there is no butter chicken and items like tandoori chicken are replaced with tandoori spatchcock. Some of the items on the menu aren't inexpensive with a dish of 4 Spencer Gulf prawns in a Bengali curry for $36 (an extra prawn can be added for $9 they tell us) but the food has provenance that they're proud to name. Service is very friendly and the atmosphere is welcoming and has a good amount of buzz without feeling overwhelming.
VVS Lassie $19
I start with a cocktail. Subcontinental class themselves as a gin specialist bar and every night there is a different gin cocktail. Miss America goes for that while I go for a lassi cocktail. The VVS Lassie is made with Pampero Anejo rum, plum, yoghurt, spiced syrup and pistachios. It's sweet with an edge of tartness from the plum and disappears quickly while we poke around the menu finally asking for suggestions.
Pani Puri $3.50
The pani puri is one of those fun little snacks that gets you ready for a meal ahead. They're made of a semolina and chickpea dough deep fried until hollow inside and then filled with soft, spiced potato and cucumber. At the last moment you add in tamarind water before the whole thing disintegrates. It's a fun and spicy start to our meal.
Vegetable bahji with curry mayo $7
The bahjis come two to a serve and are crispy and jagged with a thick curry spiced mayonnaise.
Raw kingfish, ajwain, carrot and radish salad $18
This kingfish salad is an interesting one. With slices of luscious raw kingfish atop a carrot and radish salad arranged in two piles, it is liberally spiced with ajwain seeds, a strong scented Indian herb. They look very similar to caraway seeds but have a strong aniseed taste to them.
Sri Lankan Black curry with pork belly and pickled eggplant $32
We don't often see pork belly used in curry and this is a crispy edged pork belly in a deeply flavoured, spicy, rich curry sauce. The pickled eggplant is excellent and the pork belly is tender and we scoop up every drop of the intensely rich sauce.
Cashew nut and cardamom duck curry $24
The duck curry comes as one duck maryland cooked until soft. It's easy to prise the meat off the bone and dunk it back into the cashew and cardamom sauce. To the side there is a soft roasted eschallot to give the dish additional sweetness. This is also made for dipping the naan bread into. There is just a plain naan on the menu (apart from a sweet dessert naan) and it comes cut up into pieces. This is a mild curry in terms of spiciness especially in comparison to the pork belly curry.
Vego Biryani $14
Why get plain rice when you can get biryani? The vegetable biryani has large chunks of tender cooked cauliflower and sweet potato, nuts, herbs and saffron. It's a necessary foil for the curry sauce but is good without as well.
Naan $6 each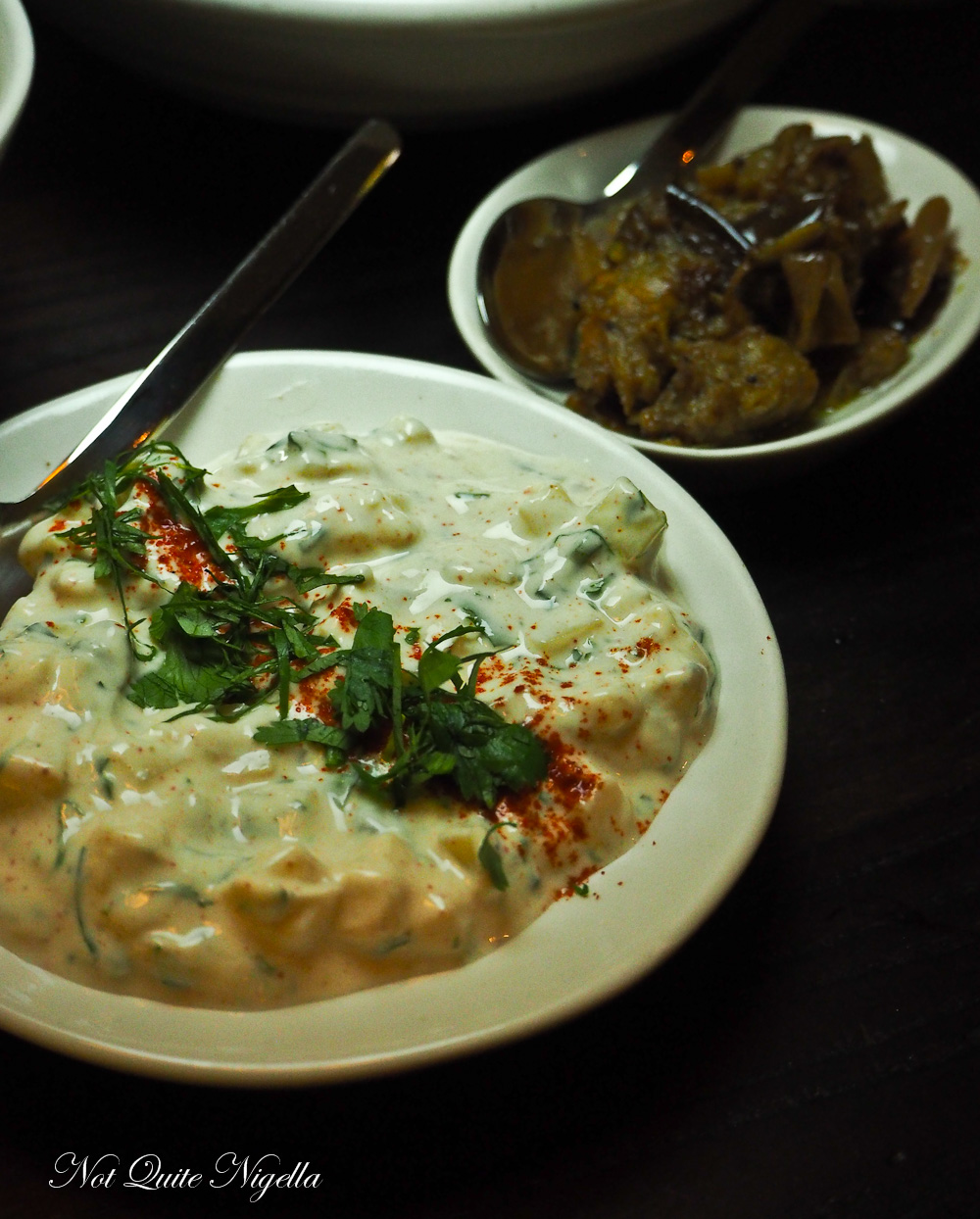 Pineapple raita $4 and eggplant pickle (with the pork belly curry)
For those like Queen Viv who don't like the heat, and because we were curious, we order the pineapple raita, a refreshing and cool and sweet raita.
Beetroot pickle $4 and cucumber and tomato salad $9
For good measure we also ordered the beetroot pickle and the cucumber and tomato salad and both added a nice adjunct to the spicy creaminess of the curries.
Kulfi popsicle $7
The kulfi popsicle is a pistachio popsicle. It's fine but it's a tad on the icy side and needs a bit more flavour to it.
Sweet naan and saffron cream $9
We usually order the sweet naan stuffed with coconut and dried fruit with a main but this one also has cinnamon sugar and a saffron cardamom creme. It arrives already sliced up for easy dipping. It's not bad but our favourite dessert is the one that follows.
Treacle and curds $9
The treacle and curds is a tempting version of shrikhand, an Indian strained yogurt dessert with a pudding like consistency. It has an appealing tart flavour balanced with the sweetness of the treacle topping as well as fresh strawberries and diced nectarines. It's just the spoonful to end our meal on.
So tell me Dear Reader, how spicy do you like your food? Do you go for mild dishes or hot ones? How old were you when you first started to eat chilli? When you order Indian food do you get lots of condiments to add to it too?
This meal was independently paid for.
Subcontinental
8 Hunt Street, Surry Hills, New South Wales, Australia
Tel: +61 (02) 9280 0088
Open Tuesday to Saturday 5:30PM - 10:30PM
http://www.subcontinental.com.au/