Said to be one of the best Indian restaurants in Sydney, Urban Tadka is located in Terrey Hills, north of Sydney. And we visit for a family birthday with the Elliotts to see what it is that makes this so special.
Mr NQN's sister Araluen is, like the rest of the Elliotts, a bit obsessed with India. It comes as no surprise as Mr NQN's Finnish mother thinks she is Indian. Indian food is also an easy option for a family with vegetarians, vegans and gluten free eaters.
It's certainly one of the prettiest Indian restaurants with fairy lights and it's really quite a large place with ample parking. I guess the thing about it being out in Terrey Hills means that there is a lot of space. Functions go one way while restaurant diners go another. And despite the page exhaustingly long list of "house rules" at the back of the menu (which would have put me off if I had seen it before dining), they seem quite easy going.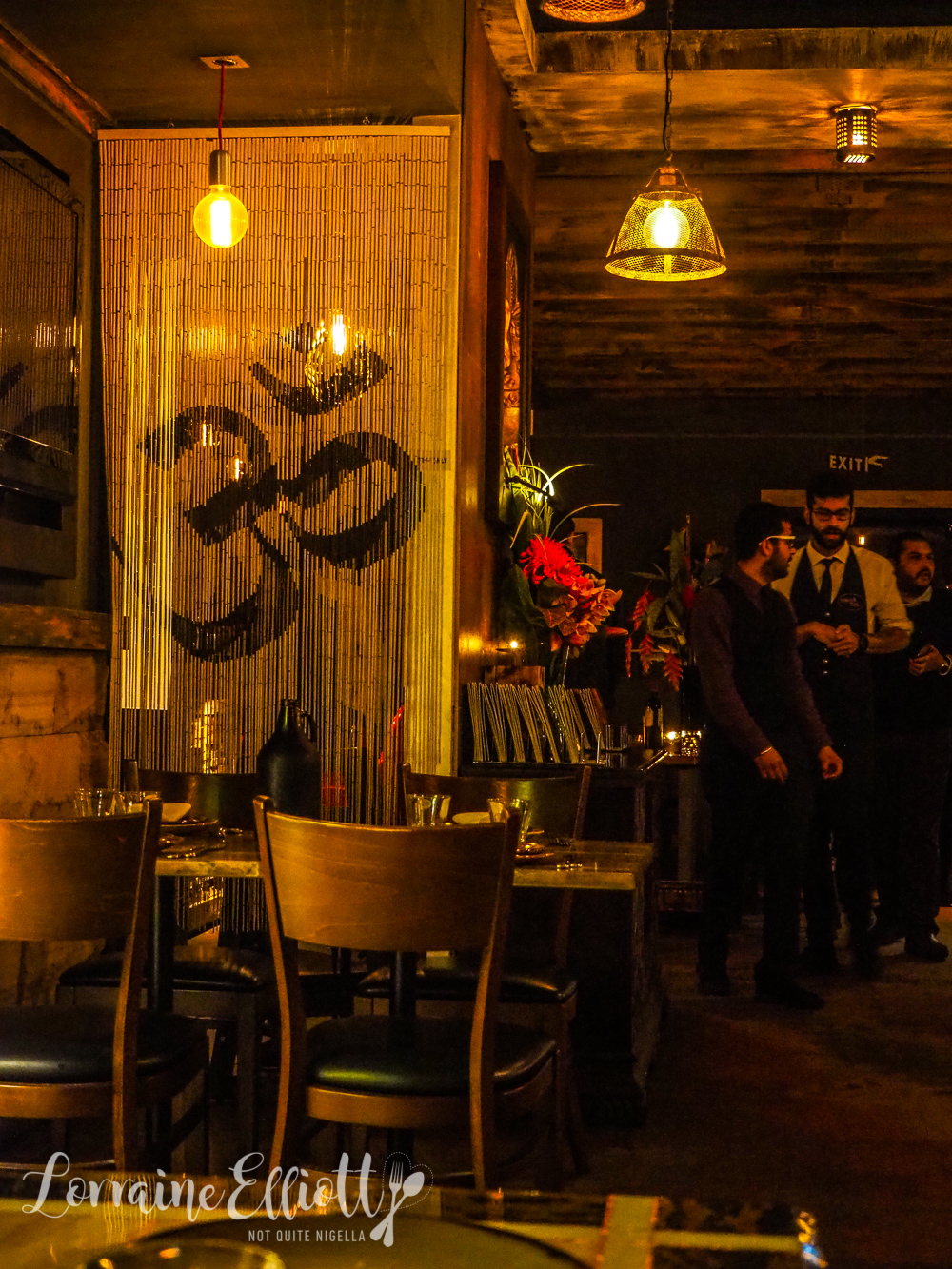 There are three vegetarians, two vegans and two omnivores tonight and I am just being honest here when I say that ordering food with the Elliotts is perhaps the most stressful thing when eating out. There's talk of ghee, double ghee, vegan food, double vegan, dairy and requests are repeated many times over, questions re-asked. I let them do their thing and then Tuulikki announces to me what she is eating (not that I asked) and how she can eat certain things but not others.
Roch Afza Shake $5 and Boondi Masala Lassi $6
We try some soft drinks, a roch afza shake. Roch means soul and afza means nourish and this sparkling drink is very sweet with rose syrup. We also try a Boondi Masala lassi or a salty lassi that I think would really work in hot weather.
Pappadums and dips $10.50
Manu is besotted by the pappadums. I think it's because he is not only vegan but gluten free. They're nice but they're really just regular pappadums with three sauces: an onion and tomato salad, a beetroot yogurt and a delicious spicy onion and tomato puree. "I think I've come up with the secret to pappadums," Manu announces, "Salt!". Aw bless!
Aloo Ki Chalu Tikki $13.90
We upsize to five pieces of the Aloo Tikki which are oval deep fried potato patties topped with imli or tamarind, fresh mint and coriander chutney as well as pomegrante seeds and sev (chickpea noodles). These are a specialty of Chandni Chowk, a market in Old Delhi, India. They are delicious especially with the sour sweetness of the tamarind.
Adraki Champein $26.90
For some reason our mains comes out first and everyone else has to wait quite a while for their food. The lamb cutlets were very strongly recommended by the staff and they are spicy and succulent. Any strong lamb flavour is balanced by an aromatic rub of garlic, ginger, yoghurt and tandoori spices.
Murgh Taka tak $25.90
We asked our friendly waiter for a recommendation for a spicy dish and he offers an item off the menu: chicken taka tak, a spicy chicken fry with a rich chilli and tomato based sauce. It's not overly spicy but it delivers flavour in spades. Takatak is the sound of rhythmic chopping and it also describes the sound of the spatula hitting the pan and breaking up the food as it cooks.
Dhingri Khumb Matar "icon" $23.90
One of the vegetarian dishes is the Dhingri Khumb Matar with button mushrooms, peas and cashews in a mild creamy onion gravy spiced with black pepper and nutmeg. It's a lovely and creamy mild curry.
Aloo Bukhara Ke Kofte $22.90
Slightly spicier are the creamy koftas which are flour based dumplings served with a rich and creamy sauce. These are Araluen's favourite Indian dish. The dishes here are actually quite large in size and rich and we can't finish them.
Bukhara Daal Makhani $22.90
Tuulikki orders the daal makhni that comes in a little earthenware pot. It's from the North of India and made of slow cooked black lentils and kidney beans that have been cooked overnight. It's normally finished with cream, tomatoes and desi or real ghee but this is a vegan version without the cream and ghee.
Do Piaza Bhindi "icon" $22.90
My favourite vegetarian and vegan dish is the Do Piaza Bhindi which has so much flavour and char from cooking. It's crispy okra served with diced onions, tomatoes, fresh turmeric and chaat masala (a spicy, tangy spice mix).
Kashmiri Pulao $13.50
We ordered plain rice as well as kashmiri pulao with fennel, dried fruit and nuts. It was very sweet, perhaps too sweet for me as it clashed with the strong flavours of the curries. However that was my fault as it was described in the menu as "sweetness personified". Mea culpa.
Cheese Naan and Kashmiri Sweet Peshwari Naan $5.50
I'm all about the breads and we ordered three types of naan among seven of us. There's a chilli and cheese naan, a sweet peshwari naan with coconut and dried fruit and a cheese naan. And if I could have, I would have eaten a whole cheese naan to myself it's so comforting soft with a molten cheese centre.
Pome's Chilli Naan $5.50
There's no time for dessert and besides which, Tuulikki has made a raw cake for Araluen's birthday and I've brought a custard tart.
So tell me Dear Reader, what cuisine do you and your family often choose when eating out? Is it a noisy, talkative affair or are you quiet diners?
This meal was independently paid for.
Urban Tadka
321 Mona Vale Rd, Terrey Hills NSW 2084
Phone: (02) 9986 1040
Tuesday to Sunday 12–2:45pm, 5:30–9:45pm
Monday closed
urbantadka.com.au