Bombay Street Kitchen is a cheap and cheerful Indian restaurant on the corner of Broadway and Glebe Point Road. It serves up a range of street foods like pooris, frankies as well as tasty dishes like Railway Goat Curry.
I'm 10 minutes later to dinner, having been delayed by traffic across the city. What should be a quick 15 minute drive from the East to Inner West turned into a 30 minute lane grab. I walk into Bombay Street Kitchen slightly breathless and Celia, Pete and Mr NQN are all sitting down.
"We've ordered," says Celia looking up at me guiltily, covering the plate of pappadums and mango chutney that sit on the table. I look at her serious expression and laugh, relieved that it's not something more serious. I tell her not to worry and secretly wonder to myself whether I'm a tiny tyrant that causes people to feel guilty for being hungry and ordering appetisers. Hmmm...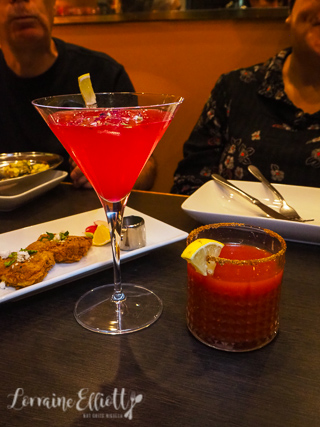 Celia has been busy looking at the menu-she wants to order everything and she and Pete do some quick maths and even if we order 10 dishes between the four of us, it will still be very reasonably priced. We start with cocktails: a Masala Mary for me and a Rose and Cardamom cocktail for Mr NQN. The Masala Mary is their version of a Bloody Mary with masala spices while the Rose Cardamom Martini is made with Vodka, rose and cardamom.
There are two types of poori, those hollow round vessels filled with tasty fillings. There's Pani Poori filled with potato and spiced tamarind water or Dahi Poori, a milder and creamier version filled with potatoes, sprouts, puffed rice & tamarind chutney with a mint chutney and yoghurt. We usually see the pani poori so we go for the dahi poori and it's crispy delicious with a creamy and less messy because of the thicker yogurt.
We ended up ordering things that sounded interesting that we hadn't tried before. The Ragda Pattice is two crispy potato patties in a dried white pea (ragda) curry. Although we've never had this dish before we all agree that it is fantastic and full of flavour. The spicy curry is dressed with a date and tamarind chutney and pomegranate seeds. And am I the only one that sees Mickey Mouse in this?
Although the menu says that this dish takes 15 minutes to prepare this comes out quite quickly. I think I was expecting something quite different based on the name fish fry. It is two fillets of mackerel marinated in lime juice, coriander and fresh coconut that are then pan-fried with a mint sauce on the side. These are highly flavoured and on the salty side but moreish nevertheless.
These Frankies are another street food like toasted wraps. This version uses a wholemeal paratha and there are three fillings to choose from: vegetarian, chicken and lamb. We go for the chicken one with coriander, mint chutney, onions and chicken. It comes with a tomato chilli sauce on the side. It's warm and crispy although I think I'd like a different dipping sauce for it.
The Chicken Chennai or Madras chicken is a mildly spicy tomato based curry. Celia isn't as smitten with this as the other dishes but it's fine if not as wowing as the goat curry.
The menu says that this Railway Goat curry is "Good enough to miss your train for!". Apparently it is a simple dish that is served at railway stations. It's also my favourite main of the night. The goat is served as soft, bone in pieces in a rich, spicy gravy. it was said to be first developed by the chefs of Indian Railways for the palates of the British during the British Raj era. Mutton is also sometimes used instead of goat.
Prices were generally very good but we all looked a the serve of vangi masala or eggplant curry and thought that this wasn't quite in line with the rest. It's much smaller than the other dishes although the menu does say that it is on the large side and it is the same price as the goat curry which is larger. Still the flavours are good and there's plenty of tomato and generous sprinkling of fennel seeds for flavour and the eggplant is appealingly sticky.
The only dish that didn't really excite me taste-wise was the dal tadka which I usually find quite reliably good at most restaurants. I think I found the a bit bland in comparison to the other dishes. Still, everyone else enjoys it.
This was Celia's one request and it was a good one. There are pieces of spiced, bone in chicken buried underneath the spiced rice along with whole boiled eggs. It's a large serve and plentiful and we can't even finish it.
To go along with our mains we ordered two naans. I usually order a sweet and savoury naan. The sweet naan is a peshwari naan which has a sweet coconut and sultana filling. They had a spinach and cheese naan which I liked the sound of and they're both excellent, with a good puffy texture served warm.
There's only enough room for one dessert: the Gulkand Halwa is a millet, beetroot and rose petal jam cake served in thick coconut cream. Although Indian desserts are usually very sweet this is the only exception that I've encountered. Mr NQN doesn't find it sweet enough but he loves super sweet food whereas it's perfectly sweet for me. And for dessert, Celia nibbles on the fennel seeds that arrive with the bill!
So tell me Dear Reader, do you ever get hungry and order something to snack on when someone is late? Are you the first to arrive or last typically?
This meal was independently paid for.
Bombay Street Kitchen
Corner of Glebe Point Road &, Parramatta Rd, Sydney NSW 2037
Monday to Saturday 5:30–10pm
bombaystreetkitchen.com.au
Phone: (02) 9660 3726