The latest offering from the team at Kepos Street Kitchen, Kepos & Co is located at Danks Street in Waterloo. Offering Moorish cuisine, chef Michael Rantissi's menu offers warm hummus pounded at the table with an enormous mortar and pestle as well as delicate quail stuffed with dates, pine nuts and sujuk and leave room for their take on cannoli. I won't spoil the surprise but read on if you want to know all about it...
"Hello. I was wondering is your menu different from Kepos Street Kitchen?" I said on the phone one afternoon while booking a table at the new sister restaurant Kepos & Co.
"Yes it is a completely different menu," the friendly voice on the other end answers.
"Oh good! Oh I don't mean good as in we don't like the other menu, it's just that we wanted something different but still good..." I say blathering uncontrollably and apologising. Considering the frosty end that you can get when you try and a book a table at some Sydney establishments, service on the phone at Kepos & Co, the latest offering from the team at Kepos Street Kitchen is positively beaming with warmth. I'm just not used to this!
Several times a week we drive past Kepos Street Kitchen during the day. And there's always a queue of people standing outside waiting for a coveted weekend table. So it stands to reason that there would be demand for more seats, for more food.
The new location is not too far at all from Kepos Street Kitchen- two streets away in fact on Danks Street. You can either through Danks or Phillip Street through to a residential complex with a couple of restaurants on the ground floor. Chef Michael Rantissi originally from Tel Aviv is behind the pass and then on the floor making sure that everyone is happy. The lighting is warm and the mood Moorish with an Arabic Mashrabiya screen at the back and plenty of drop pendant lights. As on the phone service is warm and welcoming. We're dining early because I have a big day the following day and come 7pm the restaurant fills - it is not advisable to come here without a booking.
Halva Colada mocktail $9
Because it's not a Friday yet I go for a mocktail. The Halva Colada mocktail has pineapple juice, cream, coconut syrup and halva. The sweet sesame halva flavour comes in right at the end.
Our lovely waitress explains the different sections on the menu that starts with entrees, then vegetables, seafood, meat and desserts. I really want one of everything but settle on a few things. We watch as they bring out a large ceramic mortar and pestle and finish off the hummus at the table. We've had this in Albuquerque with guacamole and it brings some interaction to the table.
Warm hummus made in a mortar and pestle $15
Much of the hummus is already made and is beautifully smooth and silky while the chunks of roughly crushed, soft chickpeas lend some texture. They spoon the hummus into a bowl and finish it with some olive oil. And it's divine especially when scooped onto the bread below.
Za'atar flat bread, goat's labneh $12
The hummus doesn't come with bread but you can order from a choice of two. I like labneh so we went for the za'atar flat bread made in the wood fired oven with fat, puffy sides and an aromatic za'atar spice blend centre with dollops of goat's yogurt labneh. This is a fantastic combo together and the flatbread reminds me of puffy edged Napoletana style pizzas.
Stuffed quail, dates, pine nuts, sujuk $34
The stuffed quail comes out next. It's a single quail split down the centre. It sits on a bed of sujuk (spicy sausage), sweet date and crunchy pine nuts. The quail is glazed in a spiced date syrup that has a hit of cumin and other spices and it's sweet, succulent and delicious.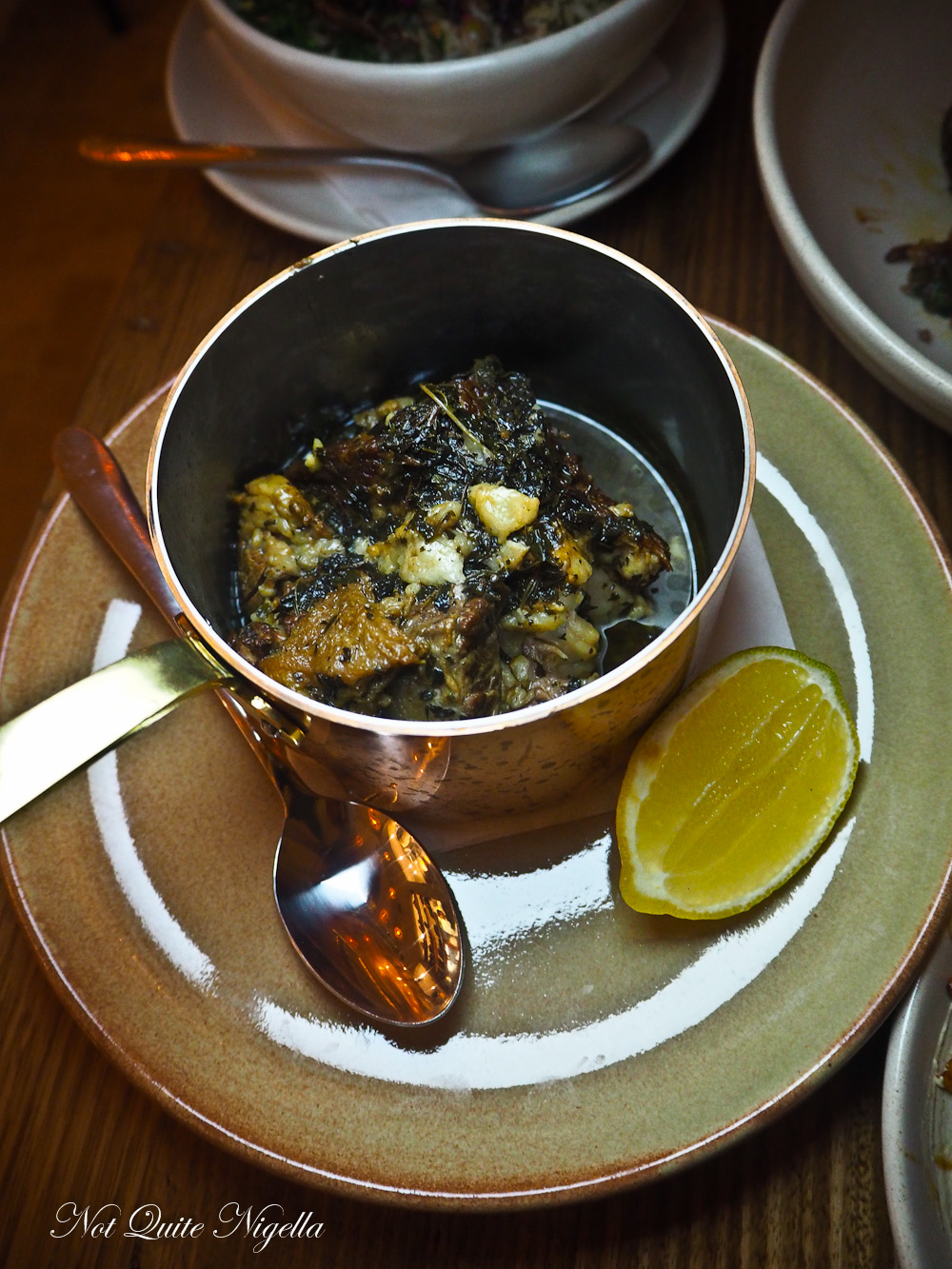 Wagyu brisket, mulukhiyah, Lemon $28
The wagyu brisket is served in a copper pot with three large pieces of very soft and tender wagyu brisket. It's a fatty cut as brisket tends to be, perhaps a bit too fatty for Mr NQN who finds lamb too rich but brisket is one of my favourite cuts. It needs a touch of salt and some lemon added to it and the mulukhiyah or green jute leaves have a slightly mucilaginous texture.
Rice & lentil pilaf, pistachio, rose petals, fried onion $12
The rice and lentil pilaf is the perfect partner for both the quail and the wagyu. It feels wholesome and full of flavour and crunch from the lentils and pistachios and the fried onions and rose petals are a nice touch.
Pistachio cannoli, strawberry, pomegranate $15
There are three desserts on the menu and we have a hard time choosing but leave it up to the waiter. Although he describe it as exactly like an Italian cannoli, it isn't really. It's three rolled up sesame wafers filled with a creamy filling atop slices of strawberry and a pomegranate jelly. The cannoli are fantastic - it's hard to stop at one and the sesame casing is such a great idea.
Labneh cheesecake, dates, sponge $15
The cheesecake is a light, yogurt labneh cheesecake that isn't overly sweet. Sweetness comes from the intensely sweet pitted dates and date syrup. If you get a bit of date, syrup, base and labneh centre then it's a blissful sensation.
Roasted whole baby cauliflower $18
I watched another table receive the whole cauliflower and my eyes widened at it so like a weirdo I asked if we could order the cauliflower so we could try it and then have it packed up because I was going away and it would be a total waste to only try a bit but we were so full. The cauliflower is soft, like steamed in texture and gives easily. It comes with cumin and raw tahini. It's good although I feel as though it needed seasoning or another element to it.
The bill comes and things do add up here - it's not cheap by any means and perhaps slots in to a "night out" rather than a quick week day meal but if it is like Kepos Street Kitchen, the queues will be there every night.
So tell me Dear Reader, have you ever ordered a savoury dish after you've had dessert or have you ever eaten dessert first? Do you like items that are interactive at the table eg. roasts carved at table or dips churned at the table?
This meal was independently paid for.
Kepos & Co
Shop 5, Casba, 18 Danks Street, Waterloom NSW 2017
Tel: +61 (02) 96900931 http://keposstreetkitchen.com.au/keposandco/