The translation of the Spanish word Mercado is market and in this little street behind busy George Street you could be in a back street in Europe (albeit without the cobblestones). Mercado is ex Nomad chef Nathan Sasi's latest venture after Good Times Ice Cream in Potts Point and is located just near Martin Place in the CBD. It is part of the China Lane (just around the corner) and China Doll family but is a departure from the group's focus on Asian food with a Spanish food menu.
The space has a long open kitchen and in the centre is the wood fired oven where the rotisserie mains are made. We are greeted warmly when we arrive. Nick is already at the bar chatting up the bar staff while Louise and Viggo are already seated at the table. He grabs his Negroni and we all sit down. Our table is meant for four but there was a last minute addition so we crowd around the table.
I had been warned by a friend JY that Mercado is quite an unabashed meat-fest. As in vegetarian options are limited as are seafood but if you love pork and beef then you may have found your tribe. There are five entrees for vegetarians (including bread) and vegetable sides. The menu is a good length, not too long so as to make it confusing or hard to choose from but long enough to offer choice. Our waitress is polite enough but not exactly warm but she softens up three quarters of the way through dinner when Nick applies his own brand of charm on her. The rest of the staff however are delightful and friendly.
That day we learned that Prince had passed away so it seemed fitting to have a glass on red wine (in his favourite colour purple) and toast to him so we do so while nibbling the Ortiz anchovy tart, a very slender tart on a crisp cracker with roasted bullhorn peppers and pickled onions and a slender fillet of Spanish anchovy. They come two to a serve and at $14 well they're not inexpensive but they are crisp and tasty and get the taste buds going.
Although there was much said about a lot of the items made in house, some aren't so if you are looking to try house made it's best to ask. The cured goose breast is cured in house and served with French radishes on the side. Truth be told I'm happy just with the goose breast slices and they don't really need the radishes. The goose breast is richer and stronger flavoured than duck and sliced very thinly.
In Winter I think I could live on toasties and if you love Bikini sandwiches and the like the snack that had us the most excited was the smoked wagyu tongue on slices of buttery, toasted brioche with a spread of pickled green tomato just to give it that necessary lift with the two rich elements. "I want another one," I say to Nick. Even Mr NQN who claims to have a gluten intolerance at times enjoys it and I was hoping to nab his share. s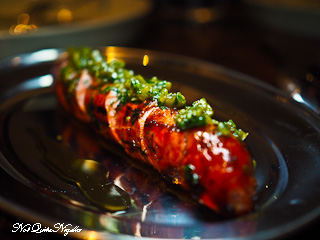 The chorizo is imported from Andalusia and is served with a mojo verde (herb and garlic sauce) on top. The sausage is lusciously fatty and good and we wish we had some bread to mop up the sauce and mojo verde with. Oh and I know this might be odd to mention but some of us have a lot of problems with the cutlery sliding off the plates. Random to say I know but this really vexed the guys who made it a talking point. If you have this issue, you are not alone ;)
This is a dish that we thought was fine but perhaps we wouldn't order again. While the morcilla is delicious, the white beans are very mild in flavour and following such strong dishes like the chorizo and the wagyu tongue sandwich this fades into the background with its subtlety.
Our mains arrive after a little break and we ordered two meat mains plus three sides. The first meat main comes out. It's the spit roasted suckling pig. I think we had thought that given the price the size might be bigger but we're glad that we ordered the two meat plates. The suckling pig is very tasty and succulent though with tiny little triangles of crunchy crackling. They come with aioli, salt, preserved lemon sauce and a bottle of house made hot sauce. And it's good to be able to mix and match your seasonings according to taste.
This is a fresh but fairly standard green salad with a vinaigrette and chives but it gives us the greens that we seek given our meat consumption.
The timing with the mains and sides is slightly off and it's early days so I guess you do need to cut them a bit of a break. Mr NQN pipes up, "These carrots are really good," and he rarely makes comments on food. I spear a carrot, some sauce and some almond dukkah studded with tea soaked currants and he's right. I was expecting Dutch carrots because they're easier to cook and look pretty but these regular carrots are absolutely perfectly cooked. I find carrot can sometimes be too hard or too soft. These cut perfectly and with the creamy sauce and dukkah they end up being one of the favourite dishes of the night. And who ever says that about the carrots? Go carrots! ;)
Alas the carrots were gone by the time the Wagyu beef shortribs arrived. They're quite mild, a bit more seasoning would be great on the meaty side and they come with a bone marrow salsa. I think people are either team bone marrow or not and Louise, Nick and I are while Viggo and Mr NQN give us their share. The texture is soft and it melts in the mouth beautifully, the marbled wagyu the perfect choice for a cut cooked this way.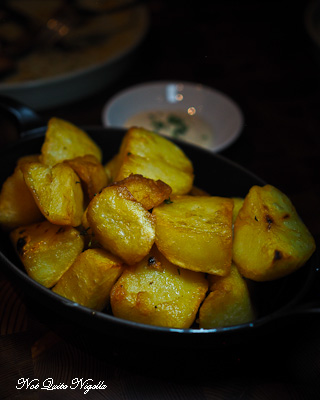 So the curious thing is that the potatoes arrived about 10 minutes after we finished our beef short rib. And we tried to wait for them. And we asked about them. And waited and then just ate because you don't want a beef short rib with all of that fabulous gelatinous fat to go cold. And the potatoes are really super crispy, beautifully so like goose or duck fat potatoes. But it's not just us with the late potato delivery, we notice the same thing happen to an adjoining table.
One of the things that Mercado is known for is making their own cheese which is made and aged in the basement kitchen. They offer to bring the cheese trolley over and explain all of the cheeses. There are three in house cheeses, some Australian and the rest are European cheeses. We choose two of their house cheeses and order three desserts to come first.
The rosewater and pistachio trifle is a nice combination of flavours for this soft dessert with a lovely surprise crisp pastry layer on the inside with layers of whipped cream and rosewater jelly.
I've made Gateau Basque before using a Daniel Boulud recipe and it's a bit more moist than this. This can be a bit dry so it's best when you get a mouthful around the edge where they pour the vanilla cream sauce. There is a cherry in the centre and a little jam inside the tart too.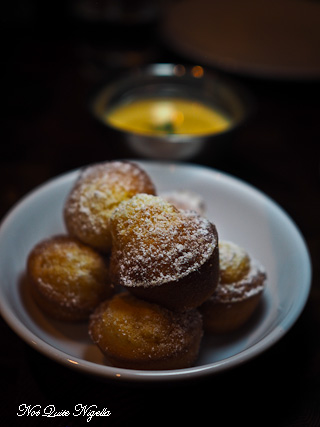 I really need to brush up on my Spanish pastry because I thought that Magdalenas were donuts but they're little Spanish cakes usually eaten for breakfast, served with a zingy orange creme to dip them in. They're eggy and served warm but I think my mind and heart was set on a donut and a cake isn't quite the same thing. They are said to be browned butter magdalenas but this is subtle and I can't really taste the browned butter, something that usually really makes a dish for me.
The cheeses are next and they come with a nice selection of bread, crackers, membrillo (quince paste) and a poached pear half. Both cheeses are very good indeed and are made by Nathan himself. The ash covered goats cheese Valencay has a slight tang to it not unlike the Holy Goat La Luna cheese while the queso Garrotxa is a gorgeous firm cheese that retains a suppleness over dryness with a nutty aspect to it. It's just the right note with which to end the meal.
So tell me Dear Reader, are you team bone marrow or not? And were you upset about Prince passing away?
This meal was independently paid for.
Mercado
4 Ash Street, Sydney, NSW 2000 http://mercadorestaurant.com.au/
Tel: +61 (02) 9221 6444
Lunch 12-2:30pm Monday-Friday
Dinner 5:30pm-10pm Monday-Thursday, 5:30pm-10:30pm Friday & Saturday