Fleeing the cold is a priority come every Winter. Try as I might to become a Winter person, the sun and warmth of tropical countries beckons and one of my favourite destinations is Thailand. This time, I visit a place new to me, Hua Hin, three hours' drive from Bangkok.
"You looove Winter. Come on all those roasts...and errm cold and damp," is a chant I often find saying to myself come June to August every year. And as hard as I try to psych myself into the Winter spirit, inevitably I succumb to my love of warm weather and head overseas. Even hearing the word Winter fills me with dread. But sometimes Winter time in Australia is the best time to visit a place, like for example Thailand where the temperature hovers at around 31C/87.8F and you are bathed in a warm balm that cocoons you nicely. And you're just wearing a sun dress.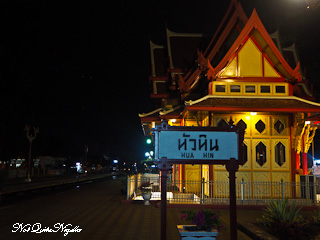 We arrive in Bangkok airport and it's straight off to the van, our group of writers excitedly chattering and happy to leave the wintry weather behind. I get a message from Mr NQN, it is rainy and cold in Sydney. He is to join me in 7 days so I don't feel so bad. But for the next week I will be travelling with the other writers around Thailand. And the first stop is Hua Hin on the West Coast of Thailand.
Located on the Gulf of Thailand it is about three hours drive from Bangkok airport. A popular seaside resort for upper class Thais and the well to do there is little of the less than salubrious aspects that can mark some areas of Thailand. The closer we get the more posters of the revered but now ailing king abound looming large from the street sides. The royal family have owned several summer properties in Hua Hin.
We stop on the way for some convenience store snacks where we go a bit mad with the unusual chip varieties along with segments of pomelo with chilli salt and sugar. There are outdoor restaurants and food stalls along the long stretches of road.
When we pull up outside the hotel up there's a gasp and a "wow" coming from some mouths (including mine). Cape Nidhra Hotel is a five star beachside resort that looks palatial yet welcoming. It's a long property with plenty of whites, teak wood with lush greenery overspilling. It is also part of the SLH or Small Luxury Hotels group.
The accommodation features oversized rooms (the smallest room is 80 square metres). We are in the ground floor Garden Pool Suites which are expansive at 126 square metres and these are their largest suite type. Each room in the resort has impressively high ceilings and an enormous and comfortable king sized bed and a day bed to lounge on inside as well as a comfortable chairs and table. There is also a pillow menu although all of my six pillows were perfect so I didn't need to test it out.
The library
It's dark outside but I push aside the sheer curtains and see something sparkling. A pool? Excitedly I unlatch the door and yes! It's my own plunge pool and outside lounge area. I close the door hoping that it's not some sort of strange jetlag induced hallucination.
I explore the bathroom and it's sizeable with an enormous ceramic egg shaped tub that I mark for a later soak (FYI it needs about an hour to fill). There is a separate shower, double sinks and a comprehensive amenity kit by luxury Thai brand Erb.
There are plenty of places to store bags cleverly hidden away so that you don't have to see them. There are also robes, slippers, a large flatscreen television and free wifi throughout the resort.
I've changed the time on all my devices to read Thai time but my stomach is still not convinced and the overt snacking on the way here means that it is confused. We all meet for dinner at the Rocks Restaurant. The food focus in Hua Hin is on seafood and the restaurant here focuses on traditional Thai cuisine.
We start with a trio of Thai classics with chicken satay skewers, fish cakes and spring rolls. The fish cakes are particularly delicious although it is all good.
One thing I've learned that in Australia you can tell restaurants to upp the chilli in dishes but you shouldn't do this in Thailand because their version of spicy is already really quite spicy. Take this tom yum goong which tingles with chilli heat. It's just on the border for me, any spicier and I might start to sweat and puff but it's on the right side of pleasure and pain which sounds very 50 Shades of Grey doesn't it?
The mains come out together and there are four in total. If you don't like seafood you can find other things on the menu but honestly seafood is the main thing here. There's squid stuffed with pork mince with a divine red curry sauce, prawns with a delicious sweet dipping sauce, steamed fish and stir fried seafood that is lovely and tender.
Dessert is a comprehensive selection of no less than five items: there are two chocolate puddings, a berry bavarois, a blueberry topped cheesecake (my favourite) and a strawberry custard tart.
I fall into bed after a quick shower (two heads, one misting down water from high above) and sleep soundly. I'm only woken up at 7am by my natural body clock that tells me that it is 10am in Sydney and that I should get my lazy arse up for the morning.
I get up and do some work and laze around but then I realise that I haven't had a good peek outside. The balcony and private pool are spacious and the lanai looks inviting so I do a bit of work out there while the weather isn't very hot. By the time I'm finished I make my way towards the beach front where breakfast is being served.
I can't eat a lot at breakfast so it's with regret that I forego the dumplings and plethora of goodies and find the fruit stand outside. Here you pick as much fresh fruit as you want and they will cut it up for you. It's rambutan season so I order some of those along with huge lychees and pineapple. From the drinks fridge I grab a sweet, delicious young coconut and sit down to my feast.
The first morning's activity is at Vana Neva Water Park, about 15 minutes' drive away. Open since December 2014 it is a very popular place for families and groups of friends and I'd imagine that it is very popular on weekends and on school holidays. You need about 3-4 hours to make the most of your time there and the rides range from simple to very challenging.
There are also faux surfing waves where people can learn how to surf and huge donuts that go up and down the sides of a cone. There are small stands for food, a cafe, bar and shops and there is no cash used here. You buy credit on a wristband device not unlike a watch and use that to pay for everything. At the end any credit is given back in cash to the customer.
We also meet Moo (which means "pig", a popular nickname). Moo has eyebrows! I feel as though these allow her to be more expressive.
Around noon we make our way to an artist's village where artist Nang holds creative painting classes. I am the first to admit that I am a terrible artist but she is encouraging and easy going. We pick an items that we want to paint on - be it a mask, wooden box, canvas or a toy. I pick up a toy because I've never painted on one and take a seat.
It's such a wonderfully calming and creative experience painting here in this environment. Before we know it we've spent over an hour here just painting and I look around. Everyone has painted beautiful masks and jewellery boxes and well I have painted a gruesome Halloween voodoo doll. Oops. You really can't take me anywhere...
We just have enough time to grab something quick to eat. We ask our guide Song from Absolutely Fantastic Holidays if there is anything that is really popular to eat here and he suggests mango and sticky rice. We take the short drive to Mango Sticky Rice Pa Jua - Jua means auntie and the woman behind the street stall clearly has a captive market.
She is said to make the best mango and sticky rice in Hua Hin and we watch as she peels the mangoes and cuts them expertly discarding any discoloured pieces. The slices are then placed in containers on a bed of sticky rice with some coconut cream and toasted rice. We take a bite and it is absolutely sublime.
It is definitely the best mango and sticky rice I've ever had. The Thai mango is a mixture of sweet and then sour right at the end, the toasted rice adds a wonderful crunch and the jasmine rice is so aromatic that I think immediately of fresh jasmine flowers. And with a goodbye Song announces that he is off in search of something delicious for us to eat that he will deliver to our rooms.
There is just enough time to drop our bags and make our way to Cape Nidhra's spa located just near the entrance lobby. I swing open the enormous doors and walk into the tranquil environment of the lobby. I fill in a form and they offer me a warm Bengal Quince or Bael fruit tea which is slightly sweetened and absolutely delicious. I choose a fragrance out of a choice of six - Ylang Ylang suits my current mood and I follow my therpaist downstairs to the treatment room. It is luxuriously fitted out and a spacious room thoughtfully appointed.
There are robes and slippers and a shower and toilet as well as a safe for valuables. I lie face down for my Oceanique massage which uses oils and relax and stare at the bowl of sea shells and starfish below the table. She is good although on my form I did specifically ask for her to concentrate on my head, hands and arms and there wasn't much work done on them.
After I emerge from the spa, Song has left me a package of food to eat in my room for a late lunch. It's a divine fried chicken flavoured with kaffir lime leaves in the batter. It comes with a square of sticky rice and I eat it with gusto by the pool.
The white sand beach is inviting and with an hour free I decide to take a stroll towards the beach. There are a range of lanais and swim up cabanas. These are all complimentary to use and the lanais face the beach. A man walks past carrying baskets on a pole and the beach is also one where people can ride horses. Honestly it's like a romantic novel or a fragrance ad come to life.
At 6pm we meet in the hotel lobby for a night out in Hua Hin. We start at The Living Room, a bistro and wine bar right alongside Hua Hin beach. The centre of town is laid out in a grid shape with most things within easy walking distance. The town's railway station is famous and serves as an icon of Hua Hin. In the past the royal family have boarded the trains using their own private access paths.
The light hits the water just so shining a golden light on the far away pier and gently rippling waves. It's a popular place with locals and overseas guests and the menu is large covering European dishes as well as Thai specialties. We go for their signature Thai items.
Plus fresh coconuts of course
Yam Som O Pu Nim Thai pomelo salad w/ deep fried soft shell crab 210 BHT
I've developed a liking for pomelo which we don't often see in Australia. Here the segments of pomelo are dressed with a tamarind dressing with shallots and roasted coconut. On top is soft shell crab. Prices here are excellent and while seafood is usually expensive in Australia, here it is the cheaper option.
Pineapple fried rice
One of my favourite items is the pineapple fried rice. Served in a hollowed out pineapple half there are tiny pieces of pineapple and cashews but also lots of flavour from the pork floss that gives it a sweet hit.
After dinner we hit some of Hua Hin's markets. Every Friday and Saturday night there is an Arts market. There are a few food stalls but the focus is really on arts and clothing. There are quite a few cute clothing stores amongst some home furnishings and bric a brac. It's also quite a large market so it requires at least an hour to browse through everything.
The larger Hua Hin Night markets is on every night and we head there next. It's located down one central street with vendors on each side. There's a lot of food there and we make like we do in Asia: find a queue and join it. Even though the answer to "Are you hungry?" has been, "No but we can eat" has been on our lips the whole time we can't resist the roti made fresh and with a choice of fillings from pineapple jam, jelly to Nutella. We try the Nutella which comes crispy and thin textured and drizzled with sweetened condensed milk for 35Baht or $1.36AUD.
We walk down the stalls on each side fingering the sunglasses and smoothing down clothes. Prices are very cheap for things, 100Baht or $3.90AUD is the cost of an on trend singlet top and there are lots of things to buy. I've got my eye on ice cream and we stop at a stand that sells Thai flavoured ice blocks from black bean, pandan, rommid (a Thai dessert), durian and taro. We try the rommid and it's sweet with nubbly bits of corn and rice noodles and despite the way I've just made it sound, it's really good and refreshing.
We reach the end of the market where they are selling little coconut rice cakes freshly turned off the griddle. The outside is delightfully crisp while the centre is soft and oozing with coconut. "This is the best thing I've ever eaten," says Lena reaching for another with her skewer. Thus begins an obsession with coconut cakes.
The next morning is an early start as we make our way back towards Bangkok. At 8am we meet in the lobby and our guide Song hands us delicious pork skewers for a breakfast snack. I sink my teeth into them and suddenly I want pork skewers every day for breakfast.
The pork is juicy and sweet and I have to go for another. It comes with a serve of sticky rice. We arrive at our first stop at King Rama VIth summer time palace or Mrigadayavan Palace on Cha Am Beach. Suffering from rheumatism he was advised to build a summer palace here by the beach. During its history it was abandoned and then looked after by the border control police who to this day still manage the palace.
It is a sprawling palace with the living areas on the first floors. The Italian designed wooden palace is painted blue and white and is well maintained with several rooms open to the public. However there are no photos permitted at the palace beyond a certain point. What is interesting is how small the beds were and how the men and women kept separate quarters.
There are also a range of snacks to buy there. I buy a santol fruit ice cream which is a pale orange round fruit with soft white flesh inside. It's very sweet but has a slightly sour element with chunks of santol fruit in it.
Our next stop is the floating markets about 1.5 hours outside of Bangkok. Excitedly we climb out of the van and explore the market. "What's that? And that and that?" we ask buying things just because they look interesting. The first item is a fermented rice packet in a banana leaf. I take a bite and the flavour hits me straight away. It's sweet and reminds me of something that I can't quite place my finger on, like a white spirit. It is an unexpectedly strong flavour as rice dishes tend to be mild in flavour. The second one is a rice flour dumpling filled with palm sugar and grated coconut. Coming two to a serve it is perfect mouthful of food - aromatic and just sweet enough.
We cross the bridge and Dimity exclaims at the man carrying a huge snake who is beckoning towards us. Lena and I are terrified of snakes so we studiously avoid him which only serves to make him want us to see his snake. We watch a vendor pass a plastic bucket for money and change.
Whilst this floating market is touristy it's enormous fun and we take a seat where they are making a dish called Ba Mee Moo Dang which has two types of pork, a crackling topped pork belly and a roast pork not unlike char siu. It also comes with sliced cucumber and plenty of coriander but the deal sealer is the sauce, a gorgeous thick sweet spicy sauce that brings the whole dish together.
Song then hands us a packet of deep fried bananas. These small bananas are sliced in half lengthways and dipped in batter and fried until dark bronze. Beautifully crispy it's hard to stop at one.
Lena spots coconut cups, this time made in porcelain cups and steamed. There are two layers and they are soft and jelly-like and comforting in both texture and taste.
Our next stop is for a bowl of egg noodles with slices of egg and pork. The soup is flavoursome and the noodles have a great al dente texture.
It's getting hot so we stop for a Thai iced tea with milk. The cups are enormous but half full of ice and I've developed quite a taste for this strong, sweetened tea drink that refreshes so well in the heat. With forty minutes until we need to get back to the bus we decide to take a ride in one of the boats. We bargain the rate down (accidentally) and climb into one of the wooden boats and gently cruise down the river bumping edges with other boats also carrying tourists.
Every few stops or so particularly if you seem to look at any of the vendors' stalls they reach out with their iron crook and bring the boat in for a closer look. "Buy,buy... good price!" they coo.
I buy some banana chips that are crispy, sweet and addictive. Dimity wants a hat so we negotiate. It seems the best thing to do with bargaining is that the seller will give a price. You halve the price and then they offer a price that is about 60% of the original. If you're happy with that then you can take it. Otherwise the price will only tend to go down if you start to walk away. A smile or even a mock look of surprise can help with securing a deal and keeps it fun.
Pleased with her new purchase Dimity dons her new hat and I crunch on the banana chips. "Life should be like a floating market...".
So tell me Dear Reader, do you travel to warmer climates come Winter? And do you take notice of room measurements and sizes when you book a hotel? And are you good at bargaining or haggling?
NQN visited Thailand as a guest of the Tourism Authority of Thailand.
Cape Nidhra Hotel
Petchkasem Road, Hua Hin, Hua Hin District, Prachuap Khiri Khan 77110, Thailand
Phone:+66 32 516 600
http://www.capenidhra.com/
Absolutely Fantastic Holidays
http://www.absolutelyfantasticholidays.com/
Vana Neva Water Park
129/99 Soi Moo Baan Nong Kae, Nong Kae, Hua Hin District, 77110, Thailand
Phone:+66 32 909 606
https://www.vananavahuahin.com/
The Living Room
Hua Hin, Hua Hin District, Prachuap Khiri Khan, Thailand
Phone:+66 32 530 485
http://www.livingroomhuahin.com/