If I were to arrange a perfect day, the morning would start with  a sleep in, a delicious breakfast, a massage, beauty treatment and an afternoon tea. And on the last day of our time in this crazy bustling and entirely addictive city, I have a free day in which I can do what I want, when I want. I start off with a healthy raw toast breakfast at the Metropolitan's Glow restaurant, speak to Mr NQN on the phone making appropriately sympathetic noises when he tells me how cold it is in Australia and then am on my way. I walk towards Si Lom station, about a 10 minute walk from the hotel (possibly quicker but I make no haste when time permits me to wander lackadaisically) and stop at the first massage parlour I see.
I had seen ones that cater to menfolk and I recall a rather embarrassing incident two days before when I approached one with journalist Lisa. She whispered "I don't think they're for us" and ever optimistic and blind I told her that I'd go and check it out. As I approached, the heavy makeup became more apparent and the woman sweetly told me that it was a massage place for men. Oops.
But this is a completely legit one and I walk in an overhear a journalist (unrelated to our group) who is busy haggling with them on prices. He wants a foot massage for 200THB or $6.89AUD and offers "But I'll write about you!" in a pleading tone. My therapist Moo comes to collect me and I get changed into a loose top and pants. They offer oil based massages and dry massages, the latter being a traditional Thai massage. Moo climbs on the massage bed and bends, pulls and pushes on my legs and then contorts them in surprising motions. I had no idea I was that flexible. "Madame, are you ok?" she asks and I am just fine. Brilliant in fact as she works firmly and expertly. After an hour I pay the 400THB/$13.78AUD fee and float down the street.
As I leave, the journalist is upstairs getting his feet worked on and I hear the creaking of the chair under him and exit. I cross the road and I am in a bit of a rush to find somewhere for a pedicure. I need to be at the Erewan Tea Rooms by 2:30pm and it's now 1:30pm Moo having given me an extra 15 minutes. I spot one place with a sign for manicures and pedicures a little up the road. As I swing the doors open, the staff and customers turn around from their seats and take a look at me.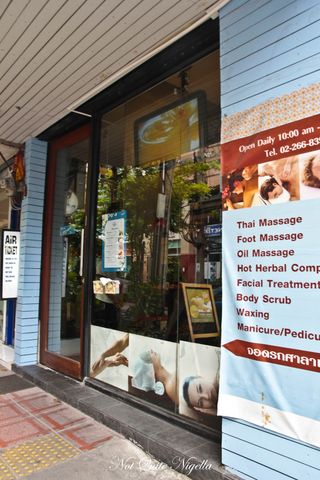 "Can I have a pedicure please?" I ask and realise that everyone works there is a ladyboy. And no-one throws shade like a lady boy. One looks me up and down and asks me to take a seat in a slightly lower voice while they speak rapid Thai. I can only imagine what they are saying. Perhaps "She could do with a haircut too."
Time works more fluidly in Thailand and so when I mention  that I need to leave by 2pm this isn't a problem but there is no rush. In fact I'm very impressed at the level of detail that she goes to and all instruments are sterilised too. About 45 minutes later at 2:15pm I have finished and I ask which way is Erewan Shrine so that I can take a taxi. I could take the sky train but the traffic seems to be flowing pleasingly and I figure that I can arrive unharried without climbing up and down the many elevated walk ways.
The travel gods are looking out for me and I get a taxi driver that used to live in Australia so he can understand my strangely accented Thai attempts at directions. It's a short drive up Ratchamadri and I arrive at Erewan shrine which is located just outside the Hyatt Erewan Hotel. The Hindu shrine is a popular tourist destination with an interesting history.
The hotel's construction was delayed and the foundations were laid on an inauspicious day of the calendar so the shrine was built to overcome the resultant bad karma. In 2006 a man believed to be mentally ill was beaten to death by bystanders after he vandalised the four faced Brahma statue. Today, it is a hot spot for tourists and plenty of sellers peddle the chrysanthemum garlands and offerings for the gods.
The Erewan Tea Rooms are rumoured to be a place that Jackie Kennedy Onassis once visited. I imagine that she might have availed herself of the many designer stores that surround it and come 2:30pm, the place swells with people there for afternoon tea. Booking is essential but I booked the day before without a problem. The interior is beautiful, all lacquered tables and chairs and comfy with vivid orange lounges the colour of monk's robes and the atmosphere and music evokes a bygone era.
The afternoon tea is actually a Thai one with a few Western style items and is well priced at 320THB or $11AUD which is superb for a tea room such as this. Also a bonus for the shopping obsessed-it's right near Siam Centre and Siam Paragon where my credit card had a little workout the day before.
I order a Thai style iced tea with condensed milk and it's deliciously refreshing and gives me a caffeine hit too. My three tiers come out shortly later and I dive right in because I've just taken a look at the time and I don't have much time until I need to fly out. I start with a savoury layer which has all Thai items on it. The Moo Ping or grilled, marinated pork skewer is quite good and has a curry flavour to it.
The steamed purple dumpling (Chor Muang Sai Poo) is said to be filled with crabmeat-I can't really taste any in there, to me it tastes just like those lovely rice dumplings filled with fish and fried shallots. The Mieng Kratong Thong or roasted coconut, lime and chilli ginger with betel leaves in a crispy basket is fresh tasting and sweet. The Mar Hor or minced pork and peanuts on fresh pineapple is a nice mix of sweet and savoury and refreshing. The Thai style chicken curry puff or Kari Puff Sai Gai seems a little bereft of chicken and appears to be mostly potato. The Larb Gai Tod or deep fried minced chicken with chilli and mint leaves is quite dry although spicy.
Things fare much better on the second plate which has the Khao Niew Mamuang Thai classic dessert of white sticky rice, coconut cream and fresh mango and not a single grain of fragrantly sticky rice or sweet, slippery mango goes back to the kitchen. The Polamai Ruam or a fresh fruit skewer has sweet, juicy fruit.
The last plate contains most of the sweets. Kanom Krok or crispy rice pudding with taro, corn, pumpkin and spring onion is good although I'd love them slightly crispier. The Look Chub or sweet bean paste fruit shapes with the thinnest layer on the outside are adorable and delicious-I almost don't want to eat them as they're little works of art that I had seen sold at Siriraj markets and various other markets around. The Thon Muan was a crispy sesame wafer and there were also western items like a fondant chocolate cake with a soft centre and a mini passionfruit tart which has a soggy collar but a sweet passionfruit curd topped with passionfruit jelly. The cold and quite dry fruit scone was served with Chiang Mai strawberry jam and whipped cream.
I take one final sip and then look at the time. And like the rabbit in Alice in Wonderland, I realise that I am yet again late!
So tell me Dear Reader, are you always running late to things? Or are you always on time?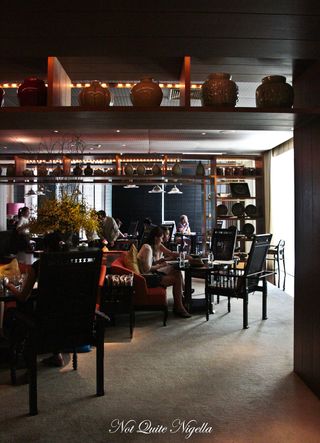 Erewan Tea Rooms
494 Rajdamri Road, Bangkok, Thailand, 10330
Tel: +66 2 254 1234