It has been over a year since the Sydney Opera House's Bennelong restaurant was open. Bennelong 2015 celebrates modern Australian cuisine with a concerted focus towards Australian ingredients. Chef Peter Gilmore and the Fink Group put their stamp on the space with a 2 and 3 course menu that serves up Grilled Lady Elliot Island bug fermented chilli, organic turnips & radishes and Roasted John Dory, served on the bone, orach, turnips, kailan, umami butter. Much ado has been made about their desserts and they are special indeed. There's the creme brulee vs mille feuille or his takes on the Australian lamington and pavlova.
There's a certain responsibility that I feel when catching up with overseas visitors and friends. I want to show them the best of Sydney and when they ask me where to eat, I labour for ages trying to think of a place that will suit their personalities as well as wow them. In this case the concern was doubled or tripled because the lovely people that I am meeting are from Hawaii where it currently perfectly sunny. And to add to it, one of them is a former personal chef to American president Bill Clinton. Oy vey!
"Please be sunny!" I muttered to myself that morning knowing that we were going to visit Bennelong at the Sydney Opera House. Sydney did not disappoint. Although it is Winter, it blessed us with a glorious 19C/66.2F day. People were walking around in tshirts and shorts and the shy shone blue. Bennelong is the fine dining restaurant for the Opera House and it was closed for about 14 months after chef Guillaume Brahimi left. Now Quay's Peter Gilmore has taken over the space. When they received it, it was a blank canvas and they set about designing the kitchen (more on that later!) and the restaurant floor.
Our lunch starts at 12 o'clock and at that time the restaurant is about a third full. By 1pm it will be completely full. We see executive chef Peter Gilmore walking past. He is in the kitchen today and is busy doing a photo shoot. We take our time deciding on what to order. The good thing about dining with food lovers is that everyone is eager to share. 2 courses is $95 with 3 courses at $125.
Bread is brought out and it's a crusty white sourdough with a squirt of soft butter. "I've never eaten so much bread in my life," says chef Charles who concedes that the bread here in Sydney is excellent (although they have avoided the Vegemite on the bread - "What is in Vegemite exactly?" asks Cynthia).
Grilled Lady Elliot Island bug fermented chilli, organic turnips & radishes
Our entrees arrive very quickly although we're in no hurry. It's beautiful outside and since it is Friday I think everyone had checked out mentally for the weekend. My choice is the Lady Elliot Island bug tail with fermented Korean chilli on a bed of organic turnips and radishes. I don't think you could think up a more photogenic dish to embody Australian food. We explain that the bug isn't a bug, it's like a lobster tail. The bug meat is succulent and the chilli is flavoursome without being hot.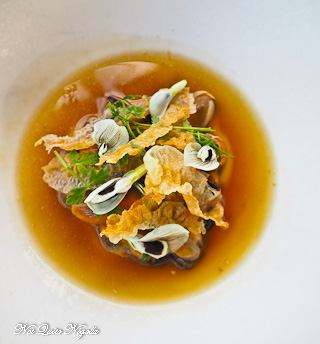 Mussels, clams, pippies, onion shoots, bean blossoms, crisp slow cured guanciale
We try a bit of everyone's dishes and this is a very generous serving of Spring Bay mussels which are small but succulently tender mussels. They are paired with clams, pippies, onion shoot, bean blossoms and tissue paper thin guanciale (pig's jowl) that is beautifully crispy on top.
Single origin wheat noodles, smoked pork, line caught squid, peanuts, sesame
My favourite entree is this one though with buttery tender line caught Southern squid caught between Tasmania, Victoria and South Australia atop a layer of single origin wheat noodles made using wheat from the Flinders Ranges. The noodles are tossed in a coating of roasted sesame, peanut, fermented mushroom and konbu seaweed powders. "This dish is all about the texture of the squid and noodles and the backbone of flavour comes from the smoked pork, sesame and peanuts," says Rob Cockerill, Chef de Cuisine.
Quail, malted grain porridge garlic custard, fungi, smoked broth
This was perhaps the heaviest entree of the four with strong smokey flavours. It is quail with a malted grain porridge, garlic custard, funghi and a rich smoked broth.
Macleay Valley suckling pig, heritage apples, cippolini onions
We all comment on the plates when the mains come out. We are told that they are all custom made by three Australian potters and the whole process of creating the restaurant's plates took about a year in total. The Macleay Valley suckling pig comes in two parts. There is a rectangle of pork with crispy crackling as well as a piece of soft, rich meat shoulder and leg braised in butter for 10 hours and then layered with thin slices of heritage apples and there are petals of sweet Italian cippolini onions too. To achieve this, "The suckling pig is slowly braised for 8 hours. The skin is removed and turned into crackling. The flesh is braised for a second time in a stock made from the smoked bones. It is served with the smoky juices, pieces of crackling, black garlic puree, which has been made from black fermented garlic," says Rob.
Roasted John Dory, served on the bone, orach, turnips, kailan, umami butter
There are a lot of umami marked items on the menu. Umami is that Japanese sixth sense of moreishness through savoury flavours like seaweed and miso. Here the umami butter is through fermented shiitake mushroom powder, roasted konbu (seaweed), roasted powdered sesame seeds, reduced fish sauce, salt and lemon rind. The John Dory is served on the bone which chef Charles makes fast work of separating the fin bones from the backbone. The John Dory is from the South coast of NSW or New Zealand waters and the 450g or 1 pound fish has its head removed and then roasted on the bone.
"The fish has a particularly delicate white flesh and can dry out very quickly if cooked as fillets. Cooking on the bone retains the moisture and tenderness of the flesh. We have decided to serve the fish on the bone so people can experience the fish at its best," says Rob. The umami butter is divinely creamy. And it is possibly the prettiest treatment of John Dory you could conjure up with the white kabu turnips, orach (mountain spinach) leaves and kailan flowers.
King George whiting, sea scallops, leeks, native parsley, celery heart, ice plant
I loved Louise's King George whiting, all subtle but perfectly balanced flavours. It's a delicate treatment for a fish you usually see dusted in flour and deep fried. Here it is filled and served with sea scallops, leeks, native parsley, celery heart and ice plant (which is like samphire we are told).
Roasted Holmbrae duck, raw & pickled hispi cabbage, black miso, seaweed
I didn't mind the duck but it's quite mild tasting and I would have liked it a bit more seasoned especially after the other richly flavoured mains.
All of the mains come with a selection of sides and there are roasted fingerling potatoes in cream and purple that with butter and chives and dressed red oak lettuce leaf salad.
Chocolate cake from across the water
The meals here are a good size so that you can eat three courses and still feel comfortable but sated. Which means that there is room for dessert ;). The first dessert is one that is transplanted just across the water from Quay. The eight layered chocolate tart that is now only available at Bennelong (although it is served at Quay functions). Have fun tryning to pick the eight different textures. This desert is rich, decadent and yet you can't help but go back for several helpings.
Pavlova
"Every restaurant needs a signature dessert and I feel this may be Bennelong's. This is my interpretation of the classic Australian Pavlova," says Rob. My dessert selection is the pavlova and it's a rhubarb centre topped with piped whipped double cream and Italian meringue and meringue petals making it resemble the Opera House's sails.
Cherry jam lamington
It's difficult to choose a favourite dessert but this was mine. It's also one that has people intrigued as to how it is made. It is a cherry jam ice cream scoop surrounded by crumbled cake and a cream and cherry mix shaped into a square with a chocolate glaze on top. The white curls are coconut ice cream that is shaved using a Japanese slicer into a liquid nitrogen bowl. The textures and flavours of this dessert are wonderful and it's a nice introduction to the Hawaiian guests to this Australian dessert.
Crème caramel vs mille-feuille
Cynthia was intrigued by this dessert ever since the waitress described it as what would happen, "If a creme caramel got into a fight with a mille feuille". And you know what? She is right! The flavour is all about sweet caramel but the texture is not just the wobbly, creamy dessert but all sorts of crunchiness from the caramelised puff pastry shards to the torn pieces of creme caramel, orange zest, salted caramel cream, liquid nitrogen vanilla custard, crunchy hazelnut and almond praline, soft whipped caramel and pulled caramel toffee stretched and broken over the dessert. And who wins the fight out of the two desserts? "The dessert is served and the customer can pick the winner," says Rob.
Everyone is wowed by the food and I'm relieved but then our waitress comes over to ask if we have a bit of extra time. She had overheard that Charles was a chef and listened to their American accents. As a result they are bringing out an additional course of Australian cheeses. If that weren't exciting enough she then asks if we would like to have a tour of Sydney's most picturesque kitchen. I can't imagine anyone ever knocks back that offer!
The cheeses arrive and there are three cheeses: Holy Goat La Luna cheese, C2 Raw milk cheese and a Jamberoo Mountain Blue from Pecora dairy. They're wonderful cheeses and it's nice to see a good selection of Australian ones.
"Ready for our tour?" they ask and we certainly are. We follow the maitre'd and stand outside what looks like a wall. He waits for a few second before pressing a button on a keyring. What looks like a wall panel slides open to reveal a gleaming kitchen. Peter Gilmore is there plating up a dish and looking on is chef de Cuisine Rob Cockerill his right hand man at Quay.
They show us the about to be opened kitchen table, just four seats facing the stunning view of the Harbour Bridge and Sydney Harbour outside. The menu will be an interactive degustation where guests can swivel their chairs around to watch the action in the kitchen or watch the view outside. The cost will be $600 per head. As if on cue, the ferry glides past and I point out this Sydney icon to Cynthia. "This has got to be the highlight of our trip," says Leanne looking out the window and around the kitchen.
So tell me Dear Reader, what do you think of the menu? And which dessert piqued your interest the most? Do you ask to see many restaurant kitchens? And would you book the kitchen table?
The four seater kitchen table
This meal was independently paid for.
Bennelong
Sydney Opera House, Bennelong Point, NSW
Tel : +61 (02) 9240 8000
http://www.bennelong.com.au/
Lunch service Friday to Sunday 12pm - 2pm
Pre-theatre Daily 5.30pm & 6pm
Dinner service Daily 6.30pm - 10pm