Billabong Retreat, a yoga and meditation retreat just an hour's drive away from Sydney was the recent setting for Mr NQN's birthday. While he would be in hippy heaven, how would a driven type A personality like me fare? And would this retreat cure me of my week long headache? Read on Dear Reader to find out!
I surveyed my luggage. It was full to bursting with all manner of clothing. What should have been a simple weekend away was starting to rapidly unravel. "How about this? Is it loose or yoga-ey enough?" I would say to Mr NQN who would simply shrug in reply. "Why are there so many clothes???" I shrieked. This was after I had found myself muttering to myself "I need purple clothing! Where's all my purple?". There may even have been a moment where I was face down on the bed clutching clothes, kicking legs in the air.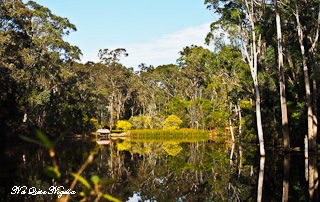 Dear Reader I should explain the reason for my breakdown. I decided that it would be a good idea to make good on my terrible wifely behaviour towards Mr NQN recently wherein I missed his birthday because I was overseas. He called it "abandonment" jokingly.
I think.
I booked us into a weekend at Billabong Retreat, a yoga and meditation retreat about an hour's drive from Sydney. Long time readers know that I don't really do yoga and meditation but I will give most things a red hot go especially if it is for my hippy, alternative husband's birthday. I had also unwittingly become a prime candidate for the retreat. I had spent the past week with a headache after returning from overseas and I was dehydrated, overwhelmed with life and stressed. So stressed that I was sure that I slept with balled up fists reciting to-do lists. I slipped a box of painkillers into my luggage.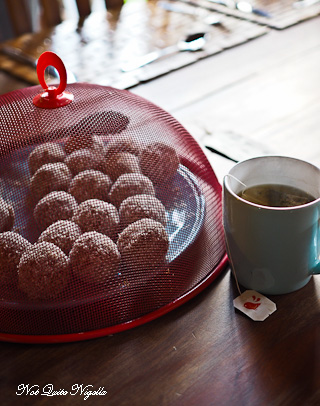 Billabong Retreat is so named as it sits by a man made Billabong. All you can hear are birdcalls among the Australian bushland. Retreat guests arrive between 2-3pm on a Friday and are briefed on their stay. We take a seat after helping ourselves to a selection of teas and bliss balls. Tea is served with almond and regular milk and raw local honey instead of sugar.
First things first: it is foremost a retreat. There is no internet here (something that wasn't conveyed to me but perhaps I should have assumed). There are several types of accommodation and some involve bringing your own linen or hiring it (something that I'm yet to get used to). The deluxe rooms all include linen.
Our room #4 is a deluxe queen treehouse and it is a transition room which means that things haven't quite finished being renovated. It's modern and clean and with a bath and a shower. It is stocked with biodegradable products and while it isn't quite luxurious, it's a comfortable room with a large balcony.
Upstairs they explain some of the house rules. It's really a cross between an eco-lodge and a yoga and meditation retreat. The showers are limited to 2-3 minutes each as they are on tank water although rooms with baths are exempt from this.
The water is not recommended for drinking and prior to our visit we were advised to bring a refillable drink bottle. These end up being vital and we fill them up several times a day with triple filtered water available in the main room area. Guests are encouraged to do whatever they please and dip in and out of classes depending on what their needs are. In the main lounge area phones are not permitted.
There is a schedule for the weekend with yoga, meditation and nutrition classes held throughout the weekend. Breakfast, lunch and dinner happen at set times which gives it a school camp sort of feel. There is also the opportunity for guests to book massages and facials at extra cost and these are popular so it is best to book these ahead of time.
Flowing yoga wear and runners are the outfits du jour and my red lipstick seems entirely out of place here. There's no need for high heels or to dress for dinner as everyone is very casual. As we arrived a little late we don't quite have enough time to change into yoga gear to join the 3:30pm class. We sit in the main room in front of the fireplace. It's the last couple of weeks of Winter and while we were blessed with a warm weekend, there is a slight chill once the sun starts to recede.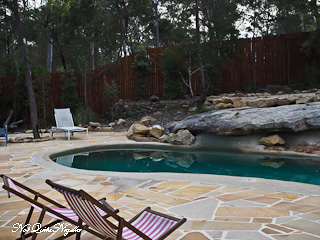 A Kookaburra makes its distinctive call and I look at the time. Everyone has filed out of the yoga class which has gone for 1.5 hours. They look much more relaxed than me who has sat in the common room working (sometimes achieving a Friday off is harder than one would hope). Dinner is at 6:15pm and is cooked according to S.L.O.W. principles: that is seasonal, local, organic and whole food. Everything is cooked on the premises and it is all vegetarian and gluten free. I do understand why it is vegetarian but not why it has to all be gluten free.
The majority of guests are women. Among the 27 guests just a small handful are men including Mr NQN. Some have arrived by themselves, others in groups. The chef Toni explains the menu this evening. The salad is very lightly dressed and quite virtuous (a little too virtuous for me) but it is fresh and crunchy and there is also a vegetable curry with brown rice. This is very tasty and comes with a raita.
Dessert is a chocolate cake with chocolate sauce. It's a light version of a chocolate cake and perhaps low fat with a liquid chocolate coconut sauce.
We chat to the other women sitting at the table. There are two girls who have arrived solo, a couple of good friends called Trish and Mish who meet up once a year somewhere different and a mum of three who only decided that day to join and was able to nab the last room available.
Our first meditation session is at 7:30pm after dinner, Alas Mr NQN is in the midst of a kerfuffle at work so he can't join even on this Friday night and I go into the meditation class by myself. I will admit I'm not a huge fan of mediation and by not big fan I mean I'm a complete failure at it but I am hoping to pick up some tips as to how to achieve the desired state.
Sarah is directing the class and she speaks in soothing tones. We first take half an hour to learn breathing techniques-the idea is to lengthen the breath as much as possible and breathe using your diaphragm rather than doing the shallow breathing which can be common. We assume the position crossing our legs and placing our hands on our knees. There's an interesting alternate nostril breathing technique as well as Ujjayi breathing. I particularly like the coping mechanism that she introduces for "fiery" people when they get stressed. It involves curling the tongue on inhaling and then an audible chant of "Maaa" when exhaling.
Then we lie down and she places eyepads on our eyes and we are asked to do a silent chant of "Ommm Shanti Shanti Shanti". There was no white light to envisage but I did find myself thinking about story ideas for you Dear Reader as you're never far from my mind. I am assuming that it takes more than one session to master meditation but I'll keep giving it a go and at the very least I've got a coping mechanism for when I get stressed. And I tell Mr NQN afterwards that if he hears me chanting "Maaaa" to run for the hills!
Mr NQN and I share our daily water allocation of 50 litres and we take a bath with the epsom salts provided. I go to sleep early around 10pm mindful that breakfast is at 8am and try to sleep. The bed is firm-very firm indeed and it is a queen sized bed so it's a little small for what we are used to. In the end I have a fitful sleep due to the hard mattress and switching positions constantly.
At 7am the next morning I wake up with the sun streaming into the room from the side windows to realise that Mr NQN has skipped the 7am yoga class which he had intended to go to. I make myself a cup of tea (unsweetened and without milk because there is no fridge in the room although other deluxe rooms have them) and contemplate the view. It really is a stunning view from the balcony and a lovely way to ease into the day.
The set meal times are a little jarring on my system. I tend to eat when I am hungry and only when I am hungry. Nevertheless the food is plentiful and very good. I particularly like the oatmeal which is served with stewed berries and maple syrup and there is also slices of omelette and sautéed vegetables. Alongside this are chia pudding cups, gluten free muesli with coconut and dried fruit as well as squares of banana and walnut bread. I am getting used to the idea of toting my water bottle with me everywhere.
There is a 9:30am yoga class which Mr NQN goes to. This appears to be popular while the 7am class for Conscious Cardio was less so perhaps because of the early hour. I have to do some work (argh!!) so I find a spot and work. I may have totally lost the point of this retreat but when you're a sole operator there isn't much you can do about that unfortunately. Then I start dreaming of cakes, biscuits and bread. The way that I eat means that I don't deny myself anything because I know that once I do, I start almost fetishising it and becomes all that I can think of. And not having bread and meat means that I crave it even more. I wonder what my first meal after the retreat will be. Fried chicken? Chinese food? A big loaf of crusty bread and a hunk of butter? Or just screw it all and get a Peking duck to myself.
At 11am they finish their yoga class and I am in a puddle of drool having dreamt up all sorts of obscene, decadent food scenarios. It's time for our massage and facial - the massage is $95 and the facial $120 for 50 minutes. Sarah leads me into the treatment room for my facial. They use Li'tya products, an Australian range which is made using modern herbal science combined with indigenous ingredients. The website does depict an outdoor massage in the image but they are all done indoors.
What I particularly liked about this treatment was the extended amount of massage that she did and at the end I feel completely well rested. Even when she works on my shoulders she unkinks all of the knots as a result of stress and a topsy turvy night's sleep. Mr NQN emerges from his massage in a similar daze and I gulp down plenty of lemon water before we move to all matters lunch.
Again it is self serve and chef Simon announces the lunch meal. Today there is a cashew and beetroot slice, kale and carrot salad, a beetroot and rice salad and a sweet potato dip. The slice in particular is good and it's all wholesome and light and doesn't weigh you down when eating which is very nice. I try and concentrate on the food and kick the persistent image of a chocolate chip cookie to the side.
The afternoon is filled with mandala drawing. This is typically done after yoga or meditation and involves colouring in a pattern of your choosing. Apparently it helps to give you a better sense of relaxation and we take pencils and spend a couple of hours perfecting our mandala while a musician comes to play live acoustic guitar. Some people nap, others chat while the rest make cups of tea and colour in their mandalas.
As I am craving a piece of chocolate I notice something new in the kitchen-call it a glutton's instinct but they set down a big plate of chocolate quinoa cake. It's incredibly good and moist and from chef Toni and it's so good that I ask chef Simon if I can have the recipe. Soon after he hands me an envelope where he has written out the recipe for me!
Our next item on the agenda is at 3:30pm and it is an easy breathing yoga class and my first yoga class of the weekend. Sarah is teaching the class and it's almost full to capacity now that everyone has emerged fully awake and fed for the day. It's a 1.5 hour class designed to teach us stretches and has a "gently does it" approach. "Yoga is about calming the body," she says. As I'm the least experienced in the room she subtly guides me when I go off piste. At the end of the 1.5 hours I'm remarkably calm. Almost as calm as the gentlemen two mats down who is soundly snoring!
By now I am really enjoying the sensation of actually not having a headache for the first time in a week. Perhaps I was confusing yoga for a fitness routine which some people use it for but Sarah's words calling it a moving meditation resonate more strongly with me. My mind is clear and I am buoyant and yet calm and happy. I find Mr NQN sitting in front of the fire and I join him revelling in the warmth of the flames.
At 5:30pm naturopath and nutritionist Brenda Rogers comes to give us a talk about nutrition. There is an open discussion about food issues from food safety and modern day issues with how food has changed. She also explains the five white devils: sugar, flour, fat, salt and rice. She also cautions against using certain oils when cooking as once they are heated the nutrients are destroyed. According to Brenda the best fats for frying are lard, duck fat, butter and coconut oil. "Butter is magical," she says which I completely agree with but I have to admit that I'm a bit confused by what is a good fat and what is a bad fat.
She concludes the session by talking about fermented foods and how they help to balance the gut and how foods like this are experiencing a resurgence from kimchi, sauerkraut, apple cider vinegar and kombucha. She mixes up a drink for us to have just before dinner made up of 1 litre of water, 1 tablespoon of apple cider vinegar, honey and fresh lemon and pours a little in a cup for each of us. It's palatable and a good alternative from drinking apple cider vinegar straight. If anything it reminds me of a non carbonated kombucha.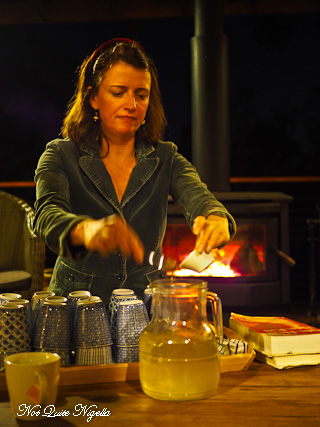 This segues into dinner time and tonight it's a Tuscan vegetable stew with baked polenta square and two side salads. I eat lightly because I am trying to eat less during dinner and more during the day. It is finished off with a chocolate chia seed and flaked almond pudding over a fruit salad.
The post dinner entertainment consists of a movie in the yoga room. Tonight's selection is called "I Am" and as promised it is an inspiration and thought provoking documentary about consumerism and the connection between people and objects and how we have become estranged from our connection with the world through our pursuit of money and competition. Mish and Trish two lovely ladies that we have sat with for all the meals pass us contraband Lindor balls and Cherry Ripes which we savour in the dark. Sleep that night is ok but the firmness of the bed is distracting although Mr NQN slumbers on while I jostle under the covers.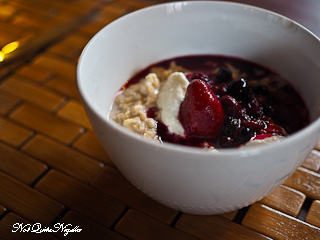 The next morning we rise for breakfast again served at 8am and the selection is the same as yesterday's. Guests are to check out of our rooms at 9am which seems quite early but there is also a 9:15am yoga class. This class is designed to prepare us for including yoga in our routines by giving us a programme that is replicable and simple. Teacher Sheree tells us that it can be done in 7.5 minutes a day.
The class goes for 1.5 hours and what is interesting is that after each class I feel a calmness and the urge to sleep. I can imagine what a great tool this might be before bedtime, especially for someone like me that can have trouble sleeping as it allows the mind to wind down, something that I normally stimulated by the light of the iPad or television. Perhaps I have come around to the idea of yoga after all. I guess the proof is in the headache or lack thereof and I realise that I didn't need the painkillers at all.
So tell me Dear Reader, have you ever attended a yoga or meditation retreat? What do you think about this one? Would you take in contraband? And are you more a type A or type B personality?
NQN and Mr NQN stayed as guests of Billabong Retreat.
Billabong Retreat
41 McClymonts Rd, Maraylya NSW 2765
Phone:(02) 4573 6080
http://www.billabongretreat.com.au/