The Porter House is a brand new hotel in Sydney's CBD with a heritage feel combined with a modern build that wraps around the heritage building. It boasts three eateries and an executive chef formerly of Fish Butchery. So what is this intriguing boutique hotel like?
It's an uncharacteristically gloomy summer's day when we check into The Porter House. Torrential rain falls and we just get a little bit of shopping done before we're chased back into the comforting surrounds of our hotel. The Porter House M Gallery is actually two buildings connected by a crossover bridge designed by Angelo Candalepas of Candalepas Associates. The Porter House is a five storey building that was built in 1876 and contains all of the dining options for the hotel. It was built by Hugh Dixon, philanthorpist and horticulturalist. It started off its life as Dixson & Sons' grand tobacco factory and then was leased in 1891 by furniture manufacturer WW Campbell & Co and leather merchant George Johnson & Sons.
Next to this is the modern accommodation building with 10 floors of hotel with 122 hotel rooms (36 floors in total). In the hotel there are four types of room: classic, superior and accessible rooms plus just four junior suites. For those not familiar with M Gallery, it is the boutique end of Accor hotel chain where each M Gallery hotel has its own distinct design with bespoke details from the menus to the rooms.
Service from the staff is enthusiastic, it's like they're aware that they're working something very unique and can't wait to tell you about it. Throughout the buildings are treasures unearthed through the renovations in glass displays for guests to see (a rumoured 160 plus boxes worth of archaeological artefacts).
Our superior room #913 has a view of the St George's church and Hyde Park. It has a bit more space being a corner room with an entry way with storage, fridge, tea and coffee making facilities. The mini bar houses just milk so bring snacks with you (or head downstairs to the three dining options). Although you can eat at the numerous restaurants in nearby Chinatown or the Southern end of the CBD the torrential rain has meant that we are very glad of our reservations in-house.
Collins on Castlereagh $25 Elderflower Rose Gimlet $25
If you're looking for something lighter or for lunch, head to Henry's Bread and Wine located right behind the reception area. Take your pic of a table right next to the in-house florist or sink into a booth for two. It's cocktail time and Mr NQN has the Collins on Castlereagh with Tanqueray gin, lavender infused simple syrup, lemon juice and soda, garnished with lavender and lemon that is very floral with a lot of lavender. I prefer my Elderflower Rose Gimlet with Tanqueray gin, elderflower liqueur, fresh lime, simple syrup and rose water, garnished with rose petals.
Daily Liver Parfait $16
If you're looking for something to eat with drinks, nibble on lightly spiced marcona almonds or sink a knife into the duck liver parfait. This has a wonderfully silky texture with Madeira jelly and four slices of toast. If you're looking for something more substantial go for the Reuben, an excellent version of the classic sandwich with Porter House pastrami, Swiss cheese, thousand island dressing, sauerkraut and pickled jalapeños served on rye country loaf.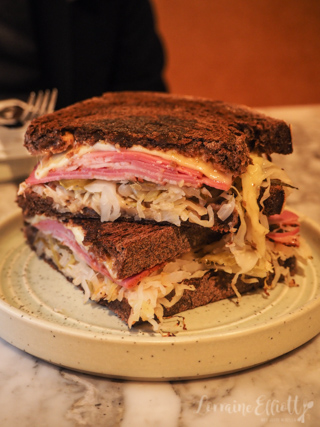 Reuben Sandwich $23
Dixon's and Sons is the hotel's main restaurant located on the first floor. It is named after the original tobacco factory and warehouse of the same name. In-house guests have their very own "VIP" entrance via the first floor hotel building accessed by their keycard.
Service is very welcoming and we watch staff have extended chats with other patrons, making them feel welcome. There's also a semi private dining area separated by partitions. The Executive Chef is Emrys Jones, formerly at Fish Butchery and Qualia. The menu here is less of a formal three course menu but instead designed to be shared. The menu starts at snacky bites down to dishes increasing in size.
Beef tartare, smoked soy, cured yolk, rice cracker $32
We start with drinks - a Pink Fizz for me, a delightful mocktail made with Lyre's dry London spirit and Italian orange and elderflower tonic while Mr NQN orders wine with dinner. The steak tartare is popular and for good reason, it's made with kelp, bonito and smoked soy along with dabs of cured egg yolk with light, seasoned rice crackers.
Grilled Yamba Prawns, skordalia, charcuterie XO $40
My favourite dish are the split grilled Yamba prawns that are a serve of three prawns with creamy skordalia and charcuterie XO. They tell us that because they go through so much charcuterie they often have offcuts which they make into a charcuterie XO (XO sauce is usually made with bacon). The charcuterie XO is a very intensely flavoured with a wonderful depth of flavour and seasons the prawns perfectly. I'd recommend getting a serve of their warm sourdough with a generous wallop of terrific honey butter on the side to mop up the extra sauce.
Silver cucumbers, nuoc cham and mint $14
The silver white skinned cucumbers are served peeled and seasoned with a lightly spicy nouc cham and refreshing mint leaves. They're a good serving partner for the rich prawns above.
Beef Wellington for Two $140
The restaurant's signature main is the beef wellington for two. Chef Emrys Jones brings out the just-cooked beef and explains that it just needs a bit of a moment to rest and then they will slice it up and serve it. Inside is an eye fillet wrapped in mushroom duxelles and fresh wasabi in place of mustard and then it is wrapped in rich, crumbly sour cream pastry. The beef wellington is tender and tasty and comes with a very buttery mashed potato with chives, green salad and an intensely rich beef jus.
Roasted Pineapple $19
While we loved the savouries, we weren't quite as taken with the desserts that sit on the less sweet side. The roasted pineapple is a touch acidic with a thick Szechuan peppercorn caramel and a very tangy lime sorbet.
Afterwards we head up to floor 3A to explore the Spice Trader, a darkly lit bar with sexy overtones and its own unique bar menu. It's walk-ins only but there's seating for 80 and we nab the last velvet booth. Fittings are lush with green marble, dark timber, brass detailing, antique mirrors and curvy emerald velvet booths. There are plenty of dark corners and booths to conspire and cuddle in and friendly service. There's a menu available via QR code than unlocks the miniature classics drinks menu "for the undecided" where smaller versions of classic cocktails set you back $10 a pop.
Piña Verde 32 Gin-Gin Mule $26
There are 12 signature cocktails that were designed to use four ingredients: ginger, coconut, cassia bark and coffee (a nod to the building's past as a trading merchant). What is also smart is that there are non alcoholic substitutions for each cocktail on offer. One of the most popular cocktails is the unashamedly tropical number, a Piña Verde made with Plantation Stiggins Fancy Pineapple, Green Chartreuse, coconut cream and pineapple. Mr NQN loves his Gin-Gin mule with Tanqueray gin, ginger, makrut lime leaf and bergamot soda.
Scallop and Bay Bug Toast $21
Food-wise you can go as wild as the wild scampi caviar with crème fraiche and blinis or the scallop and bay big toast made with fried scallops and bay bugs on white toast points with white and black sesame seeds and gochujang sauce.
It's late when we head back to our room upstairs and fall back on the bed. The modern build has easy to use technology enabled rooms with full room controls from the comfort of each side of the bed. There's also an iPad with menu to control everything from temperature to television with the menus available. The king bed sheets could be softer (at the risk of sounding like a diva, it prevents me from slumbering soundly).
The bathroom has a spacious shower with privacy windows so that you can peer out to the view. Full sized toiletries are by Appelles Apothecary and consist of body wash, liquid soap, body lotion, shampoo conditioner and vanity kit. Internet is fast and free for unlimited devices. There is also a fitness centre and a heated pool on site on level 11. One thing to note: currently there is no parking at the hotel. The nearest car park is at the Meriton around the corner, a 2 minute walk away (mostly undercover).
While the Porter House building is about heritage beauty, the modern accommodation building is very much on trend with creamy mushroom colours and brushed brass fittings and stone while still echoing The Porter House building's heritage. For example The Porter House's past as a leather merchant is reflected in the leather covered wardrobes in the rooms and Hugh Dixson's keen interest in horticulture is reflected in paintings of plants in rooms from bars to bathrooms.
Rhubarb Cheesecake Smoothie $11, Mellow Beets $7, Fruit Salad $14
In the mornings, breakfast is also served at Dixson and Sons from 7:30-10am (a bit early for weekends, I need my sunglasses) but it is worth waking up early for. The breakfast has only a la carte options with a good selection of lighter breakfasts like fruit salad, granola and chia seed pudding to more substantial offerings of the sweet and savoury kind. We start with a rhubarb cheesecake smoothie with rhubarb, strawberry, vanilla, cream cheese, oats and yogurt for Mr NQN. My choice is the Mellow Beets with beetroot, blueberry, apple, kale, lemon and cardamom which is a great breakfast juice with the right balance of sweet and healthy. Mr NQN enjoys the fruit salad with lemon myrtle syrup.
Buttermilk Pancakes $22
I'm not usually a pancake sort of person, preferring savoury at breakfast but I really enjoy the soft, puffy buttermilk pancakes served with grilled nectarine, maple syrup and creme chantilly with a nice crunch from granola crumbs and dried nectarine.
Green Eggs and Ham on Hash Browns $24
My life advice for any sort of meal is: if offered hash browns, order them. You'll never regret it (0 out of 7 billion people regretted it, ok I made that up). It is three batons of crisp hash brown with boiled smashed eggs mixed with a herby gremolata emulsion, slices of smoked leg ham and an onion and fresh herb salad. It's a substantial meal but flavoursome and fresh and I would order it again in a heartbeat.
So tell me Dear Reader, what do you think of the design of this hotel?
NQN and Mr NQN stayed as guests of The Porter House but all opinions remain her own.
The Porter House Hotel Sydney - MGallery
203 Castlereagh St, Sydney NSW 2000
Phone (02) 8236 8888
https://porterhousehotel.com.au/