The people of Western Sydney have a new hotel. The $140m William Inglis hotel is a partnership between the 5 generation Inglis family and Accor Hotels. William Inglis & Son Ltd moved their thoroughbred horse sales company from Randwick to Warwick Farm but as horse auctions only take up 20 days of the year they wanted to capitalise on the space and build a hotel. Enter the MGallery 144 room hotel with each room named after a Grade 1 horse. Even the presidential suite is named after the championship horse Black Caviar. So what is it like inside?
All of the William Inglis Hotel rooms have an equine theme from the name of the room and a photo of the horse plus an artist's rendition of the jockey's silks. Equine carpet and horse shaped door handles completes the theme. My room #513, named after the racehorse "Extreme Choice" is a superior room with a king sized bed and is slightly larger than the entry level room.
It is fairly spacious although the bathroom is smaller than I expected and I had expected that with more space out in Western Sydney, would come larger rooms. The brass fittings are on trend and there's boutique amenities in the mini bar and a wireless sound dock but there aren't a lot of extras here. The MGallery brand is quite new to Australia. I have stayed at M Gallery hotels before and they are quite unique hotels with themes to them and I was hoping for a bit more in the room itself. Wifi and parking are free at the hotel.
My bed is comfortable although the sheets aren't as smooth as I'd like (the usual "new hotel" problem) and all of the pillows are very high which I find a challenge and I end up not using the pillows when I sleep.
The bathroom has a shower and toilet but no bath. The products are by Appelles Apothecary and includes shampoo, conditioner, body lotion, soaps, vanity kit and shower cap. The shower has two heads with a good level of water pressure to help lightly massage away any aches.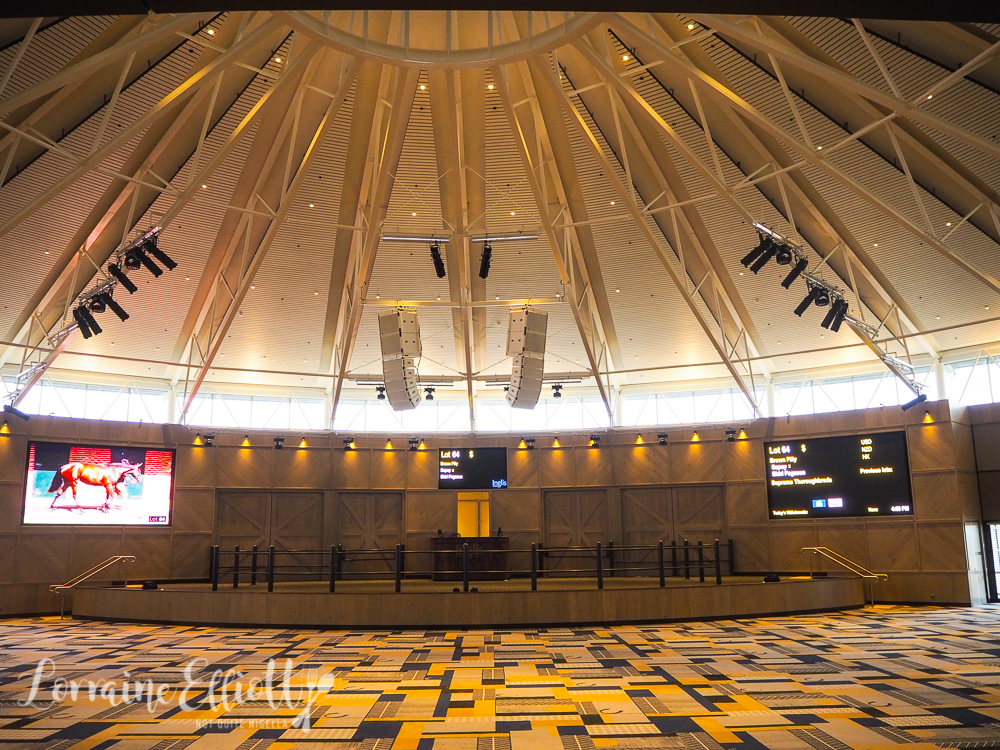 Back downstairs from the lobby, the mezzanine level is where the horse viewing rooms are located. These are used as conference or meeting rooms but during the horse auction they are places where VIPs and buyers can watch the horses parade around. Each horse walks around the stage for 1.5 minutes and they have sold horses that range from $1,000 to $2.2 million. The mezzanine level is also where the 1867 whisky and wine lounge is located. This was the year that William Inglis and Son was founded.
1867 Whisky and Wine Bar
The 9th floor Chiltern pool deck has views of the racecourse, cabanas and the pool. If you are up there early in the morning around 7-8am you may even see the horses running around the track. And for day spa lovers there is also a day spa in the hotel.
Planning your next trip? Ensure you have the right coverage with HeyMondo travel insurance that includes COVID-19 protection. Plus, if you use our link, you'll receive 5% off the price. Find the best deals on flights from all airlines in various currencies with SkyScanner and set up alerts to get notified when prices drop. For reliable transportation options, look no further than 12Go Asia, offering train, bus, ferry, and flight transfers worldwide. Book your transportation now and enjoy a stress-free journey.
When you purchase through these links I will get a small commission at no cost to you. Thank you for supporting me! :)
For dinner I sampled one of the mains from the Newmarket Room restaurant menu and it was Atlantic salmon, potato gratin, fennel puree, asparagus with lemon & dill sauce. The salmon is cooked well and still moist and the accompaniments are also tasty.
After a slightly restless sleep (I blame jetlag and the fact that I just came back from Texas a couple of days ago), I wake up at 4am and unable to get back to sleep so I head downstairs for breakfast that starts at 6:30am and talk to morning people who are remarkably chipper and not at all bleary eyed.
The breakfast selection has two sides: there's fresh fruit, yogurt, cereals and croissants/pain au chocolat on one side and on the other side are scrambled eggs, mushrooms, tomato and bacon and a juicer to make your own fresh juice.
You can also get eggs made to order from the kitchen. I make myself a fresh juice with carrot, beetroot and apple. The cut fruit plate is remarkably sweet although I should have asked for the croissant to be heated as it tastes more bread-like than pastry. And I ponder the view and wonder if somehow I could become a morning person if I tried really hard...
So tell me Dear Reader, what time do you get up every day? What do you think of the horse theme? Do you prefer subtle themes or more overt ones like this?
William Inglis Hotel
155 Governor Macquarie Drive, Warwick Farm, NSw 2170
Tel: (+61)2/83243460
www.accorhotels.com/gb/hotel-B042-the-william-inglis-mgallery-by-sofitel-/index.shtml