The most sought after table in Taipei is at RAW Taipei by Singaporean chef Andre Chiang. Diners are treated to eight courses of "bistronomy", i.e. fine dining food in a casual setting. Casual here means no tablecloths but it's a beautiful space with excellent service and innovative cuisine with Italian, Indian and French influences with a distinctive Asian focus.
Noun
bistronomy (uncountable)
French casual fine dining: casual decor, quality food
The man at the hotel concierge desk lets out a "Wow," before he writes out the address to Andre Chiang's RAW on a card. "Reservations are very, very hard to get. You're very lucky," he says enviously. He's not wrong. A reservation at the 56 seater restaurant RAW Taipei is a matter of planning and luck. Open since December 2014 it has become one of the most sought after places to eat and is booked out solidly weeks in advance.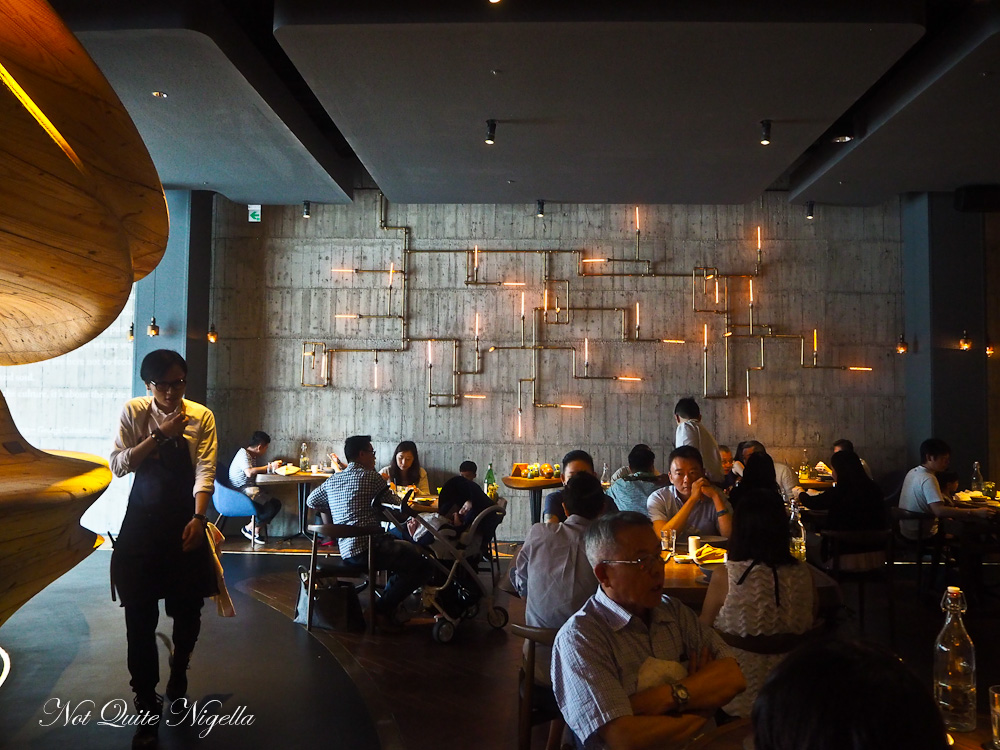 And considering we only knew the night before that we had a free night, our chances weren't good. The concierge the night before had told me that they were completely booked. I headed upstairs to my room trying to brainstorm for alternatives. A lot of fine dining in Taipei is all about French or Italian food but we wanted something uniquely Asian, with a buzz that was also new and contemporary. After all we had had some classic fine dining and loads of street and local food. It was time to see what the contemporary cuisine was like here.
My mind was restless and even while flicking through recommendations by friends all I could think about was RAW. So I sent them an email asking to be put on the waiting list. After all don't people cancel in an emergency? The next day they called. Someone had cancelled! And could we come in in half an hour? As fate would have it, I was dressed and Erin and I were in my room trying to find a place to eat. If that wasn't the food gods looking out for me I don't know what it was.
RAW is located in Zhongshan District of Taipei, about 20 minutes' drive from our hotel in downtown Taipei. From the outside it looks like a minimally decorated glass box but once you step in, the curves of the bar that resemble a boat hull, exposed light bulb lights and tables make you want to reach out and touch everything. It's fine dining food but not in a formal setting and we note that there are groups with a few well behaved kids and babies. The idea of bistronomy, a term that Singapore's Andre Chiang subscribes to is the idea of fine dining food but in a casual bistro setting.
The menu and cutlery are all housed in a drawer that pulls out from the side of the table. In the drawer is a set of eight forks, spoons and knives and you simply help yourself when you need them which is a great idea rather than cluttering up the table with cutlery.
Pineapple and lemongrass martini 320NT/$13.80AUD
Service is wonderful. The staff are young, enthusiastic and knowledgeable about all aspects of the menu. We start with a cocktail, after all what better to celebrate a last minute booking than with a drink! I go for the pineapple and lemongrass martini. Given Taiwan's reputation for fruit and the tropical, steamy weather, it absolutely fits the climate. The rest of the drinks list is made up entirely of French wines.
They place the menus on the table. The menu changes seasonally every 3-4 months and consists of eight courses with the same menu for lunch and dinner at NT1850 or around $79AUD. The menu is read from left to right with the main components listed. Bread is 150NT extra but it is worth it. It comes out in a little sack with a generous portion of eight fat slices. It's a barley malt bread with whipped butter, topped with cocoa powder, sea salt and roasted red barley. Whilst I miss the familiar tang of sourdough the crisp crust and the soft bread and butter makes this compulsive eating.
Toasted cauliflower, chicken masala and couscous
The first course is set down with the first course simply called toasted cauliflower, chicken masala and couscous. It is actually made up of cauliflower rice or couscous, cauliflower puree, sauteed broccoli and cauliflower and powdered Indian spices on a paper thin chicken skin cracker. It has a delicious umami quality with a slight hint of sweetness at the end. The pine needles are just for decoration.
Rose champagne, tomatoes, ohba sansho
Next is their version of a tomato salad. Made with sweet tomatoes it is served with a rosé champagne vinaigrette with a quenelle of shiso sorbet. There are slices of kingfish sashimi and they place down a wreath dotted with flowers and herbs where we are invited to pick the herbs that we like from a selection that includes chervil, coriander, parsley and dill. The herbs come from the Yang Ming mountain and are grown on an organic farm. The tomatoes are sweetly succulent and the thin cucumber rounds on top appear as lotus flowers. And the bread is perfect for dipping in the dressing! I mean I just didn't want that rosé champagne to go to waste ;)
Between courses when the table gets a little messy with breadcrumbs they bring along a little dustpan and brush to clean up any crumbs. And I knew that I had to visit the bathroom because it would have to be interesting. And it was - each cubicle is in a barrel! I take a peek at the kitchen too where head chef de cuisine Alain Huang and his team plate up dishes in a synchronized fashion that is compelling to watch. So compelling that the 20 seats in that section or the chef's table are snapped up 2 months in advance by phone.
Perfect egg, praline, wild vegetables
The "perfect egg" arrives. It is a soft boiled chicken's egg with a pine nut praline sauce. You are to mix up the wild vegetables, soft egg and crackers together to coat the vegetables. It's delicious but the wild vegetables are quite long and so they often trail when you're trying to eat them so it makes eating them a little inelegant!
Cappellini, Sakura ebi and CCC
They set down a small carafe with just a tiny drop of of Italian extra virgin olive oil in it. Next to it is a plate of cappellini with tiny sakura scampi and finished with trompette mushroom powder. There are only two places in the world where you can catch these scampi - at Tokyo Bay and Donggang in the South of Taiwan. To the carafe of olive oil they add some shiitake and Earl Grey tea broth. I love this dish and whilst they tell us that we are not to pour the broth on the pasta, it tastes wonderful if you have some pasta with the broth in the mouthful. And the CCC? It's coriander, chives and chervil mixed in with the fine angel hair pasta.
Clam, corn and kelp jus
The next course is presented in a clam shell and the bottom layer is a corn pudding covered with a vivid green seaweed and coriander jus with three juicy, tender clams and wheat crackers. The corn pudding is gorgeously smooth and sweet and this is a fantastic dish in both texture and subtle tastes of the sea.
Burnt cabbage, cod and Soubise
The thing about this meal is that when you've found a course that you think is your favourite, along comes another. I love the burnt cabbage that is cooked just to the edge - any more and it would be too burnt. It is paired with a fillet of black cod and a creamy onion soubise.
Pork, Chinese Olive and mushroom salad
Next is the last savoury dish. The pork is paired with mushrooms and Chinese olives. The pork is a local pork and the mushrooms are finely slivered. On the plate are Beauty Lake bamboo shoots that come from the middle of Taiwan and are grown in water. They come with kale, black malt vinaigrette, hazelnuts and oolong tea. The Chinese olives are fascinating. They're pitted and with very little meat inside but add so much flavour to this dish (a shame that there were only two). They are grown on a tree in a clustered bunch and they are then marinated in a sauce. The pork belly has a crisp skin and we are told that it comes from a Yilan farmer who feeds his pigs organic feed. They explain that even something up to 50 years ago, farming families avoided eating beef because the cattle would help to plough the fields and abstaining was a sign of appreciation for the animals' work.
It's time for dessert and they ask if we would like tea or coffee. The teas are all locally grown and I try a chrysanthemum tea from Hualien. The coffee is from Chile and comes in various strengths like Light/Aeropress, Mild/Clever or Heavy/Chemex.
They set down two petit fours - their version of the very popular pineapple cake. These are frozen in the centre and taste of a hummingbird or carrot cake with the rich spices and pineapple flavour. They're topped with a tiny dot of pineapple jam with lemon skin and 24k gold leaf.
Chocolate, mochi, burnt butter
The dessert arrives in a bowl and it has caramelised butter ice cream, warm chocolate, sticky rice mousse and chunks of sugar and nut cookie crumbs. It's sweet but not overly so with a good range of textures and is the perfect dish to end our meal on.
Even though we arrived later than others (the whole restaurant was full when we arrived at 12:30) we aren't the last to leave but before everyone does, everyone seems to take a picture in front of the left hand wall with a quote. The bottom one is by no other than Australia's George Calombaris who is a friend of Andre Chiang's. It reads, "If this is a dream, don't wake me up."
So tell me Dear Reader, when you travel do you book your overseas meals very far ahead of time? Have you heard of the term Bistronomy? What do you think of the idea of a cutlery drawer in the table?
Chef de cuisine Alain Huang
This meal was independently paid for. NQN travelled to Taiwan as a guest of Taiwan Tourism.
RAW Taipei
No. 301, Lequn 3rd Road, Zhongshan District, Taipei City, Taiwan 104
http://www.raw.com.tw/ (booking is done online, two weeks in advance)
Open Wednesday- Sunday
Lunch: 11:30 am - 2:30 pm
Dinner: 6:00 pm - 10:00 pm
Closed on Monday & Tuesday
+886-2-8501-5800
NT$1850 set menu, and also NT$850 Express Lunch (latter is not available on weekends and holidays).