The island of Taiwan, formerly Formosa has a unique culture to it due to the history of Taiwan. The capital Taipei has a range of dining experiences from high end to what they are perhaps best known for - street food. Here is an intro to Taiwan's food scene along with 10 tips for travelling to Taiwan!
"We have the blood from Chinese and Japanese. It's a mixed blood influenced by polite culture. We also have the feeling of island people," says 29 year old artist Betty Apple, offering up her perspective on what it is like to be Taiwanese.
A very quick history lesson on Taiwan: several countries have tried their hand at ruling Taiwan. Formerly known as Formosa, the Spanish and Dutch gained control in 1642 while 20 years later Chinese military leader Cheng Cheng-Kung or Coxinga takes over but are forced out by the Manchu Qing Dynasty in 1683. In 1895 the Sino Japanese war results in Taiwan being ceded to Japan establishing Japanese as a language. Corruption is stamped out and infrastructure is improved. Following World War II in 1945 Japan gives control of Taiwan to Chiang Kai-Shek and the Kuomintang (KMT) Nationalist party. Once communism becomes part of mainland China, the nationalists flee to Taiwan. Today although Taiwan is a democracy although it has yet to become a republic separate from the People's Republic of China.
We have arrived in Taiwan. The humidity hits us as soon as we leave the airport. Summer in Taiwan is a sticky, hot affair but it is more than a welcome change for me from Sydney's winter. The car hurtles it way from the airport, the landscape green with high rises in the distance. Tamsui river cuts through Taiwan and it marks the beginning of Taipei. We see landmarks like Tower 101 - at one time it was the highest building in the world. Red Phoenix trees blossom and it reminds me very much of China, except Taiwan has its own identity.
For starters, the people in Taiwan are enormously friendly, noticeably so. Taiwan isn't quite as westernised as say Singapore or Hong Kong but straddles the cultures of Chinese and Japanese. It is more open to tourism than neighbouring China as there is no visa needed to visit and English is fairly widely spoken.
Taiwan has several sides to it from the night markets to high end. Today we're starting at the high end of Taiwan at the Mandarin Oriental. The hotel is new having been opened for a year but walking through it is like a Willy Wonky land for adults with plenty of places to curl up in or stay (the entry level rooms are a generous 55 square metres).
There are public areas as well as private dining rooms in various sizes. We are headed towards Ya Ge restaurant which means elegant house. A crisp linen napkin is deposited in our laps and the room has specially composed music created for them by an award winning composer from Kainan university. We spin the lazy Susan with the attached sea shells and sip high mountain oolong tea.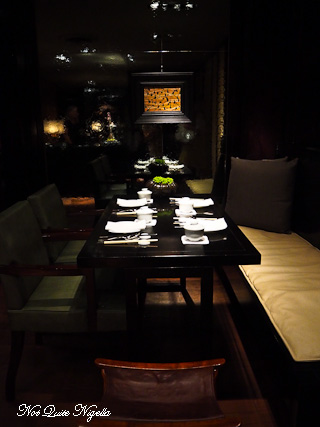 We are sampling a cross section of dim sum from the best of the Ya Ge menu. The chefs here come from the two Michelin starred restaurant Ming Ge in Hong Kong.
I start from the left. The first morsel is the crab meat dumpling with black truffle. It's light in black truffle but generous with seafood and I savour every bite and chew. Next is the taro dumpling with foie gras. This too is light in foie gras but provides a satisfyingly crunchy sensation. The last is the rice roll filled with minced beef and parsley with the distinct crunch and flavour of celery.
The next us the pork siu mai, a bouncy mouthful topped with blue shrimp. Next is an abalone in miniature, set on top of two inches of abalone sauce dunked yellow bean curd. It's divine. Lastly is the glutinous dumpling, dried shrimp end minced meat with deep fried noodles. This is crunchy but a tad dry needing some sauce.
The next plate is a a trio of of meats. On the left is crispy suckling pig, the skin crisp as shards of glass with the meat tender underneath. The roasted duck is next, also crispy skinned. The last morsel is a rice roll filled with goose strips and pork loin meat that is steamed. This too needs a dipping sauce.
Soup is always served as part of a banquet and is said to warm up the stomach and awaken the palate. The Ya Ge wellness soup is a classic soup made with clear broth, beef and re-hydrated dried scallops. It's mild while the scallops give it a slight sweetness.
The next dish is one of the restaurant's signature dishes. It's the skin of crispy suckling pig wrapped around minced shrimp paste served on a bed of crispy rice with strawberry sauce. While it's good, the strawberry sauce is a bit too jammy and sweet for me.
I first had this dish in Hong Kong also at the Mandarin Oriental hotel. It's a stunningly pretty dish with fabulous presentation. Is a crab meat gratin served inside a crab shell. There's a little shredded cabbage in there but it's very generously filled with crab meat.
The sweetened pear dessert is a chilled soup featuring poached pieces of pear, winter melon and pumpkin. It's sweet but refreshing especially in this heat.
Our hotel for the night is the Palais de Chine, a hotel built in downtown Taipei within easy walking distance to attractions and shopping and opposite the MRT main station. The lobby is on they 6th floor and it is a quirky design focused hotel with touches of French baroque and other styles. We are told that many of the tables have animal legs on them because the owner likes animals!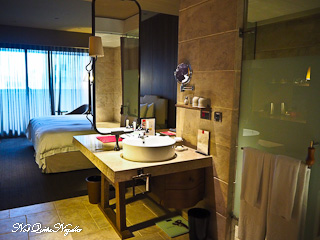 We are all staying in superior rooms which are the entry level rooms which are 30 square metres in size and quite unusually designed. When you first walk in there is a bath shower combo right next to the front door and the bathroom sink sits opposite the work desk.
The tub is quite high to get into and it isn't ideal for anyone with mobility issues or the elderly. As it was, a fit and healthy member of our group ended up with a bruise from getting into the tub. It is also a very dark room and as I try to put some make up on to look vaguely human I have no idea what I am actually doing.
However the bed is very comfortable and enormous. One slightly baffling thing about Taipei CBD hotel rooms is that even though there is a verandah balcony no rooms are allowed to have balcony doors that open so you can spin the door handle but it simply won't open and you cannot actually get out onto the balcony! I personally would rather have a bigger room than one with a balcony you can't access. Internet is free for multiple devices and it is fast too.
Another side of Taipei worth exploring is the Treasure Hill Artist's Village where young artists from Taiwan and all over the world take up temporary residency to create art. It is here that Erin and I meet up with Betty Apple, a performance artist who shows us around.
There are installations to visit, shops and cafes with a really relaxed, welcoming vibe. Customers are encouraged to find a cafe to suit their mood and relax. There are community gardens where we watch residents attend to the crops.
We stop by Japanese artist Yousuke Fuyama's house for a brief respite from the heat. He and his friend offer us cow's tongues, a crispy biscuit with a sweet centre said to resemble a long cow's tongue. These are from the nearby Yilan area. Betty shows us the Gongguan area, a vibrant area located near the National Taiwan University, the most prestigious in the country (and look out for a separate upcoming post on night markets!).
Tea is also big business in Taiwan and at fourth generation Wang Tea, the family has been trading tea since 1890 when 29 year old Jason Wang's great grandfather first did so in Xiamen, China. The family moved to Taiwan and have sold tea and accouterments from their shop in 26 Lane 64 since 1975. Jason, his sister and brother in law run the tea business.
He shows us the various steps to produce tea and explains the difference between green and black tea. With green tea they blanch the leaves straight away to stop fermentation taking place. With black tea, the leaves ferment the longest for up to 2 days. They say that from the same tree, given different treatment, you can arrive at different types of tea. To roast the tea leaves, they use gas, electricity and charcoal. To roast using charcoal, they place a layer of rice on top, when this disintegrates they start roasting the tea and the flame can last for 2-3 weeks. They can then blend the tea to control the body of the tea. A tea winnower separates the the heavier tea from the lighter tea. The lighter, smaller leaves are placed in tea bags while larger leaves are sold loose in canisters.
We take a seat and Jason starts the tea ceremony. He serves us the tea in tiny china tea cups and we start with a beautiful high mountain tea from the centre of Taiwan grown at 1,000 metres. We also try a Chi Chuong oolong pouchong tea both hot and cold and the difference between the two is dramatic, the latter much more delicate. I ask Jason what food matches with tea and he recommends chocolate - apparently the chocolate and tea together tastes like milk tea in the mouth. After some purchases (I eye off a beautiful tea set before doing my calculations and realising that it is $1,700AUD!) we depart for one last stop: the National Palace Museum.
It's a place that is often busy with tourists from China so lines are long and so we take a peek at two of the more "important" pieces that just also happen to have a food them to them. The first is a Jadeite cabbage which is just as it sounds: a cabbage shaped out of jadeite just under 10cms long. The other is a meat shaped stone which looks like a piece of red cooked pork belly or Tung Po. Unfortunately photos are not permitted anywhere in the museum.
You can also order recreations of these dishes at the Silk restaurant adjacent to the museum. We sit in one of the private rooms, all of them are named after a Chinese artist.
We have a range of dishes and the replica of the Jadeite cabbage is made from the heart of a Chinese cabbage boiled in chicken and ham broth and served with broth sauce with two tiny sakura shrimp on top in place of the insects in the jadeite version. The white shade of cabbage is said to symbolise purity, the leaves fertility and the insects children. I have to admit that I thought that this was stuffed with something and was a little disappointed that this was just the cabbage heart with two tiny shrimp on top.
The next course in a thick and delicious soup that takes two days to create. It is made with quail eggs, bamboo shoots, scallops, sea cucumber, abalone, chicken, Jinhua ham, pork tendon, mushrooms and taro with chicken broth and then shark fin. We all love the tureen based on a Ding cauldron. Two legs facing the diner denotes the most powerful man or woman at the table while one leg facing means worshipping mother Nature. We add a little red vinegar to this soup and it is delicious, particularly the prized "slippery" texture.
Strangely, we are given a sample of this to photograph but not eat which I don't quite understand. Made with pork knuckle I can only guess what it tastes like!
The dessert curio box has a yellow bean jade duck, birthday buns, a small jadeite cabbage, osmanthus jelly, peach from heaven and a nonya version of the meat stone. Whilst they do look pretty the texture of these are quite dry and the filling is mostly either yellow or red bean. They are exquisite to look at though!
So what's next on the agenda? A visit to one of Taipei's hottest restaurants and an extravaganza of street food! Stay tuned Dear Reader!
So tell me Dear Reader, have you ever visited Taiwan? When you visit a country do you eat primarily high end or casual/street food or a mix between the two (and do you prefer one?)? And do you do group tours or do you prefer to travel independently? Would you rather than a room with a balcony you can't go out onto or would you rather have the extra space in the room?
Want to travel to Taiwan? Here are 10 tips for visiting Taiwan!
1- Avoid going during summer (June to August) unless you LOVE humidity and typhoons (which occur between July to September). The best times to visit are in Autumn/Fall from October to November. Spring can be rainy but another alternative that some people recommend is April to May. Winters do get quite cool (for Australians ;)).
2- Unlike mainland China there is no need for a Visa to visit Taiwan from Australia. There are direct flights from Brisbane via Eva Air. We went via Cathay Pacific to Hong Kong and then Dragonair from Hong Kong to Taipei. Both legs involved overnighters and were not comfortable in economy so be prepared for your first day to be a little sleep deprived and book a massage to unkink your body.
3- Book a table at RAW Taipei as soon as you know your schedule. It is a new contemporary Asian cuisine by Singaporean chef Andre Chiang who visits one to two times a month. You can only book online two weeks in advance. There are also 20 seats at the chef's table that is booked out two months in advance by phone. They don't take phone calls otherwise.
4- Buy a nano SIM card at the airport from one of the three telco shops in the arrivals hall. For around $20 for 7 days you can get unlimited wifi and phone calls during your time there. Service at the airport stand is fast and will fit your SIM card into your phone for you and then give you back your old SIM card in a little plastic ziplock bag (so you don't lose it) all in less than 5 minutes (it can take much longer at other places). You will need to show your passport to buy a SIM card.
5- Whilst fine dining is great, the night markets is where all of the action is at. Don't know what something is? Taiwanese people are super friendly, polite and happy to help. Many street stall vendors also speak English. Stalls open from around 4-5pm until midnight or later. They are cash only.
6- Take your hotel card with the address written in Chinese. Just in case.
7- They speak mandarin in Taiwan. Xie xie or (sher sher) means thank you. You'll probably be saying that a lot because everyone is so helpful. Ni Hao means hello.
8- Don't drink the tap water. The hotels will provide bottled water or you can boil the water in a kettle and cool it before drinking.
9- Be careful choosing tour guides. They can be inflexible and determined to stick to a pre-planned schedule and we found this to be the case with ours who wouldn't let us go off and do our own thing or pursue things that we thought were interesting. Going freestyle and travelling on your own is definitely the best idea. The subway and high speed rail is easy to use and taxis are inexpensive.
10- If you're exploring independently buy an Easy Card. It's a reloadable card that can be used on trains, buses, subway all over Taiwan. You can also use it at a convenience store and for entry to attractions like the zoo.
Thanks to my friend Kathy, originally from Taiwan who helped me refine this list.
NQN travelled to Taiwan as a guest of Taiwan Tourism.
Mandarin Oriental
No. 158, Dunhua North Road, Taipei, Taiwan 10548
Phone:+886 2 2715 6888
http://www.mandarinoriental.com/taipei/
Palais de Chine
No. 3, Section 1, Chengde Rd, Datong District, Taipei City, Taiwan 103
Phone:+886 2 2181 9999
http://www.palaisdechinehotel.com/en-us/
Wang Tea
No 26, Lane 64, Chongqing North Road, Sec. 2, Taipei, Taiwan
Phone:+886 2 2555 9164
http://www.wangtea.com.tw/html/E-brief_history.htm
National Palace Museum
No. 221, Section 2, Zhishan Rd, Shilin District, Taipei City, Taiwan 111
Phone: +886 2 2881 2021
http://www.npm.gov.tw/en/