Taiwan's Hualien region is known for its stunning scenery of deep gorges and steep, rugged mountains, bathed in a crisp light. It is also an area that holds many of Hualien's culinary treasures including the most delicious freshly made mochi, seafood by the lake, steamed goose and dumplings. We also visit Chef Ming, one of Taiwan's top chefs for Peking Duck!
There's nothing like a certain amount of freedom, no matter how small and stolen at an opportune time. This recent trip to Taiwan felt restricted. Whilst you can cover ground in a bus on a group tour, the opportunities for walking with people and taking photos on foot offers no comparison. And it was with some relief that we were allowed a chance to have two hours to do our own thing. Invigorated by this unexpected freedom, Erin and I found reserves of energy and swiftly covered ground in downtown Hualien.
Hualien is about three and a half hours away from Taipei by car and a word of warning, the roads are curvy and nausea inducing. I spent most of my time trying to keep down my lunch. On the way we stop at Dr Fish to get a fish pedicure and the Kavalan whisky distillery where we watch a film, tour the factory and have a taste of whisky in both its pure form and gelato (the latter tasting like rum and raisin).
When we arrive in Hualien we head toward Zhongshan Street where we are hungry for some Taiwanese delights. The first stop calls from across the road. Little did we know until we got back that it was a famous goose restaurant called Mr Goose where the specialty is steamed goose.
While waiting for our meal, we try some of the drinks. I pick a can of pineapple drink. I take a sip and taste pineapple and ....beer? It's a 2.8% alcohol beer. It's not bad and certainly refreshing in this heat. Apple Sidra is carbonated apple juice.
The goose arrives and it's the meat sliced up and served with finely julienned ginger. There's also a rich, salty dipping sauce to go with it but I like it just as it is. The goose is stronger in flavour than chicken or duck and it is absolutely divine, reminding us of Hainanese chicken rice. We tell them "Hăochī (how-chur)," which means delicious before we make our way to the next stop along on the same road.
Weaving through clothing stores with their wares hanging on the pathways we stop when we reach one stand and join the queue. There are at least a dozen people waiting for freshly made dumplings. They make them as fast as people order them and the bamboo steamers are piled high steaming away on the metal burners.
We ask about the specialty and they tell us it is unequivocally the dumplings. We order two puffy steamed buns and a steamer full of pork dumplings. We take a seat to try them and they come with a dipping sauce. And holy heck these are fantastic. The pork filling is finely minced and perfectly seasoned and there is a punch of garlic and ginger.
The fatter puffy dumplings have a spurt of soup in them when you bite into them while the other dumplings have a fine, thin skin on them. I wish I knew the name of the little lane they were on but if you walk along Zhongshan street past the Starbucks and Zhongsheng Rd you will reach a little cross street where the queues give it away. It's called 公正包子 No. 199之2, Zhongshan Rd, Hualien.
One thing that Hualien is known for is mochi, the Japanese rice flour sweets. The chain Maji Mochi has several locations and we take a stroll to 161 Zhonghua Road through the markets bypassing fried chicken vendors, boutiques and people taking after school dance lessons The mochi here is made fresh without preservatives so is best eaten within two days. They're generous with sampling here with many types available for trying. Some are also available complimentary in a basket.
They're not overly sweet but the texture is very soft and melts in the mouth. There are plenty of samples of their mochi, some coated in corn flour, others with fillings like sweet potato, taro, red bean, peanut and green tea. I buy a green tea mochi for NT13/$0.55AUD and it's soft and delicious. I buy a box of peanut filled mochi enrobed in chocolate for Mr NQN (who later devours them at home and pleads me to make more). Nearby the local tribes ready themselves for a performance.
We meet the bus back at On The Fire, an American style steak house with the cutest little dog called Apple. Excited at our two hours to ourselves, we vow that if we come back to Taiwan, it will absolutely not be on an organised tour.
We arrive to our lodgings for the night, the Lake's Heart Hotel. The exterior looks fairly basic but our rooms are clean and nicely furnished. There is a queen sized bed (alas, very hard and not great to sleep on), a large flatscreen tv, a bathroom with a large marble bathtub and separate shower and a koi pond outside. In the drawer is a packet of fish food for the koi.
I only have enough time to charge my devices before we have to leave for dinner. Dinner tonight is at Chef Ming whose restaurants is located in a local neighbourhood in the township of Jian, Hualien, about 25 minutes' drive from the hotel.
Chef Ming or Chuang Chung Ming started off life as a roadside noodle vendor over 40 years ago. Since then he has honed his skills becoming one of Taiwan's most awarded chefs. He finds inspiration from visiting early morning markets and is so particular that he flies in his own soil to grow herbs and vegetables.
We are greeted with the sight of a Peking duck wheeled out with steam still rising. The chef comes over and expertly slices the skin and meat from the duck and then fans it out onto a plate. We're transfixed and I'm absolutely certain that we all started drooling while this was taking place.
They place paper thin pancakes, hoi sin sauce and spring onions on the table and we help ourselves. The pieces of duck are smaller and there are lots of pancakes on the table which allows everyone with plenty to eat. The skin is wonderfully crispy and it is a fantastic Peking duck.
Next is a plate of sashimi with Chef Ming's interpretation. There is a slice of tuna and a couple of slices of squid sashimi, both with their contrasting textures. Also on the plate is a round of smoked intestine which is cooked and not raw. This has a springy texture and an unusual flavour but is quite good. There is also a round of charcoal sausage coloured dark grey from the charcoal. The last two items are a piece of soft cooked pork and bamboo wrapped mambo fish, one of Hualien's most well known types of fish. There is also a replica of a mambo fish or sun fish outside the restaurant. I'll be honest I'm not as taken with this sashimi plate and they serve this at the same time that we are eating the duck which makes it awkward.
Our next course features the rest of the duck. There are wholewheat bread pockets not unlike pita that we fill with the duck meat and vegetables. There are also tiny squares of deep fried bread in the duck mix to give it a crunchy texture.
A large pot of soup comes out and it bubbles over a gas cooker. In it are wild Hualien vegetables, similar to a watercress, cubes of taro, shiitake mushrooms and the carcass of the duck which has become soft in the soup.
The next course is a two parter. On the left hand side are charcoal noodles topped with dried fish roe similar to bottarga and on the right hand side is a large, succulent prawn in a very light batter with a mild chilli pepper and a tiny green dragonfruit. The dragonfruit resembles a globe artichoke in texture and flavour. The prawn is very good but the noodles don't have a lot of flavour.
The last savoury course is a prawn wrapped in bamboo shoots atop a square of egg yolk and milk "tofu". It isn't tofu but more tofu-like in texture. On the very top is deep fried shredded purple sweet potato.
Dessert is a square of red bean jelly, not particularly sweet but sweet enough for a light dessert. And we also have the grape tomato in amongst the guava, pineapple and kiwifruit! A Taiwanese fruit salad doesn't feel complete until there's a cherry tomato in there! ;)
The next morning we set out for Liyu Lake. I think that they're hoping that we stick to "appreciating the beauty" (a phrase that our guide uses a lot) of the lake but our attention is diverted by the Hualien specialties at the roadside stalls opposite the promenade. Vendors start opening up with makeshift fans made out of plastic bags keeping the flies away.
We try some "live jumping shrimp and fish" which is really deep fried school prawns and tiny fish. They are already fried and they just refresh them in the oil to order and serve them with a salt and pepper seasoning. They are crunchy and fresh, the fish much stronger in flavour.
The highlight is the round prawn egg batter fritter pre-prepared and then fried to order and then doused in a rich sauce. Heaven... Refreshment comes in the form of papaya milk which as the name suggests is fresh papaya blended with milk.
Further down the street a man is selling dried squid and a local pork sausage. We try a sausage and it is studded with pockets of fat and meat the pork flavour appealingly caramelised.
The main reason why people travel to Hualien is for nature so for the next few hours we visit some of the scenic areas of Hualien including Taroko Gorge with its magnificent marble faced cliffs and granite formations weathered by years of water erosion. We don hard hats and visit Swallows' Grotto that features a small handful of house swifts and Pacific swallows - there used to be plenty more but with the influx of visitors, they moved away.
Our next stop is the Eternal Spring Changchun Shrine, a gorgeous little memorial temple to remember those who lost their lives to create the Central cross siland highway. Little trinkets and snacks are sold here - the trinkets are by the local indigenous tribe the Amis which is the largest native group in Taiwan.
To return to Taipei, we hop on the Puyuma Express for the two hour journey back to the capital. The high speed train is modern and I get a chance to sample one last thing that was on my list: bian-dang or train box bento. For the princely sum of NT60 or $2.40AUD I get a hot wax cardboard box filled to the brim with food. It's closed shut with rubber bands and comes with chopsticks.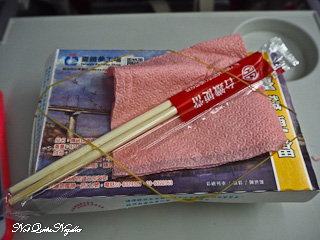 These train bentos vary in composition and excitedly I open mine up. It's a bed of rice with pickled vegetables, a soy sauce boiled egg and a stewed pork chop. I try some of it and it's delicious and comforting. People are so obsessed by these train bentos that forum threads are devoted to these and some collect the packaging of the wooden barrel containers and share photos of their contents.
After the trip was over I mulled over Taiwan as a destination. I loved it there, don't get me wrong. The food is incredible and the people are one of the friendliest in Asia but I will say that this was a disappointing trip because of the heavy focus on keeping to the schedule with the tour group. Usually tour guides can be flexible to a degree but there almost seemed to be a checklist that we had to adhere to, even if nobody was interested. So my last piece of advice would be to visit Taiwan but either plan your own itinerary with your group or investigate and research tour groups carefully. We usually fare best when we go off on our own and explore cities and Taiwan is safe enough and English is widen spoken so that it is feasible to do this.
So tell me Dear Reader, do you generally go for tour groups or organised tours? Or do you prefer to wing it and plan your own itinerary? And which course do you prefer with Peking duck, the pancakes or the soup or lettuce cups?
NQN travelled to Taiwan as a guest of Taiwan Tourism.
Mr Goose
No.259 Zhong Shan Road,Hualien City, Hualien, Taiwan
Maji Mochi
公正包子 (dumplings)
No. 199之2, Zhongshan Rd, 花蓮市
花蓮縣 Taiwan 970
1:00 am – 2:00 pm
Ming Chef
No.22, Míngyìliù 6th St.., Ji'an Township, Hualien County, Taiwan