Macarons are as good as any way to celebrate an eight year blog anniversary. But how about if they were flavoured with Milo? Milo buttercream? It's delicious and these ended up being one of my favourite macaron flavours ever. Not just for the simplicity of the flavour but their moreishness!
Childhoods are as varied as fingerprints. What binds people to their friends are often common interests like food. Although I have many similarities in outlook and taste with one of my friends Belinda, her childhood was nothing like mine yet we get on so well as friends.
She recalled an itinerant childhood where there was no electricity or running water. When they wanted to watch television they would plug in a small black and white television into the car battery and rest it on the car to watch it! Everything was cooked on the wood fired stove her stepfather would often make galah stew. For those outside Australia, a galah is a native bird that you never see on the menu. He would shoot the galahs and then pluck and stew them up for dinner. It was by her report a completely unappetising stew. "Everything was completely uncivilised," said Belinda shuddering at the memory.
My childhood memories are invariably tied to food. And one food that I used to sneak a lot was Milo. You see they marketed it as a milk drink and a somewhat healthy one (odd!) so my parents would keep a tin of it. I would eat it as most people do, straight out of the tin with a spoon. And no this post is not a sponsored one and I'm sure if the Milo people ever contacted me it would be to say, "Stop asking what happened to the bloody original Milo bar. You appear to be partly insane and obsessed."
I used Milo in a recipe recently and not having bought a tin in over 10 years I asked my friend Girl Next Door if she had some. She furnished me with her tin as she didn't want or need it any more. I guess after a glass of nostalgia it had served its purpose. And when I had a surfeit of macarons with brown shells I wondered what Milo and buttercream would taste like together.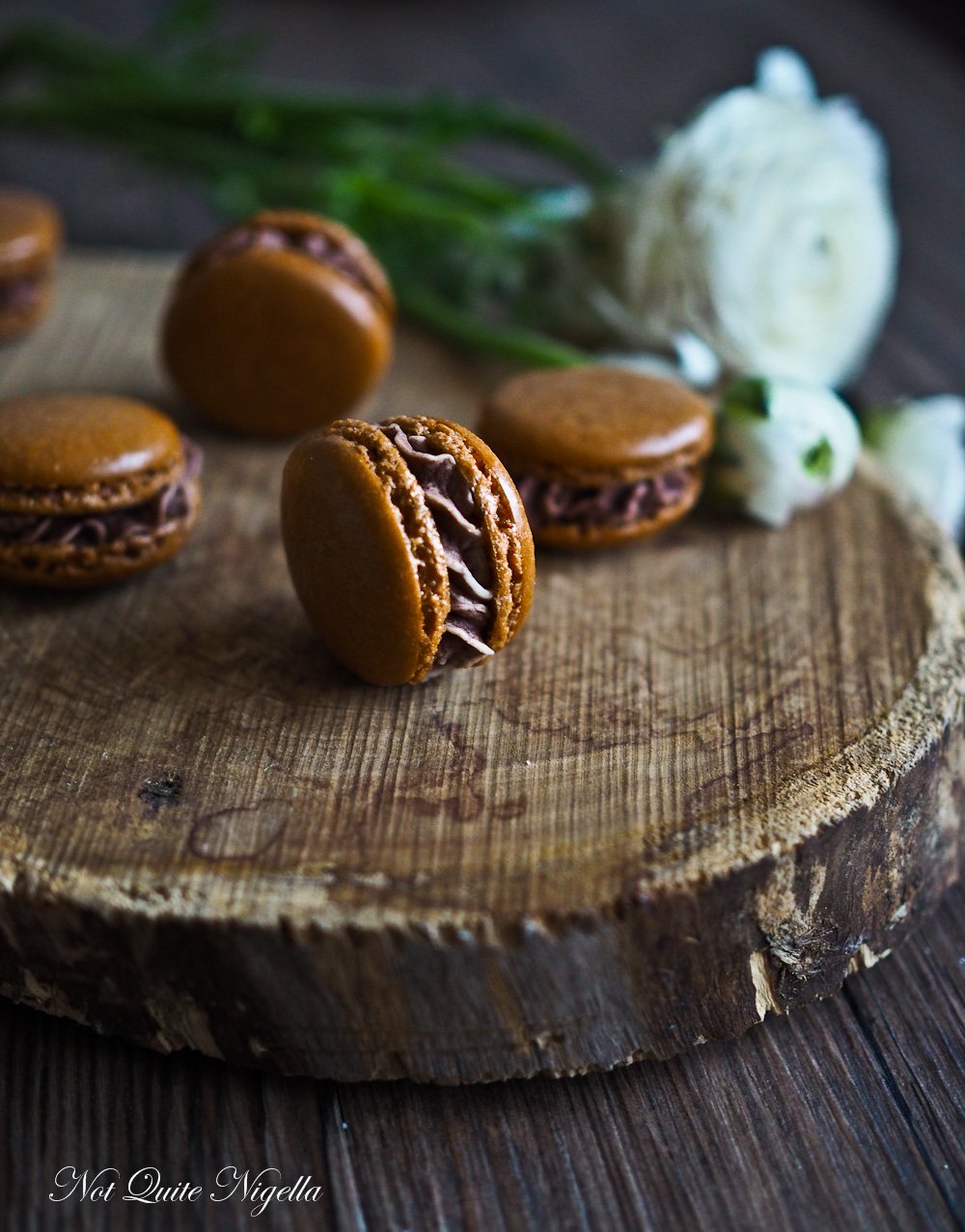 Well can I just say that it is DELICIOUS! Like rumble-through-your-cupboards-to-find-your-tin-and-make-it-now delicious! I am actually quite apathetic towards macarons. They are my least favourite thing to bake. I loathe making them because they are temperamental and sifting the icing sugar and almond meal drives me to the edge of insanity (I'm close so it doesn't take much admittedly). I process them in a food processor and then sieve them so the shells are extra smooth. I know that you can skip the sieving step but I want these buggers to be as perfect as possible.
This recipe makes a lot of macarons - four trays worth which is just too much for Mr NQN and me. I've tried halving the recipe to only produce a complete failure. Also I get a bit worried for the single macaron shell that doesn't have a partner. Poor little (troublesome) things!
The key to macarons is that the shell is never flavoured. So avoid trying to infuse your shells because that can play with the temperamental frilly feet at the bottom. You add the flavour into the filling and keep them refrigerated for 2-4 days and the filling flavour will soften and infuse and flavour the shell.
This macaron recipe is adapted from my book Not Quite Nigella and is adapted from Jean Michel Raynaud's recipe at Baroque Patisserie. I find it produces brilliant and reliable macarons as long as you don't mess with the quantities or make them on a very humid day (if you have air conditioning, just switch it on to counteract the humidity).
Which brings me to something rather exciting. This month is the blog's eight year blogsoversary!! I can't believe that eight years ago I started this blog - it's almost like thinking back to my childhood. A big thanks must go to you Dear Reader for your loyal readership. Without you I would have no blog and you are always on my mind whenever I come up with ideas (in a non creepy way I promise ;)). I want to make sure that I keep writing things that I want so we're doing another reader survey and to say thank you for doing the survey and for reading the blog, I am give out some of my favourite things!!
The prize includes:
♥ An apron by Sugar Plum Aprons! Based in Pymble these apron designs are so gorgeous and come in a range of designs (including a Snow White, French maid and poodle apron!) in both adult and child sizes.
♥ A $100 gift voucher from 1888 Certified in Double Bay. This new butchery only stocks grass fed, antibiotic, hormone and preservative free meat fresh from NSW. There is also a dry ageing cabinet and chef devised condiments available!
♥ A $100 gift voucher to spend at Guylian Belgian Chocolate Café. That's right, $100 to spend on Belgian chocolate, cake and drinks or whatever you chocolate-obsessed heart desires! This can be used at any of their locations: The Rocks, Circular Quay and Darling Harbour.
♥ A $100 voucher from one of my favourite bakeries Sonoma! Their organic wholewheat miche is on my last rites meal it's that good. Delve into the goodness of bread at any of their six locations: Woollahra, Alexandra, Paddington, Waterloo, Glebe or Bondi!
♥ A $200 David Jones voucher! That's from me so you can buy yourself something fun! :)
♥ A $400 gift voucher at my favourite jewellery store JY Jewels! JY is a long time friend that makes the most stunning jewellery. She made my bridesmaid's jewellery at our wedding and her designs are utterly feminine and glamorous. I wear it every single day (except when I work out)!
♥ A night's stay in one of my favourite Sydney hotels: the Shangri-la in The Rocks. This is for one night in a Deluxe Darling Harbour room + $200 food and beverage credit which can be used in any outlet (think afternoon tea or whatever else you would like!). See block out dates below*
To enter the competition, please complete the survey here. The winner will be drawn on the 10th of October,2015!
The winner is: Melinda B. of NSW!!
So tell me Dear Reader, can you remember what you were doing eight years ago? And what was your childhood like? Was it similar to your friends' childhoods?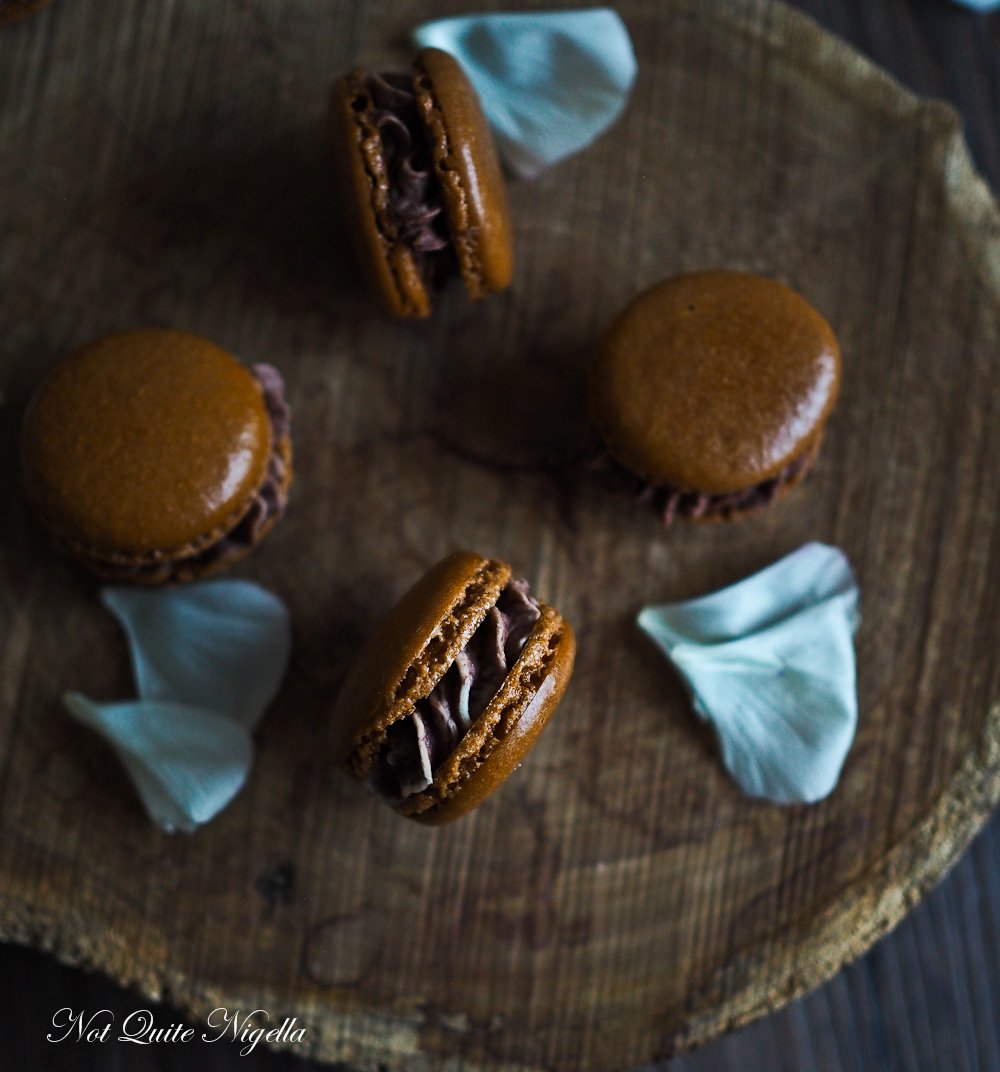 DID YOU MAKE THIS RECIPE? Share your creations by tagging @notquitenigella on Instagram with the hashtag #notquitenigella
Milo Macarons
An Original Recipe by Not Quite Nigella adapted from Jean Michel Raynaud
Preparation time: 1 hour plus resting time of 30 minutes to 3 hours
Cooking time: 20 minutes
Macarons need to be made 3 days in advance of serving
300g/10.6ozs. tant pour tant (150g almond meal sieved with 150g icing sugar)
60g/2.12ozs. egg whites
150g/5.3ozs. caster sugar
38g/1.34ozs. water
60g/2.12ozs. egg whites
Brown food colouring gel
125g/4/41ozs. butter, at room temperaure
200g/7.06ozs. icing sugar, sifted
2-3 tablespoons milk
1/2 cup Milo (you can also use Ovaltine or grated chocolate if outside the US although apparently it is stocked at Walmart!)
Step 1 - Get someone to sift the tant pour tant. I hate sifting at the best of times but sifting this much is an awful task. I'm not being melodramatic here. I got Mr NQN to do it.
Step 2 - Mix the tant pour tant with the first lot of 60g/2.12ozs. egg whites to create a smooth paste. Set aside. Place the second lot of 60g egg whites in the bowl of an electric mixer fitted with a whisk attachment.
Step 3 - Place the 150g caster sugar and 38g water in a heavy bottomed saucepan along with about 1/4 or 1/2 teaspoon brown colouring gel and melt the sugar on low heat. Brush down any stray sugar crystals on the the sides with a wet brush. Heat until it reaches 100C. Once it reaches that temperature, commence whisking the egg whites. They will hopefully become soft peaks when the sugar mixture reaches 118C.
Step 4 - Pour the sugar syrup into the egg whites and whisk on maximum speed for 1 minute and then on medium speed until it reaches 50C.
Step 5 - Incorporate meringue into the tant pour tant - you don't have to be delicate here, you can slap it on the sides of the bowl. You may feel the urge to if you've done the sifting.
Step 6 - Line four baking trays with silpats (you can also use parchment but silpats are better as they don't stick whereas parchment sticks a little).
Step 7 - Fill a piping bag with a large plain tip or just cut the end and pipe macarons onto the silpats. I do them free form but mine don't need to be a particular size. You can also use a size guide underneath the silpat if you want to.
Step 8 - Set them aside to create skins on the macarons. Skins are when you can touch the surface of the macaron and it isn't sticky. This can take anything from 30 minutes to 3 hours. As luck would have it ours were ready just as we had to leave for dinner so I baked them once I got home and they were fine.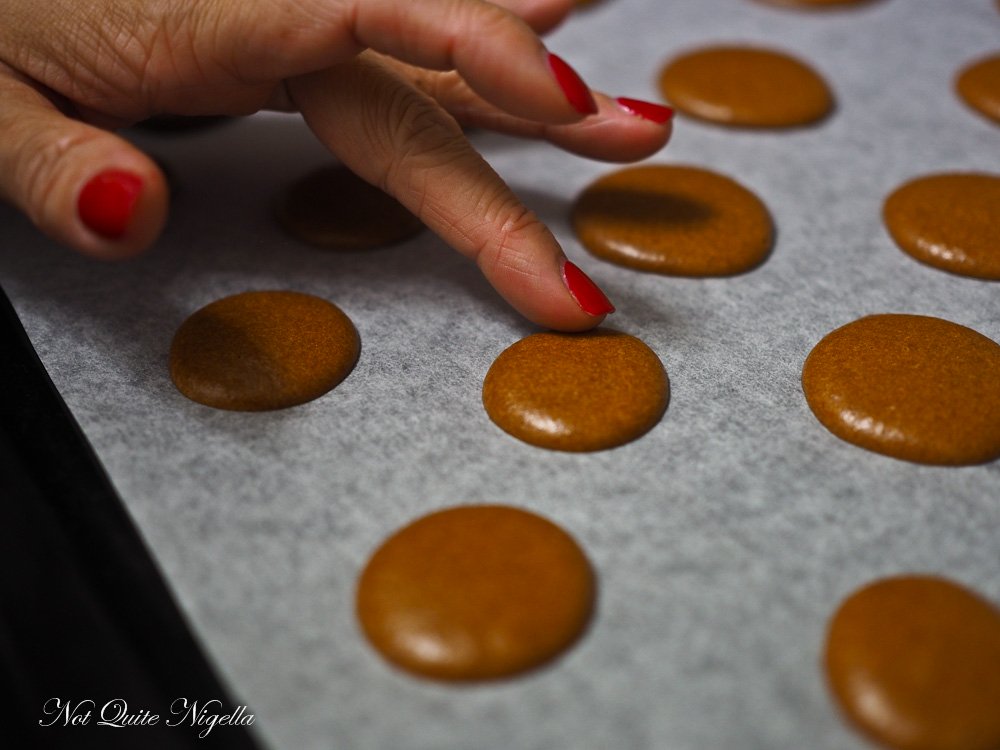 Step 9 - Bake at 130C/266F for 15-20 minutes (depending on size, really small ones are 15 minutes). Allow to cool completely on the tray and using an angled spatula to remove them.
Step 10 - Fit the mixer with a paddle attachment and beat the butter until smooth on high speed. Knock back the speed to low and add the sifted icing sugar and milk and mix, then increase speed once the icing sugar is all mixed in (or you'll end up in a cloud of sugar, I've done it more than once!). Add the Milo and beat until smooth and chocolatey.
Step 11 - Match macaron shells of the same size. Fill a piping bag with the Milo buttercream and a star tip and pipe swirls on one half and add the other half. Place in the refrigerator for 3 days until the shell starts to soften.
*Block out dates for the Shangri-la Hotel stay are:
2015
25 - 31 December
2016 1 January
14 February
25 - 28 March Easter
NSW Public Holidays
Mother's Day
Father's Day
Hotel prize valid for a period of 12 months from issue.