The five star resort of Sri Panwa on the island of Phuket is where I set up home for a few days. From the wraparound pool to the "floating" villa the coral shaded resort plays home to honeymoon couples as well as jetsetting families. Come and take a look inside and feast on the food offerings that are a cut above many resorts.
A sound tickles at my ears. It's unfamiliar - living on a main road in Sydney means that I am more accustomed to the sounds of early morning traffic but these birdcalls slowly rouse me from my slumber, my body prodded by the streaks of light peeking through the blinds. I stir and my limbs feel different-the bed is different. I suddenly remember where I am.
I am at Sri Panwa in Phuket on the South East tip of the triangular shaped island of Phuket. We had arrived late at night, shrugged off our clothes, showered, eaten and sunk into the smoothest sheets and sprawled out on the enormous bed. I knew somewhere out there amongst the glittery dark water that sparkled in the distance that there was a good view. I closed the blinds and had an inkling that come the next morning, the view would be worth it.
I swing my legs over the side of the bed and pad gently to the front doors remembering my valet Woody's words, "You can walk straight into the pool from the bedroom." Depending on your state (tipsy or sober) that would be a warning or an enticement. "Don't walk into the pool," I say to myself before bringing up the blinds to reveal Lone Island, Coral Island, Yon Bay, and Chalong Bay. Villas are either designated as sunrise or sunset villas depending on a guest's preferences.
Like a post card come to life the bird song and gentle noises of brooms sweeping and tending the villas lull me into holiday mode instantly. All of the buildings are coloured a coral shade-this orange is to reflect the colour of the soil and every single accommodation has their own pool. With so many suites and villas I do a mental count and marvel at the task of maintaining these.
The standalone 1 bedroom ocean villa that I am in is enormous - around 230-300 square metres in size. The main feature is the infinity pool which hits you when you first walk through the double doors. This comes complete with spa jets that wraps around the glass fronted bedroom. Outside there are two sun beds as well as a day bed area for entertaining or just stretching out and reading. I worry that I haven't brought enough reading material.
Inside the lounge room area has another enormous day bed where you can watch television (one thing however is that the system is a little confusing and I listen to Woody's detailed instructions with a voice in my head saying "you will never remember this..."). You can listen to music through a preloaded iPod or pick fruit from the tropical fruit basket and just watch the view.
Access to the pool is also from the lounge room and the bathroom. There is also a separate walk in wardrobe room, a kitchenette with complimentary snacks and drinks. The mini bar is more geared towards the Thai palate but they are happy to take requests. At all of the staff are trained to make things happen and keep guests happy. The villa design has a wonderful flow and openness to it and no expense has been spared with top notch fittings.
The bathroom is a good size with separate sinks and Sri Panwa's products abundant in fresh food and flower scents. There is also a shower and steam room combo and an outdoor bath and shower. The 29C/84.2F weather is perfect for that and I mentally bookmark myself for a bath this evening.
The next morning I've woken early for Phuket time - 7am which at 11am Sydney time seems like a luxurious lie in. I do some work, take some photos and then dial zero for a tuktuk. The grounds are so enormous that this is the quickest way around. The grounds are also vertiginous and curvaceous so they encourage people to call for transport. However because I was dropped off after some of the others I didn't realise that I was literally about 100 metres away from the main building so I apologise profusely to the tuktuk driver and alight a minute later.
Breakfast is eaten at the Pool Pavilion and you can order some items a la carte or help yourself buffet style. I go for the Baba eggs benedict served on ciabatta with ham, poached eggs and truffle cream. The bread is a little too crispy and thin and the egg yolks are cooked through but the truffle cream is a nice addition and they redo the eggs quickly.
I also try a raspberry jam puff, coconut and pineapple jams and a fruit salad as well as Thai iced tea (my previous addiction, and the culprit responsible for most of the weight gain on the last trip). I sink down into a rocking chair - most of the chairs in the resort are rocking chairs. They're owner Wan's personal pick. It's a clever move - lying back and rocking makes you instantly slow down and relax.
Our next appointment is at noon for a cooking class and lunch so I walk back to the villa (I dare not call a tuktuk again) but the glittery water of the pool outside calls to me from the other side of the glass frontage. I decide to forego work and go for a dip in the infinity pool. As the temperature hits 29C/84.2F I seek solace in the water and before I know it I've spent two hours in the pool and I drag myself out of the pool before collapsing on a sun lounge and drying myself like a lizard.
Eyeing the time I ease myself off the lounge, throw on some clothes and call a tuktuk to take me (again embarrassingly a short distance) to the Sunset Lounge. Although the property is almost 40 acres in size most of the main activities are relatively close but when you've availed yourself of all of the food as I have, a little punishment through exercise is probably not a bad idea. Phuket born chef Khun Ta has been with Sri Panwa for 9 years and she is showing us how to cook some Thai classic dishes.
The group of four is split into two and two others are making duck curry and Pad Thai while we are making Thai beef salad and tom yum soup. Everything has been measured and cut for us and it's a relatively quick process. We don the checked headscarf and apron, a traditional Thai chef uniform.
A lot of Thai dishes have similar ingredients and Ta explains that the Yam dressing is a versatile mix of lime juice, fish sauce and sugar syrup that can be used on many salads. For the Thai beef salad she uses striploin but also recommends ribeye.
The striploin is seasoned and then oiled and is then cooked on a portable induction cook top for a maximum of 3 minutes so that it is crispy on the outside and rare on the inside and then rested and then sliced and mixed with the Yam dressing, carrot, cucumber, iceberg, onions and cherry tomatoes.
The tom yum goong's spiciness is controlled by the tom yum paste and Khun Ta explains that soups and salads should generally be spicy and sour, less sweet although these are sweeter to suit our Western palates. The base of chicken stock is boiled and then herbs, galangal, lemongrass and other bits and pieces are added.
I prefer my prawns less cooked through (I sometimes find them a bit tough in tom yum soup) so I tend to add these at the end while they tend to add them in the middle of simmering giving them about 5 minutes to cook through. Khun Ta also explains that you can use the same recipe to make Tom Khar Gai but you take out the tom yum paste and use half chicken stock and half coconut milk.
We sit down to eat some of the dishes that we have made. But soon a range of dishes start arriving to supplement this from the Baba Poolclub restaurant. Baba is the name of a mixed are of people from Thai and Perakanan descent and the restaurant centres its menu around this type of cuisine. Baba is the name of males and Nyonya the name for females.
Hands down my favourite item was the Shirauo salad with crispy silver fish (like whitebait), mixed greens, a creamy dressing and caviar as well as a side of wafu dressing this is a fresh, crunchy and well balanced salad. I want to eat it all but remind myself that it's nice to share.
Similarly the lab per is full of flavour. I have to admit that I often find larb a bit dry and it isn't my first choice but this made with duck mince with roasted ground rice, chilli, local herbs and sticky rice is probably my favourite larb.
I know it may seems strange to visit Thailand and eat pizza but I had to try it (for research purposes). The parma ham truffle pizza is very good - made Napoletana style in their wood fired oven it is topped with truffle paste, tomato, parma ham, shiitake mushrooms and mozzarella.
Sri Panwa focuses on organic beef and this is served with a spicy chimichurri sauce that complements the juicy, perfectly cooked beef.
The ghoong sarong are tender prawns wrapped in crispy noodles served with a gorgeous spicy dipping sauce.
And for the last course? I sampling of house made ice creams and gelatos including mango, passionfruit and lychee sorbets along with creamier offerings like coconut, vanilla and Thai iced milk tea as well as a surprisingly creamy lemongrass ice cream. It's the best respite in this high humidity.
As if reading our minds, our next stop is Cool Spa. With the warm heat of the midday sun and the cool water breeze it's still warm enough to coax us into a post prandial nap-or as luck would have it, a treatment. Past the wooden Morocacan doors Cool spa have a signature treatment called the blood type massage.
Alas many Australians don't seem to know their blood type while Thai people all need to know. In this massage, they concentrate on different areas of the body e.g. foot reflexology for type O. We take a seat in fill in our forms before my therapist Lee takes me downstairs to an oversized luxurious treatment room that is big enough for two. She starts with a tamarind and salt scrub on my feet before I disrobe. I've chosen a caviar pearl facial.
Lee takes great pains to ensure that the pressure is correct and it is a multi-layered 75 minute facial using Pevonia Myoxy Caviar with 100% purity and an additional 15 minutes added on for a hand and arm and head massage. It ends with her applying a mask and then another cloth mask on top that hardens as she applies the massage and she lifts this off. I'm shaky on my legs when I get up and she gently guides me to the dressing room. There is sweet ice tea and sesame cookies waiting in the lobby for us.
It's literally the quickest change and shower ever as we are expected at the Baba Nest bar for drinks and then dinner. I wash my hair and shower, dry my hair and do my makeup in 20 minutes before the tuktuk driver comes to pick me up. Alas it has started raining so the plans to have cocktails up on Baba Nest with 360 degree views of Phuket have to be abandoned so instead we go downstairs to the Sunset Lounge for our cocktails and canapes. Baba Nest is a very popular place for weddings because of the incredible wraparound views.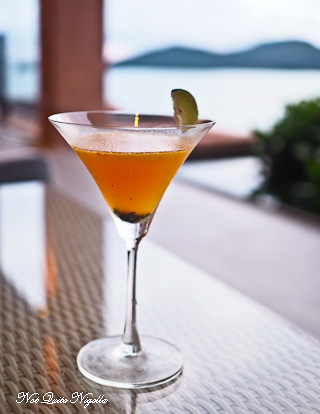 I try a baba Daiquiri with Havana Club 8 year old rum, passionfruit, lime and ginger syrup. The canapés are delicious especially the tuna crostini with a spicy mayonnaise. We also meet the owner of Sri Panwa, 34 year old Vorasit "Wan" Issara who is a consummate host.
He is a food enthusiast and cook and has recently bought three Josper grills for his steakhouse concept which features cuts like beef intercostals, skirt steak and other lesser known cuts, all organic. He is the son of a property family and one of three siblings and the the hotel is his project and where he lives for much of the time.
After drinks we adjourn to Iki, the Japanese restaurant on top of the Baba Poolclub named after the "Cheers" celebration when drinking in Japan.
The hamachi jalapeño is thin sashimi style slices of yellow tail with slices of Jalapeño chilli with a garlic, onion and ponzu sauce. I love the spicy hit with the fresh slices of sashimi.
Any day that I get sushi and sashimi is an excellent day as far as I am concerned and this plate has wonderfully fresh sushi on it with rice at just the right temperature. The ama ebi are raw prawns, delicate and creamy in texture while the Ikura roe spurts creamy, salty roe. Another favourite is the sticky glazed eel sushi.
Everyone is excited when the sashimi arrives on the table. There is tori, akami, hamachi, tako, amaebi, hokkigai and ikura in the sashimi bowl. Each piece melts in the mouth and I wish I could have the whole bowl to myself.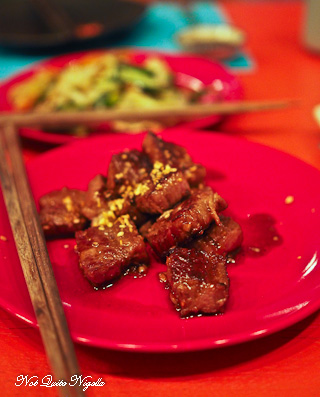 Then out comes the second courses from the yakitori grill. The beef is succulent and tender and then Wan challenges us to try the chicken skin yakitori. As an avowed chicken skin fan I know that I will love this and it is beautifully crispy and salted perfectly.
A common fish here is snow fish (like sablefish or black cod) and here it is served with a liberal amount of garlic and salt. It's a lusciously texture fish and delicately flavoured with the garlic strong on the mild fish.
One of my favourite items is the lobster miso soup. It's a creative take on miso soup, the broth flavoured by lobster shells so that it is richly flavoured. The intense seafood flavour goes surprisingly well with the also salty miso.
It's getting late as we are all still on Sydney time. A wedding is in full force at the main compound and my close proximity means that it feels very close. Come midnight the cheering slows down and the guests depart. I fall asleep and when I wake up the next morning, I didn't even realise that I was sleeping on one of the tokens from turndown service, a small smell with a message from Buddhist teacher Pema Chodron:
"When there's a disappointment I don't know if it's the end of the story. But it may be just the beginning of a great adventure." It's true, I am excited about the next great adventure and what tomorrow holds.
So tell me Dear Reader, do you believe in affirmations? What is your favourite destination to relax? And where did you go on your last holiday?
NQN stayed as a guest of Sri Panwa. All opinions remain her own.
Sri Panwa
88 Moo 8, Sakdidej Road,, Vichit, Muang, Phuket 83000, Thailand
Phone:+66 76 371 000
http://www.sripanwa.com/