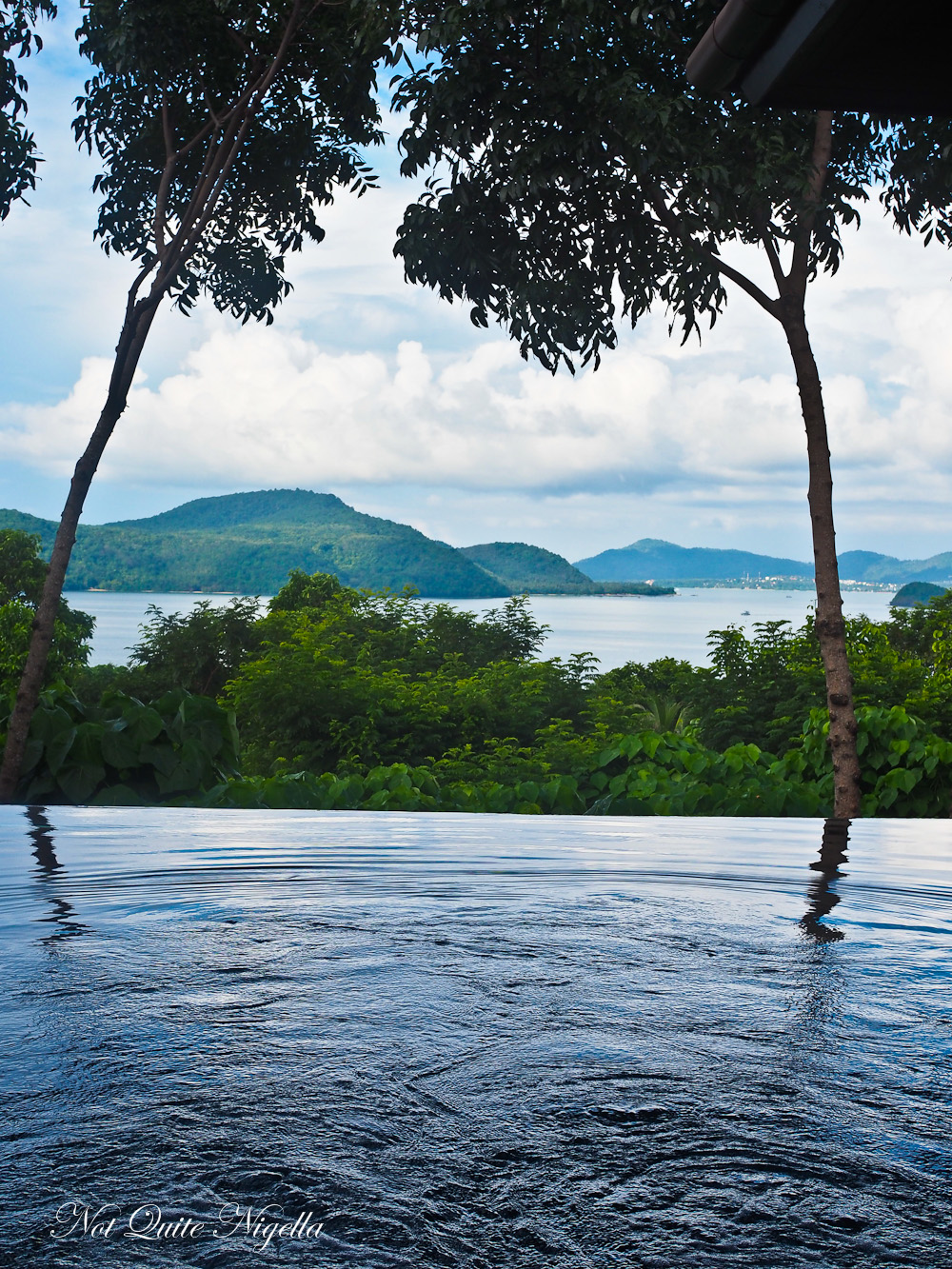 My short but memorable stay at Sri Panwa on the South Eastern side of Phuket is peppered with plenty of delicious food. Often resort food plays second fiddle to the views and accommodation but at Sri Panwa, the food is at the fore. And the sunsets? Well they're pretty special too.
7:30am. The tone of the following morning is markedly different from the rush of the previous day. It starts with a lie in and is followed by breakfast at the pool lounge. Today I decide to forego the Western style eggs and a friendly member of staff points me to the cart serving freshly made noodle soups. It's too tempting to resist so I order a bowl along with some bbq pork and red bean buns and roti with crab curry. I ask for a small glass of Thai iced milk tea and also help myself to a sweet watermelon juice.
The hot food selection change daily or alternates to keep guests amused. Some people order banana pancakes, a popular choice as the bananas are so sweet here in Thailand that one doesn't need syrup. I prefer savoury at breakfast and go for the banana leaf wrapped steamed fish. It is bold and spicy with a light texture and strands of aromatic kaffir lime leaf.
"Excuse me, may I bring you a treat? These coconut cakes come from where I am from," says our waiter. One of the best things about Sri Panwa is the staff who are without exception sweet and thoughtful. The coconut cakes are two delicious layered cakes with a pandan jelly at the bottom and a coconut cream top with cubes of water chestnut.
I do a couple of hours work and read my kindle while it rains outside and then I glance at the time. It's noon and lunch is served back at the Poolclub. Sometimes at resorts the food may not be the primary focus but here it is excellent and the only stumbling block were the eggs in the eggs benedict the day before.
Pomelo Salad 338THB
We start with some white fleshed pomelo salad which is so good that I ask for the recipe. Pomelo is similar to grapefruit but not as bitter or juicy and it has appealingly large buds of flesh inside. The membrane is removed as this can be bitter. It comes with a yam salad dressing, tomatoes, shallots and crunchy cashews.
Crab meat pink sauce 628THB
There is a range of pastas where you choose the type of pasta and pair it with a classic pasta sauce be it carbonara, squid ink, vongole or bottarga. The crab meat pink sauce is plentiful with crab and a tomato cream based sauce. It's served with fettuccine and looks striking against the blue plate.
Mixed seafood linguine 628THB
However my heart is really won with the mixed seafood spaghetti with shrimp, squid, mussels, clams and a white wine sauce and garlic which is elegant in its simplicity.
Tiger Prawns 1088THB
They set down a plate of enormous tiger prawns served in a twisted presentation. They are perfectly succulent and with a char from the grill. They are served with a passion sake sauce which is made with passion fruit, sake, shallot and palm sugar.
Black Pork neck 888THB
The black pork steak arrives sliced up and I take a piece with my chopsticks and dip it into the sauce made with hot basil, chilli, capsicums, garlic, onion and shiitake mushrooms. It's juicy and flavoursome.
Lamb ribs 1288THB and mashed potato
We can't resist the lamb ribs that are fatty and luscious. They're paired with a white truffle sauce which at first I guess might be too rich but it's an excellent pairing. And then they bring out the intensely rich and buttery mashed potato with small bits of potato.
Dessert is a caramel ice cream with brown sugar jelly strips. As odd as that may sound to those that haven't visited Asia, it's perfectly refreshing and delicious.
The rest of the afternoon is spent on Banana Island. Whilst it is said to be great for snorkelling it is very crowded with tourists (and I absolutely get the irony, we are tourists too). The rainy weather seems determined to stay and reduces to a light sprinkle. There's a preponderance of selfie stick wielding groups and we yearn for the tranquility of our villas. The rain is back as we make our way to our villas.
Banana Island
We have a couple of hours to while away the time so I jump into the pool and spend the last few hours before sunset there before the sky bestows us with a stunning salmon pink sunset. It's a treat to have so much time to get ready for dinner so I slip into a long black dress and heels and wait for my tuktuk to take me to Baba Soul Food, the resort's Thai restaurant that is a few minutes away by tuktuk for our last dinner.
The restaurant has live music and despite the fact that the property is filled to capacity, there are only a few other tables of patrons there as many eat in their villas - I guess it is one of the advantages to having your own pool and large rooms. We start with cocktails and I realise how I'm going to miss starting every evening with one.
Khao Tang Ghoong Pirod & Lhon Ghoong 258THB
I try the pairing of prawn shrimp green curry & shrimp coconut dip on prawn crackers. This is one of my favourite courses and the toppings are tender, creamy and with just the right amount of sweetness.
We were warned about this by Wan's sister Kem, a fashion designer at Kem & Co based in Bangkok who is joining us this evening. Apparently if you eat too much of this item, your body will feel the effects of it the next day. It's spicy, sliced pork with bitter beans and is said to be a dish that many Thais have a soft spot for, despite the ahem…after effects! It's a special order item not usually on the menu.
Gaeng Poo 468THB
Dish after dish arrives aand I help myself to a fragrant rich Andaman yellow crab curry with a good amount of crab in the curry. I pour the coconut rich sauce on my rice.
Som Tam Pla Salmon Yang 378THB
They bring out a spicy version of the classic Som Tum or green papaya salad served with a slender fillet of crispy skinned salmon. The salmon is luscious and tender while the green papaya salad is spicy and refreshing.
Moo Hong 398THB
The Phuket style pork belly is an exercise in richness. The top layer pure jellied and soft fat while the layer of meat below is full of flavour from the sweet soy sauce.
Tom Kha Kai 248THB
I am eager to try my recipe for tom kha kai which we were given in the cooking class to see how it compares to this one which is excellent. It is full of lemongrass and chilli balanced with creamy coconut and chicken.
Tao Hoo & Hed Hom Thod Samoonprai 258THB
It's always nice to have some vegetarian dishes among the meat and seafood ones. This dish has cubes of deep fried soft tofu & shiitake mushroom with garlic, shallot, kaffir lime leaves.
Paneng Kae Yang 1088THB
My heart is stolen by a cross cultural dish of New Zealand lamb chops with paneang curry sauce. The lamb is juicy and fatty and the paneang curry rich in coconut cream. Picking up the lamb bone and nibbling is a given.
Mango and sticky rice 300THB
And then the desserts arrive. I don't think that you could possibly visit Thailand and not try the popular Thai dessert. The rice is wonderfully fresh and warm served with thick coconut cream and fresh mango cheeks scattered with black sesame seeds.
Khao Mao Thod Sai Ma-praow Guan 300THB
The is an interesting dish made with palm sugar in a sweet paste. It is topped with crunchy cereal (Khao Mao or shredded rice grain), not unlike rice bubbles and then there is a little jug of warm milk. It's like palm sugar and cereal for breakfast.
Baba Style Cheese Cake Ka-noon 300THB
The jackfruit cheesecake is a fusion of Thai and Western desserts. With a black sticky rice base it's an intriguing fusion of styles.
Tub Tim Krob 240THB
We are all smitten with the coconut ice cream with jack fruit and candied water chestnuts. It's the most simple of the desserts but perfect for ending a big multi course meal.
As I slide into bed that night I think back to that glorious salmony pink shade, that unique shade that is neither orange or pink. It echoes the colours of the building as if they knew that during each visit, each guest would see that spectacular shade.
So tell me Dear Reader, when you are on holidays, do you sleep in or do you have a busy schedule? Do you usually book the breakfast package when you book your hotel too or do you go out for breakfast?
NQN stayed as a guest of Sri Panwa. All opinions remain her own.
Sri Panwa
88 Moo 8, Sakdidej Road,, Vichit, Muang, Phuket 83000, Thailand
Phone:+66 76 371 000
http://www.sripanwa.com/