The Hunter Valley wine region is just two hours away from Sydney. Known mostly for making dry white wines, particularly semillon the area is replete with cellar doors to visit. The most popular question for wineries is what food to eat with wine. Scarborough Winery has solved this question by matching a range of meals throughout the Hunter/Pokolbin region with their wines. Come along as we try them out!
To show you just how truth is often much more interesting than fiction, have you ever thought much about French oak wine barrels? Ubiquitous within today's wine industry, French or American oak are a widely used product for ageing wine. But did you know how it all started? During the Napoleonic era, Napoleon ordered the planting of oak trees in five different forests (Allier, Limousin, Nevers, Tronçais and Vosges). This was to provide wood to build ships for the French Navy to fight the English and as a result created a whole industry that has impacted the wine industry.
Jerome Scarborough smooths over the surface of the French oak barrels with his hands. At Scarborough wines they use several types of French oak barrels. The Hunter Valley is mostly known for their dry white wines, particularly Semillon but Jerome, his father Ian (or Scarbie to locals), sister Sally and mother Merralea are giving a run with their chardonnay called The Obsessive named after patriarch Ian.
A farmer that believes that you can fix anything with a drill and cable ties but also a man with a refined palate that dines at Sydney's best restaurants, it was his love of fine dining that started the business in 1987 with Merralea. He would visit Sydney's best restaurants, leave a generous tip, some business cards and corkscrews along with a note asking restaurants whether they would like to try the wine. Now it is stocked in 100-150 Sydney restaurants.
Jerome gives us four tastes of the 2015 Chardonnay currently ageing in barrels and extracts a sample from three different oak barrels from three different cooperages. The fourth is an 8 year old barrel where all of the flavour from the oak has been extracted by previous years' wines and he shows us this just for comparison's sake. "Oak barrels are like tea bags," he explains as the more they are used, the less flavour you get from them. The difference between each wine is pronounced, even though they are all French oak from the same forest.
Scarborough Wines remains a family business with Jerome being the winemaker along with Director dad Ian and sister Sally handling the sales and marketing. They produce around 23,000-27,000 cases of wine a year and there are no plans to expand. At this volume it allows them to have full control and their hands on every step of the process.
That's where the Obsessive part comes in. All of the members of the Scarborough family are obsessive in their own way and it was Sally, the younger daughter's idea to address the most popular question at the cellar door of what to eat with their wine with a series of free recipe cards that have proved extremely popular during cellar door visits.
There are two locations for Scarborough Wines and both reflect the family style of the business. Guests are invited to complimentary sit down tasting flights which are labour intensive but they realise that people may want to go back to wines that they've had before.
Every table also receives a complimentary cheese platter and wine club members receive a cheese and charcuterie platter with their visit. The Hermitage Road cellar door is a contemporary structure while the Gillards Road cellar door is located at where Ian and Merralea first bought property in the Hunter and has stunning views of the surrounding vineyard and farms as well as the Brokenback Ranges.
Ian and Merralea chose the location for the fertile but not too fertile soils. Jerome explains that grapevines that grow too actively become complacent and stop producing fruit. "You want to keep the vines in a relatively lean state," he explains. The soil at this location is terra rosa or what he describes as "red soil or very old red dirt" and they mostly grow the Chardonnay grapes here.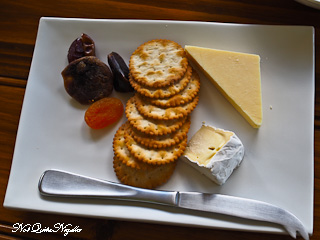 All of their wine is made using Hunter grapes with a mix of hand and machine picked. Jerome is experimenting with wild yeasts although the majority of yeast is a champagne yeast which adds less flavour. For him, it's about preserving the flavour of the grape. He describes their wine as consistent, generous and value for money.
Which brings us back to the most popular question: what to eat with the wine? For our weekend visit the Scarboroughs have created the ultimate wine match and selected dishes at Ian's favourite Hunter restaurants and matched them with their wine.
Our entree is at The Cellar which is the Hunter's oldest restaurant with much of the original architecture. With chef Andy Wright at the helm the food is a seasonal modern Australian menu and the restaurant also features a charcoal grill menu. They have up to 14 wines available by the glass and it is here that we start our progressive lunch across the valley. We are curious to see how the wine matches go.
Sometimes we find that wine matching dinners aren't necessarily a great combination and they're often planned with guessing that certain wines match and at times they don't with the wine coming off worse than the food. But Sally explains that she and her family visited each and every one of these restaurants and paired the wines. She says, "When it comes to food and wine matching I find you really need to sit down and taste both the wine and the dish together. You can make all kinds of assumptions about what wine will go with what dish, but you can sometimes be really off the mark. It is the smallest nuances of a dish that can really make or break a food and wine match. Sometimes I find a wine match needs to help balance a dish, other times the wine really needs mirror the flavours in the dish to work."
Mr NQN adores the match with the wine. Sally explains, "I initially thought would work better with the younger, more traditional style of our White Label Semillon, but surprisingly the Green Label Semillon worked best...tuna is always going to work well with any style of Semillon, so this is a really great example of looking not just at the main protein of the dish to make the match, but also the other components that make up the dish."
We pop in a hot, fresh, salt dusted salt cod fritter and it's such a tasty morsel. We follow this with a sip of the 2013 White Label Semillon with its intense lemon and lime characteristics.
Prawns, jamon stuffed mussels, BBQ Octopus, bisque, saffron croute and braised fennel served with 2014 Scarborough Vermentino
The bisque is rich and full of tender seafood with a pronounced flavour from the shells. The Vermentino stands up superbly to it with its pear and citrus flavours.
Likewise the thick spears of local asparagus underneath a row of fat Bass Strait scallops and fans of crispy pancetta go well with the egg rich gribiche sauce.
Our main is at the award winning Botanica restaurant at Spicers Retreat which happens to be where we are staying for the weekend. We had had a fantastic stay here 18 months before. It is owned by husband and wife couple Mark and Belinda Stapleton - he is the executive chef and she deftly runs the front of house along with their wonderful team.
We start with a house baked sour dough with a burnt honey butter and shiraz salt. Now these are my sorts of people because I adore honey and butter together. And you can bet I'm going to make this (and share it with you!). This is paired with a 2013 Scarborough Yellow Label Chardonnay.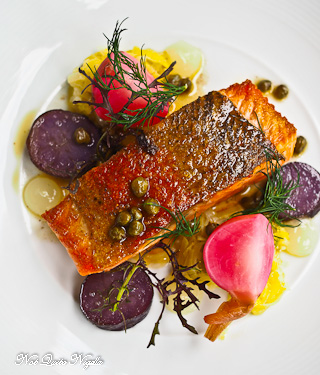 The ocean trout is a beautifully cooked piece of crispy skinned fish with a blush pink centre. There are sauteed leeks, slices of radish, lemon gel and brown butter and it is a fantastic match with the Obsessive Chardonnay. Out of all of the dishes we like this wine pairing the best and we end up buying several bottles of the Obsessive chardonnay along with the Shiraz. Sally says, "The oiliness of the fish and also the touch of lemon are almost a mirror image of 'The Obsessive' – there are some rich, creamy flavours at the front of the palate with 'The Obsessive', but there is some really lovely lingering tight acid - so I think in this case it was the mirroring of the flavours that really made this match work. Really different to the Tuna tartare match which really needed flavours in the wine that balanced the flavours of the dish."
Duck and pinot with its earthy, cherry notes is a natural match and the duck breast, served sliced with a mix of yogurt, Szechuan spices, carrot, celery root and pickled watermelon rind adds activity and richness to the dish.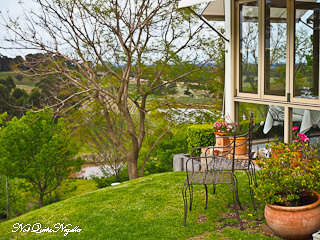 Our final stop for the progressive lunch is at Bistro Molines in Mount View for dessert. As the area name suggests the view from this long standing Hunter Valley restaurant is superb and this is a great location for spending a long, leisurely lunch. There's almost an energy doing from the vineyards below that draws you in and makes you want to sit down and peer closer into the undulating hills below.
Joining us for dessert is the whole Scarborough family. Dessert consists of a cheese platter served with Bleu D'Auvergne, Tomme de Capital, Mon Piere Brie and Tallegio matched with a 2011 Scarborough Black Label Shiraz and 2011 Scarborough White Label Shiraz. Scarborough's white label wines are meant for cellaring and although they can be drunk now, they will develop well over the next 5-10 years. However my preference out of the two is with the black label with the cheeses, particularly the goat's cheese.
And to match the 2012 Scarborough Late Harvest Semillon is a yogurt panna cotta that melts on the tongue with the softest wobble. It comes with a toffee orange slice, shaved chocolate and an orange sauce.
One tip: always have a driver when doing wine tastings because that way you can enjoy yourself! Sally is kind enough to drive us back to our accommodation at Spicers and over the horizon is a blazing orange sun. It's so beautiful that we have to get out and take photos. "It's like Campari and tonic," says Sally. To the right is a lavender field and to the left a paddock of cows.
We are welcomed back warmly to Spicers and are shown to our room, #6, part of the main building in one of their upstairs suites. A candle burns and music plays as we enter and it's a well appointed room with lots of little details. A fireplace sits in the corner with kindling and wood ready should the weather turn chilly. There is a well stocked and very reasonably priced mini bar with good quality items, plenty of storage space but most important, plenty of places to lie back and relax. Because now we are absolutely stuffed full of food.
The bathroom is sizeable with a large spa bath and shower combination and a complete set of Appelles Apothecary toiletries.
It soon comes time for our spa treatments - for me a facial and for Mr NQN a massage. My facial is the latest offering from the Spicers Retreat Spa Anise.
It involve vinotherpay and chocolate therapy. We are led into our couples treatment room and my therapist Sam proceeds to use products like a cacao smoothing fondant blended with organic mineral rich clays, raw cacao, hazelnut and vanilla bean followed by a facial massage using an emulsion enriched with Vitamin A, Shiraz grapes, molten cocoa butter and pomegranate and fig. There is also a freshly blended mask with vitamin C, resveratrol, strawberry, Shiraz wine and layers of freeze dried Shiraz. It's so good that I fall asleep soundly and wake up completely relaxed with soft, smooth skin. Afterwards I buy some products from the Waterlily range.
The next morning we rise early to take part in something very exciting - a hot balloon ride across the Hunter Valley with Beyond Ballooning! Father and son team Steve and Nathan are piloting the two balloons this morning. Guests gather at the Crown Plaza hotel lobby area where we are given a safety briefing. We are split into two groups with one larger and one smaller balloon. We bundle into the van and they drive to one of the 20 locations at which they set off from. Steve and Nathan let off balloons at a couple of places. To be a hot air balloon pilot you need a pilot's license (the same one as an airline pilot). Each basket also has to have a minimum weight of passengers.
They use a fan to inflate the balloon while anchoring the basket to the ute and then we all climb in. The basket is actually made up of separate compartments that are padded and the basket we are in (the 20 person basket) can carry up to 2 tonnes of weight plus the weight of the balloon. When we are up in the air we notice how remarkably silent it is (except for when they fire up the flame).
We glide over various properties and areas from Pokolbin to Lovedale heading north up the valley and pass over kangaroos who stand stock still looking up at us in the air and herds of cows grazing in fields. The balloons usually travel up to 4,000 feet and can go over 8,000 but require clearance from air traffic control as this is the height at which planes fly. Anything over 10,000 feet requires oxygen.
We are up in the air for about an hour. Landing is relatively smooth - that is of course the tough bit for the pilot and we are warned that sometimes the baskets can tip over. Ours is fine and because the basket hasn't tipped over we can go for a walk inside the balloon. We then help to pack up the balloon and they drive everyone back to the Crowne Plaza for breakfast at the hotel's buffet. They then present us with a CD of images which is a really nice touch as usually are charged for. These are taken from the GoPro camera and Nathan's camera while he was piloting us.
It's time for us to depart for breakfast with the Scarboroughs though and we meet at Cafe Enzo in Pokolbin, a family favourite. Sally tells us that they make the best coffee and Mr NQN orders one of these while I fixate on the bacon and egg bacon roll with tomato spread and extra black wax cheddar cheese on top.
Mr NQN orders the ham breakfast board and be warned, that this is no small breakfast board. It can easily feed two it is so comprehensive. There's Berkshire ham off the bone, avocado, Binnorie Dairy feta, roasted cherry tomatoes and a pistachio and red capsicum pesto along with sourdough toast.
Back at Spicers we potter around our room for a while before heading down to the kitchen garden to meet with Belinda and Mark and their daughter Matilda. Sunday is their day off and every Sunday they go to the garden and pick some salad leaves. Mark asks me to pick some salad leaves and I taste and pluck - there are even some gorgeous rocket flowers which you would never see at the markets because they wilt within hours.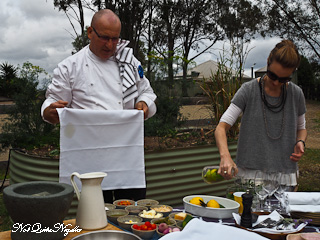 Belinda mixes up a refreshing cucumber mojito. Matilda picks one of their few white strawberries that I get to try - the lingering taste is like sherbert! We pair the salads with some dishes that Mark has cooked. Matilda is eager to get snipping with her pink scissors but first the task is to feed their three pigs...with salad!
Mark dresses the salad leaves a simple vinaigrette and we nibble on sugar cured ocean trout, a divine pate (I'm definitely asking for this recipe!), house made pancetta and chorizo with a range of accompaniments to go with it. There is one of the rare bottles of the Spicer's Chardonnay from estate grown grapes.
After lunch Mr NQN and I make our way to the Botanica bar and restaurant where we sit on the couch and listen to live music which happens every Sunday. We sip on a chai mocktail and for Mr NQN a glass of the Spicer's chardonnay.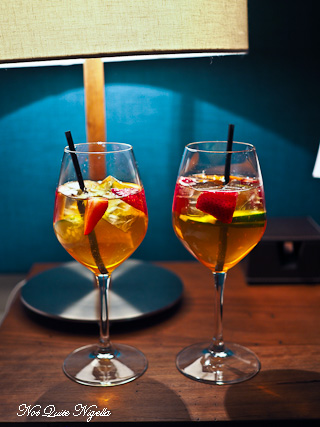 Dinner involves nothing more taxing than walking to our room and availing ourselves of the nightly complimentary cocktail that is served to all guests every evening. Tonight it is a PIMM's cup. And between Sally Scarborough and Belinda and Mark we have a feast fit for a king in our room with a tray of their favourite home made and locally made goodies.
The next day as we return home from our weekend away I apologise for eating what feels like all the food and wine.
Sally responds, "Your initiation into the Scarbie family is now complete...First rule of being part of the family: never apologise for eating all the cheese or drinking all the wine :)"
Indeed, I've been told.
So tell me Dear Reader, are you able to match food and wine well? Would you or have you ever tried hot air ballooning? And do you ever stop and just take a picture of the sunset or sunrise?
NQN and Mr NQN travelled to the Hunter Valley as guests of Volvo, Scarborough Wine. Co and Spicers Vineyard Estate
Scarborough Wine Co.
179 Gillards Rd, Pokolbin NSW 2320 Phone:(02) 4998 7563
Open daily - 9.00am–5.00pm
http://www.scarboroughwine.com.au/
AND
Scarborough on Hermitage
972 Hermitage Road,Pokolbin, NSW
Phone: 02 4998 6538
Open Thursday – Monday 10am – 5pm
Spicers Vineyards Estate
555 Hermitage Rd, Pokolbin NSW 2320
Phone:1300 192 868
http://spicersretreats.com/spicers-vineyards-estate/
The Cellar
Hunter Valley Gardens Village, Broke Rd, Pokolbin NSW 2320
Phone:(02) 4998 7584
http://www.the-cellar-restaurant.com.au/
Botanica
(At Spicers Vineyard Estate) 555 Hermitage Rd, Pokolbin NSW 2320
Phone:(02) 6574 7229
Bistro Molines
749 Mount View Rd, Mount View NSW 2325
Phone:(02) 4990 9553
http://www.bistromolines.com.au/
Beyond Ballooning
430 Wine Country Dr, Lovedale NSW 2325
Phone:1300 468 247
http://www.beyondballooning.com.au/
Cafe Enzo
Broke Rd & Ekerts Rd, Pokolbin NSW 2320
Phone:(02) 4998 7233
http://enzohuntervalley.com.au/