This post is brought to you by Destination NSW.
Newcastle's food scene has been undergoing a real transformation for the past few years. I first heard about from chefs who had visited and then more and more readers kept telling me about the wonderful eateries, bars, bakeries, cake makers and fine dining establishments that were springing up across Newcastle. What was formerly a working class industrial city has now become a mecca for good food and wine.
And nobody knows an area like a local so I asked my dear friend Newcastle local Sheriden Rhodes (@sheriden_rhodes) to show me the best of Newcastle. Over the Easter weekend she and her 8 year old daughter Ella showed me what they love about their hometown. I am sharing my favourite NSW holiday experiences for the #ILoveNSW campaign so please join me and upload your own NSW videos and images to www.visitnsw.com/ilovensw using #ILoveNSW. The best videos selected will feature in a collection of films produced by Destination NSW and go into the draw to win Canon Prize Packs! More info can be found here at visitnsw.com/ilovensw.
Sheriden Rhodes
1. Where To Find Great Coffee in Newcastle
Esther C.
Newcastle is not short of cafes and coffee really seems to be an obsession here. Sheriden is a travel writer and on the first overseas trip we took together she became obsessed with finding the best coffee every morning so I knew that she would know Newcastle's best coffee. Ester C. in Merewether is a cute little cafe that has a short and sweet menu.
Avocado and feta $11.50
Service is very friendly and you can choose from a range of coffees and teas plus simple breakfasts like avocado and feta on toast with nigella seeds or warm, toasted sandwiches filled with chicken, sun dried tomato avocado and melted cheese. But be warned: it can get very busy here. We arrived at a quiet time on a Tuesday mid-morning and within 5 minutes the place was full inside and outside with people waiting for our table.
Tristan Harries
We stayed in the Cook's Hill area and nearby is Welsh Blacks, named after a breed of cattle (the cafe sits on Bull Street). Owner Tristan Harries uses single origin beans for his black coffee. The coffee beans change regularly, also making use of locally roasted bean companies like Unison Coffee Roasters.
The food menu is toasted sandwiches every which way which are pretty tasty too. Pull up a stool outside and watch the locals bike or walk past while munching on a mushroom with spinach and caramelised onion toasted sandwich.
2. Where to Have Breakfast in Newcastle
One of Newcastle's biggest success stories is the band Silverchair and when one of the members Chris Joannou's parents retired their commercial laundrette in Newcastle West, he transformed it into a place called The Edwards that would be open late bucking the then trend of places closing early in the city. The original iron presses and washing machine drums (see above) are used in the new fit out.
It's now a cafe during the day and a bar at night, with a coin operated laundry and vinyl store next door. With the menu I think you could drop a pin on anything and it would be delicious. Items have names like "Next level sausage and egg roll" or "Legit bacon and egg roll".
Brioche French toast stack with honey, wood roasted peaches, mascarpone and Vanilla soil $18.50
We try the brioche French toast stack: three pieces of soft, eggy toast sandwiched with divine vanilla mascarpone, wood roasted peaches and vanilla streusel. It's not all about looks though, this is a wonderfully satisfying but sweet breakfast that could double as dessert - for two.
Savoury mince $19.50
The savoury mince is the perfect post surf meal as it is also enormous. It's beef mince with wood roasted tomato, free range poached egg, bacon and sourdough toast. But it isn't just enormous, it's delicious.
Right along the esplanade hidden a little by construction is Estabar, a cafe with offerings that hits all the current points: vegan, gluten free, fermented and all day breakfasts. Alongside cafe offerings is a display of what Sheriden says is Newcastle's best gelato. We order at the counter and take a seat outside and feel the cool sea breeze on our faces.
Blackfox crumpets $16.50
The Blackfox crumpets come three to a serve, a tangy creamy breakfast with vanilla ricotta, stewed Autumn rhubarb, nut crumble and maple syrup. This is Mr NQN's favourite.
Lunch Bruschetta $17.60
The lunch bruschetta, my choice is a simple offering with torn smoked salmon, pickled red onion, two labna balls, chilli and rosemary salt, baby spinach leaves and two pieces of sourdough toast. And grab a choc mint bliss ball on your way out!
3. Where To Find Afternoon Tea in Newcastle
So we've established Novacastrians are obsessed with coffee but what about tea? At the Tea Project, there is a huge list of teas that you can have with your high tea, dumplings or scones. We're here for the scones because high tea needs to be pre-ordered. Sheriden says, "I've had such a great experience at the Tea Project but it does depend who's working on the day. We had a lovely woman serve myself and a friend of mine. She told us about the different teas and let us smell them. It was winter and the tea she helped me choose was warming with lots of citrus notes. The jam which they serve with the scones is made locally by a little old lady and is heavenly."
The scones are baked in house every morning. Tip: try and time your visit for 10am when they come out hot from the oven. We tried a Novacastrian breakfast tea and the lychee white iced tea and sat back and talked on the sunlight dappled velvet lounge.
4. Where To Find Newcastle's Best Bread
True Story: the woman behind me in the queue at Baked Uprising got very anxious trying to hurry me up. She was desperate to get the last loaf of bread. Another woman at a table outside remarked rather enviously that I nabbed a loaf of Baked Uprising's City Loaf bread. Open three years ago Baked Uprising is a little out of town although not far and certainly worth a trip. It was started by Alice Lees and Kyle Liston who simply wanted great bread. Sheriden says, "I think everyone in Newcastle was thrilled when Baked Uprising opened its doors a few years back. Before that Newcastle really lacked a good bakery and I had to ask friends to bring good bread up from Sydney. Alice's tarts are amazing too and I often pick them up for dinner parties."
The couple have converted a former mechanics and salvaged some of the wood to make the doors and windows and assembled a delicious list of baked goods. Just go early to make sure that you get one of their city loaves. The pies are wonderful too with thick, flaky pastry and saucy filling and while you're there try one of their fantastic tarts-pick one any one and you'll be duly rewarded. My favourites were the prune and port, the chocolate hazelnut or the orange topped tart.
5. Where To Find The Best Views in Newcastle
The best views of Newcastle involve water. The Anzac Memorial Bridge clifftop walk is full of vast views of the water below-Newcastle is a coastal city and further north than Sydney so temperatures are often a couple of degrees warmer. "It's a must when visiting Newcastle. I love walking here at sunset," says Sheriden.
The walk takes about 10 minutes each way and the hand gliders get so close you could almost touch them. Or just for a beautiful view Sheriden showed me The Hill with the water down below in the Newcastle East area provides a gorgeous photo opportunity. It's just near the oldest continuously operated school in Australia, Newcastle East Public School.
If the weather is warm, then take a dip at the Ocean Baths or Merewether Baths, the latter is the biggest in the Southern Hemisphere. Or visit The Bogey Hole. For Sheriden, "The Bogey Hole is a Newcastle icon and a bit of a hidden secret. It was hand built by convicts who carved the bathing hole into ocean rock in 1819. It's a little hard to get to which makes a dip here just that little bit more special."
6. Where To Have A Great Lunch in Newcastle
Newcastle is made up of a range of suburbs and each one is about 10 minutes drive away from each other. Hamilton main business area is on Beaumont Street and there sits restaurant Fortunate Son from restaurateurs Liz and Andrew Clifton Smith. Chef Rebecca Burt's food at Fortunate Son is smart and appealing while service is warm and friendly. For Sheriden it's the perfect place for a weekend lunch, "What could be better than brunching at Fortunate Son on a lazy Sunday morning. My favourite dish is the hot smoked trout and house labna, potato rosti and fennel salad, served with a glass of Champagne.
Green Tea Smoked trout Salad $18
There is something to suit every mood-if you want something fresh the green tea Smoked trout salad is a divine concoction made with green mango, coriander, mint and nahm jim but the star item in the dish is undoubtedly the house smoked trout. It doesn't have the pronounced saltiness that some smoked trout does and this allows the lusciousness of the fish and the aroma of the smoke to come through.
Pan Roasted barramundi $26
This is my sort of dish in every way. First there's the pan roasted crispy skinned barramundi fillet. Then there is the caramelised roasted cauliflower served with tiny pebbles of pearl couscous, flaked toasted almonds, currants and sauteed spinach. If I could bury myself in this and eat my way out I would.
Lemon Rosemary Brick Chicken $30
Mr NQN isn't keen on sharing his chicken dish. "I love parsnips," he says for the first time in 15 years (who knew?). This is a half brick chicken, roasted and succulent with crispy Brussels sprouts, parsnip puree and balsamic jus. But whatever you do, do not go past the crispy herbed potatoes with genuinely crispy potatoes.
The town of Carrington is an interesting one. What was formerly a very working class area of Newcastle due to the proximity of the docks has transformed into a small mecca for great food.
The enticing aroma from Antojito's (meaning Little Cravings) is no accident. Started by Eric Flores who hails from Northern California, the menu is all about street food. He started off the business via markets and the following has grown since.
Pork Carnito Nachos $16.50
You know when something just catches your eye on a menu? It was the pork nachos. We see plenty of beef, chicken and vegetarian nachos but not often pork carnitas nachos. With slow cooked and crispy pork it's a crunchy and fresh mix of pico de gallo, house made corn tortilla chips, cheese, pinto beans, avocado sauce, sour cream, coriander and lime wedges.
You can't go wrong here really. The fish tacos, chicken quesadilla, pork carnitas burrito are all super solid offerings. And to drink there's Horchata as well as huckleberry or orange cream sodas from America. Kids can hide out in the caravan or make drawings to hang in the eclectically decorated restaurant.
You get the feeling that things just grow and happen here and that that's the way that everyone likes it. Note: they are slated to move premises in a few month's time.
7. Where To Stay In Newcastle
Newcastle has plenty of hotels but if you're looking to stay something a bit more unique then Pappa Sven's Summer Cabin is photogenically perfect. It's the accommodation of Scandinavian homewares store of the same name run by Libby Helinki. Everything in the accommodation is quality Scandinavian design from the Marrimekko to the Normann Copenhagen lighting, Pappelina Rugs and Hay Design chairs. It's located in Cook's Hill which is central to Darby Street ("The first hip street of Newcastle"-Sheriden). The idea of Pappa Sven's came after Libby and her husband Matt lived in Skellefteå, Sweden near the Arctic circle.
There are two bedrooms in the cottage, both similar in size with a king bed and a queen bed. The bed is fairly comfortable although pillows are quite high. The lounge room is the perfect place to relax although you may be like me and tempted to cook in the kitchen with some lovely tools at your disposal (including some ridged wooden rolling pins). There are a range of Scandinavian cookbooks at your disposal too.
There is fast, free wifi and the bathroom is a simple affair with a large shower, the bathroom sink sits outside near the back entrance atop the bench above a washing machine. There is a pretty courtyard outside with an outdoor table and during winter things can be kept cosy with gas heating and reverse cycle air conditioning. It is also pet friendly for small dogs which makes it the perfect place to take Mochi. Parking can be an issue from Monday to Friday and it is limited to 2 hours between 9am-5pm. Also you may want to bring your own toiletries as only basics are provided and there is also one towel per person given.
8. Where To Go Shopping in Newcastle
The lively Darby Street is home to eateries and some great boutiques. Betty Mim is a bit of everything from clothing to knick knacks to heritage seed packets while clothing boutiques like Abicus have great service and design while Scout is all about the latest Instagrammable trends.
Opposite The Edwards is a little party shop Palm & Pine Party Co. opened just recently by American owner Andrea Ciotti. She has a hand picked collection of party plates, cards, decorations and bits and pieces.
And Pappa Sven's boutique (separate from the accommodation) in Cook's Hill is where you need to visit to get a Nordic fix with brands like Marimekko, Kauniste Finland, Sägen Sweden and Ferm LIVING among many more.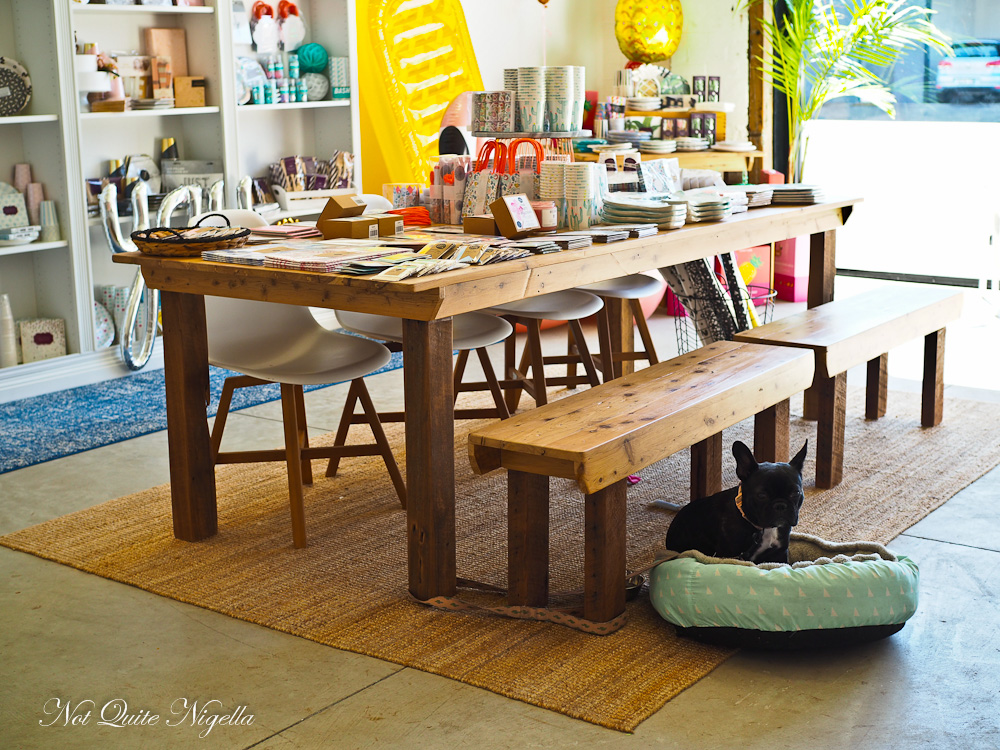 9. Where To Find Newcastle's Best Sweets
Newcastle is in the throes of donut and burger love and at Doughheads at The Junction shopping centre the queue is long. People stare at the box of donuts under a glass display as if they were museum pieces ready for ordering.
I go for an 8 piece mini sampler box-it's Easter so the theme is Easter with a creme egg donut (with caramel syringe), Nutella, Cookie Dough with chunks of cookie dough pieces and chocolate chips, vanilla bean glaze.
There is also white chocolate with white chocolate ganache and flakes, a donut version of a Hot Cross Bun (my favourite) with marsala creme patissiere, spiced icing, chocolate cross and currants or for a bit of a classic Aussie flavour, there's also a Gaytime with honeycomb creme patissiere, milk chocolate ganache, biscuit crumble and honeycomb chunks. Chase these with a root beer float.
Naomi Henderson
The first time I came across Hello Naomi was years ago when I frequented Vogue Forum. People would post Naomi Henderson's adorable creations from her Flickr account and she was really one of the pioneers that made adorably cute and Instagrammable cookies and cupcakes-and this was before Instagram even existed. Time your visit to Newcastle for a Friday or Saturday because her cake studio is open to the public then (otherwise you may just have to satisfy yourself with the wafting aroma of cakes baking).
Naomi makes seasonal goodies (Mother's Day is coming up and she has just finished with Easter) from cakes, cookies, cupcakes, brownie sandwiches, iced cookies and cake by the slice. The iced cookies are a whimsical dream come true while the brownie sandwiches are so very good and if you are ordering a cake, the cherry ripe chocolate mud cake is a must (and much better than an actual cherry ripe). "My mum taught me to bake," Naomi explains. She studied computer engineering but just over 10 years ago when she was 23 years ago she started getting distracted by baking. Since then she has built up a following and a loyal clientele all based on a very sweet life.
Naomi loves the relationship that she has with her customers and says that part of the joy of what she does is that she becomes a "cake maker for life" making a couple's wedding cake, then their children's birthday cakes from then on. "I get to be involved in all the really happy occasions in people's lives," she says.
Ella with Mochi
It's one of Ella's favourites and she says, "I beg mummy to take me to Hello Naomi. We go there for cupcakes when school's out, or if it's my birthday. My favourites are the salted caramel cupcakes and the iced biscuits."
10. Where To Go For a Drink in Newcastle
The Koutetsu feels like a place you could disappear into, if you were on the run from something or less dramatically, if you simply wanted to get away from the main street. A speakeasy behind a large, solid black metal door it's grungy, warmly lit and welcoming.
The menu has 330 spirits and liqueurs and signature cocktails but they love it best when you tell the flavours you like and they'll mix up your own cocktail for you. We called ours "The Suzie", a cocktail with beefeater gin, Suze (an French herbal gentian liqueur), Dubonnet, grapefruit, lemon and honey. And psst it's located right next to Subo so slip in for a quick pre or post dinner drink.
The Suzie bespoke cocktail $19.50
Reserve Wine Bar has a simple solution if you don't know which wine you want to drink. Just tell them what you like and a wine flight of three fab wines picked by wine writer and proprietor Pat Haddock will wing their way to your table. It's in the CBD area and they took over the premises in 2012 where it was formerly a bank (there's a vault door still in the bar).
There is a full menu available-if you're after snacks then the salted fish fingers with seaweed tartare are crunchy golden and moreish and the fish is salted in-house. If you are hungry the menu also spans to steak, duck confit and salads and there's a toastie project where the filling changes every week. "I just wanted bar food I wanted to eat," says Pat.
The wine menu is split into descriptive categories from "whites with mouth filling attitude" to "pink and perky" to "naturally great" but it's also broken down into varietals if that's your cup of tea...or glass of wine.
11. Where To Dine in Style in Newcastle
The refreshing thing about fine dining in Newcastle is that it is never stuffy but it's big enough of a city so that service is professional but still with regional charm.
Sheriden had two favourite fine dining restaurant recommendations (which I'll write about in more detail in separate posts). Of Restaurant Mason Sheriden says, "There's nothing nicer than lunching at Restaurant Mason in Newcastle's beautiful east end where tables set with white linen tablecloths flap in the breeze. Chef Chris Thornton's Modern Australian menu delivered in a relaxed yet stylish space epitomises the changing face of Newcastle."
And for Subo, Sheriden says, "This is Newcastle's special occasion restaurant and Novocastrians know how lucky we are to have this one hatted restaurant headed up by Beau Vincent, former head chef at Melbourne's Bistro Guillaume, and wife and front of house Suzie Pollack-Vincent. Book way in advance to avoid missing out."
So tell me Dear Reader, have you got any tips to share on Newcastle? When is the last time you visited there? Or is your home town a fantastic place to visit?
NQN and Mr NQN were guests of Destination NSW but all opinions remain her own.
Esther C.
140 Glebe Road, Merewether, NSW
T: (02) 4048 0975
https://www.facebook.com/EstherCMerewether
Dog friendly area
Welsh Blacks
84 Bull Street Cooks Hill 2300
T: (02) 4927 5534
https://www.instagram.com/welshblacks/
Dog friendly area
The Edwards
148 Parry St, Newcastle West
Phone: (02) 4965 3845
http://www.theedwards.com.au/eat-and-drink
Dog friendly area
Estabar
61 Shortland Esplanade Newcastle, NSW
T: 02 4927 1222
http://estabar.com
Dog friendly area
The Tea Project
177 King Street, Newcastle NSW
https://theteaproject.com.au/
Baked Uprising
21-25 Downie Street, Maryville, NSW
http://www.bakeduprising.com.au/
Dog friendly area
Fortunate Son
131 Beaumont St. Hamilton NSW 2303
T: (02) 4961 0512
http://www.fortunateson.com.au/
Dog friendly area
Antojitos
87 Young Street, Carrington 2294
T: 0422 106 220
https://www.facebook.com/antojitosstreetfood
Dog friendly area
Pappa Sven's Summer Cabin
33 Union Street, Cooks Hill NSW 2300
T: 0416 333 346
https://pappasven.com.au/pages/accommodation
Dog friendly on a case by case basis
Doughheads Doughnuts
17a, 200 Union Street, The Junction
T: 0429 498 123
http://doughheads.com.au/
Hello Naomi
175 King St. Newcastle NSW 2300
T: (02) 4023 0867 https://www.hellonaomi.com.au/
The Koutetsu
280/336 Hunter St, Newcastle NSW 2300
https://www.facebook.com/thekoutetsu/
Reserve Wine Bar
102 Hunter Street, Newcastle NSW 2300
T: (02) 4929 3393
http://reservewinebar.com.au/
Restaurant Mason
3/35 Hunter St. Newcastle NSW 2300
T: (02) 4926 1014
https://restaurantmason.com/
Dog friendly area
Subo
551D Hunter Street, Newcastle 2300
T: (02) 4023 4048
http://www.subo.com.au/