Whenever someone finds out that I am visiting Thailand and that I love food, conversation always turns to the area of Chiang Mai, 700kms north or a quick plane ride from Bangkok. Although not a sprawling country, Thailand's food scene is still quite regional and Chiang Mai's proximity to Burma and Laos creates its own unique cuisine.
Our grand plan was that Mr NQN and I would have 10 nights in Thailand after a press trip in which we could have a holiday. One that didn't involve me blogging. It would come with mandatory resting and massages and a ban on no more than an hours' work on the computer each day.
But when we arrived in Chiang Mai I was struck at how utterly delicious the food was. Of course Thai food is great but there's something very distinct and special about the food in Chiang Mai. I ended up taking pics on my iPhone as the camera was in forced retirement and by the end of our stay some Instagram followers asked if I could put together a list of great foods to eat in Chiang Mai. As always your wish is my command!
As always exercise commonsense with street food. Use hand sanitiser before eating and buy from well patronised stalls as turnover will be higher. We ate almost exclusively from street stalls during our 10 days and didn't get sick.
1: Sai Ua
You've never had sausage like Sai Ua. With a coarsely grounded pork filling it also sings with flavours like kaffir lime, lemongrass and chilli. The sausage is wrapped around into a coil and it is a Chiang Mai classic. Traditionally cooked in a house brick oven filled with charcoal these days they tend to deep fry it like at the famous Sai Ua stand at Wararot Market.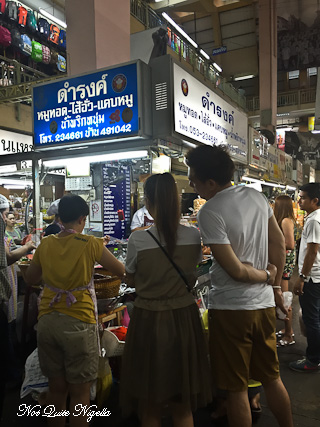 It's easy to find. It's the only stand that has a continuous queue of people. Here it is sold hot, in broken up links out of a basket. My first taste of Sai Ua was not my last and I couldn't get this fantastic sausage out of my mind (it's not Freudian, it's more Pavlovian). We went back to buy more and at around $7 for half a kilo of links, it's good value but most importantly, it is ridiculously tasty.
2: Khao Soi
Chiang Mai is next to Burma and Laos and some of the items cross borders. Khao Soi is described as a cousin to the ubiquitous laksa but it is so much more. First there is the curry gravy upon which there the egg noodles are heaped. There are two kinds: soft and crunchy noodles plus the meat of your choice which all add a fantastic texture to the dish. Then you get started adding the cabbage pickles, bean sprouts and tiny wedges of lime to your taste. My favourite was the fried pork khao soi with the enormously appealing crunchy crackling and fat layered slices.
3: Pork rinds or kaeb moo
Pork rinds are everywhere in Chiang Mai and probably even outsell potato chips as a crispy snack (I'm just guessing this based on their availability). Thin or thick, they're light and crispy and almost feel as though you're not eating much! A risky proposition indeed.
4: Sai Krok Isan
Okay these aren't strictly from Chiang Mai (they're more from North Eastern Thailand) but they're so good that I just don't want you to miss out on these utterly delicious balls that are very common with street vendors in Chiang Mai. Street vendors carry lengths of these pork fermented sausage balls made with sticky rice or vermicelli. Don't let the word fermented scare you. It just lends these balls a touch more flavour and while they can be hang at a hot room temperature for up to 6 days, the time required means that vendors ferment them for much shorter if at all. My Kitchen Rules alum Jen Evans says, "Some parts of Isaan will add vermicelli in the sausage to bulk the sausage up (Isaan is the driest region in Thailand and poverty is quite high) ). It's essentially another way of preserving food back then before there was refrigeration."
These are served with pickled carrot, cabbage and ginger. The best treat is watching them cook them over charcoals, watching them turn them over just at the right time by lifting both ends of the string. They then cut the balls off the string with a hawk like precision and pick each up with a skewer and hand it to you in a bag. Tip: try any of the sausages that you see, they're all delicious!
5: Afternoon Tea at the Dhara Dhevi
While afternoon tea is not a traditionally Thai item, there is one place in Chiang Mai that is putting their own unique Thai spin on French pastries and cakes with such skill and colour that it may make your heart flip. The Dhara Dhevi is a luxury hotel in Chiang Mai and their Dhara Dhevi cake shop in the Kad Dhara Shopping Village within the hotel serves up a three tier stand of goodies in their Victorian style tea salon. Each stand is generously portioned and full of Thai and Western flavours. Their sai ua sausage roll pastry is so delicious that I contemplated bribing Mr NQN for his piece.
What may tempt you away from the tier stand however is the selection of colourful eclairs displayed under the glass cabinet. They come in flavours like the beloved Thai milk tea, mango or Mekhong and O-leng eclair, an intriguing mix of Mekhong whisky and black tea. They're also all a bargain at 55THB each (around $2AUD).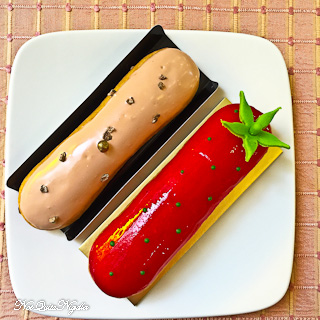 Tips for Chiang Mai
Flights to Chiang Mai are inexpensive if you book directly with Thai Airways or Thai Smile. For some reason if you book through a travel agent they are more expensive. It cost roughly $50AUD per person one way from Bangkok to Chiang Mai.
Wararot market (or Varoros or Wararos) is large and about a 25 minute walk from the old town. This is not really a tourist market but a real local's market and people are very friendly.
Try to be in Chiang Mai during the weekend for the weekend Walking Markets. There is one on Saturday and one on Sunday. Saturday's market is smaller but with more food but Sunday's is enormous and you can walk around it for a few hours. Stallholders set up around 5:30-6pm. You can try most of the foods above at these markets (except the Sai Ua sausage which is sold at Wararot Market).
At around 6pm the national anthem plays over loudspeakers and everyone stands still to pay their respects.
Expect Chiang Mai to be a little cheaper than Bangkok. While currently the exchange rates aren't great (at the time of writing) eating out and hotels in Chiang Mai can be reasonably priced.
The Old Town is a very central area to stay in. Otherwise, hotels tend to be quite spread out in Chiang Mai if they're not in the old town.
The taxi system is a little different. There are no meters and there is a set fare set by taxi drivers. I don't know if this is set by the taxi association but everyone seems to know roughly how much a taxi will cost from a to b. An alternative is always to get a tuktuk. The general rule of thumb is they give you a price, you halve it and then come to an agreement of about 60%-70% of the initial offer price. Do this all with a smile. Because I have a feeling that you might love Chiang Mai as much as we did!
So tell me Dear Reader, have you tried any of these foods? Have you eaten much street food? Where is your favourite holiday destination for food?
All of this food was independently paid for and giddily eaten.