Opening up Stanbuli, a Turkish restaurant on Enmore Road amongst many others is perhaps an interesting move. Opening it in a former hairstylists and keeping the signage is another but somehow it feels at home along a string of vintage themed stores. And it clearly doesn't stop the crowds flocking to Stanbuli, the latest eatery from Porteno's Elvis Abrahanowicz and Joe Valore with Porteno's senior chef Ibrahim Kasif.
Open since just before Christmas the ground floor of Stanbuli is centered around a bar with bar seating around the other areas. Ground floor diners perch on stools and waitstaff are decked out in 1950's gear. The service is all about retro geniality. Bookings aren't taken so we put our names down and wait at The Gretz a few doors down. No great hardship as we love The Gretz and one and a half hours later they call to let us know that our table is ready.
The table is actually a row of seats along one wall. For that reason eating downstairs is best done in smaller groups as larger groups lose some interaction sitting in one row. A friend Kristie comes down from upstairs, "It's so noisy up there!" she exclaims. She has just come downstairs because they were overwhelmed by the noise although if you're not a fan of sitting on a stool there are regular table and chairs there.
Uludag Orange, Ayran and Sour Cherry Juice $5 each
The food menu is three pages long and our lovely waitress helps us negotiate the favourites. The Wizard takes a serious look at drinks menu before putting it down. "I've had a very serious quarter of drinking," he says. Yep it's not a day or week or a month of drinking but a quarter. Soft drinks are ordered (plus we had cocktails at The Gretz while waiting) and I particularly like the ayran and sour cherry juice. Ayran is a salty yogurt drink, not too unlike a salty lassi and they add dried mint to it. It's absolutely refreshing but it isn't for those expecting a milkshake or smoothie. The Uludag Orange is just like Fanta or something similar.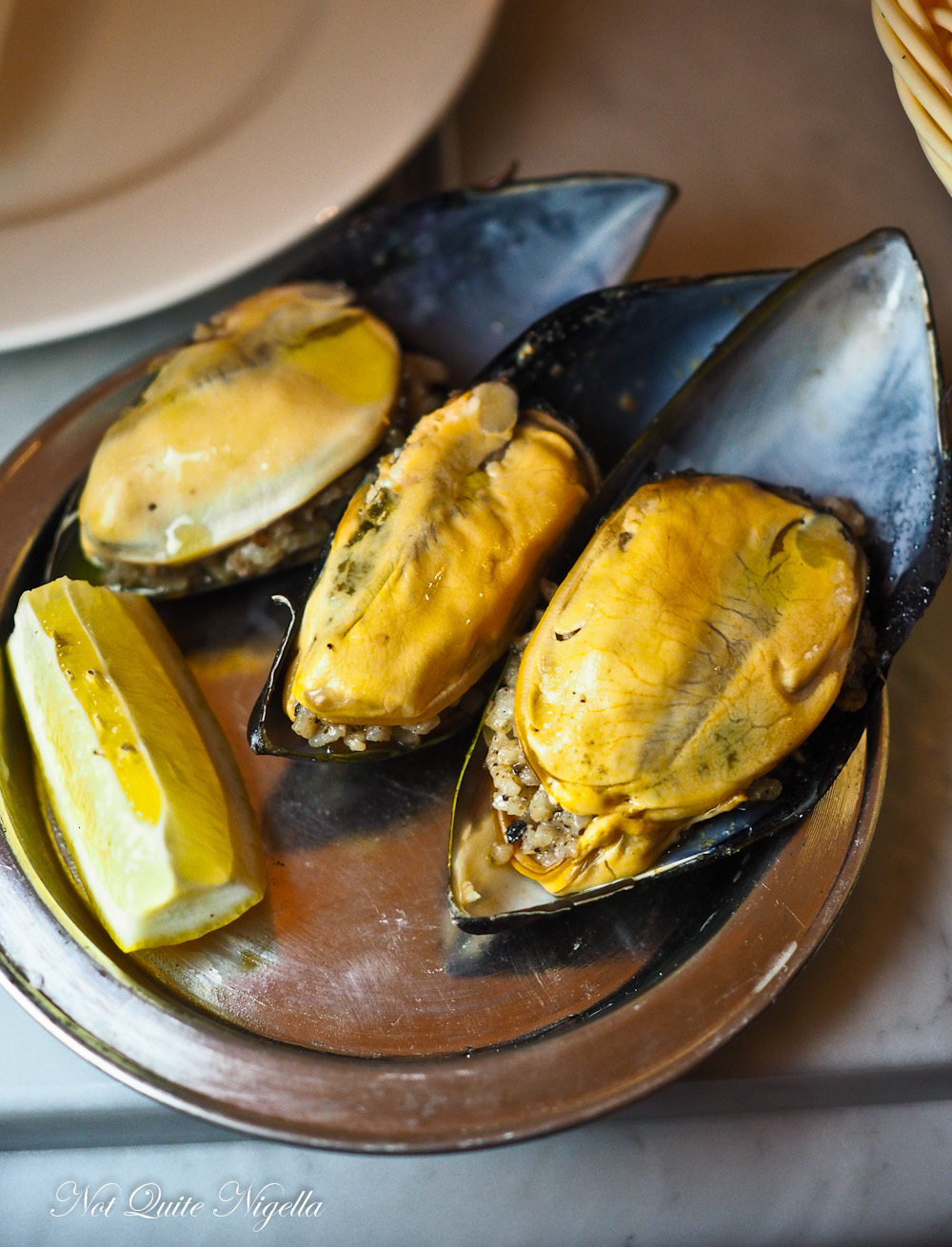 Midye Dolma or Stuffed Mussels $3 each
The street style mussels sit atop a small mound of spiced rice. The mussels are sublime and meaty and I wonder why this isn't more common as they're delicious. A little hint though, take the top shell and leave the bottom one as you can lose your mussel and rice otherwise.
Kisir Scallops $18
The Kisir are thinly sliced raw scallops that sit on top of a burghul, onion and pomegranate seed dressing. The scallops are fresh and the burghul is aromatic but I think I could eat this whole dish in a few bites.
Ezme Walnut salad $14 and bread $2 a slice
The walnut salad is really more like a creamy dip and necessitates slices of the bread. The bread here is not the classic Turkish pide but a fluffy, light slice that is also good for dipping. The salad is made up of walnuts, tomato and chilli with a pomegranate vinaigrette. Ezme translates to "mashed" which gives it a creamy texture but it is lifted by the sour sweet tang of the pomegranate molasses.
Karnibahar $16
At first we think that this is a meat dish but it's actually dark fried cauliflower with charred onion layers in a yogurt and saffron sauce. It's a tad oily but you really almost want more bread to soak up the rich, thick yogurt dressing and the sweet caramelised cauliflower florets.
Hellim $20
You know when you order so many things that you forget what you've ordered? It's a pleasant surprise when I remember we ordered the cheese. The sheep and cow's milk cheese is sliced and served pan fried and topped with green and red tomatoes and dried mint (the latter is used generously in a lot of dishes here). The cheese is not unlike halloumi but softer and less salty.
Adana Kofte $30
The Adana or lamb and beef kofte are done on skewers and cooked on the charcoal grill and served with pickled long green chillis, tomato and onion. They've got a delicious char aroma and flavour and are juicy and flavoursome. They come with a small plate of yogurt and zucchini that is rich and creamy and goes well with the succulent meat.
Pirzola Lamb Cutlets $38
The lamb cutlets come four to a serve and come topped with pickled green chillies. There's a lot of meat on one of them so that goes to the hungry Wizard. The rest are more to nibble on and the meat is succulent with a lot of fat around the meat.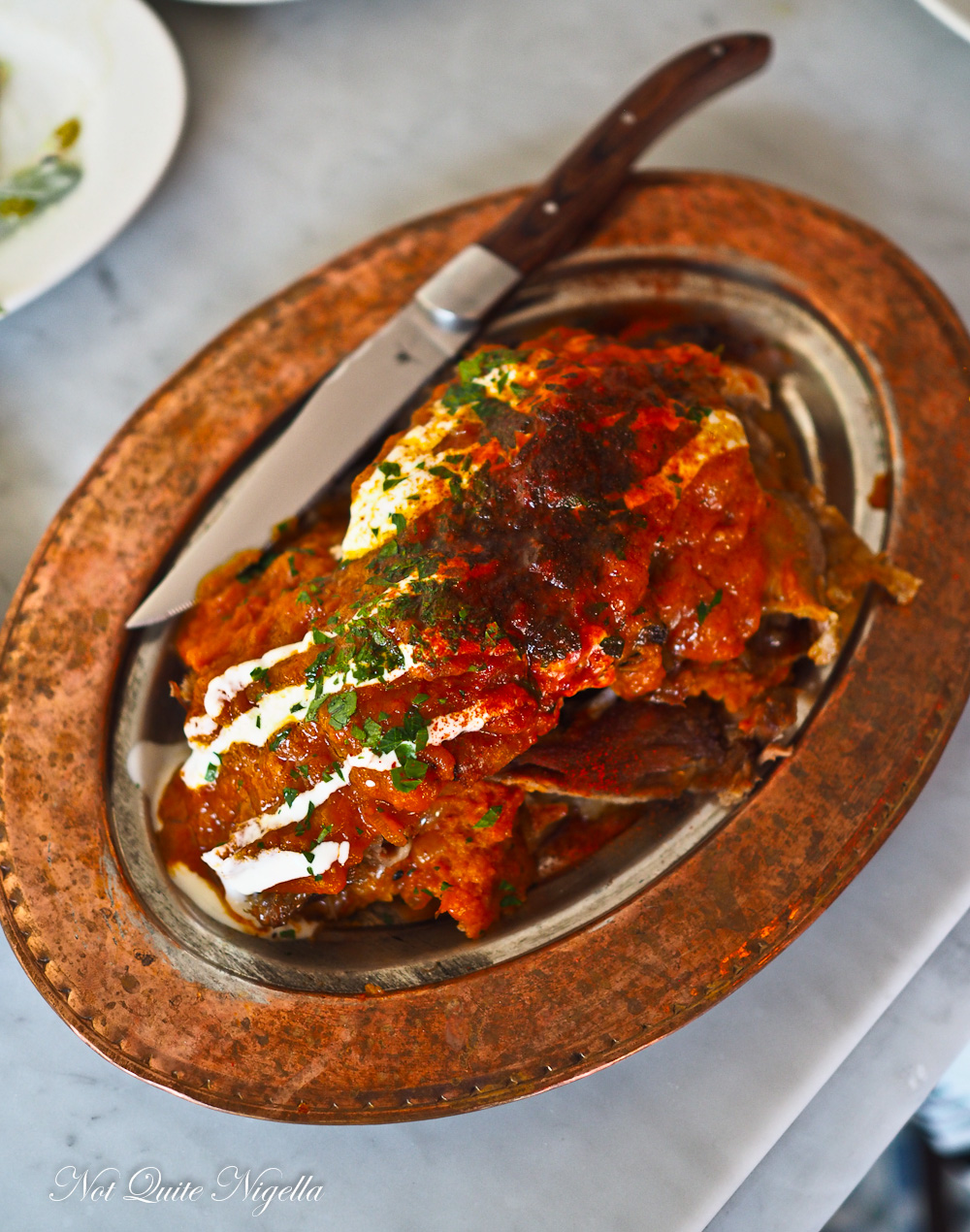 Iskender $30
Whenever we would get Turkish takeout, Iskender kebabs were always my favourite. Here the lamb neck is done over coals and is wonderfully soft. It lies on a layer of bread soaked in a roasted capsicum and tomato sauce as well as lashings of yogurt and burnt butter. It's rich, it's soft and it's saucy. And incredibly filling too.
Patates Yumurta $14
The hand cut potatoes are a good side to go with the meats. They're hand cut, spiced and served with sucuk sausage and "broken eggs" which are fried eggs. I particularly like hunting for pieces of the sucuk, that delicious dry beef sausage.
Ekmek Kadayif $14
Turkish sweets do tend to be on the sweet side and this is no exception. It's an orange blossom and honey syrup soaked into a rectangle of bread. On top is some pistachio and fresh fig topped a rectangle of set clotted cream or ashtar. Sure it's sweet but it's the kind of dessert that you don't really want to stop taking bites out of.
Muhallebi $14
For something light and refreshing (and given how much we had ordered) we decided to try the mastic milk pudding topped with poached peaches, grapes and a refreshing watermelon granita. There's also some rosewater syrup in there too and the dessert reminds us of the flavours of rose Turkish delight. And it's only then that the hollow legs of Mr NQN and The Wizard are finally full!
So tell me Dear Reader, do you ever forget items that you've ordered? If left to ordering, do you tend to over or under order? Or do you get it just right?
This meal was independently paid for.
Stanbuli
135 Enmore Rd, Enmore NSW 2042
Phone:(02) 8624 3132
Wednesday to Saturday 6:00 – 11:00 pm
Sunday 4:00 – 10:00 pm
Monday & Tuesday Closed