For anyone inclined to grab some delicious Turkish food at The Sultan's Table, let this review serve as a warning to avoid the fate that has plagued many visiting, including us, of being turned away without a reservation on a Saturday night. Looking like a takeaway joint from the outside, it is deceptively large with tables to dine in towards the back and a loyal and numerous clientele that already know the score. If you want to eat here on a Friday or Saturday night, it's a good idea to book ahead by a few days.
This Saturday night we are in possession of a reservation. And a good thing too, for even as we're dining early at 6pm, we watch a steady stream of people being turned away. For those of you that do find yourselves in the same situation, there are tables outside where you can eat your takeaway but of course it's not quite the same.
Prices for dine in are mostly $1-2 more than for takeaway except for the plates of dips which are double the price. We presume this is to discourage people from ordering a plate of dips and sitting there for an hour. We start off with a plate of the colourful dips with Turkish bread and then order an eggplant fritter, the Sultans Kebab, Iskender Kebab, Guvec and a Kusabilli Pide all topped off with a baklava.
Service it has to be said is very charming and friendly. It seems the gruffer types are behind the counter dealing with the takeaway customers (and even then they aren't that gruff it should be said) and the friendly ones are taking care of the restaurant. We muse that they probably split themselves up beforehand and said "Ok you like people, you deal with them, I don't so I'll just cook and do takeaway orders."
_Mixed dips (medium) $14 with Turkish bread $3 Clockwise from top left: carrot dip, jajik, spinach, babaganoush, chili, hummous, beetroot and spinach dip with eggplant in the centre.
_
We're not waiting long for our dips-we have a spread of 8 dips including Hummous, Babaganoush, parsley, chilli, beetroot, carrot, spinach and jajik (yogurt) with some eggplant in the centre as well as a large basket full of warm and super fresh fluffy Turkish bread. I should confess that Turkish bread is my favourite bread ever and anyone watching me could probably tell, the way I was making out with it. The dips are delicious, particularly the chilli and babaganoush together. The babaganoush is one dip I usually don't like as I find the smokiness to the eggplant too strong but this one is fantastic so I feel compelled to ask the waiter about it and he explains that they do their babaganoush differently than other places, using yogurt. I like the sweetness of the beetroot (minus the earthiness) and the carrot and the spinach dip too although none of us really go for the parsley dip.
Zucchini fritter $3.50
Our Zucchini fritter arrives and it is filled with zucchini, carrot, onion, parley, cheese and herbs and is quite a large patty indeed. It's nice although more reheated rather than freshly fried and goes well when combined with the dips.
Sultans Kebab $15
Things tend to arrive when they arrive so we receive our Sultans Kebab next which has pieces of eggplant, tomato and meatballs skewered over charcoal with green chilis and flatter Turkish bread. The SMH review said that the meatballs were whoppingly sized but ours are just normal sized.
Underneath the bread
They are brought to a table with a flourish under a copper domed lid. It all has a deliciously smoky flavour to it and is surprisingly filling.
Kusbasilli pide $13
Our next main, the Kusbasilli pide arrives and is filled with kusabili diced lamb, tomato, fresh chili and peppers. It's hot in both temperature and spiciness and not for the faint hearted or those fearing chilli.
Iskender Kebab $13
One of my favourite dishes ever is the Iskender Kebab. Unlike Doner kebas which are served in a roll, the Iskender features a bed of spongy Turkish bread pieces, a layer of doner kebab meat and then a layer of home made yogurt and a mysteriously named "red sauce". It's luscious, it's gooey and saucey and filling and moreish. Eating it I turn into pure Nigella moaning and scooping it into my hungry mouth with an ecstatic fervour.
Guvec $13
Our last savoury dish, the traditional speciality Guvec, is served in an earthenware ramekin and takes longer than the rest to cook. It's a casserole with pieces of eggplant, zucchini and tomato with slices of lamb meat with the most delicious rich tomato based sauce just made for mopping up with the accompanying bread.
Baklava $2.50
Somehow we manage to try and fit in some Baklava. It's hit peak busy time and our waiter notices that we've been waiting about 10 minutes for our Baklava. He races behind the counter and gets a slice of baklava and a slice of Kadayif and with a flourish presents it to us saying "The best thing about waiting so long for your dessert is that you get it for free". Yes, a sweeter than sweet ending for our meal (although my husband sweetly notes that he prefers my browned butter baklava).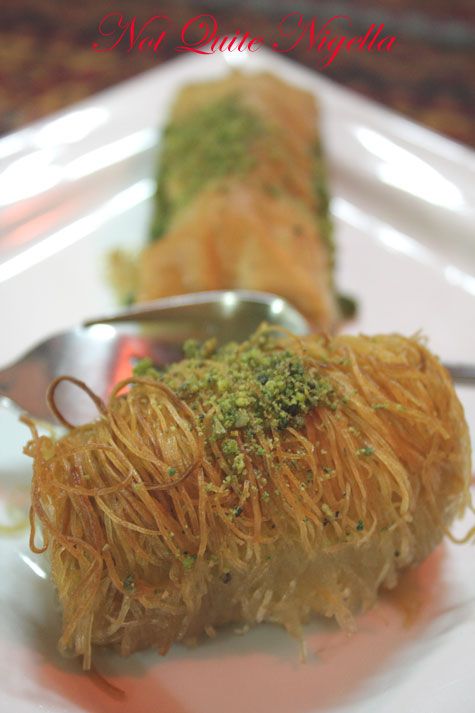 Kadayif $2.50
The Sultan's Table
179 Enmore Road, Enmore, NSW (corner London Street)
Tel : +61 (02) 9557 0229
Monday-Sunday 11am-11pm
Friday-Saturday 11am- midnight
Cash only