Izgara is a Turkish grill and bar in Potts Point. The Turkish restaurant is based on ocakbasi restaurants where chefs prepare the food on a grill in front of you. The restaurant has deep booths, red velvet curtains, marble tables and a menu with modern Turkish dishes led by young, female chef Gizem Akca.
Georgie, Monica and I are carpooling and arrive in Kings Cross at 5.55pm on a Friday night for our 6pm booking. The parking gods bestow us a parking spot right near the restaurant. It's so good but the parking signs are so confusing that we have to rope in a nearby bouncer to confirm that it is indeed ok to park there and he gives us the thumbs up. Izagara is right near the Coke sign just around the side on Bayswater Road where Harajuku Gyoza used to sit.
We are the first table to arrive at Izgara and throughout the night there are three other tables so it's a bit quiet this Friday night. There's a front section, a centre open kitchen where chef Gizem Akça is situated and a back section with wide, semi circular booths made for 4 to 5 people which is where we are sitting. The word Izgara means grill in Turkish and the menu has four grill selections as well as around four starters, dips, warm appetisers and sides and there's a range of dishes for vegan, vegetarian, gluten free and dairy free.
Salgam $8 Dirty Martini $24
We start with drinks: it's an extremely dirty vodka martini for Monica, wine for Georgie and I'm curious about the fermented purple carrot juice. I ask the waiter if the carrot juice is good. He pauses and says "Well its Turkish..." which makes me wonder if he's trying to find a diplomatic way to say that it isn't to everyone's taste. I decide to try it because I do love carrot juice but it is resoundingly savoury and not sweet at all. Another soft option is the Gazoz or Turkish fizzy lemonade, a clear sparkling drink with the flavours of ramune or creaming soda.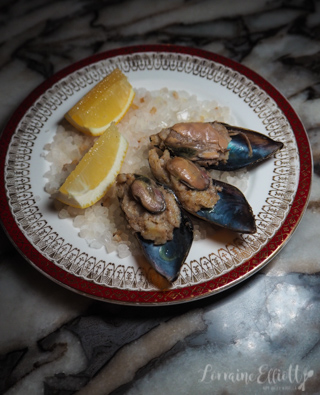 Spring Bay Mussel Dolma $5 each
We start with the mussels dolma which are black mussels served cold in the shell with spiced rice and artichoke cream. These are wonderfully tasty; the artichoke cream and spiced rice are packed with flavour and they are the sort of starter you want half a dozen of.
Broad Bean Hummus, Cumin, Tahini $16 and Simit $7
Then comes everyone's favourite dish of the night. There are three dips on the menu: this hummus, a smoked eggplant manca and char grilled pepper and smoked labneh. Georgie, under pressure, is tasked with picking the dip and she comes up trumps. This broad bean hummus is luscious and flavoured with cumin and a light touch of tahini as well as pureed broad beans and whole broad beans. It sings with flavour and we dip the warm simit in it and then just scrape up any dregs on the plate. The breads come from the sister business Malika bakehouse and you probably need two simit per dip or at least one and a half.
Kokorec, lamb sweetbread sandwich $20
Monica's only menu stipulation was the lamb sweetbread sandwich. Kokorec is caul fat wrapped around seasoned sweetbreads and grilled. This has a rich lamb flavour with a slight muttony aftertaste with maras spices (similar to Aleppo chilli) on a sweet, toasted bun similar to a brioche. It's so rich that we cut it into three which actually gives us the right portion size as I don't think I could finish one or even half to myself.
Pistachio Kebab, Beef Shish, Tomato Ezme, Flat Bread $39
It's time for mains and the beef shish isn't quite what we envisaged. We thought that we would get actual skewered (shish) beef pieces but what arrives is four beef mince meatballs, tomato ezme (a classic Turkish tomato based sauce), four squares of very crisp, thin flatbread and chopped pistachios. Alas the meatballs are very dry and four meatballs doesn't quite fit the price of $39.
Lamb Backstrap Iskender, pide bits, foamy butter, hung yogurt $42
The main that we really enjoy is the Iskender kebab. The lamb backstrap is tender and comes in thin, overlapping escalopes covering a bed of chopped pide bread flavoured with a deeply reduced tomato sauce and lashings of browned butter. The silkiest hung yogurt is served on the side. The only thing that this dish needs is seasoning and once we add some salt and pepper it springs to life. Not only did we enjoy this a lot more taste wise than the kebab above but the prices makes a bit more sense given how much backstrap was served.
Gavurdagi salad $16
The Gavurdagi salad is a chopped salad made with cucumber, tomato, walnuts, pomegranate arils and olives and goes well with both mains imparting a welcoming freshness from the meat.
Cheesecake Baklava $22
The cheesecake baklava is a generous slice with creamy, smooth cheesecake filling and a filo base and sides with syrup and pistachios on the base.
Burnt Almond Milk Pudding $17
I have to admit that I ordered this because I adore kazandibi, that stretchy mastic pudding with a beautifully burnished top. This version uses almond milk and reminds me of a crème caramel as it doesn't really have that much of a stretch to it. There's darkly toasted flaked almonds around the edge and it's good if you like almond milk but if you're looking for a classic kazandibi stretch with that lovely caramelised top you may be left wanting.
So tell me Dear Reader, which dish do you like the sound of the best? Do you feel pressure when choosing dishes on a menu?
This meal was independently paid for.
Izgara
Shop 2 / 9/15 Bayswater Rd, Potts Point NSW 2011
Phone: (02) 8057 4771
Tuesday to Thursday 5:30–10 pm
Friday & Saturday 5:30–10:30 pm
Closed Sunday and Monday
izgarasydney.com.au