The Inner West suburb of Summer Hill is a cute, postage stamp sized suburb just over 1 square kilometre in size. Bound by Parramatta and Liverpool roads it was formerly a working class suburb with some spectacular houses. It is also one of my friend Belinda's favourite places to shop and spend time. It was during a sausage roll challenge that she showed me shop after shop. I asked if she wouldn't mind showing me the best of Summer Hill and she recently obliged!
"People love the close knit village feel of Summer Hill and one they a place they stay forever," Belinda says as she is showing me around. Summer Hill is also family friendly or pram friendly and Belinda spent many days here when her girls were babies. The train station also deposits people right in the thick of things. You can also drive here although the parking limits are relatively short from 15 minutes to 2 hours (head a bit out of the centre to park for longer).
Plunge No. 46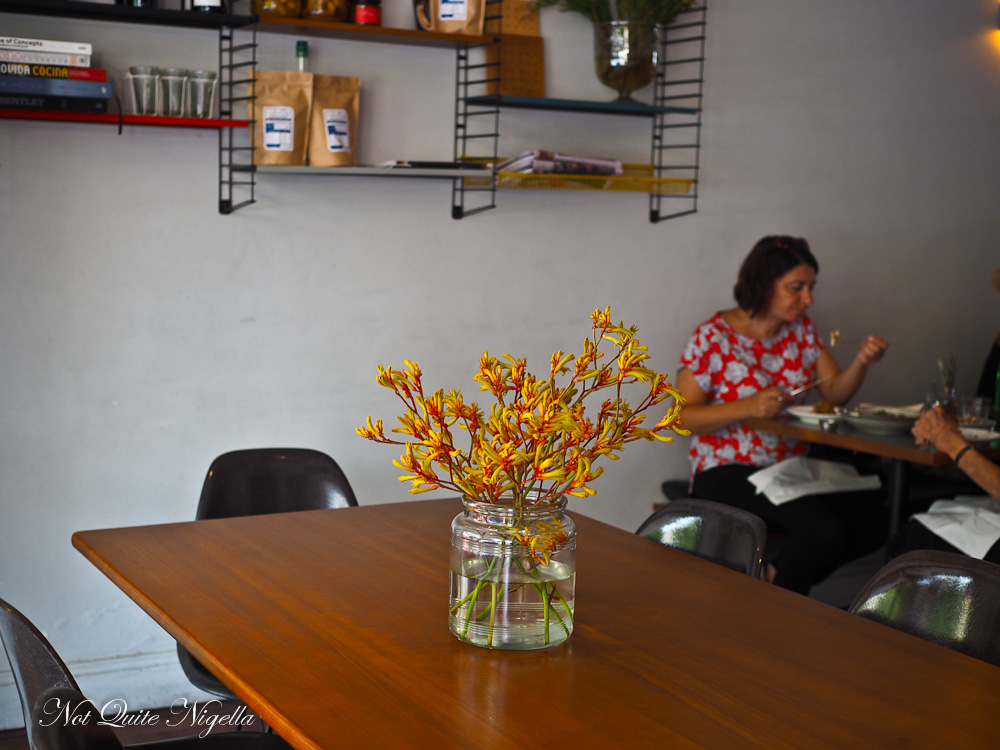 Cafe Plunge No. 46 is located on Lackey Street, opposite the train station. During the day it is a cafe but at night it transforms into a restaurant where ex Perama and Xanthi chef David Tsirekas hosts pop up dinners. Belinda and I are here for breakfast this morning to start her tour and service is very friendly. Owner Hesham El Masry is Egyptian and the menu has a Middle Eastern feel mixed with Australian favourites. There are things like eggs benedict with Egyptian crumbed cheese or cous cous porridge with pomegrante and orange blossom mascarpone.
An iced Milo is almost compulsory ordering while we also order a honey and mint tea while breakfast is ordered - the pea pancakes with avocado, feta, red onions and poached eggs have a slight bitterness to them while the
crumbed cheese is served on toast with tomato, sweet and two runny poached eggs.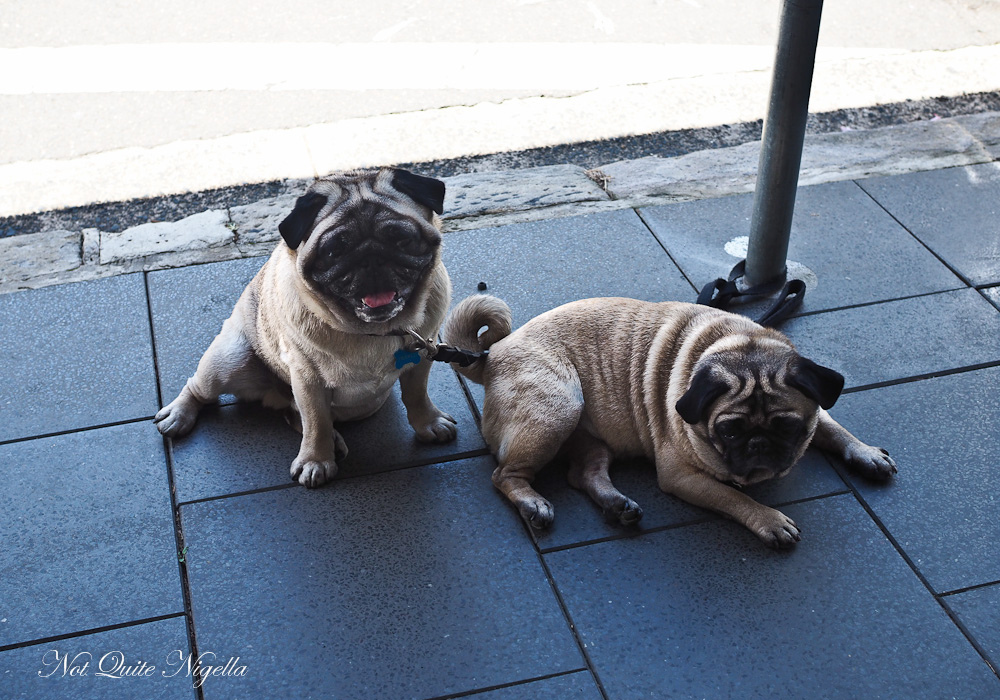 What's better than one pug? Two pugs!
"I love this shop," says Belinda as we walk past My Messy Room, a children's boutique. She points at the eclectically decorated Drugstore across the road, "They make great coffee." Alas it is shut this Monday but we peer into the window and see playing cards on the roof and a ventriloquist dummy in the window. I'm not going to lie. I found it delightfully creepy.
Summer Hill's iconic milk bar has closed due to the passing of the proprietor George Poulos who was found dead in the store - he ran the store for 63 years. When we lean in to read the articles posted up there's a creak behind the door and we jump and run off feeling as though we are six years old again.
Summer Hill Village Patisserie
"That's a great butcher," Belinda adds of Two Fat Butchers but it's a stop at the Summer Hill Village Patisserie that has us both excited. "These are the best," she says pointing a finger at the danishes in the window. "I could eat a whole one to myself," says Belinda.
I reserve a danish and pear and brulee tart to take away later. When I get home I cut into the pastry. And holy pastry it's ridiculously good. With a laminated pastry Danish dough it is full to bursting with cream cheese and sour cherries. It takes nerves of steel to stop at three slices (I know, the three bite rule was out). The brulee tart is similarly blissful and has a classic custard tart filling underneath a crispy toffee top. "Sometimes I just come here to buy the danish," says Belinda.
Next door is the Summer Hill Village Fruit Shop that has got to have one of the prettiest displays around. Prices are very reasonable here and there's an excellent range of produce and small producer products as well. I'm tempted by the flowers and donut peaches.
Il Villaggio
We walk around the skate park and park and then pop into Il Villaggio "This has a great cheese section," says Belinda and true to word there are interesting cheeses like Affine au Champagne Rose, a cheese washed in rose champagne to Mimolette Vieille flavoured with annatto.
Burgers on Broadway
A few hours later we stop at Burgers on Broadway for some lunch. We order two burgers: the first is called the "Yokum" because we love the sound of a chicken and stuffing burger wrapped in an egg omelette and the second is the "must try" burger called Famous. There's some confusion as the Yokum doesn't actually have stuffing in it and never has despite saying that (an amendment to the sign might be helpful) but both burgers are solid offerings. And tip: get the mango curry sauce, it's delicious on the fries or on both burgers!
Envy Cafe
Looking for a family or pram friendly spot? Belinda spent many an afternoon at Envy Cafe when her girls were small. The outside courtyard area is perfect for prams and mothers groups but what draws me in is the display of freshly baked house made cakes at the front.
There's classics like chocolate flourless cake, scones and carrot cake but there are also things like Persian love cake, a heady spicy cheesecake type of cake and a Greek coconut cake on offer. Of course we have to stop to try both. It would be remiss not to ;)
The Temperance Society
Just nearby is The Temperance Society, a gorgeous little bar spread across two floors. From there you can watch the world go by in the front window downstairs or upstairs features a library theme and an alternate view. There are cider slushies on offer as well as cocktails, wine and craft beer. As it's a Monday I go for a mocktail, a Fojito (faux mojito) while Belinda chooses the Midnight Tickle made with local raspberry liquor, spiced rum, ginger beer and mint.
The menu also features a range of cheese and dip platters but the toastie stuffed with rabbit, quail and pistachio terrine with brie, relish and pickled fennel is heavenly. Crunchy with just the right amount of stuffing, it puts us in good stead for the rest of the night. Whatever that might hold.
And incidentally it held a lot of that danish and tart...
So tell me Dear Reader, do you ever visit a suburb just to buy one food item? Have you ever spent a whole day eating and shopping across a whole suburb? Is your ideal suburb more villagey or more of a city hub?
These meals were all independently paid for.
Plunge No. 46
46 Lackey St, Summer Hill NSW 2130
Phone:(02) 9799 9666
http://plunge46.com.au/
Summer Hill Village Patisserie
32 Lackey St, Summer Hill NSW 2130
Phone:(02) 9798 6844
Il Villaggio
6/11 Hardie Ave, Summer Hill NSW 2130
Phone:(02) 9797 2248
Burgers on Broadway
99 Smith St, Summer Hill NSW 2130
Phone:(02) 9799 9784
Envy Cafe
109 Smith St, Summer Hill NSW 2130
Phone:(02) 9797 1668
http://www.envydelicafe.com.au/
The Temperance Society ##
122 Smith St, Summer Hill NSW 2130
Phone: (02) 8068 5680