A small cafe just off Pyrmont's Harris Street, Clementine's is named after owner Eric Morris's great grandmother who recently passed away (Clementine was her middle name). The cafe has coffee by The Blind Roaster as well as Nutella hot chocolates (do it!). There is also a range of sandwiches from filled bagels, hot dogs, subs to variations of Reuben sandwiches. It is an ode to American diner food to pay homage to Eric's Houston childhood. If he looks familiar, he was formerly of Bloodwood and Porteno.
As I wait for Soraya I watching a woman working on her laptop. I don't really understand how people can work in cafes and wish that I could do that. I envy their ability to tune out of everything that is going on around them. As for me all I see is so many entities and so much energy bouncing off people that I feel like an overly excited puppy that wants to see and watch everything around me. To work I need complete silence with distractions to a mininum. I love cafes though for catching up with people and to have meetings, that's something that I do understand.
Nutella Hot Chocolate $4 each
It's a sunny day and the sun streams down on Soraya and I. She's the long lost French member of the Kardashian klan (sorry got karried away with my k's) and we are pondering the menu over delicious Nutella hot chocolates where you really taste the Nutella. I'm trying to do the polite thing, you know one item each, maybe with a sweet but Soraya senses what I was looking at and says, "How about we get one bagel, one hot dog, one sub and one breakfast?". YES!!! It's best to order at the counter as there is just two at work here, Eric and Tess (I know her name because I asked if she was Clementine, yep I'm obsessed with finding out the story behind a place name).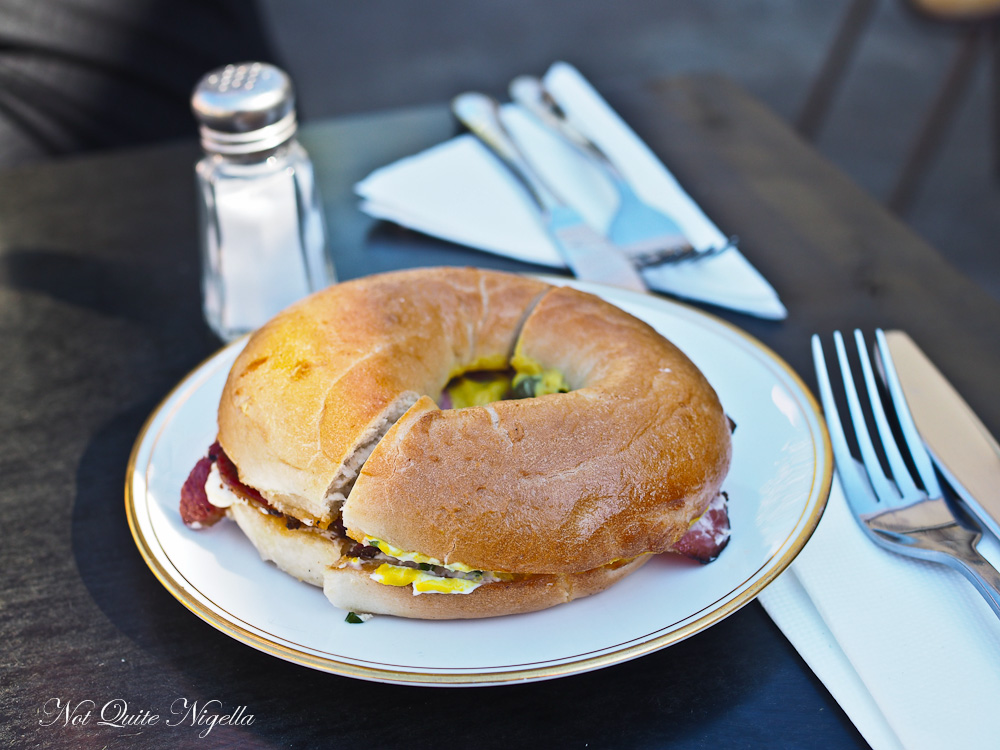 Herschel Bagel $10
I can smell the mustard and pickles on this bagel and it's a soft, fresh, lightly warmed bagel filled with pastrami, mustard, pickes and capers. I often find bagels a bit too bready but this has a good ratio to it.
Grand Central with bacon $10
When we asked for recommendations this was Tess's recommendation. It's a brioche bun with scrambled eggs, onion jam, Swiss cheese and we had bacon added to it (you can also get pastrami and corned beef). And just a little word of warning: this does get messy!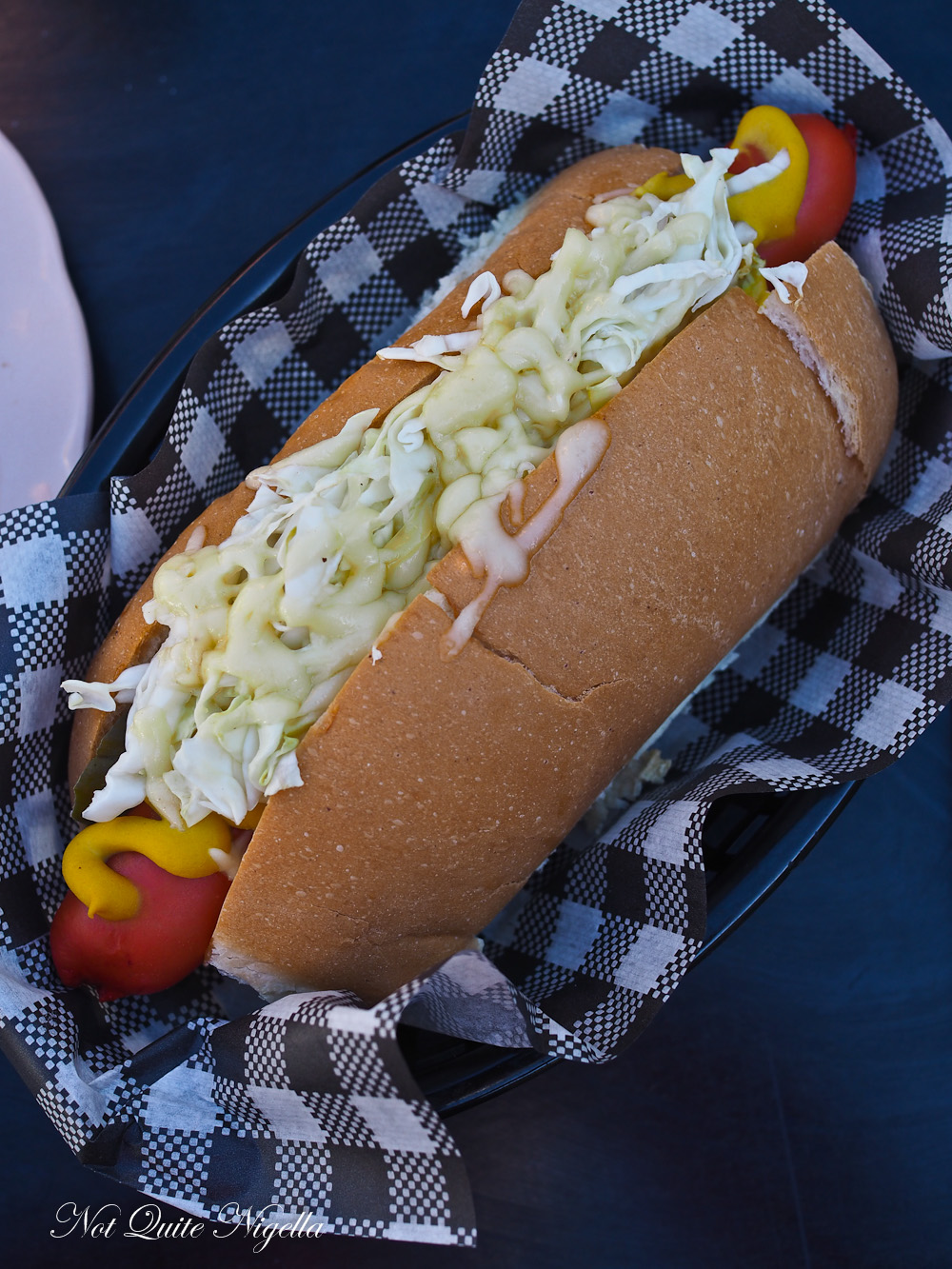 New York $9
I didn't mind the hot dog but after having some really amazing ones in Copenhagen I don't think a regular hot dog will do any more. This is a smoked hot dog (although it tastes just like a regular one) with cabbage, pickles, Swiss cheese and mustard.
Godfather $12
But the fairest of them all is the Godfather. A three meatball thick sub with herby, soft meatballs, tomato, provolone and basil. It's sloppy and messy with lots of melted cheese and it causes Soraya to comment, "It's so ugly, it's sexy." Which I'm sure Kim K has said at some stage too. And as we go up to pay Eric gives us an American style, "Thank you for your patronage."
So tell me Dear Reader, can you work at a cafe? Do you ever over order to try as many things as possible? And is it a yay or nay to Nutella hot chocolate?
This meal was independently paid for.
Clementine's
2/52 Harris St, Pyrmont NSW 2009
Phone: 0405 302 830
http://www.clementinespyrmont.com/
Weekdays: 7:30AM - 3:00PM
​Saturday 8:00AM - 2:00PM