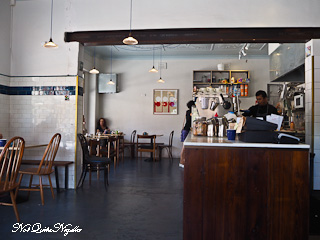 As a customer, you wouldn't know it but the wall behind the fridge at Illi Hill Cafe sits against the bedroom of Con and Mary Fourfouris. They were the former owners of Con & Mary's Deli on Illawarra Road in Marrickville, trading until the pair decided to retire.
Photos courtesy of Oleh Sokolovsky
New owner Oleh Sokolovsky has kept some of the original touches from the store. There is the scale that used to hang lower but has been raised so that people don't bump their heads. The former set designer's first cafe in partnership with Bertoni barista Perry Silvio has proven a labour of love from when he first spotted the store for lease. Chef Jesus Estevez is behind the counter prepping food.
It took 6 months to get council approval to combine the two spaces to create a cafe and more months for the renovation to take place. Even now Con and Mary pop in for a visit and Oley jokes that they sometimes wash their tea towels for them! One warm summer Monday afternoon Belinda and I take a seat in the cafe. It gets very busy on weekends but week days are less crowded.
Latte $3.50 and Smoothie $5
The menu has an all day breakfast on one side and a lunch menu on the other. Belinda and I can't decide and the burger is recommended to us by a fellow customer but as it is a sweltering day we go for the salads (with the hotcakes for dessert ;)). Belinda goes for a coffee by The Little Marionette while the hot weather makes me crave a cold drink - the date and vanilla does the trick. It comes in a handy takeaway cup with lid and has just the right amount of tartness from a dollop of yogurt, the sweetness coming entirely from the dates.
Breakfast Salad $15.50
When the salads arrive we are surprised at how large the servings are. They breakfast salad is a medley of seasonal greens, avocado, baby peas, herbs, flaked almonds with a lemon zest labneh, a soft poached egg and toast. This is fresh and with just the right balance of healthiness and a bit of indulgence with the labneh. I particularly like the pop of the sweet, fresh peas.
Salad of 6 hour roasted lamb shoulder $17.50
The lamb salad features a six hour roasted lamb shoulder and has a lot of variety from the chickpeas, roasted beetroot chunks, quinoa, tomato, cucumber, herbs, seeds and a mint lime yoghurt dressing. I particularly like the lamb on some of the toast from the breakfast salad. But try as we might, we just can't finish them at this size.
Ricotta and buttermilk hotcakes with dark chocolate praline, saffron poached pear, orange and saffron glaze and vanilla bean labneh $15.50
After we're done with our mains, the hot cakes come out. There are three large, fluffy ricotta and buttermilk hot cakes served with half a saffron poached pear and drizzled with an orange and saffron glaze. To the side is a sweet, rich and very vanilla labneh and on top is a thin leaf of dark chocolate praline that melts in the heat to form a chocolate sauce. And despite any protestations at being full, we give this a good go as it is hard to stop at a couple of bites.
So tell me Dear Reader, do you always finish everything on your plate when you eat out? And when eating out for breakfast or brunch, do you tend to go sweet or savoury?
This meal was independently paid for.
Illi Hill
72 Illawarra Rd, Marrickville NSW 2204
Phone:0408 609 879
Open 7 days 7am-4pm