The Southern Highland region is one rich in treasures. Some locals can take a while to warm up but once you dig a little beneath the surface there is plenty to do and eat! And Autumn and Winter are the most popular times to visit the area.
I used to dream of Autumn leaves. As strange as I know that sounds, it's true. In my dreams I would return to a house time and time again and it would always be surrounded by Autumnal trees in shades of amber to bronze. It's a comforting sight to me and even seeing it in areas new to me gives me a comforting feeling.
We haven't visited much of the Southern Highlands of NSW before-just a little visit but this is our first weekend spent here. And I'm struck by the question why. Why has it taken us so long. There are tree lined avenues, cows and black sheep munching on verdant grass and general bucolic scenes of beauty.
The Southern Highlands are aware that people visit either for the day or for one night only, not quite knowing the depth and breadth of experiences on offer. And sometimes there is almost a reluctance to shout about it from the hilltops from some people. You get the sense that some people want to keep this to themselves. To remedy this, they've focused on a concept called "Clusters" that shows clusters of businesses in neighbouring towns that offer unique, quality things to do or places to eat. And I quickly realise that even a weekend isn't long enough to even explore as we hop from cluster to cluster.
We start with Moss Vale and a temperature of 11C/51.8F calls for something warm to start the day. At the Post Cafe, a former post office converted to a cafe we start the day off well with a twice baked cheese souffle with bacon for me and the field mushrooms on sourdough for Mr NQN.
Twice cooked cheddar souffle with bacon $15.50
All ideas to simply try a little are dashed by the cheese souffle. It's light and it's rich and creamy. I can see this being a regular in our household come Winter, the thin slice of soft sourdough soaking up the cream and thinly sliced bacon.
Grilled field mushrooms with sourdough $16.50
Mr NQN for his part is immensely happy with his choice. He stares at the pile of field mushrooms, proud as a papa, and admires them before tucking into the olive oil brushed toast and meaty thick chive topped mushrooms.
Just across the road is a boutique called Made by Others. Apart from eating and sleeping on holiday, my other favourite thing is shopping. There's a smartly curated range of whimsical items whose focus are on design and quality. There's also a coffee shop with a range of bought in cakes and slices on offer.
While sipping coffee I also walk around the shop and finger soft woolens and Marrimekko and Dinosaur Designs goodies. It's a good place to buy a gift, for practically anyone. As it is I buy some gift tag, washi tape and a quirky card.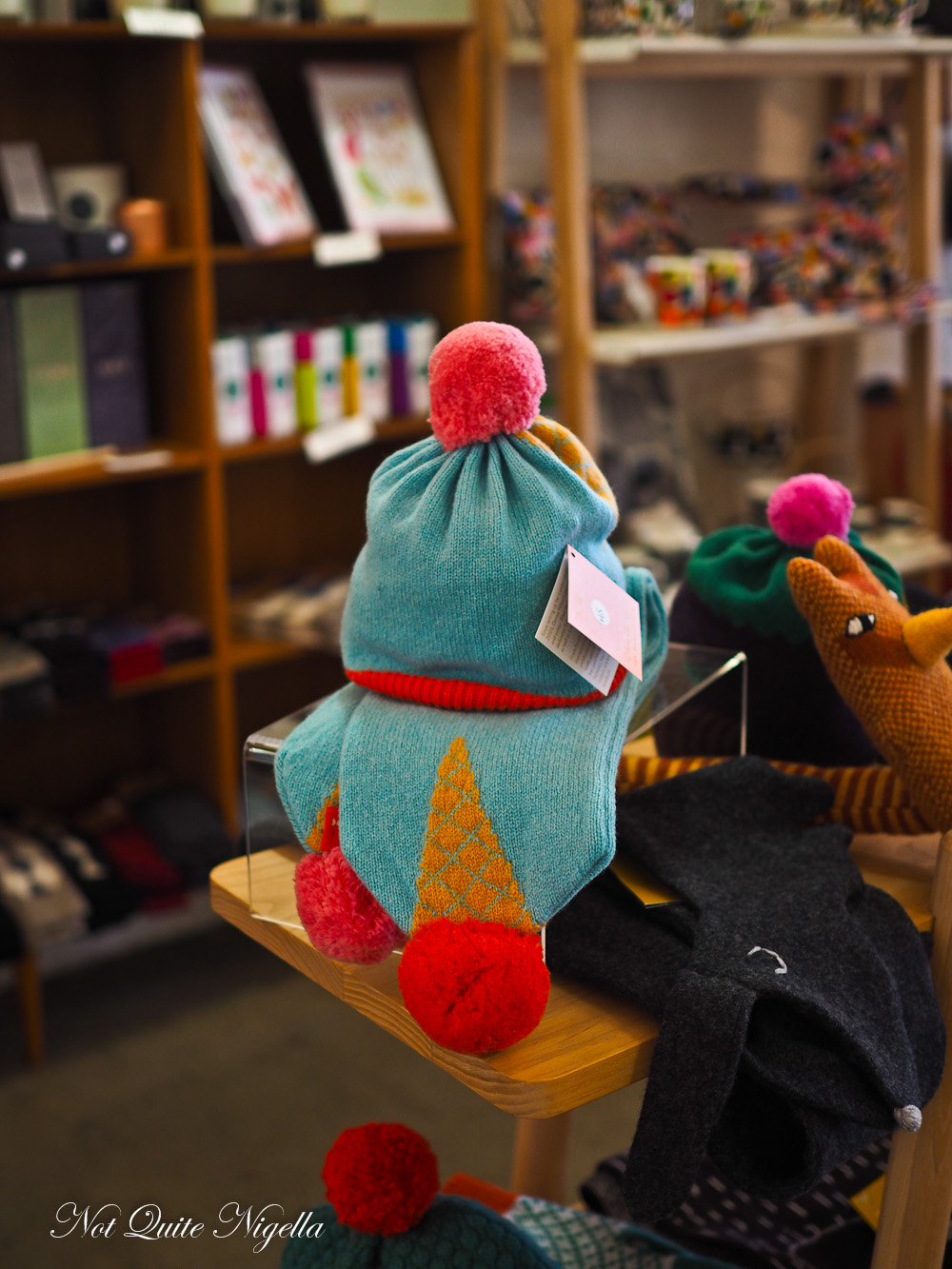 We pull up to Fox Hill Farm in the charming town of Exeter, another cluster where Lynne and John Derwin greet us. Lynne is a chef that teaches cooking classes from her home. Guests pick produce from the garden and then cook it in her enormous country style kitchen with AGA stove. She's a hard taskmaster I will warn you, if your skills are not up to scratch she will tell you but she will also show you the right way.
"You never appreciate a potato or bean unless you pick them yourself," she says carrying a basket and an enamel bowl out into her garden. On the property there's a dam filled with trout and a herd of Suffolk sheep as well as a chicken pen with a curious brood of chickens. We are here for the produce though and to get our hands dirty. Something Lynne doesn't think we want to do.
But of course we do, after all city folk like us love to get in amongst the vegetable patch especially if we don't have one of our own. We push the fork into the dirt, lift a large clump of dirt, flip it and then rumble through it for potatoes that emerge like golden nuggets.
We pluck full sized beans from the beds while the sheep look on with mild curiosity. Washing the potatoes outside in the garden gets rid of excess dirt they get a further scrub inside and we don aprons and start to cook. Lynne's classes go from 9am-3pm and involve a full day's work that finished with eating the spoils of your work.
Lynne and John are originally from the Southern Highlands but moved to the Yarra Valley where they started up businesses including a restaurant and vineyards. In 2009 that was all taken away from them with the Black Saturday bush fires. They survived along with their sheep and dog Indie but everything else was destroyed.
She tells the story while we chop onions, slice mushrooms and score chestnuts and slide in frenched racks of lamb into the AGA stove, an idiosyncratic beast. I get the feeling that the experience is still close to the surface and she is guarded and quite gruff at times. We work quickly and before we know it we are sitting down to a three course meal, made by our hand.
Mr NQN is very proud of his creamy mushroom and chestnut soup. Creamy in texture there is no actual cream in the soup, just a teaspoon of creme fraiche and chives to top it off. In it are foraged field mushrooms and saffron pine caps that Lynne has found that morning.
The main is a three prong rack of lamb which we learned to French (and she also demonstrated how to sharpen knives). It has a coating of fresh herbs and olive oil and is served with boiled green beans and buttered crushed herbed potatoes.
Dessert is a quince and apple open tart with home made cinnamon ice cream that is beautifully flakey and buttery in each bite. We have a quick cuddle of their Toyger cats we are headed off.
Our next stop is our accommodation for the evening, Peppers Manor House in Sutton Forest. Originally a private residence it was built in 1878 and transformed into a hotel from 1974. It has just undergone an enormous transformation thanks to the vision of General Manager Jesse Kornoff and a government grant and as a result, the grounds are stunning.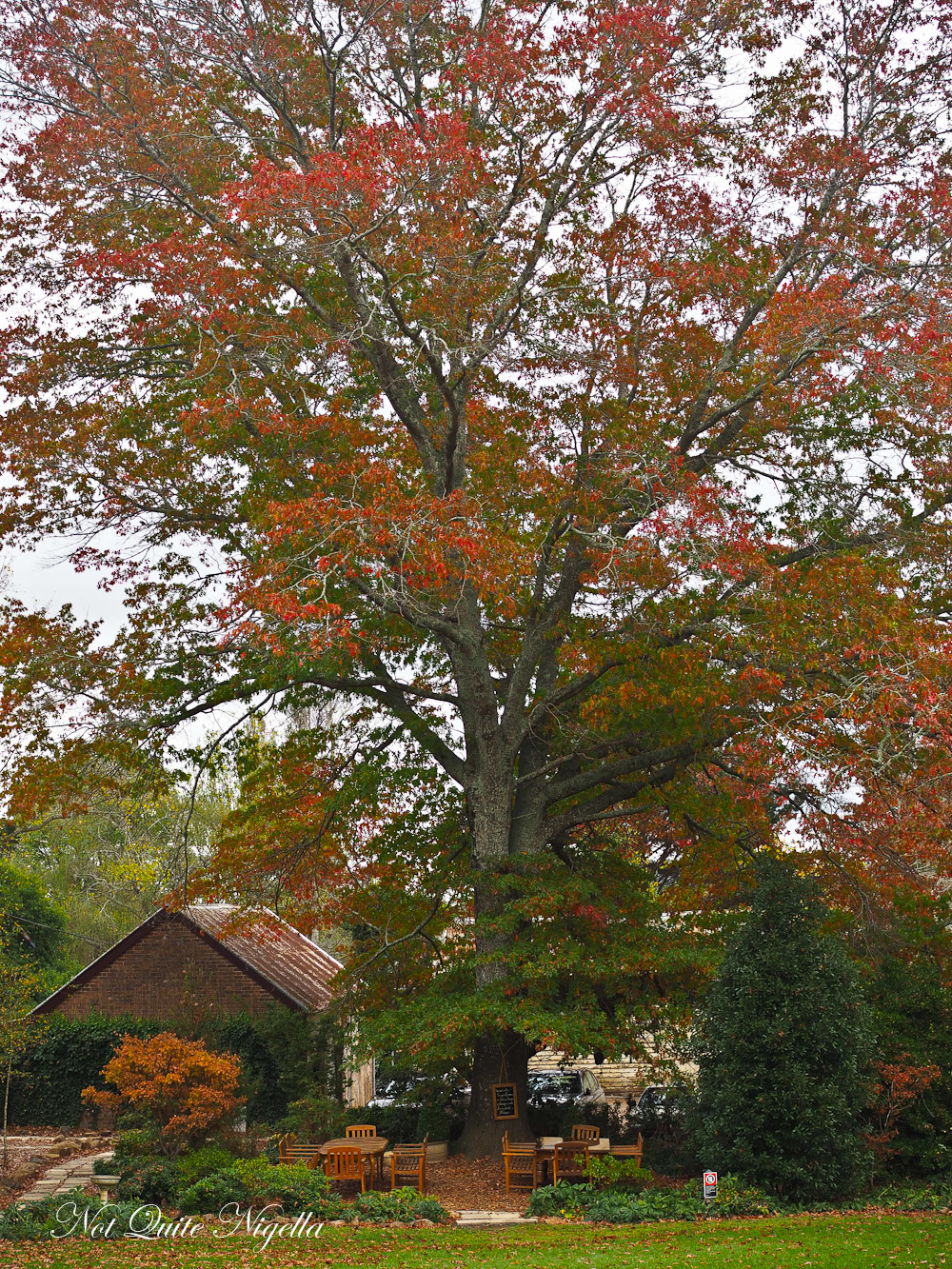 It's chilly - this is the Southern Highlands after all but this is the first cold weekend for the area. The outdoor area under the big tree looks inviting but for now, we take up residence in front of the roaring fireplace nearby reception and warm up.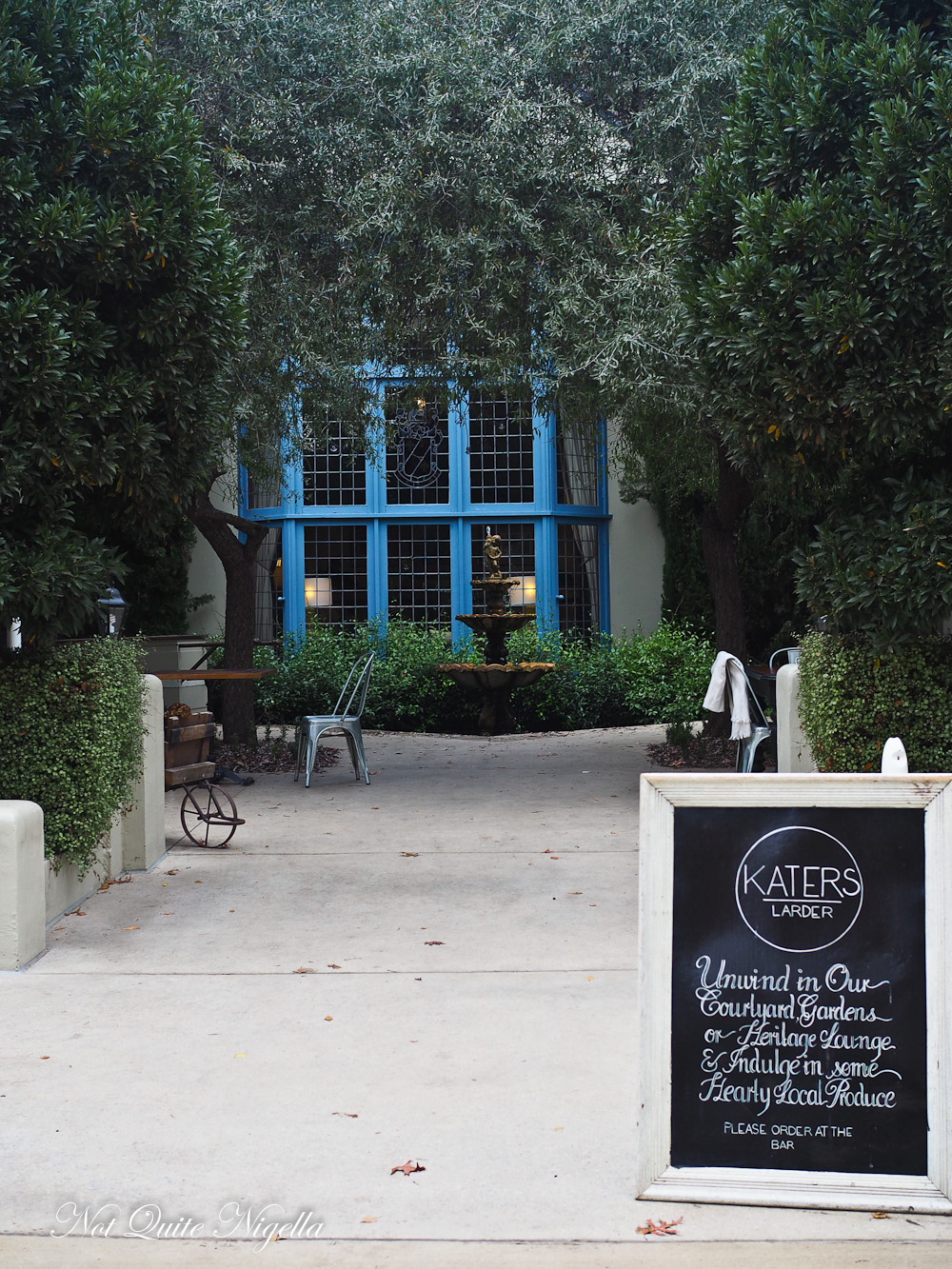 Another favourite area is the Great Hall, reminiscent of a castle with some original glass panes still intact. The stained glass reads "Nil Mortalibus Arduum" in Latin which roughly translates to "nothing is too difficult for mortals". A fire has burned here every day since 1878.
On the walk to our room in the Garden Wing we pass by trees that are losing their leaves to the cold weather. The bare branches only serve to highlight the fact that they are filled with colourful rosella birds. In the mornings, kangaroos are seen in numbers in the distance.
The garden wing is very new, three weeks old at the time of our stay in late April and our Deluxe Garden View Room has a good amount of space with a corner chaise lounge, king bed and desk. What really grabs our attention though is the golden hued view outside come 5pm when sun starts to set. Mr NQN promptly curls up in bed and falls asleep while I get some work done.
Our dinner this evening is the multi award winning Katers restaurant, named after the road on which it sits and the Henry Edward Kater who bought Mount Broughton to house a retreat in 1878. There is a chef's garden that will soon allow guests to walk through and help chefs pick the produce that will end up on their plates that evening.
Kater's chef John Shelly is Irish and there is a choice of a la carte or a degustation menu here (regular and vegetarian). Guests can also have a wine match for each course.
We start with a dehydrated lamb loin with rockmelon and local bell pepper goats cheese as well as house baked parmesan bread.
Sweet bell pepper soup, goat's cheese sorbet, chocolate chilli panna cotta
The soup is poured at the table and it is a very sweet number, a bit too sweet for me. The bell pepper soup is naturally sweet but then so is the goat's cheese sorbet and the round of chocolate chilli panna cotta (which it really doesn't need). This also seems more of a summer dish when you might want a soup to cool you down whereas in Autumn and Winter you want something hearty and hot.
Seared scallops and Rodrigues spiced chorizo, Burrawang Jerusalem artichoke, squid ink meringue
The seared scallops is a tasty dish although it is eaten in about two neat bites. The Rodrigues chorizo is imported from Spain, it's the chef's favourite chorizo from his time there. It also doesn't really need the squid ink meringue's texture or the sweetness but a squid ink aioli would be great.
Masterstock pork belly, quinoa fennel crisp, sugar snaps, potato jam
The courses are small because it is a degustation and the following main is large but I wish that this was larger because I really enjoyed it. The Masterstock pork belly is beautifully soft. Because there isn't any crunchy crackling they have made a very crunchy quinoa fennel crisp. The sugar snaps are very sweet as is the potato jam. Potato jam? Yep it has the mild flouriness of potatoes but is sweet. Pork does go well with sweets so while this is a sweet course it's a good one.
Pan seared duck breast, kumara, hazelnut crumble, cherry glaze, whisky coffee gel
As the courses go in in the dinner, I like them more and more and this is my favourite savoury dish. The pan seared duck breast comes in three pieces with a cherry glaze. Some meats really benefit from a sweet component and duck certainly does from the juniper and coffee bean sous vide marinade to the coffee and whisky sauce. To accompany this we have a bottle of Artemis Pinot Noir from nearby Mittagong that goes very well with duck.
Sorbet
The eucalyptus and lemon myrtle sorbet is refreshing and sweet.
Chestnut bitter chocolate torte, raspberry egg, malt
While we found the savouries on the sweet side we weren't sure what to expect when it came to dessert. It turns out that the chestnut bitter chocolate torte perfectly straddles the bitter and sweet side. It's the perfect size-any more would be excessive at this juncture given the number of courses and it comes with a hazelnut ice cream, hazelnut crumble and a quennelle of meringue with raspberry gel inside.
And with this they serve some gorgeous mead by Bou-saada in Mittagong. It's like a sweet liquid silk going down. And if you like it then I've got some bad news. Peppers have bought out their supply of this mead so you'll have to visit the hotel to try it!
House cheeses $26
We take our wines to the Great Hall and sit in front of the crackling fire and watch it flicker and crackle before we decide to call it a night and retire to our room. There's a nice surprise waiting for us when we get back. They make two cheeses in house: an aerated Manuka blue cheese which is simply divine (I want a big bowl of this to bathe in). It has all of the bold flavours of blue cheese without ever being too sulfurous. There is also a rosemary, thyme labna and a local Camembert and goat's cheese. Guests can also opt to have this in the comfort of their hotel room. I'd have it no other way.
So tell me Dear Reader, do you have a favourite season of the year? Do you like to get your hands dirty and dig in the garden? And if given the choice would you prefer to have dessert in the restaurant or in your room?
NQN and Mr NQN visited the Southern Highlands as a guest of Southern Highlands Tourism but all opinions remain her own.
Post Cafe & Bar
1/249 Argyle St, Moss Vale NSW 2577
Phone: +61 (02) 4868 3878
Made By Others
2/366 Argyle St, Moss Vale NSW 2577
Phone: +61 (02) 4868 2026
http://madebyothers.com.au/
Fox Hill Farms
50 Bundanoon Rd Exeter, NSW 2579
Phone: +61 02 48834 274
http://foxhillfarm.com.au/
Peppers Manor House
Kater Rd, Sutton Forest NSW 2577
Phone:(02) 4860 3111
http://www.peppers.com.au/manor-house/