It's time to head to the Southern Highlands town of Moss Vale for a luxurious weekend with great food, an incredible manor house and a gorgeous winery! Take a look at the very latest that this charming Southern Highlands town has to offer.
The rain beats down heavily on the windshield, the wipers swiping away the tears only for fresh drops to be delivered within milliseconds. It's a rainy start to our weekend in the Southern Highlands that promises nothing but precipitation combined with relaxation and cosy fires.
One and a half hours later we arrive in Moss Vale, the Southern Highland town that in the last few years is coming out of the shadows of its larger neighbours. We head to The What If Society for lunch. It is part food cooperative but mostly it's a café with a slightly different menu concept. In the absence of a traditional menu, customers order a plate according to size and then trust the chef to craft together a delicious meal. There is no bathroom on the premises so if you've made the drive from Sydney you may want to a petrol station or pub first.
Everything is made on the premises and there is also display of pickles and preserves to purchase. There is also a pastry cabinet with a range of house-made baked goods from slices, biscuits to cakes that you are unique to the cafe. They only use local produce and when it comes to buying meat, chef and owner Highlands born Eilish Maloney (ex Nomad) has much to consider. They break down all of the animals on site so they need to design a menu to make use of all of the animal.
We order a small and a medium plate with the house made ginger kombucha and an excellent coffee. The small plate is two slices of house made sourdough bread topped with foraged saffron milk cap mushrooms, tarator and pickled onions. It's delicious and the perfect size for a small brunch or lunch.
The medium plate features a potato galette with curry sauce, gremolata, pickled onions and a soft poached egg. This is absolutely delicious and I have trouble handing over half of this to Mr NQN.
We finish our lunch on a sweet note with a caramel buttercream filled biscuit and a ball of chocolate cheesecake rolled in puffed quinoa which is light and moreish.
We do a little bit of shopping in Moss Vale town (the shops are great for gifts and homewares and well worth stopping in) before heading back to Throsby Street to our accommodation Moss Manor. We park in the car park behind the manor and the huge glass doors swing open and owner Louella Grattan-Smith greets us with a welcoming smile.
Moss Manor is housed in a Georgian mansion that opened as a hotel in August 2022. It was originally built in the 1890s as the local mayor Nicholas Throsby's house (after whom the street is named) and council chambers. The double storey manor has 8 rooms available and each is individually decorated in striking decor by Louella who has quite a thing for linens and textures. In each room she has placed statement pieces that she has collected over the years.
Louella left her life as a GP and transitioned into psychotherapy focusing on mind body medicine before she embraced her passion for the world of interiors and hospitality. The hotel features countless art pieces, all available for purchase should one take your fancy, all curated from the Defiance gallery in Paddington. Louella's former life as a GP has helped her to understand what people need and allowed her to create a sanctuary and retreat. She and her husband Tony set about doing some major renovations in the manor house during COVID.
Each room at Moss Manor has its own distinct personality from the expansive Sophia and Ruby rooms that sit in the front of the house to the Ivy suite decked out like a garden to the cosy Bea room (named after the bee hives that were on the premises). All of the rooms have bathrooms, most ensuites including an accessible room. It's a popular hotel for small weddings, milestone occasions, girls' weekends and corporate retreats and they work with caterers for any in-house events although their staff are also very good cooks.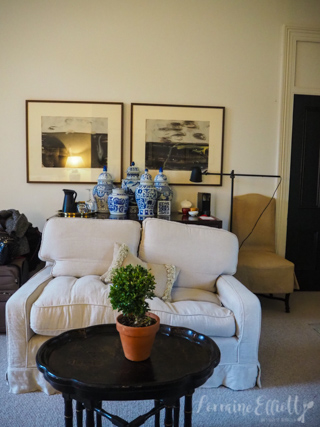 We are staying in Sophia, a room that is pure glamoour and yet homey at the same time. The bedroom has gorgeous Ralph Lauren curtains and the king bed is outfitted with soft linens. Heated floors, ducted air conditioning and a fireplace keep the room cosy. There's a mini fridge with mini bar and tea and coffee making facilites. Internet is fast and free for unlimited devices.
The main feature is the exquisite Roman marble bathtub that sits in the main room. There is also a separate shower and toiletries by Two Good Co. The bathroom doesn't have any doors which makes it more spacious but privacy can be a bit of an issue.
After we check in we head to the glass room, a very contemporary new addition to the back of the building that puts guests right among the foliage with views of the landscaped gardens and the bird life. Afternoon tea is served in this room and we sip cups of Happiness tea, an aromatic tisane and slices of a rich, moist house-made chocolate cake. Occasionally a train will rumble by.
This evening we are staying in. Mr NQN has had a big week at work and just wanted to relax and given our beautiful surroundings and relentless rain we decided to stay in and have wine and a cheese platter. The main town is literally a few minutes walk away but the rain chases away any such thoughts.
Caz brings us a cheese platter and wine. There are four cheeses on it (Maffra Cheddar, Long Paddock Silver wattle, Black Sheep Ashed sheep's cheese and Germain Courtin Goat Chevre) along with candied chestnuts in chestnut puree, house pickled guindillas and several types of crackers. Before she leaves for the day she checks if we need anything else and leaves a pot of happiness tea on the warmer and water before leaving. We feast on the cheese and sip glasses of local sparkling wine and port, try some almond cookies and macarons and sit back enjoying the silence having the whole house to ourselves.
The next morning after a good night of sleep I run the marble bath and sink in and relax before we get ready for breakfast.
This is no hastily cobbled together breakfast (although we knew that it wouldn't be). Louella brings us a plunger of Kenyan and Papua New Guinean coffee. The hotel manager Martine and her husband used to own Single Origin in Sydney and they blend the beans specially for Moss Manor. The first course is organic vanilla yogurt and blackberry compote with freshly squeezed orange juice. Louella also offers turmeric shots for guests.
Breakfast alternates day to day. One day might be the breakfast plate with prosciutto, Meredith goat's cheese and pesto topped tomatoes, toast, fruit and toast. There are also two soft boiled eggs from Louella's farm; she brings the scraps from Moss Manor to her nearby farm for the chickens.
Another day it could be house cured gravlax, half an avocado with caramelised balsamic vinegar and extra virgin olive oil, toast, eggs and fruit. The breakfasts are so delicious that even though we have lunch in a couple of hours we polish off most of it.
A few hours later we head off to Mount Ashby winery for lunch. It's raining but that gives us an excuse to sit inside by the fireplace and keep cosy. The food here is distinctly French from the menu to the staff and the French wine list that sits alongside Mount Ashby's own wine list.
We are still quite full from breakfast so while we'd love to have three courses we stick to one plus dessert to share. A nice touch is that Mount Ashby is dog friendly inside too and we watch two Jack Russell pups make themselves at home by the fire.
The last time we visited Mount Ashby we had the cheese soufflé and the charcuterie board so this time we are trying something else. We go for one of their salads although the richer meat dishes are very tempting too. The trout and dill salad has garden greens, plenty of smoked trout and a delicious dill cream salad.
The slow cooked pork belly is a triumph. Cooked for 18 hours which renders the fat down so that it just the softest, most melting meat without being too fatty. It is served with a Mount Ashby rosé jus, silky cauliflower puree and green beans and a square of super crunchy crackling on top. And it pairs perfectly with a glass of the Mount Ashby diamond rosé wine that they used in the dish.
Mr NQN needs a coffee and we have the drive home so we figure why not have it as an affogato with a scoop of ice cream and Frangelico. We also know that we have afternoon tea waiting for us at Moss Manor.
Louella has some Eton Mess and a pot of peppermint tea waiting for us. The Eton mess has chunks of meringue, soft whipped cream and strawberries and is the perfect sweet ending to our stay in this beautiful manor house.
So tell me Dear Reader, do you sometimes just stay in an enjoy your accommodation when you go away? Do you like hotels with different rooms so that you can choose your room?
The meal at The What If Society was independently paid for. NQN and Mr NQN were guests of Moss Manor and Mount Ashby Winery but all opinions remain her own.
The What If Society
55a Throsby St, Moss Vale NSW 2577
https://www.thewhatifsociety.com/
Moss Manor
1A Throsby St, Moss Vale NSW 2577
https://mossmanor.au/
Mount Ashby Winery
128 Nowra Rd, Moss Vale NSW 2577
http://mountashby.com.au/